This easy Crock Pot Beef Stroganoff recipe is made with sirloin steak, mushrooms, and a creamy white sauce. It's perfect for a weeknight dinner or a comforting weekend meal and is easy to prepare with the help of your slow cooker!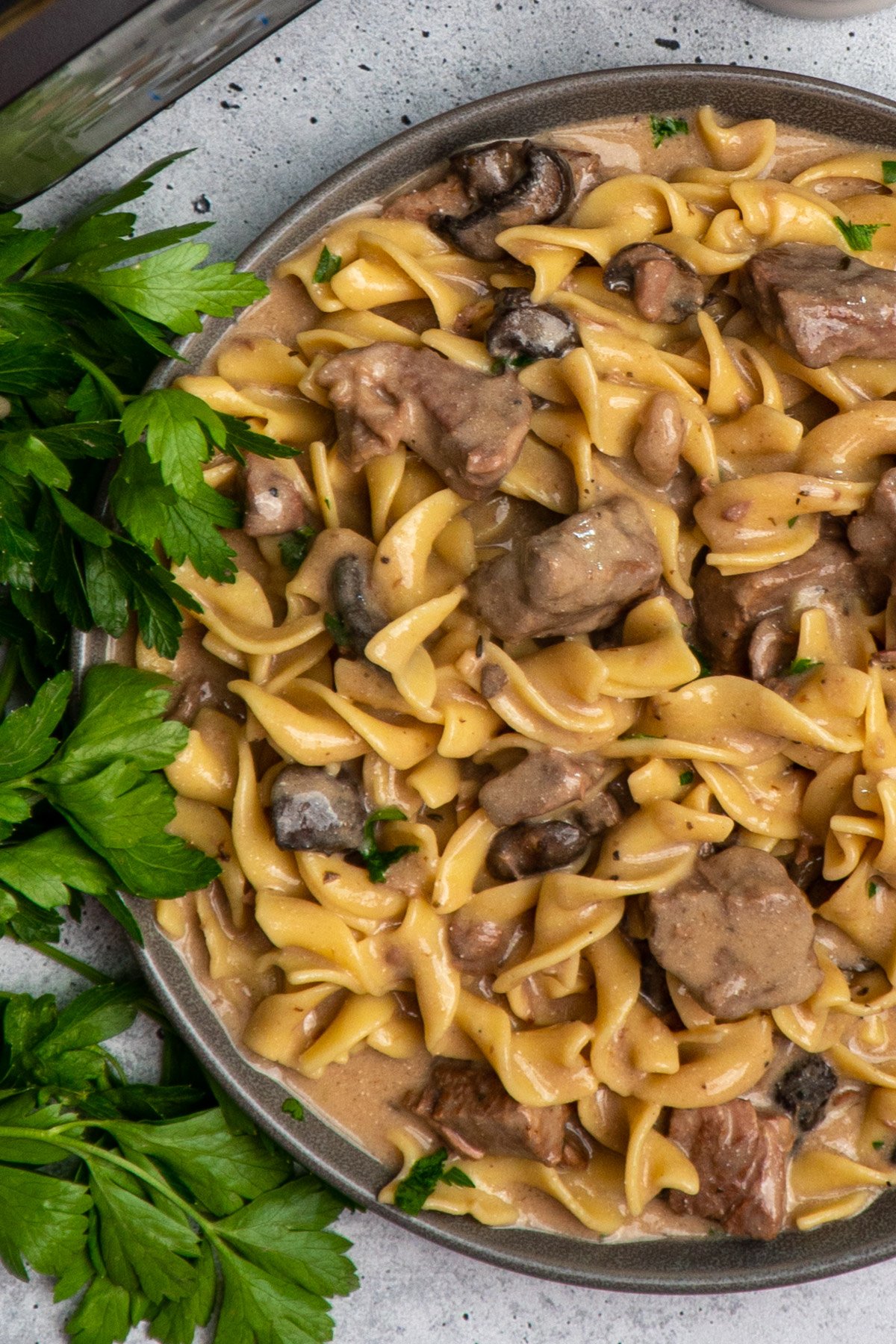 Beef stroganoff is a Russian dish that typically consists of beef, mushrooms, and a sour cream sauce. It's believed to have originated in the 19th century and has become a worldwide favorite to make for dinner; we completely understand why!
The flavor of the beef pairs perfectly with the creamy sauce and hearty mushrooms. Serve slow cooker stroganoff over pasta or Mashed Potatoes, and you've got a comfort food dish you'll want to make again and again.
And, while this dish is traditionally made on the stovetop, you can use the help of your slow cooker to not only save time but to make it even more delicious. Slow cooking the beef helps release more of its flavor and also makes it incredibly tender.
Once you make this easy slow cooker beef stroganoff, you'll never want to make it any other way!
Why You'll Love This Recipe
Set it and forget it. Once the ingredients are prepped and ready, just add to the slow cooker and let it do all the work.
You can customize this dish by using your favorite cuts of beef, mushrooms, or pasta.
This creamy, comforting dinner is great to serve on a weeknight or when you need a hearty meal.
The ingredients are simple and can be found in any grocery store.
Ingredients You'll Need
Olive Oil - Used to help give the steak a good sear when pre-cooked in the skillet.
Sirloin Steak - This cut of beef gets nice and tender when seared and cooked slowly in the flavorful broth.
Dried Seasonings - A mix of salt, pepper, and dried thyme helps enhance the overall flavor of the dish.
Beef Broth - Used to infuse the dish with even more beef flavor throughout.
Brown Mushrooms - Adds a hearty umami flavor along with texture and nutrients.
Worchestershire Sauce - Gives the dish a salty, bold flavor that pairs well with beef and mushrooms.
Dijon Mustard - Adds a layer of tangy, tart flavor that balances the bold salty notes.
Minced Garlic - Gives the dish a complimentary fresh garlic flavor.
Cream of Mushroom Soup - Adds a rich texture, mushroom flavor, and thickness to the sauce.
Sour Cream - This ingredient is traditionally used in stroganoff dishes to add a tangy flavor to the sauce and creaminess and richness.
Cornstarch - Used with water to make a slurry to thicken the cream sauce.
Cooked Egg Noodles - This pasta is served with stroganoff to help soak up the sauce and add flavor.
How To Make Beef Stroganoff In The Crock Pot
Prepare the beef: Pat the sirloin dry and trim off any excess fat with a sharp knife. Season with salt and pepper. Heat the olive oil in a large skillet and add the beef when hot. Cook for 30 seconds on each side in small batches, then add the seared beef to the slow cooker.
Add the ingredients to the crock pot: Pour all but a half cup of beef broth into the skillet to deglaze and pick up all of the flavors, then pour the broth into the slow cooker. Add the dried thyme, mushrooms, Worcestershire, cream of mushroom soup, and garlic. Stir to combine fully.
Slow cook the beef: Put the lid on the slow cooker and cook on HIGH for 4-5 hours or LOW for 7-8 hours or until the beef is cooked through and tender.
Prepare the cream sauce: Once there are 30 minutes left in the cooking time, whisk the remaining beef broth with the cornstarch to make a slurry until there are no lumps. Then, whisk in the sour cream and pour it into the slow cooker. Mix until combined.
Plate and serve: Add the cooked egg noodles to bowls or serving dishes, ladle the stroganoff sauce on top while hot. Enjoy!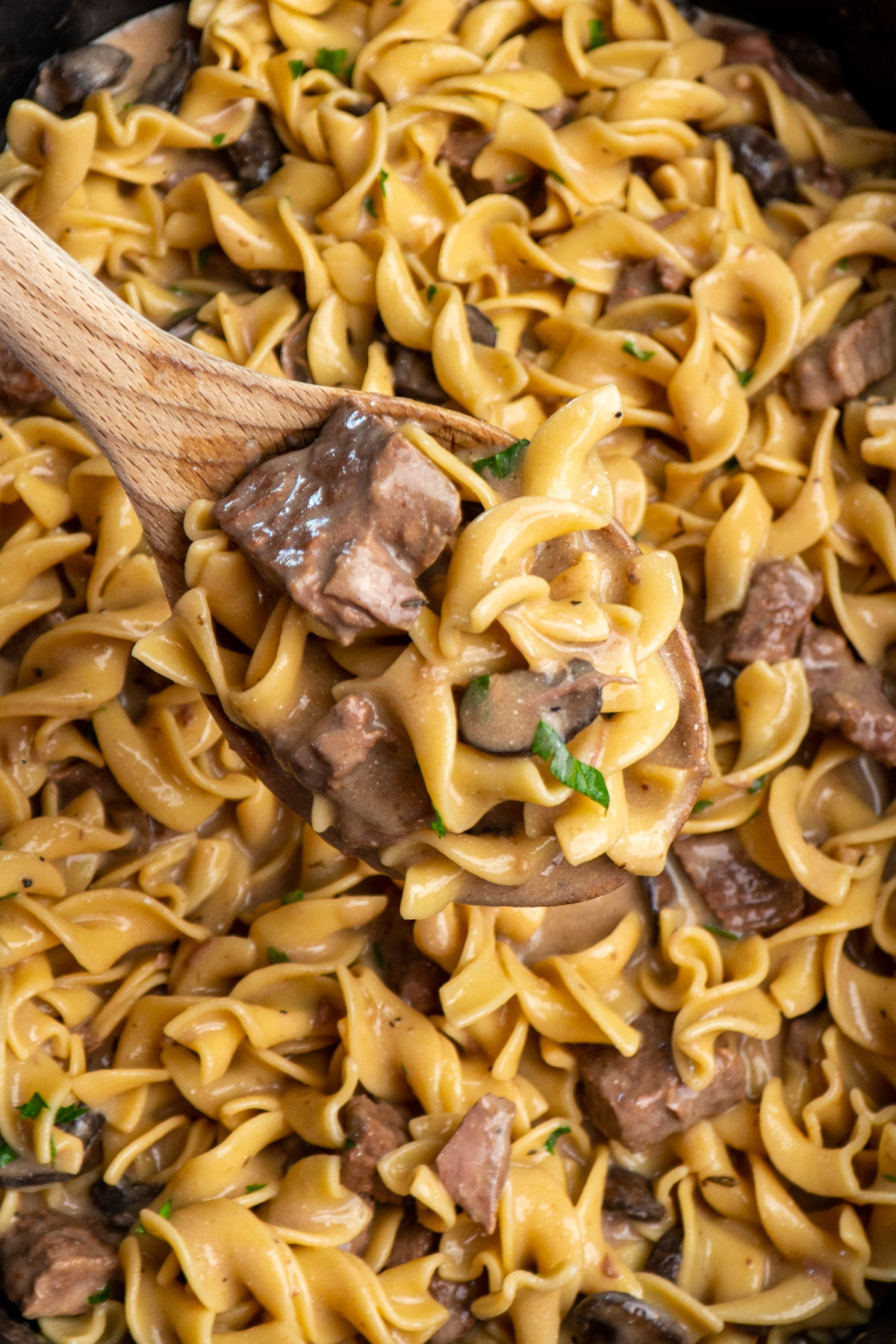 Recipe Tips
For best results, do not skip the step of browning the beef beforehand, as this helps to give the beef more flavor and helps keep it tender on the inside.
If you want a bit more of a gravy-like consistency, add another half cup of beef broth or even water when whisking the cornstarch slurry.
If you find that the sauce is too thick, simply add a bit more beef broth until it reaches your desired consistency.
Cook the egg noodles separately for about 15 minutes before the beef mixture is cooked to ensure everything will be hot and ready.
Variations
Use other cuts of beef: You can use other cuts of beef like chuck steak, stew meat, or even ground beef.
Try different mushrooms: You can also experiment with other types of mushrooms like portobello, white button, cremini, or shiitake.
Add veggies: Mix in some frozen peas or carrots for extra color and nutrients.
Change up the seasonings: Try using other seasonings like paprika, smoked paprika, garlic powder, onion powder, or even cumin.
Serve over other types of grains: If you're not a fan of egg noodles, you can also serve this stroganoff over rice, quinoa, or even mashed potatoes. For a lower carb version, serve over-cooked cauliflower rice.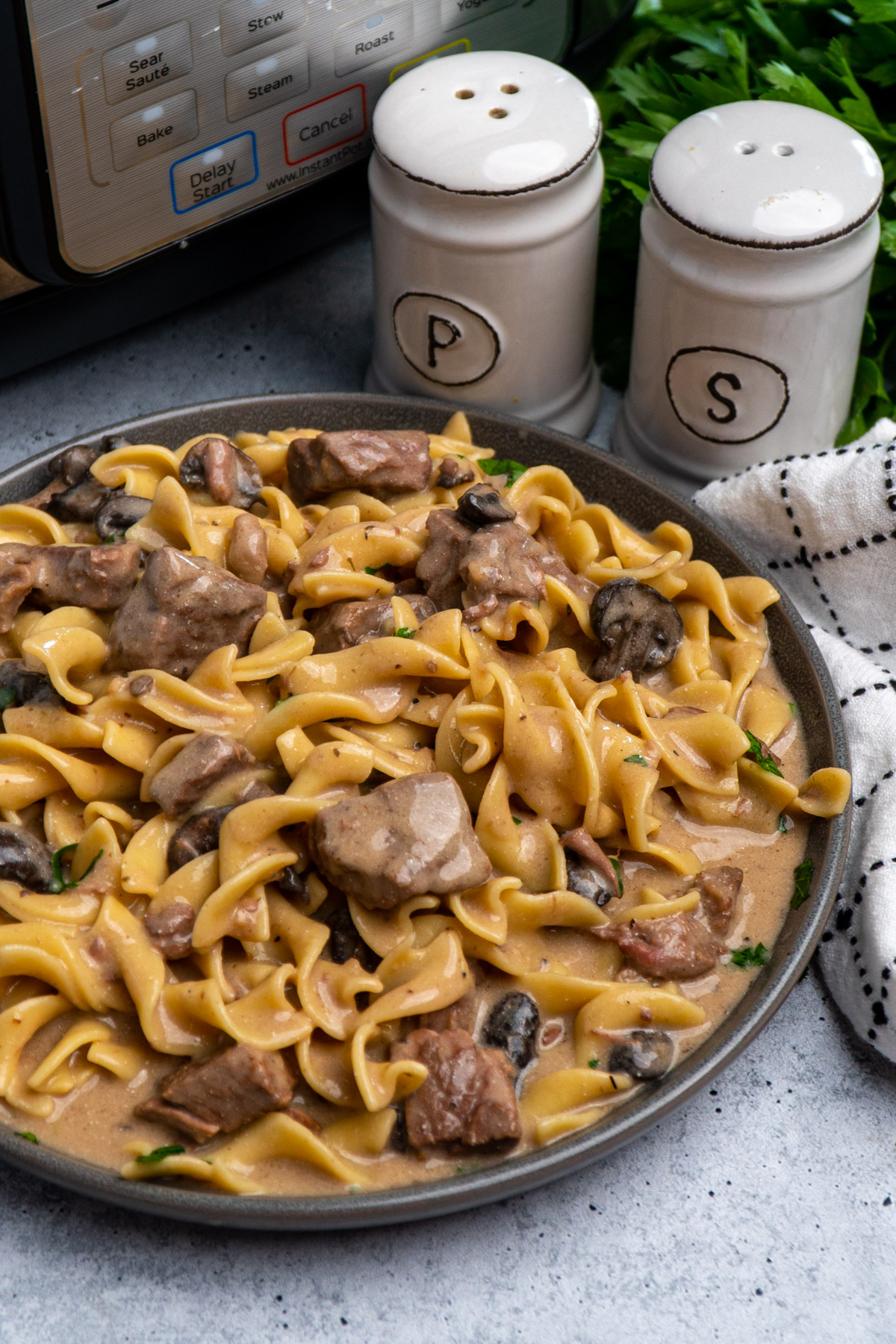 Storage
Storing: Cooled leftovers can be stored in an airtight container in the fridge for up to five days.
Reheating: Reheat leftovers on the stove over low heat until warmed through. You may need to add a splash of beef broth or water to thin out the sauce, as it will thicken when stored.
Freezing: This stroganoff can also be frozen in an airtight container or freezer-safe bag for up to four months. Let thaw in the fridge overnight before reheating.
FAQ
What is the most tender meat for beef stroganoff?
For the most tender meat, it's best to use a cut from the loin or round. These areas don't get as much exercise, so the steak will be tastier.
Can I make beef stroganoff without mushrooms?
If you're not a fan of mushrooms, you can simply leave them out. The dish will still be flavorful without them.
What is the difference between beef stroganoff and beef bourguignon?
The main difference is that beef bourguignon is cooked with red wine, while beef stroganoff is cooked with white wine or broth. Both dishes are hearty and comforting, but the flavors are slightly different.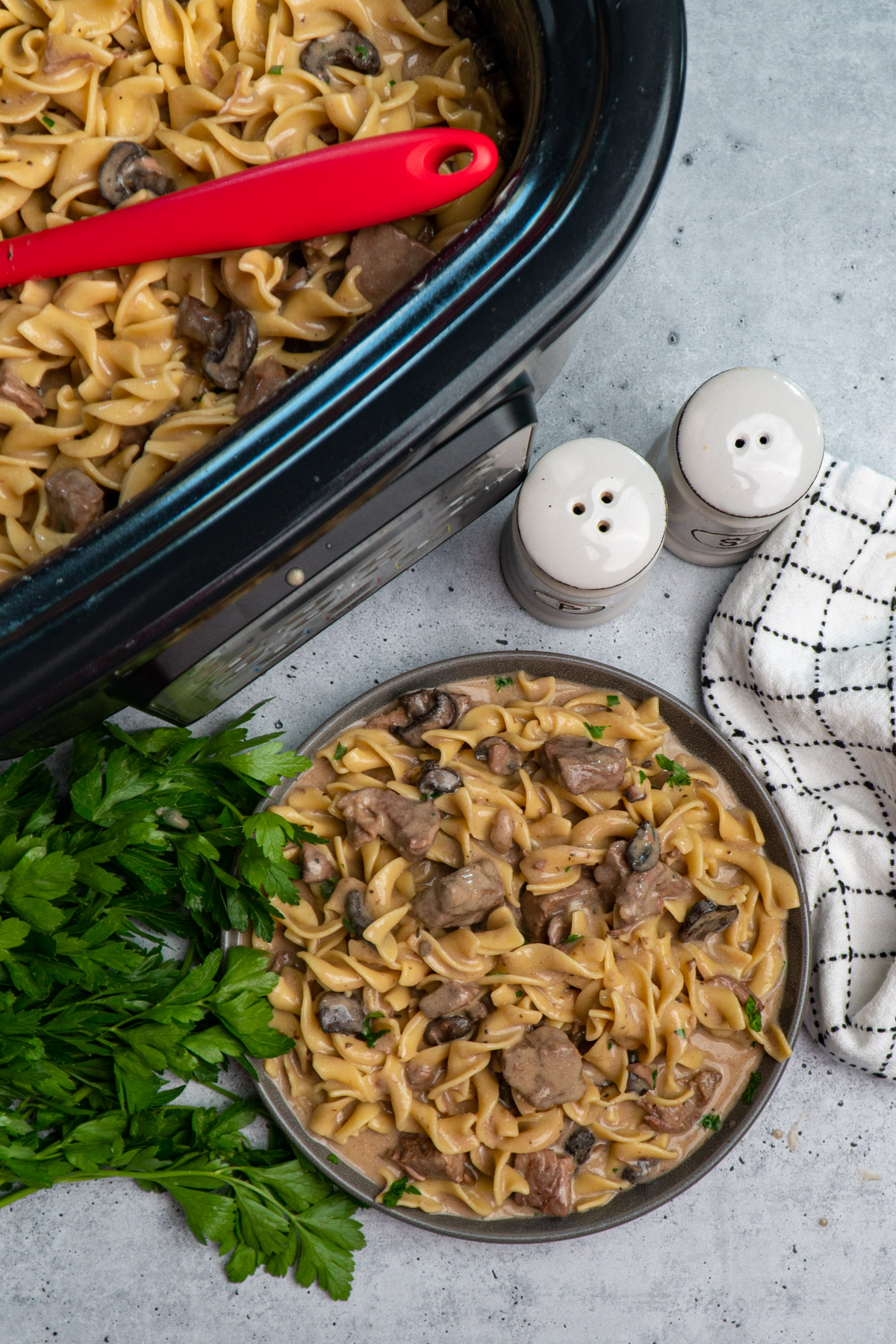 More Easy Slow Cooker Dinner Recipes
Share It & Rate It
I would love it if you would leave a 5 Star ⭐️⭐️⭐️⭐️⭐️ rating below and follow me on Facebook, Instagram, and Pinterest!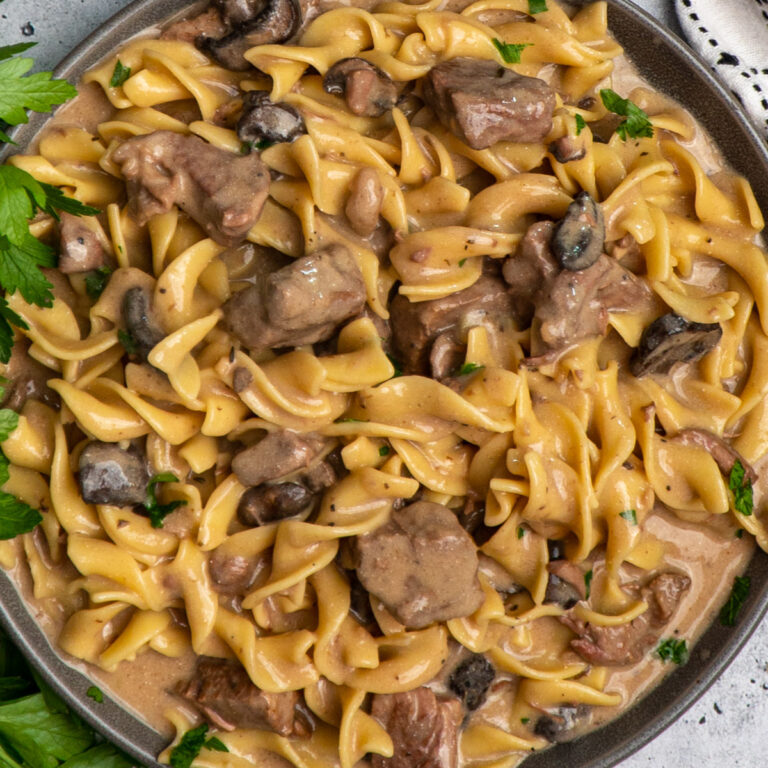 Crock Pot Beef Stroganoff
This easy Crock Pot Beef Stroganoff recipe is made with sirloin steak, mushrooms, and a creamy white sauce. It's perfect for a weeknight dinner or a comforting weekend meal and is easy to prepare with the help of your slow cooker!
Instructions
Cut the beef into 1" cube and trim off excess fat—season with salt and black pepper.

Heat olive in a large skillet over medium heat, add seasoned beef, and sear each side for 30 seconds in small batches. Remove beef and place in the slow cooker.

Add 3 cups of beef broth to the skillet to deglaze the pan. Then pour into the slow cooker.

Then, add thyme, mushrooms, Worcestershire sauced, Dijon mustard, cream of mushroom soup, and garlic to the slow cooker. Stir until well combined.

Cover and cook on high for 4-5 hours or on low for 7-8 hours or until the beef is tender.

Thirty minutes before cook time is up. In a medium bowl, whisk together ½ cup of beef broth and cornstarch until there are no lumps. Then whisk in sour cream and pour into the slow cooker.

Serve over egg noodles and enjoy!
Nutrition
Calories:
545
kcal
Carbohydrates:
50
g
Protein:
45
g
Fat:
18
g
Saturated Fat:
7
g
Polyunsaturated Fat:
2
g
Monounsaturated Fat:
6
g
Trans Fat:
0.2
g
Cholesterol:
162
mg
Sodium:
1151
mg
Potassium:
1079
mg
Fiber:
2
g
Sugar:
4
g
Vitamin A:
284
IU
Vitamin C:
2
mg
Calcium:
96
mg
Iron:
6
mg
*All nutrition information provided is automatically calculated and is an estimate and will vary based on ingredients, brands, and changes in cooking methods listed in the recipe. If you need exact numbers on your ingredients, I would recommend calculating them with your prefered nutrition calculator.