Made with frozen meatballs and rich mushroom gravy, these Crock Pot Salisbury Steak Meatballs are the perfect meal for busy days. With just a few simple steps, you'll have tender and flavorful meatballs that are perfect served over rice or creamy mashed potatoes!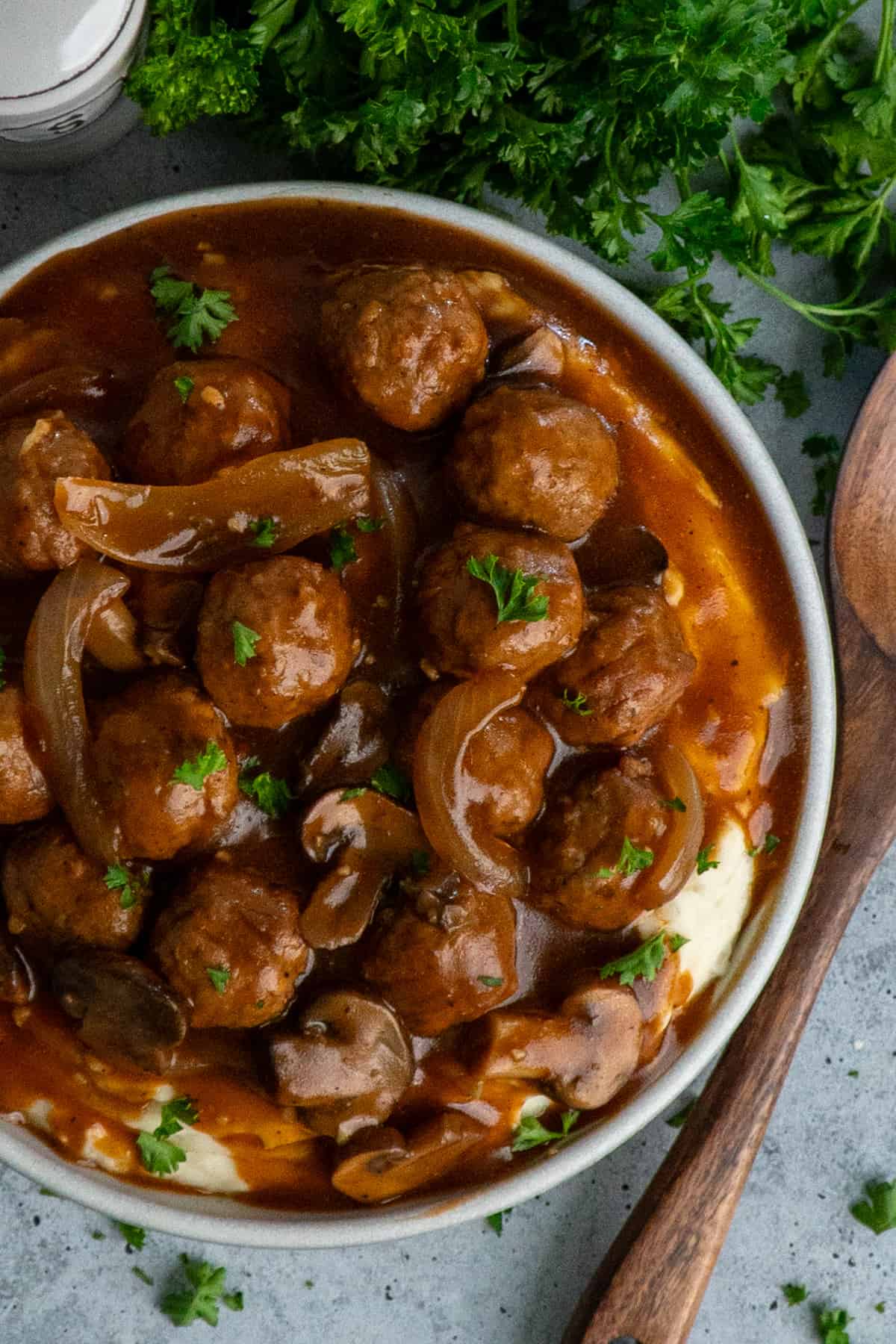 Salisbury steak is a classic comfort food dish that has its roots in American cuisine. This savory dish typically consists of ground beef or a beef patty mixed with breadcrumbs, onions, and various seasonings. The mixture is shaped into patties and then pan-fried or broiled. Traditionally, it is served with a rich brown gravy that complements the flavors of the beef. With this recipe, you can have the delicious taste of Salisbury steak in meatball form using a slow cooker!
This recipe starts out with a bag of frozen meatballs. Using frozen meatballs not only saves you time but also ensures consistent results. The homemade sauce, featuring brown mushrooms, onions, beef broth, and a blend of Worcestershire sauce, ketchup, and Dijon mustard, infuses every meatball with incredible flavor.
The beauty of using a slow cooker is that it allows the meatballs to simmer and soak up all those savory flavors, resulting in a tender texture and delicious taste. Plus, it's a hands-off cooking method that frees you up to work or tend to other tasks.
These flavorful meatballs can be enjoyed in a variety of ways, allowing you to customize your meal to suit your preferences. For a classic presentation, serve them over a bed of fluffy mashed potatoes or alongside buttery egg noodles. If you're looking for a low-carb option, try pairing them with cauliflower rice or a garden salad. You can also stuff them into sub rolls or hoagie buns and top with melted cheese for a delicious meatball sub. No matter how you choose to enjoy them, this easy crock pot meatball recipe makes dinner a breeze!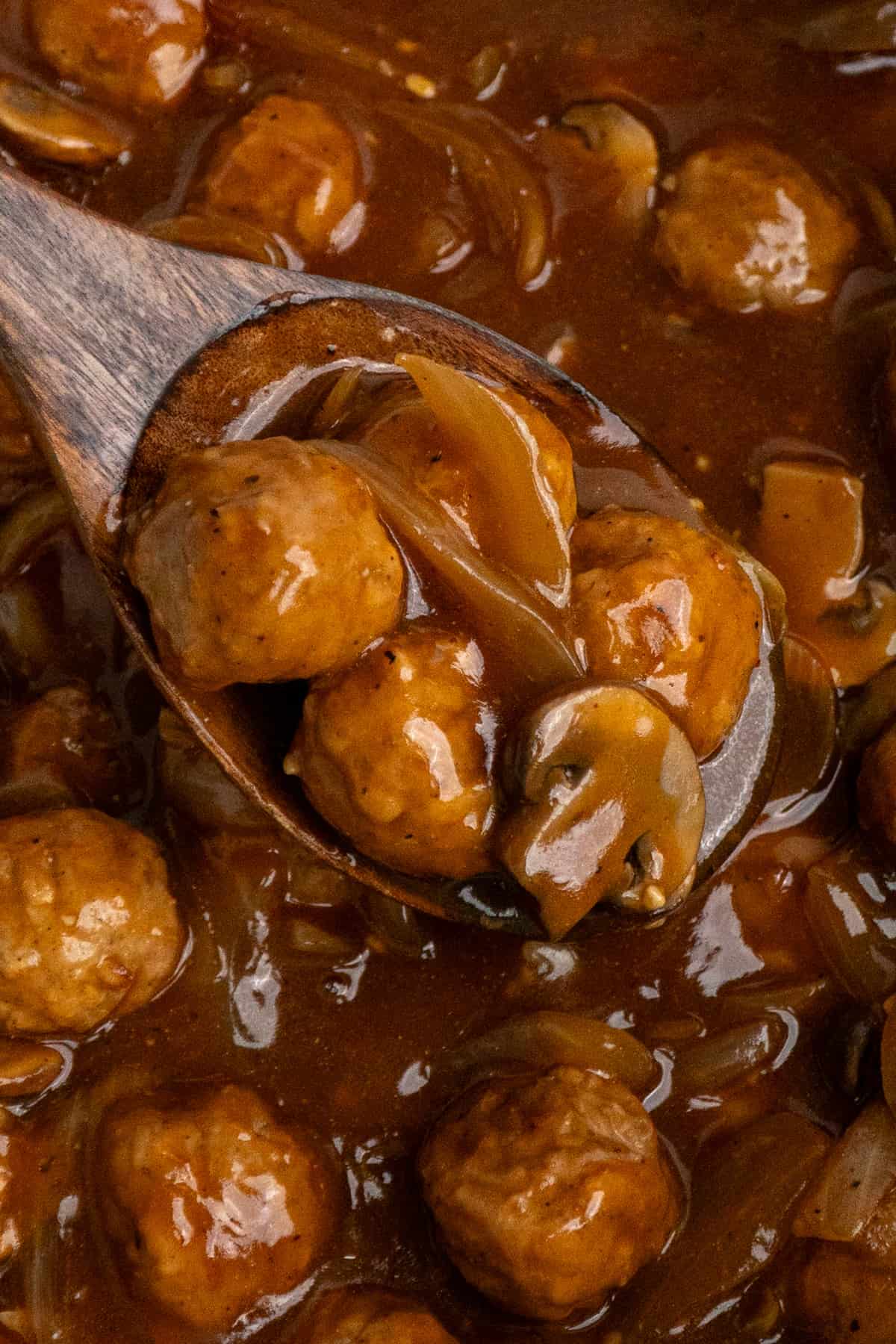 Why You'll Love This Recipe
This recipe takes the classic Salisbury steak to a whole new level by transforming it into flavor-packed meatballs that are perfect for busy weeknights.
The convenience of using frozen meatballs means you can have a delicious homemade meal on the table in no time without sacrificing taste or quality.
The rich and savory homemade mushroom gravy infuses the meatballs with an incredible depth of flavor, creating a comforting sauce.
The slow cooker method allows the meatballs to cook low and slow, resulting in tender beef meatballs are effortlessly cooked to perfection with little effort!
Ingredients You'll Need
Frozen Meatballs - The star of the recipe, these convenient pre-made meatballs save time and effort, providing a hearty protein base for the dish.
Brown Mushrooms - Sliced and cooked with the meatballs, earthy mushrooms add an umami flavor and a meaty texture to the dish.
Yellow Onion - Brings a subtle sweetness and depth of flavor that enhances the overall taste.
Low Sodium Beef Broth - Serves as the base of the mushroom gravy, providing a rich and savory flavor that ties all the ingredients together.
Brown Gravy Mix - Adds depth and richness to the gravy, ensuring a smooth and velvety texture.
Worcestershire Sauce - Adds a tangy and savory note to the meatballs and gravy, enhancing the overall umami taste.
Ketchup - Brings a touch of sweetness and tanginess to the dish, balancing the flavors.
Dijon Mustard - Adds a subtle tang and depth of flavor to the meatballs, complementing the other ingredients.
Black Pepper - Adds a warm and peppery kick, elevating the flavors and giving the dish a hint of spice.
Minced Garlic - Infuses the dish with a bold and aromatic garlic flavor.
Slurry - Both cornstarch and water are used to thicken the gravy; the slurry helps create a velvety texture, coating the meatballs and ensuring a satisfying consistency.
How To Make Salisbury Steak Meatballs In The Crock Pot
Arrange the ingredients: Slice the mushrooms and the onions. Arrange them on the bottom of a 6-quart crock pot. Add the frozen meatballs on top.
Make the sauce: In a medium-sized mixing bowl, add the beef broth, gravy mix, Worcestershire sauce, ketchup, mustard, black pepper, and garlic. Whisk until well combined and pour over meatballs.
Cover and cook: Add the lid to the top and cook for 2-3 hours on HIGH or 5-6 hours on LOW.
Thicken the sauce: Whisk the cornstarch and water together in a small bowl until no lumps remain. Pour into the crock pot and stir. Cook for an additional 10 minutes or until the sauce has thickened.
Serve: Ladle over mashed potatoes, rice, or noodles. Enjoy!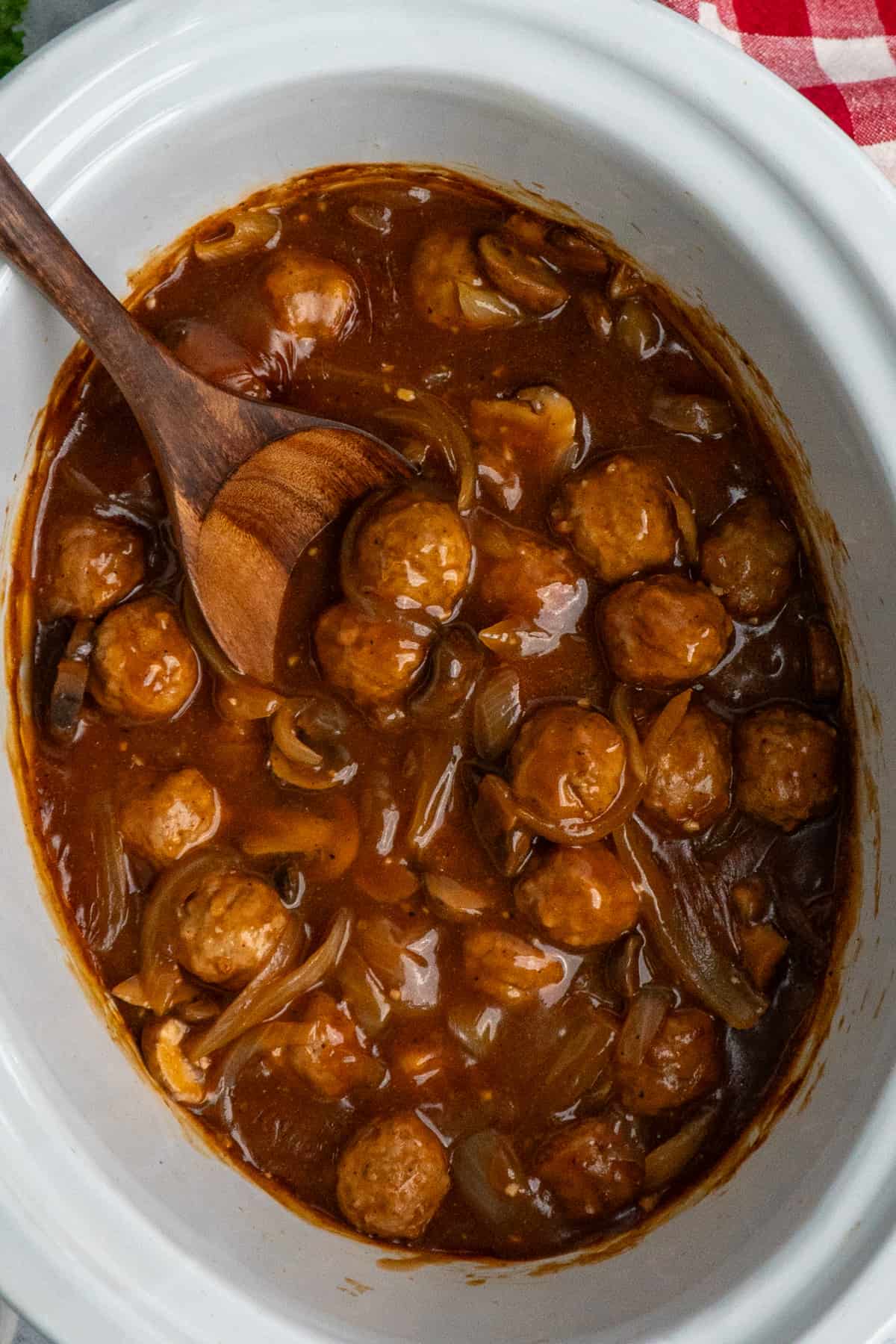 Recipe Tips
If you prefer a chunkier mushroom gravy, slice the mushrooms thicker. This will result in more distinct mushroom pieces throughout the sauce.
For a vegetarian or vegan option, substitute the frozen meatballs with plant-based meatballs or even a combination of lentils and mushrooms. Adjust the cooking time accordingly to ensure they are fully cooked.
Add a splash of red wine or a sprinkle of beef bouillon granules. This will enhance the depth of flavor and add a luxurious touch to the dish.
An alternative to brown gravy mix can be a homemade mixture of beef bouillon or beef broth, flour or cornstarch, and a blend of spices such as onion powder, garlic powder, and paprika if you don't have any on hand.
Variations
Boost the mushroom flavor by using a variety of mushrooms such as cremini, shiitake, or portobello mushrooms. Sauté before adding them to the crock pot for a richer taste.
Swap out the Worcestershire sauce with balsamic vinegar for a tangy twist that adds depth and a touch of sweetness to the meatballs.
Add a pinch of cayenne pepper or a few dashes of hot sauce to the meatball mixture for those who enjoy a little heat.
Give the meatballs a Mediterranean twist by adding a tablespoon of dried oregano and a teaspoon of dried basil to the meatball mixture. Serve them over couscous or with a side of Greek salad for a fresh and vibrant meal.
Stir in a splash of heavy cream or sour cream into the gravy at the end of cooking for a rich and creamy texture.
Infuse an Asian flair by replacing the Worcestershire sauce with soy sauce and adding a teaspoon of sesame oil to the gravy. Serve the meatballs over steamed rice or noodles.
Sprinkle shredded mozzarella or Parmesan cheese over the meatballs during the last few minutes of cooking for a cheesy finish.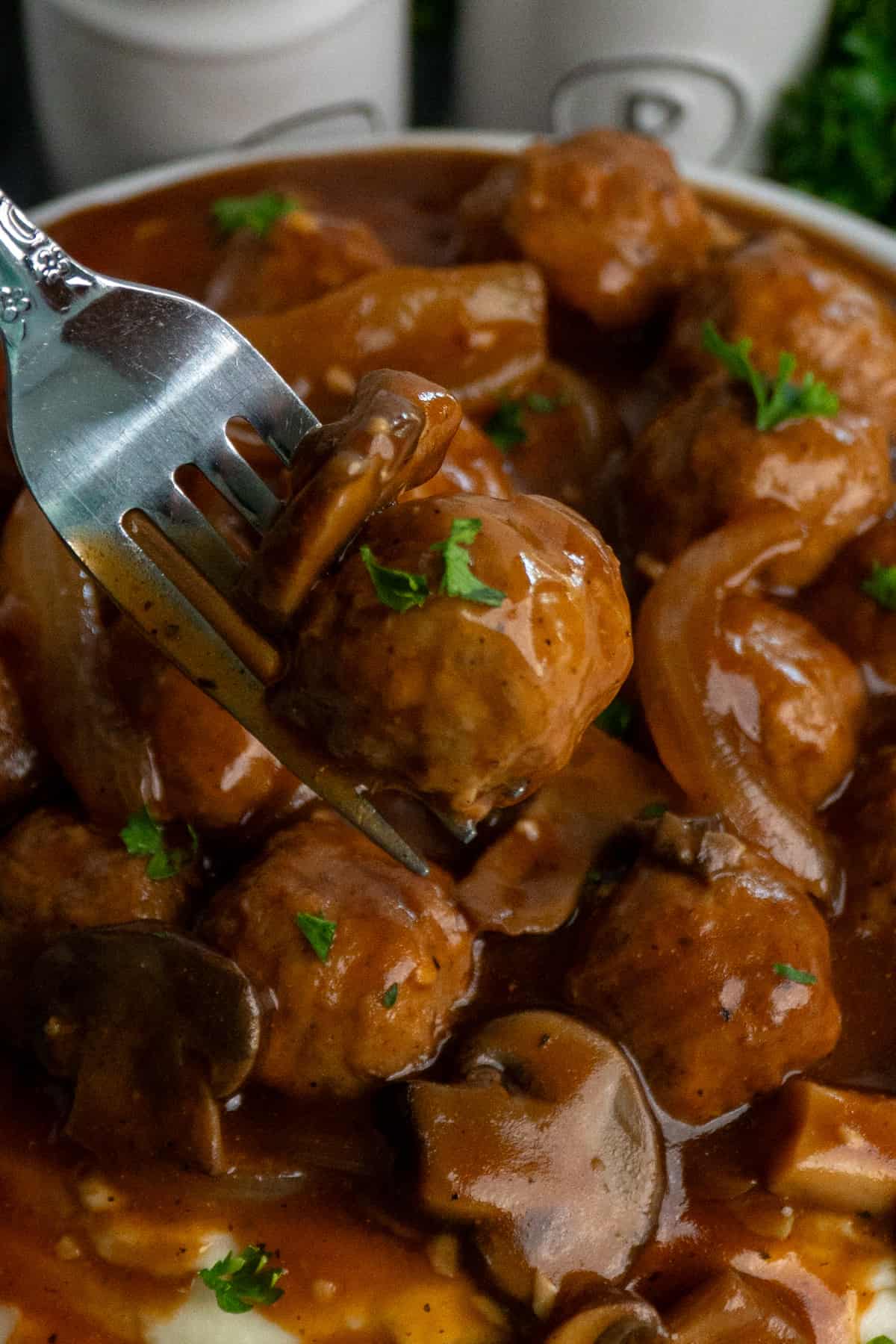 Storing & Freezing
Storing: To store, allow leftovers to cool completely, then transfer them to an airtight container. They can be stored in the refrigerator for up to 3-4 days.
Freezing: Place the cooled meatballs in a freezer-safe container or freezer bags, making sure to remove as much air as possible. They can be frozen for up to 3 months. When ready to use, thaw them overnight in the refrigerator and reheat them in a skillet or the crock pot.
FAQ
How long does it take to warm meatballs and sauce in a crock pot?
It typically takes 2-3 hours on high or 5-6 hours on low to warm the meatballs and sauce in a crock pot, allowing enough time for the flavors to meld together and the meatballs to become tender.
Are frozen meatballs already cooked?
Yes, frozen meatballs are typically already cooked. The cooking time in the crock pot is mainly to warm them through and allow them to absorb the flavors of the sauce.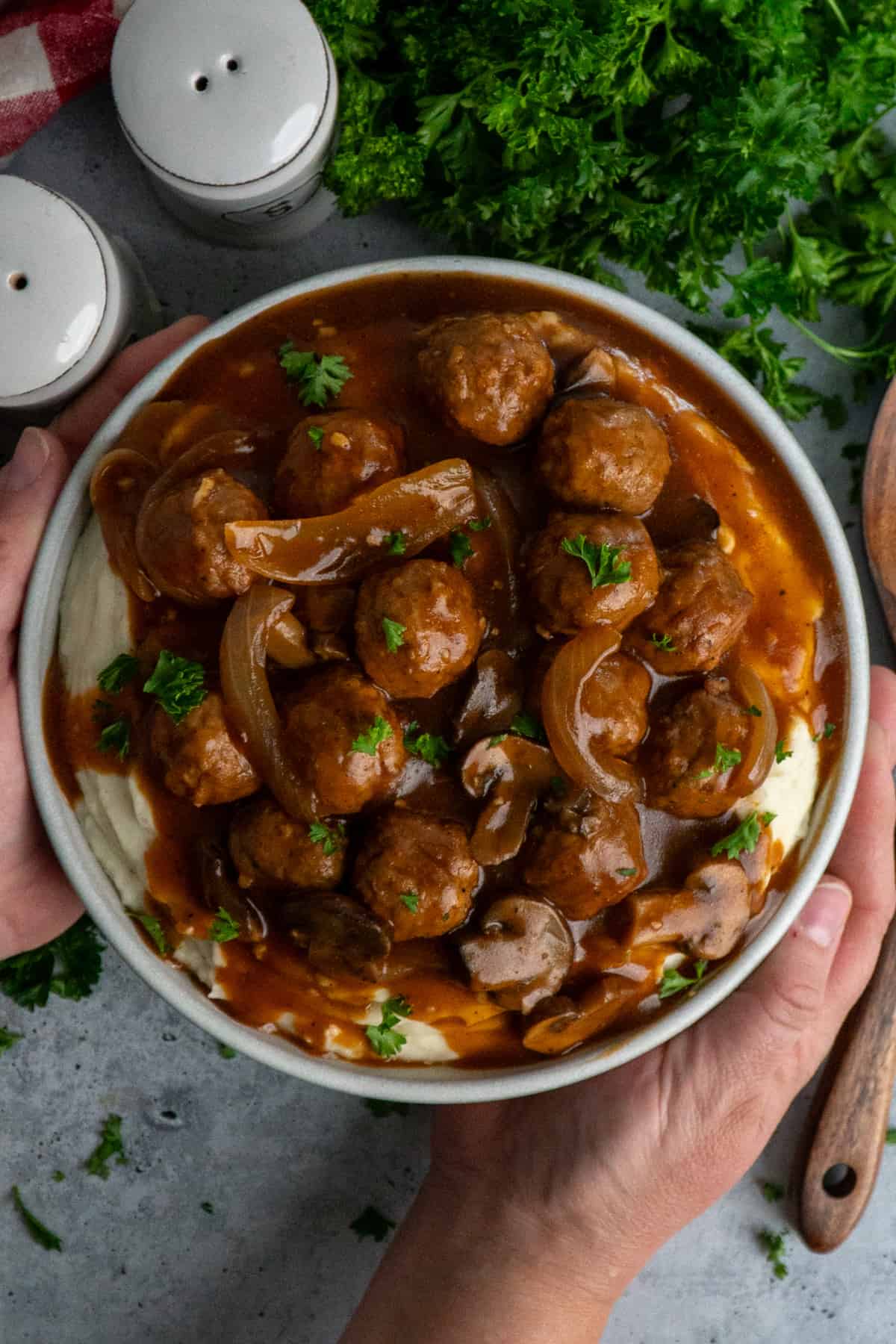 More Crock Pot Meatball Recipes
SHARE IT & RATE IT
I would love it if you would leave a 5 Star ⭐️⭐️⭐️⭐️⭐️ rating below. Then follow me on Facebook, Instagram, and Pinterest! Share your favorite recipes or ask questions in my Facebook Group.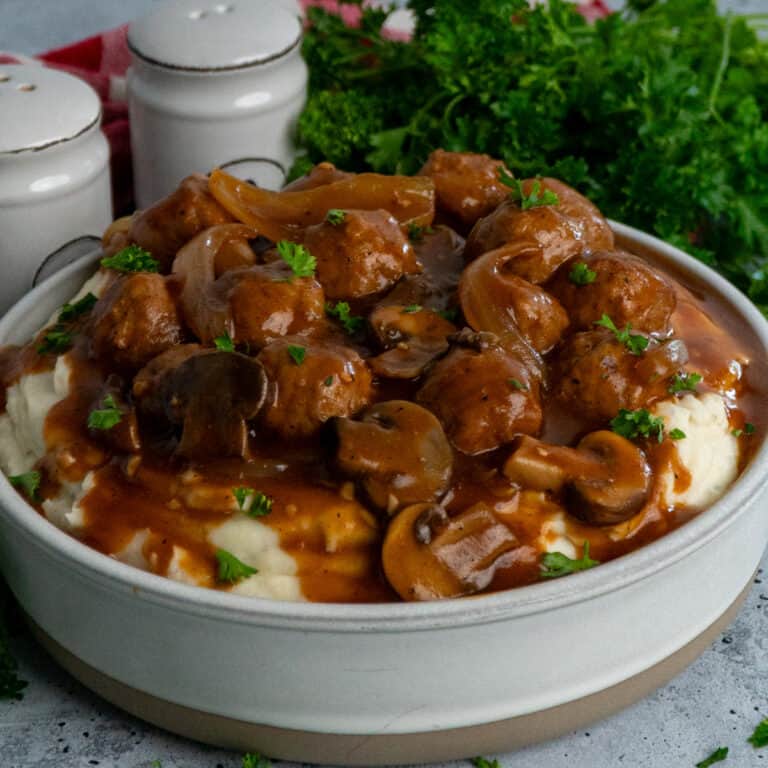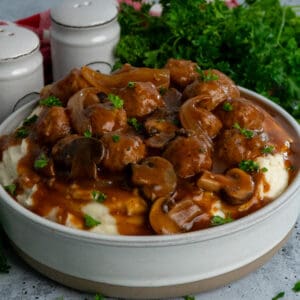 Crock Pot Salisbury Steak Meatballs
Made with convenient frozen meatballs and a rich mushroom gravy, these Crock Pot Salisbury Steak Meatballs are the perfect meal for busy days. With just a few simple steps, you'll have tender and flavorful meatballs that are perfect served over rice or creamy mashed potatoes!
Ingredients
Mushroom Gravy
8

oz

brown mushrooms

(sliced)

1

yellow onion

(sliced)

2

cups

low sodium beef broth

1

oz

Package brown gravy mix

1

tbsp

Worcestershire sauce

3

tbsp

ketchup

1

tbsp

Dijon mustard

1

tsp

black pepper

2

tsp

garlic

(minced)

2

tbsp

corn starch

¼

cup

water
Instructions
Place the sliced mushrooms and onions in the bottom of a 6-quart crock pot. Then pour frozen meatballs over the top.

Add beef broth, gravy mix, Worcestershire sauce, ketchup, mustard, black pepper, and garlic in a medium bowl. Whisk until well combined and pour over meatballs.

Cover and cook on high for 2-3 hours or low for 5-6 hours.

In a small bowl, whisk cornstarch and water together. Pour over the meatballs and mix until well combined. Cook for ten minutes or until the gravy thickens.

Serve over rice or mashed potatoes, and enjoy!
Nutrition
Calories:
277
kcal
Carbohydrates:
7
g
Protein:
18
g
Fat:
20
g
Saturated Fat:
7
g
Polyunsaturated Fat:
2
g
Monounsaturated Fat:
9
g
Cholesterol:
66
mg
Sodium:
284
mg
Potassium:
574
mg
Fiber:
1
g
Sugar:
3
g
Vitamin A:
40
IU
Vitamin C:
2
mg
Calcium:
28
mg
Iron:
1
mg
*All nutrition information provided is automatically calculated and is an estimate and will vary based on ingredients, brands, and changes in cooking methods listed in the recipe. If you need exact numbers on your ingredients, I would recommend calculating them with your prefered nutrition calculator.