This Crock Pot Beefy Potato Taco Casserole is a comforting combination of tender ground beef, diced potatoes, and zesty taco seasoning, all cooked to perfection in a slow cooker! With simple ingredients and minimal effort, you can enjoy a full-flavored meal for a new family favorite.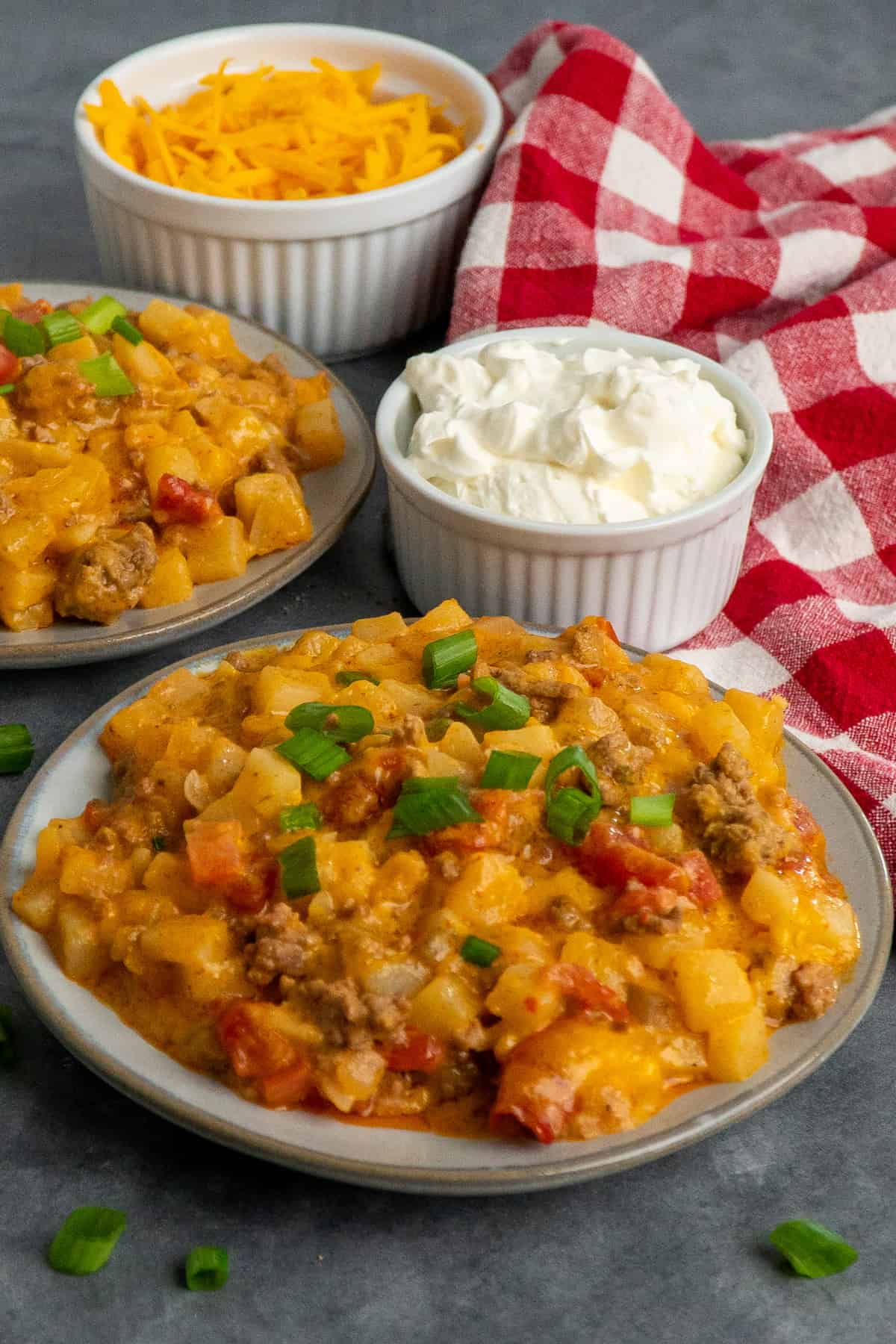 Potato Taco Casserole is a comforting dish that brings together the savory goodness of beef, the creaminess of potatoes and sour cream, a kick from green chilies and tomatoes, and the zesty flavor of taco seasoning. It's a perfect fusion of Tex-Mex and classic casserole, resulting in a meal that is both satisfying and full of flavor!
The crock pot is the ultimate cooking method to make this easy casserole. The low and slow cooking process tenderizes the beef making it super tender while also infusing the potatoes with all the delicious seasonings. The crock pot also eliminates the need for constant monitoring and stirring, making it hassle-free. With just a few minutes of prep work, you can set it and forget it, letting the crock pot work its magic to have a full meal ready to go in just four hours or less!
One of the best things about this crock pot casserole recipe is how incredibly easy it is to assemble. The ground beef, onions, and garlic are cooked on the stovetop before being added to the crock pot. Then, it's just a matter of combining the remaining ingredients and mixing them together until well combined. Once everything is in the crock pot, you can set the timer in no time, you'll have a delicious and comforting meal. This makes it a perfect option for busy weeknights or for whenever you need a well-rounded meal that will satisfy your whole family!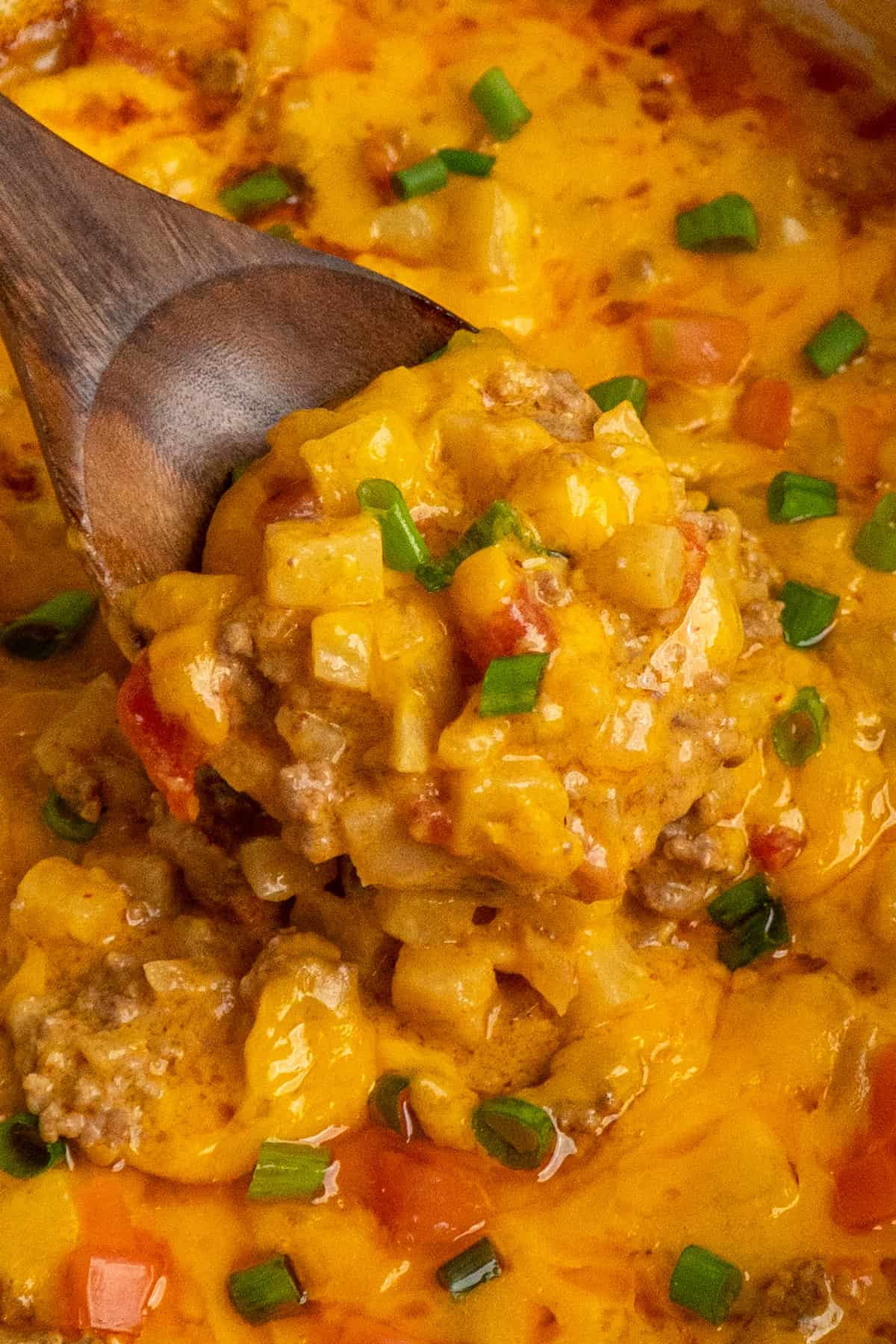 Why You'll Love This Recipe
With its simple ingredients and easy assembly, this recipe is perfect for those busy weeknights when you crave a homemade dinner with little effort.
The slow-cooking process ensures tender and juicy beef, perfectly cooked potatoes, and a perfect blend of flavors that you just can't get in the oven.
The combination of savory ground beef, creamy potatoes, zesty taco seasoning, and gooey cheddar cheese creates a satisfying and comforting dish that will stick to your ribs!
Ingredients You'll Need
Ground Beef - Serves as the flavorful protein base of the casserole, providing richness and a meaty texture.
Yellow Onion & Garlic - Add aromatic depth and savory flavors to the dish, enhancing the overall taste profile.
Diced Potatoes - Not only contribute to the heartiness of the casserole but also provide a creamy and starchy base.
Rotel (tomatoes with green chilies) - Brings a tangy and slightly spicy kick to the casserole, adding a zesty flavor that complements the beef and potatoes.
Canned Cheddar Cheese Soup - Adds a creamy and cheesy texture to the casserole, binding all the ingredients together.
Sour Cream - Adds to the creaminess and tanginess of the dish, balancing out the flavors and providing a cooling flavor.
Taco Seasoning - Brings a burst of vibrant flavors, infusing the dish with traditional taco seasonings like cumin, chili powder, and paprika.
Shredded Cheddar Cheese - Adds a gooey and melty topping to the casserole while enhancing the overall cheesiness and richness of the dish.
How To Make Beefy Potato Taco Casserole In The Crock Pot
Cook the beef and onions: Add a large skillet to the stovetop and turn to medium-high heat. Add the ground beef, onions, and garlic. Break up with a spatula and cook until the meat is browned. Drain off any excess oil, then add the cooked meat mixture to the bottom of the crock pot.
Add remaining ingredients: Add the diced potatoes, cheddar cheese soup, sour cream, taco seasoning, and half of the shredded cheddar. Mix until fully combined.
Cover and cook: Add the lid to the top and cook on LOW for 4 hours or HIGH for 2½ hours.
Melt the cheese topping: Once fully cooked, sprinkle the remaining shredded cheddar cheese on top and cook for an additional 15 minutes or until the cheese is melted. Serve with your favorite toppings, and enjoy!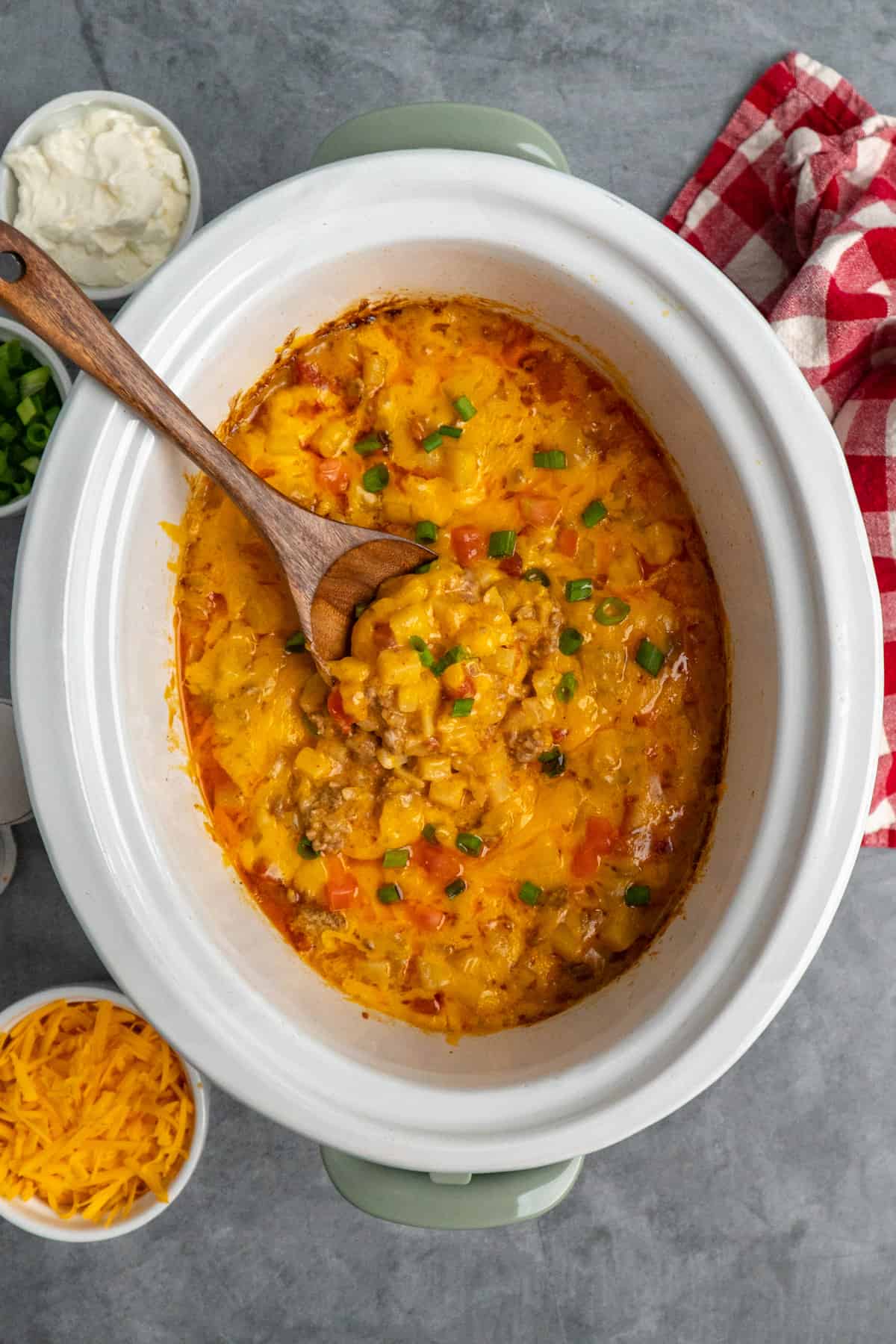 Recipe Tips
For extra flavor and texture, brown the ground beef until it develops a nice caramelized crust. This step adds depth and richness to the meat and gives the casserole an even more beefy flavor.
If you love bold and spicy flavors, choose a hot taco seasoning or add a pinch of cayenne pepper for an extra kick.
For a twist on presentation, layer the ingredients in the crock pot instead of mixing them together. Start with a layer of potatoes, followed by ground beef, onions, and garlic, and then repeat the layers until all the ingredients are used.
Garnish the casserole with your favorite toppings, such as sliced jalapeños, chopped cilantro, diced tomatoes, or a dollop of sour cream.
Variations & Substitutions
For a meatless version, replace the ground beef with plant-based crumbles or a combination of cooked black beans and corn.
Experiment with different types of shredded cheese to add your own personal touch. Use a blend of Monterey Jack and cheddar cheese, or sprinkle some crumbled queso fresco on top.
Swap the diced potatoes with sweet potatoes. The natural sweetness of the sweet potatoes pairs well with the savory beef and taco flavors, offering a unique and delicious twist.
To make this recipe gluten-free, ensure that the taco seasoning you use is free of any gluten-containing ingredients. Replace the canned cheddar cheese soup with a homemade gluten-free cheese sauce or a gluten-free cream soup alternative, such as cream of mushroom or cream of chicken.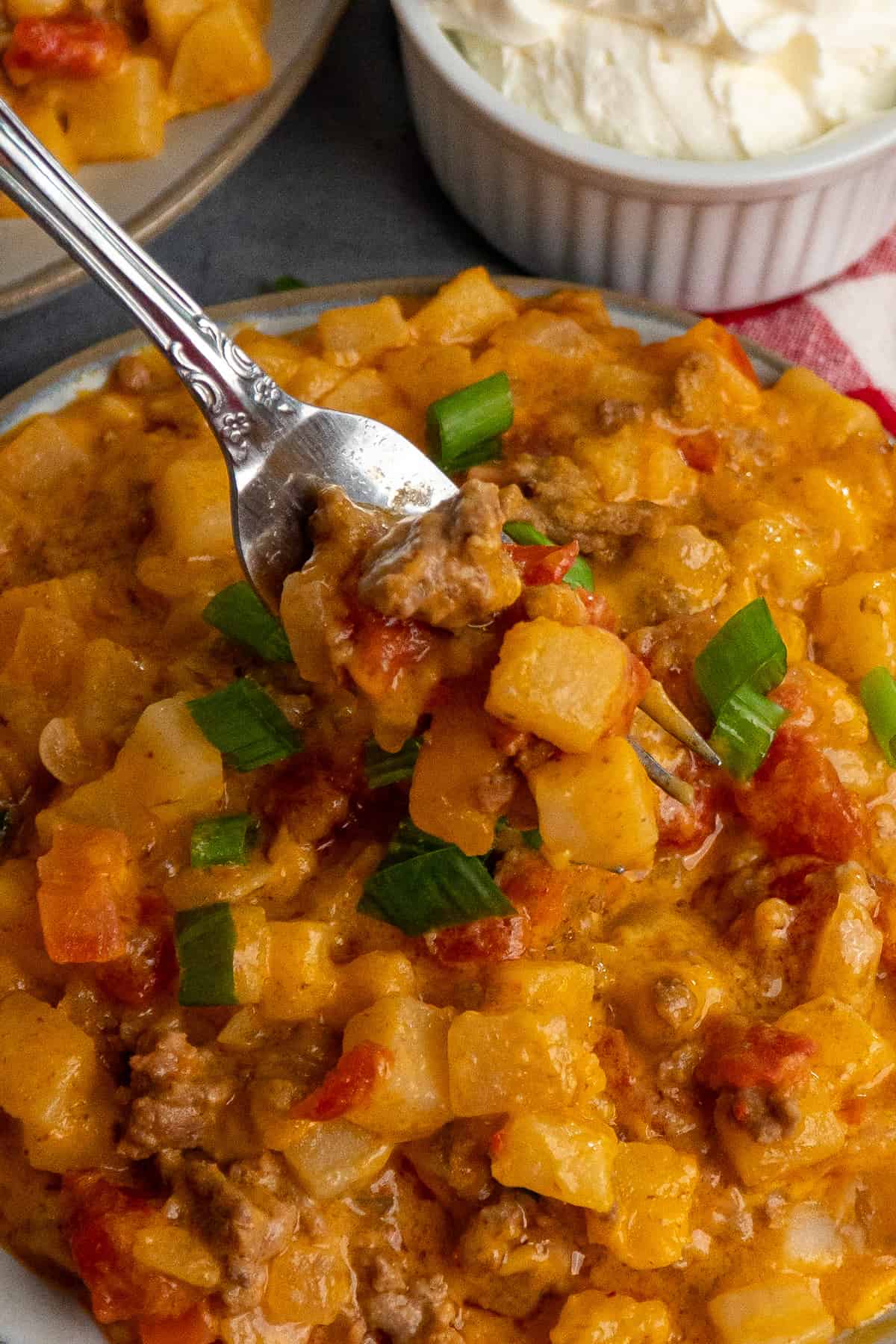 Storing & Freezing
Storing: Allow the casserole to cool completely. Transfer any leftovers into an airtight container and refrigerate them. The casserole can be stored in the refrigerator for up to 3-4 days.
Freezing: Once cooled, portion the casserole into freezer-safe containers or sealable freezer bags. Make sure to remove any excess air to prevent freezer burn. Label the containers with the date and freeze it for up to 3 months. To thaw, transfer it to the refrigerator and let it thaw overnight.
Reheating: Reheat individual portions in the microwave or heat the entire casserole in the oven at a low temperature until warmed through. Add a sprinkle of fresh cheese on top during reheating for an extra gooey and melty finish.
FAQ
Can I substitute the cheddar cheese soup with another type of soup?
If you prefer a different flavor profile, you can substitute the cheddar cheese soup with cream of mushroom, cream of chicken, or even nacho cheese soup. Choose a soup that complements the other ingredients and aligns with your taste preferences.
Can I make this recipe in the oven instead of a crock pot?
If you prefer to use the oven, you can assemble the casserole in a baking dish and bake it at 375°F (190°C) for approximately 40-45 minutes or until the cheese is melted and the casserole is heated through. Keep in mind that the cooking time may vary, so it's always best to check for doneness.
Can I use ground turkey or ground chicken?
Yes! Ground turkey or chicken offers a lighter alternative to using ground beef but won't sacrifice taste.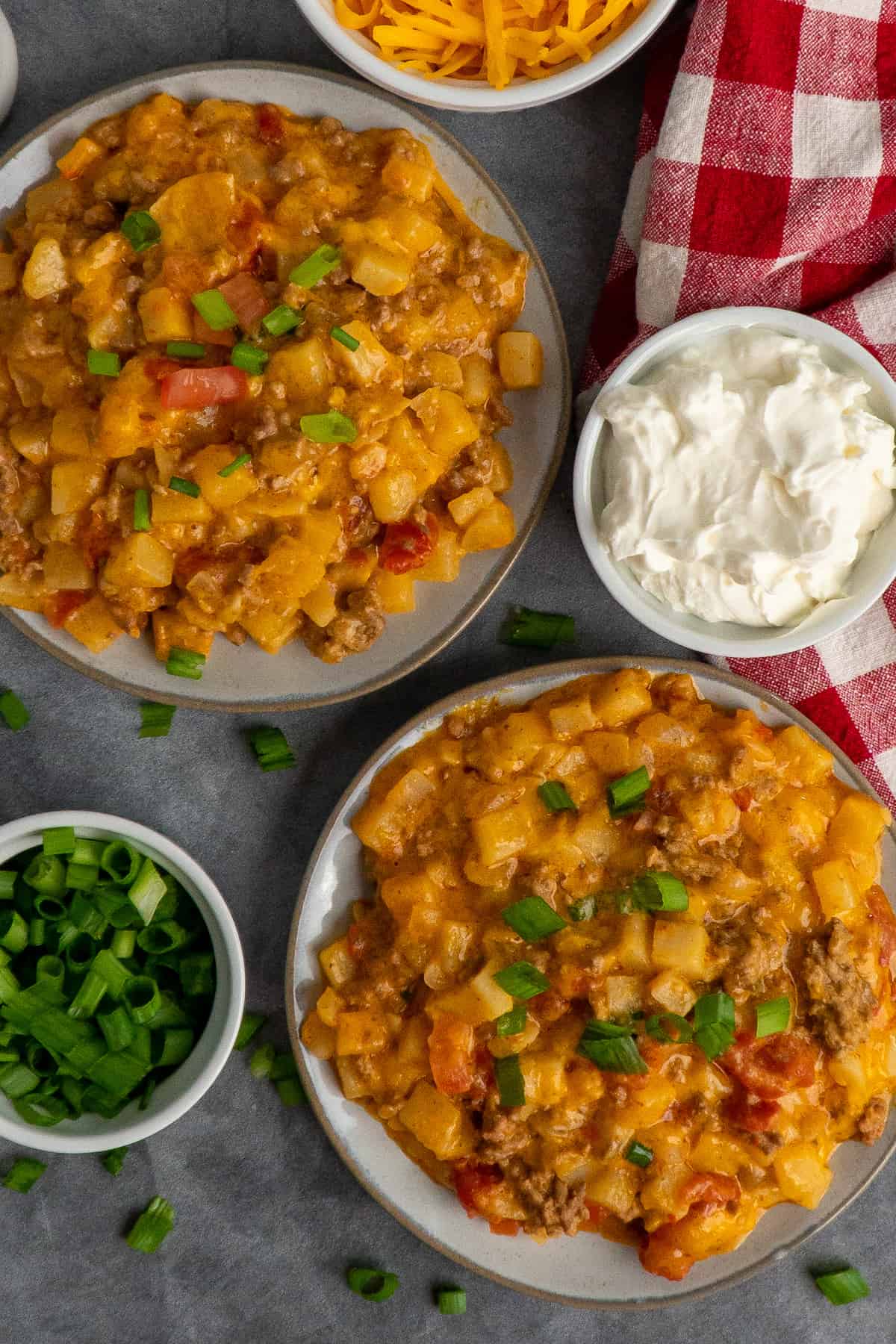 More Mexican Inspired Crock Pot Recipes
SHARE IT & RATE IT
I would love it if you would leave a 5 Star ⭐️⭐️⭐️⭐️⭐️ rating below. Then follow me on Facebook, Instagram, and Pinterest! Share your favorite recipes or ask questions in my Facebook Group.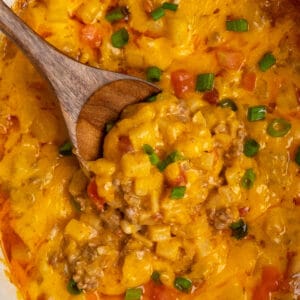 Crock Pot Beefy Potato Taco Casserole
This Crock Pot Beefy Potato Taco Casserole is a comforting combination of tender ground beef, diced potatoes, and zesty taco seasoning, all cooked to perfection in a slow cooker! With simple ingredients and minimal effort, you can enjoy a full-flavored meal for a new family favorite.
Ingredients
1

lb

ground beef

(cooked)

1

yellow onion

(diced)

2

tsp

garlic

(minced)

28

oz

diced potatoes

1

can Rotel diced tomatoes and green chilies

1

can cheddar cheese soup

½

cup

sour cream

1

tbsp

taco seasoning

2½

cups

cheddar cheese

(shredded and divided)
Instructions
In a large skillet over medium-high heat, add ground beef, onions, and garlic. Cook until meat is completely browned. Drain off excess grease and add to the Crock Pot.

Add potatoes, cheddar cheese soup, sour cream, taco seasoning, and 2 cups of cheddar cheese. Mix until well combined.

Cover and cook on low for 4 hours or high for 2½ hours.

Sprinkle the remaining cheddar cheese over the top and continue to cook for 15 minutes.

Serve with your favorite toppings, and enjoy!
Notes
My family did not find this recipe spicy at all. But if you do not like any spice, replace the Rotel tomatoes with regular diced tomatoes.
If you can not find diced potatoes, you can substitute them with shredded hashbrowns.
Nutrition
Calories:
540
kcal
Carbohydrates:
28
g
Protein:
27
g
Fat:
36
g
Saturated Fat:
17
g
Polyunsaturated Fat:
1
g
Monounsaturated Fat:
11
g
Trans Fat:
1
g
Cholesterol:
112
mg
Sodium:
429
mg
Potassium:
673
mg
Fiber:
2
g
Sugar:
2
g
Vitamin A:
632
IU
Vitamin C:
13
mg
Calcium:
385
mg
Iron:
3
mg
*All nutrition information provided is automatically calculated and is an estimate and will vary based on ingredients, brands, and changes in cooking methods listed in the recipe. If you need exact numbers on your ingredients, I would recommend calculating them with your prefered nutrition calculator.