Perfect for a lazy weekend cookout or a quick weeknight meal, this savory and slightly sweet Crock Pot Hot Dog Chili is made with ground beef, tomato sauce, ketchup, mustard, and a blend of simple spices. Set it and forget it in the slow cooker, leaving you with plenty of time to relax and enjoy the delicious aroma as it simmers to perfection!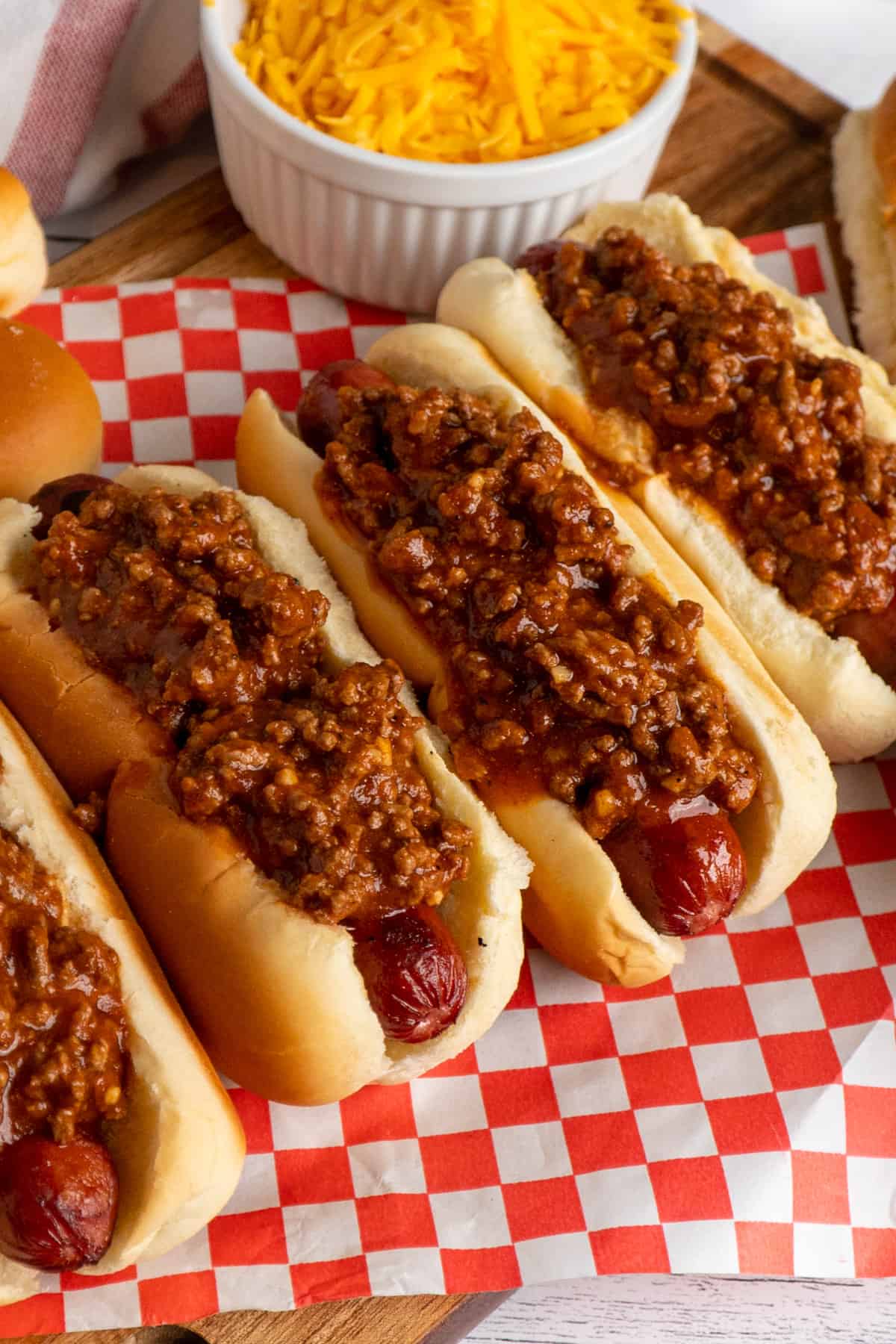 What Is A Chili Dog?
A chili dog is a popular American dish that consists of a hot dog (also known as a frankfurter or wiener) that is topped with chili con carne and typically served in a bun. It is a quintessential food for sporting events, fairs, picnics, and home barbeques.
While regular chili is typically made with a variety of beans, vegetables, and spices, hot dog chili is all about the meat! It's made with ground beef that is cooked up with a blend of seasonings and a tomato-based sauce, creating a thick and hearty topping that is perfect for hot dogs.
Regular chili is often eaten as a meal on its own, whereas hot dog chili is specifically designed to be a topping for hot dogs, giving them that extra oomph of flavor and texture.
Hot dog chili is a versatile topping that can be used on a variety of different types of food. You can use hot dog chili as a dip for your favorite chips or veggies or as a topping for baked potatoes or French fries. You can even use it as a filling for tacos or burritos or use it on top of nachos!
Why You'll Love This Recipe
This hot dog chili recipe is flavorful, with a perfect blend of savory and slightly sweet flavors.
It's incredibly easy to make, thanks to the convenience of using a crock pot.
Chili dogs are a classic American dish that is perfect for a variety of occasions, from lazy weekend cookouts to quick weeknight meals.
This recipe is incredibly versatile, allowing you to use the hot dog chili as a topping for a variety of dishes beyond just hot dogs.
Ingredients You'll Need
Ground Beef - The main protein source for the chili and adds beefy flavor and texture.
Beef Broth - Adds richness and depth of flavor to the chili and also helps to create a thicker consistency.
Tomato Sauce - Gives the chili its signature tomato-based flavor and adds moisture.
Ketchup - Provides a slight sweetness and helps to balance out the acidity of the tomato sauce.
Yellow Mustard - Adds a tangy and slightly acidic flavor that balances the sweetness.
Worcestershire Sauce - Adds a complex, umami flavor, enhancing the meaty flavor of ground beef.
Chili Powder - adds a spicy kick to the chili and provides a depth of flavor.
Salt & Pepper - Brings out the natural flavors in the dish.
Garlic (minced) - Adds a pungent garlic flavor that pairs well with the rest of the ingredients.
Brown Sugar - Adds sweetness and depth of molasses flavor to the chili, balancing out the acidity.
Onion Powder - Adds a sweet and slightly pungent onion flavor.
How To Make Hot Dog Chili In The Crock Pot
Brown the ground beef: Add the ground beef to a large skillet. Turn the heat to medium-high and cook until browned, breaking up with a spatula. This takes about 5-7 minutes. Drain any excess oil off the ground beef, then add it to the crock pot.
Assemble the chili: To the ground beef, add the beef broth, tomato sauce, ketchup, mustard, Worcestershire sauce chili powder, garlic, brown sugar, onion powder, and salt and pepper.
Cover and cook: Add the lid to the top and cook on HIGH for 1.5-2 hours, making sure to stir occasionally.
Serve and enjoy: Place a hot dog inside a bun and ladle the chili on top. Enjoy!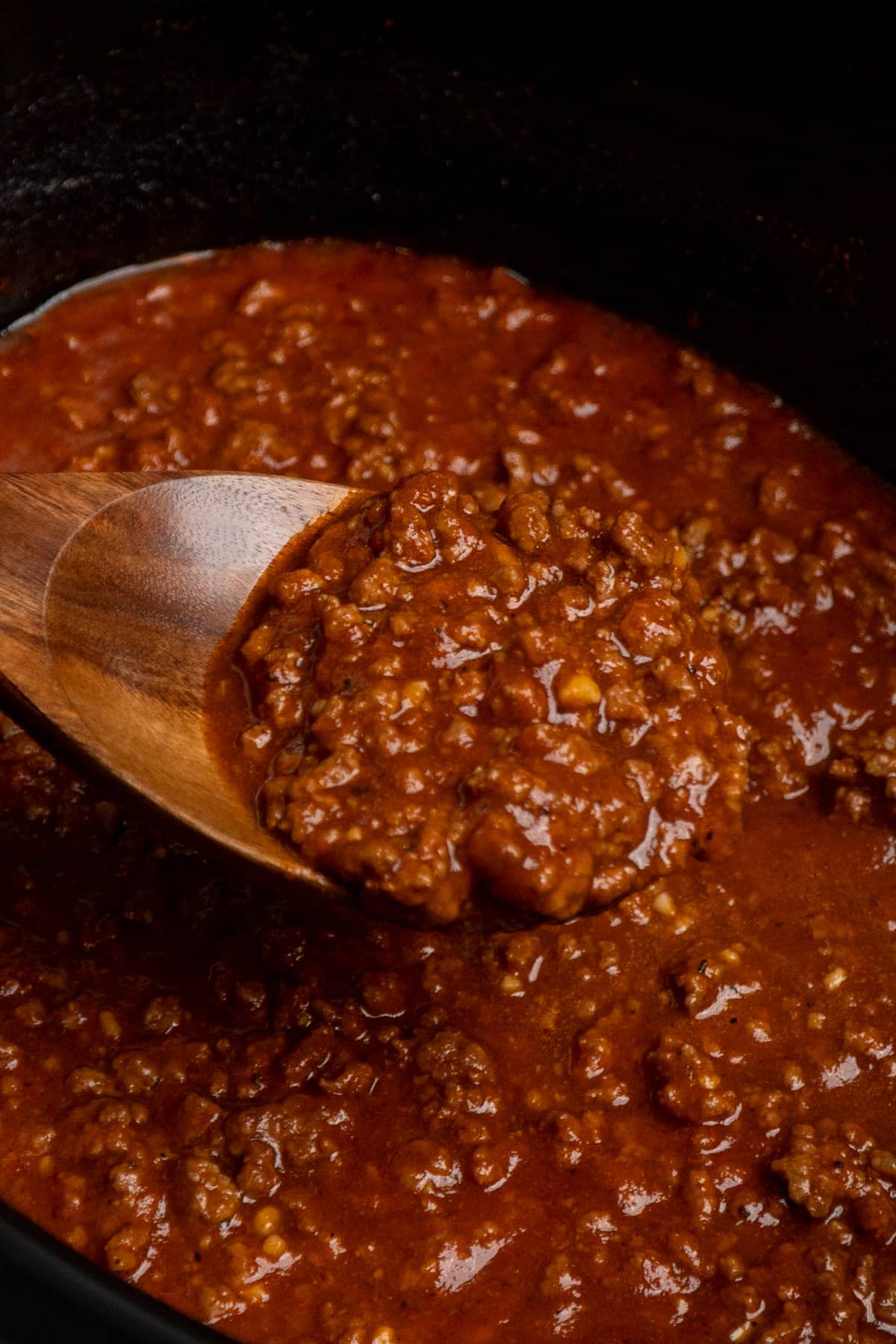 Recipe Tips
To ensure that your hot dog chili has the perfect texture, be sure to drain off any excess grease from the ground beef after browning it. This will help prevent the chili from becoming too greasy.
If you prefer your chili to be spicier, you can adjust the amount of chili powder to your liking. You can also add hot sauce, cayenne pepper, or red chili flakes.
For best results, use a high-quality beef broth to enhance the richness and depth of flavor.
If you want to save time, you can prep all of the ingredients the night before and store them in the refrigerator until you're ready to make the chili.
To add some extra texture and flavor to your chili dog, consider topping it with your favorite ingredients, such as grated cheese, diced onions, or pickled jalapenos.
Variations
For a vegetarian option, you can substitute ground beef with a meatless alternative, such as crumbled tofu or tempeh.
For a lightened-up version, you can use lean ground beef and reduce the amount of brown sugar and ketchup.
If you prefer a chunkier texture, you can add some diced tomatoes or bell peppers to the crock pot.
To make this recipe even easier, you can use a store-bought chili seasoning mix instead of measuring out the individual spices.
Storing & Freezing
Storing: To store leftover hot dog chili, let it cool to room temperature and then transfer it to an airtight container. You can store it in the refrigerator for up to five days.
Freezing: To freeze, let the chili cool completely and then transfer it to a freezer-safe container or freezer bag. Freeze for up to three months. When you're ready to use it, simply thaw it in the refrigerator overnight and reheat it on the stove or in the microwave.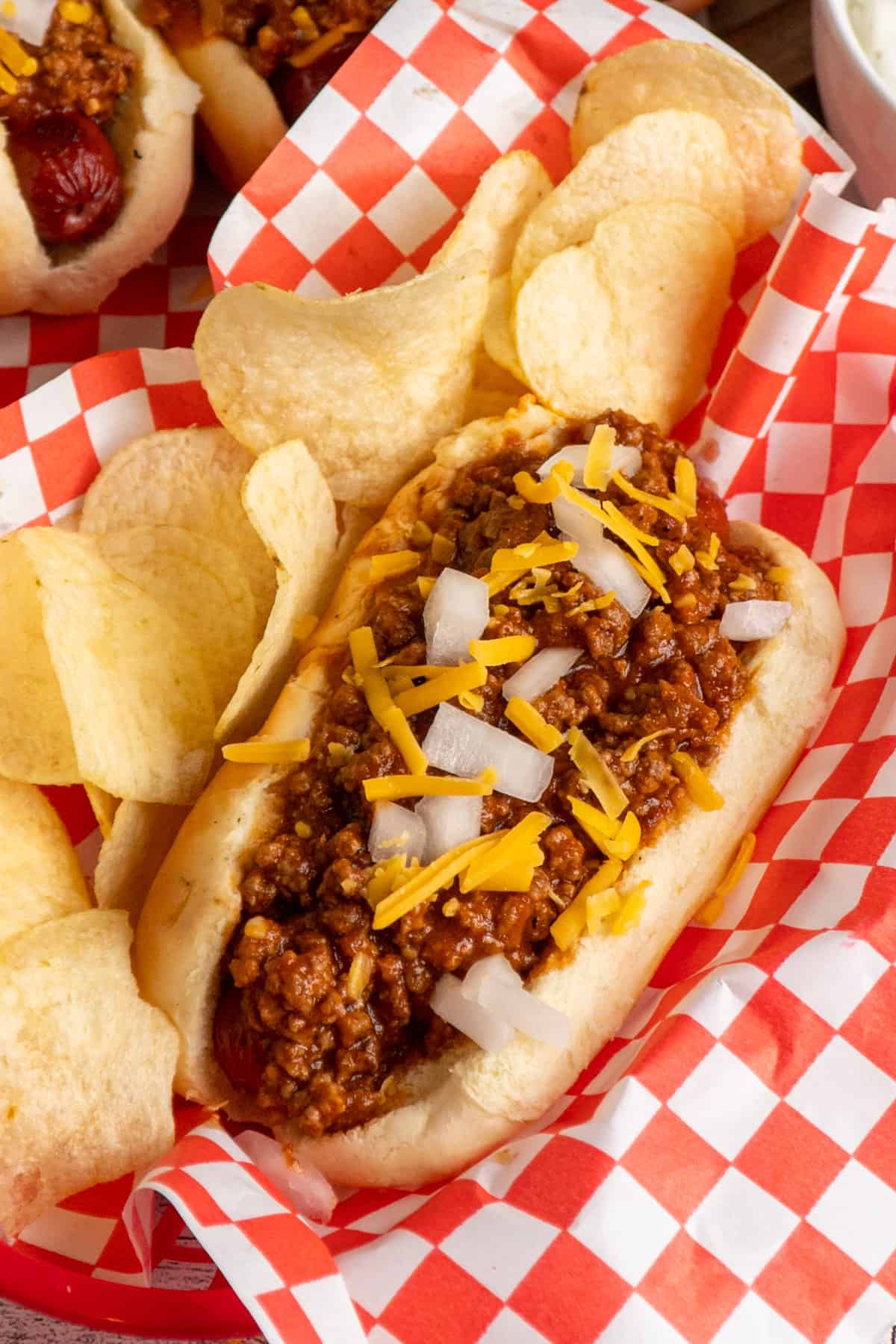 FAQ
What is the best type of ground beef to use for making chili?
It's best to use a mix of ground beef with at least 80% lean and 20% fat. This will give your chili the perfect texture and flavor.
Can I make this chili recipe on the stovetop?
Yes, you can! Simply brown the ground beef and then add all of the chili ingredients to a large pot. Simmer for at least 20-25 minutes, occasionally stirring, until the chili has thickened.
I don't like hot dogs- what else can I serve chili with?
This chili is delicious when served over white or brown rice, nachos, roasted potatoes, or even on top of a baked potato. It's also great served with cornbread or tortilla chips.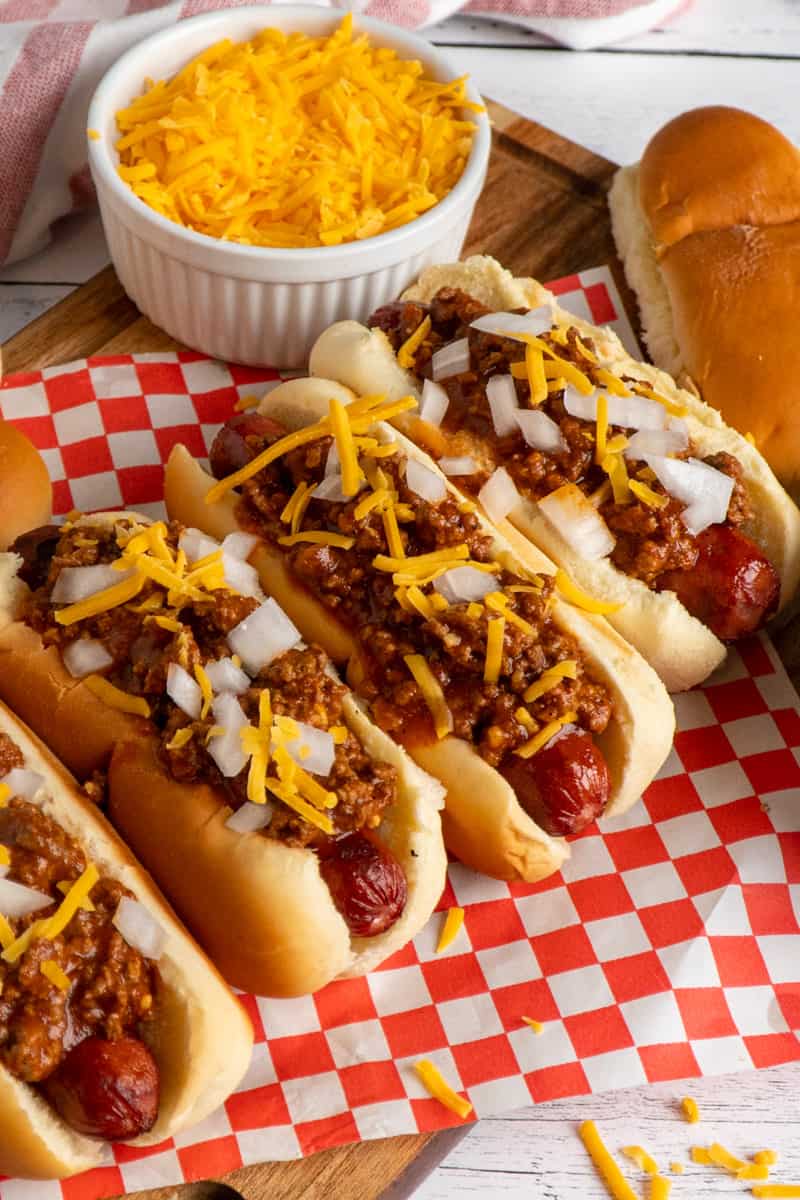 More Easy Crock Pot Recipes
SHARE IT & RATE IT
I would love it if you would leave a 5 Star ⭐️⭐️⭐️⭐️⭐️ rating below. Then follow me on Facebook, Instagram, and Pinterest! Share your favorite recipes or ask questions in my Facebook Group.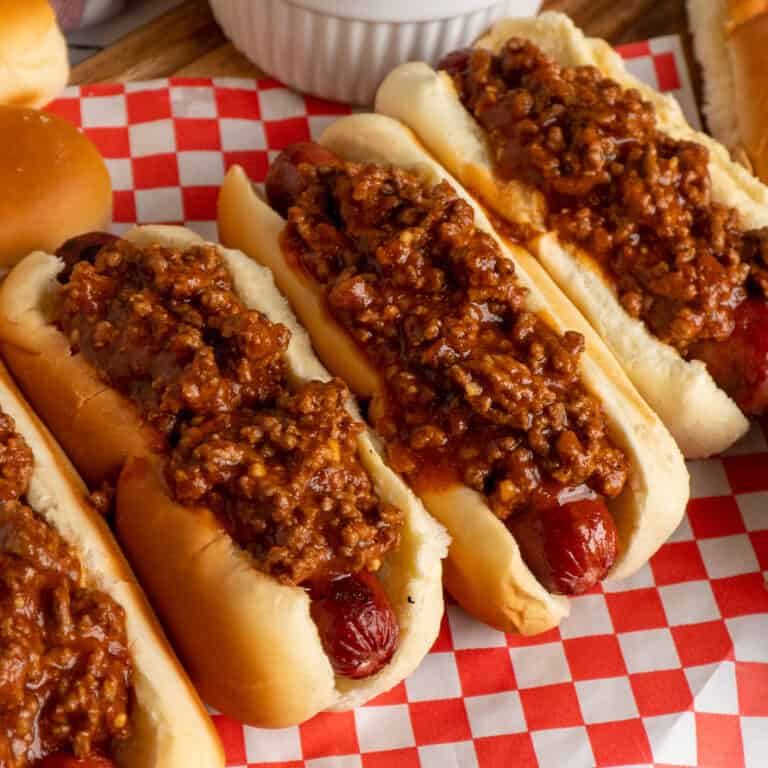 Crock Pot Hot Dog Chili
Perfect for a lazy weekend cookout or a quick weeknight meal, this savory and slightly sweet Crock Pot Hot Dog Chili is made with ground beef, tomato sauce, ketchup, mustard, and a blend of simple spices. Set it and forget it in the slow cooker, leaving you with plenty of time to relax and enjoy the delicious aroma as it simmers to perfection!
Instructions
In a large skillet over medium high head, add ground beef and cook until browned. About 5-7 minutes. Drain off excess grease and add to the crock pot.

Add all the remaining ingredients and give everything a good stir until well combined.

Cover and cook on high for 1½ - 2 hours stirring occasionally.

Serve over hot dogs and top with favorite toppings.
Notes
Enhance your chili dogs by adding these popular hot dog toppings.

Shredded cheddar cheese
Diced white onions
Jalapenos
Relish
Coleslaw
Mustard
Ketchup
Sauerkraut

To prevent hot dog chili from thickening too quickly and to make the most of it, try adding a couple of tablespoons of water, beef broth, or even ketchup.
To cook it on the stovetop, start by browning the ground beef and then combine all the chili ingredients in a large pot. Let it simmer for 20-25 minutes while stirring occasionally until it thickens. It's as simple as that!
Nutrition
Calories:
174
kcal
Carbohydrates:
7
g
Protein:
10
g
Fat:
12
g
Saturated Fat:
4
g
Polyunsaturated Fat:
0.4
g
Monounsaturated Fat:
5
g
Trans Fat:
1
g
Cholesterol:
40
mg
Sodium:
489
mg
Potassium:
252
mg
Fiber:
0.4
g
Sugar:
5
g
Vitamin A:
230
IU
Vitamin C:
1
mg
Calcium:
24
mg
Iron:
1
mg
*All nutrition information provided is automatically calculated and is an estimate and will vary based on ingredients, brands, and changes in cooking methods listed in the recipe. If you need exact numbers on your ingredients, I would recommend calculating them with your prefered nutrition calculator.