Warm up your taste buds with a hearty bowl of Crock Pot White Chicken Chili. This easy-to-follow recipe combines tender chicken, savory spices, and a medley of beans and corn, all simmered to perfection in a slow cooker!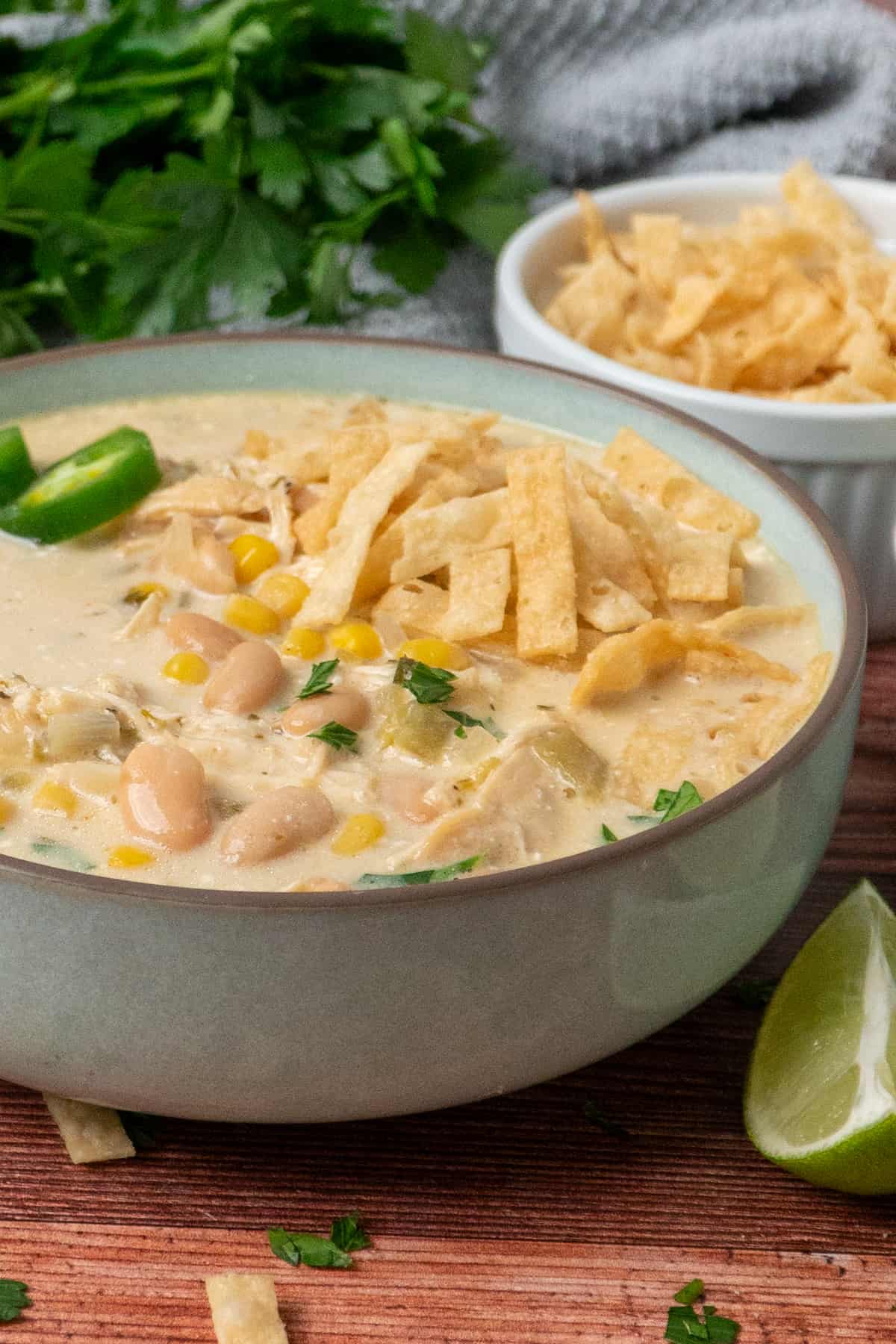 White chicken chili offers a different take on the classic chili, swapping out the usual red tomato base for a milder, creamier blend of flavors. It features tender chicken, creamy beans, and a mix of spices that create a distinct and satisfying dish!
White chicken chili is easy to make! The slow cooker does the heavy lifting, allowing the flavors to come together as the chicken becomes tender, soaking it all in. With chicken broth, spices, and beans, it's a simple yet delicious meal, perfect for busy days. Start by layering onions and chicken in your slow cooker, then season with a mix of spices. Pour in chicken broth, beans, green chilies, corn, and cilantro. Let it cook away until the chicken is tender, then shred it and mix in Monterey Jack cheese and half & half for that creamy finish!
The best part about this chili is how many toppings you can use to customize your bowl. Whether you're a fan of melted cheese, the coolness of sour cream, the zing of fresh cilantro, or the satisfying crunch of tortilla strips, white chicken chili accommodates them all!
If you love hearty chili and stews, I recommend trying either my Poor Man's Stew or Tender Beef Stew. They both offer a delicious, satisfying experience, whether you're on a budget or looking for a classic beef stew.
Why You'll Love This Recipe
It's a flavor-packed twist on traditional chili, with tender chicken, creamy beans, and a blend of spices that create a one-of-a-kind taste.
It's all made in a Crock Pot so that you can enjoy a delicious, hassle-free meal without the stress of constant monitoring.
The creamy finish, thanks to the addition of half & half and Monterey Jack cheese, adds a luxurious touch to the finished product.
With endless topping possibilities, from gooey melted cheese to zesty cilantro and crunchy tortilla strips, you can transform each bowl into a personalized meal!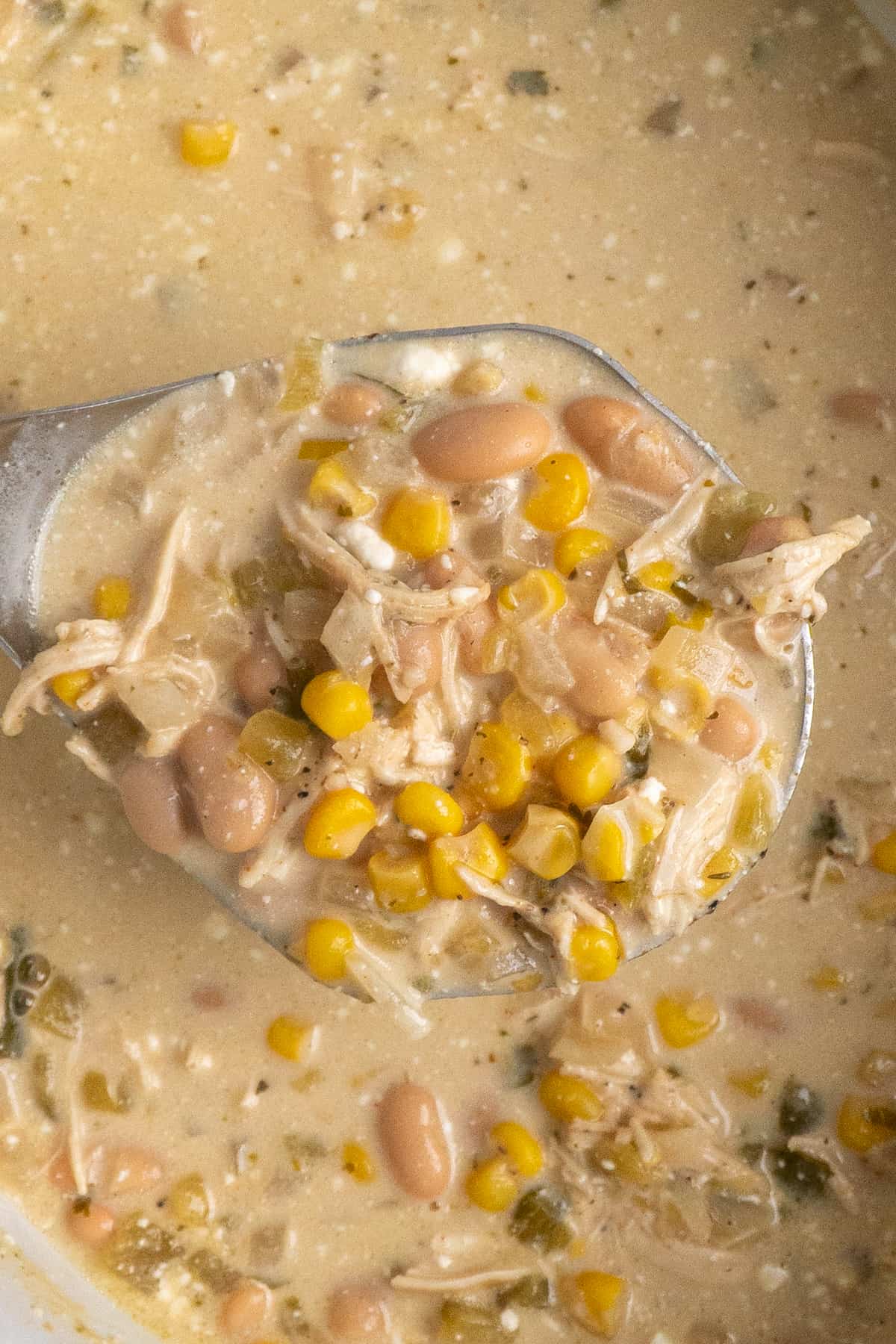 Ingredients You'll Need
Yellow Onion & Minced Garlic - Gives a savory depth and complexity to the chili, infusing it with a rich, flavorful base.
Boneless Skinless Chicken Breast - The chicken is the star of the show, providing a lean protein source that becomes tender and shreds beautifully as it cooks.
Chili Spices (salt, pepper, paprika, oregano, chili powder, cumin) - Brings the perfect amount of flavor, with salt and pepper enhancing overall taste, paprika adding smokiness, oregano contributing earthy notes, chili powder infusing warmth, and cumin offering a touch of mild, nutty spiciness.
Low Sodium Chicken Broth - Serves as the liquid foundation, intensifying the savory profile and ensuring the chili doesn't become too thick while also complementing the chicken's flavor.
Great Northern Beans - Provide a textural contrast to the dish and soak up the delicious flavors of the broth and spices.
Diced Green Chilies - Adds a mild kick and a subtle hint of heat to the chili.
Whole Kernel Corn - Contributes a pop of color, natural sweetness, and texture to the chili.
Fresh Cilantro - Adds a vibrant freshness that balances the richness of the dish.
Monterey Jack Cheese - Gives a creaminess and a mild, tangy note that enhances the overall indulgence.
Cream Cheese - This creates a luxuriously creamy finish, making the chili silky and comforting.
How To Make White Chicken Chili In The Crock Pot
Prepare the chicken: Remove any excess fat from the chicken breast. Pat dry with paper towels on both sides. Layer the onions on the bottom of the crock pot. Add the chicken to the crock pot and sprinkle the dry seasonings over the top.
Add ingredients: Pour in the chicken broth, Worcestershire sauce, canned beans, garlic, green chilies, corn kernels, and cilantro on top of the seasoned chicken breast. 
Cover and cook: Add the lid to the top and cook on HIGH for 3-4 hours or LOW for 6-8 hours.
Add cheese and cream: Once the chicken is cooked through, remove it, shred it with two forks, and add it back to the crock pot. Then add the shredded cheese and half and half. Mix well and cook for 30 minutes.
Garnish and serve: While hot, ladle into bowls and add your favorite chili toppings. Enjoy!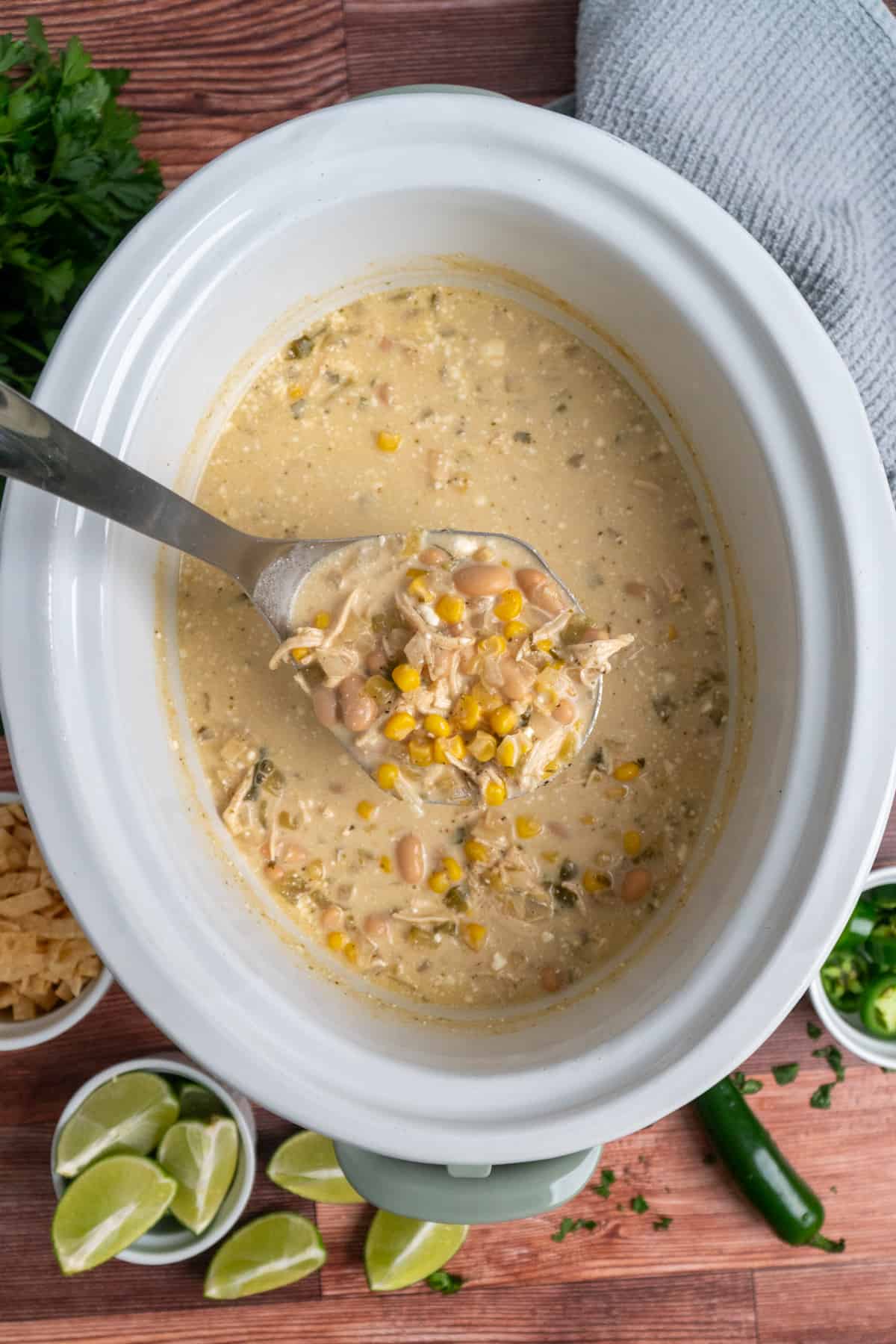 Recipe Tips
Placing the diced onion at the bottom of the slow cooker helps prevent it from burning and allows it to create a flavorful base as it cooks with the chicken.
Adjust the amount of chili spices to suit your heat preference. If you like it spicier, increase the chili powder, and for a milder version, use less.
If you find the chili too thick, add a bit more chicken broth until it reaches your preferred consistency.
Shred the chicken with two forks for the easiest and quickest method. It should practically fall apart, making the process a breeze.
Make sure your canned ingredients are fully drained to ensure the chili doesn't contain too much liquid.
Adjust the spices and green chilies based on your preference.
Variations
Swap out the chicken for extra beans like black beans or kidney beans for a hearty vegetarian version that's just as satisfying.
Dice up a fresh jalapeño or two and add them for an extra kick of spice.
Experiment with different cheeses like sharp cheddar, pepper jack, or even crumbled queso fresco for a unique flavor profile.
Substitute the chicken with ground turkey, beef, or even diced sausage to explore different protein options.
Dice up some roasted red peppers for a smoky, slightly sweet flavor throughout the chili.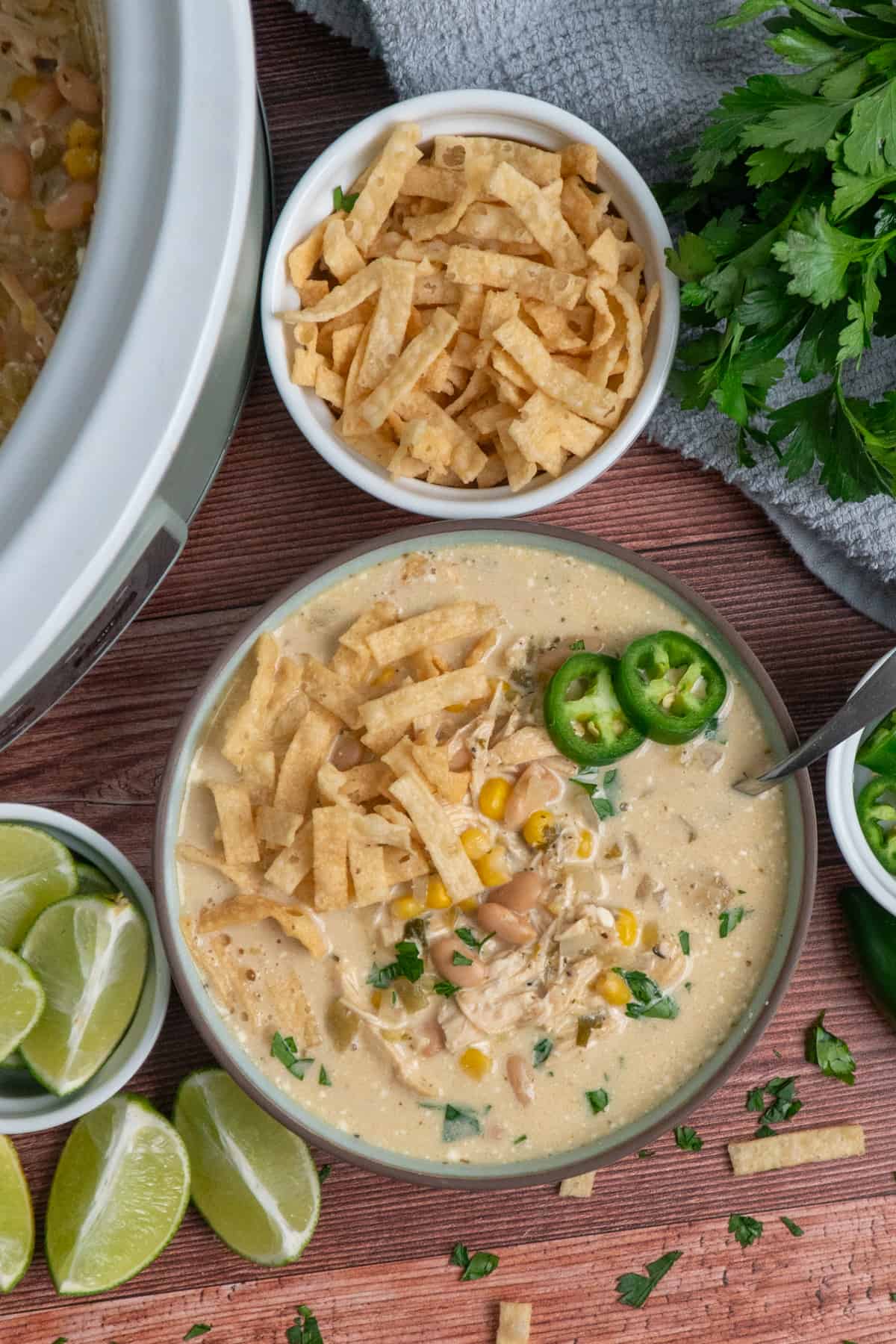 Chili Topping Ideas
Shredded Monterey Jack cheese
Sour cream
Sliced avocado
Chopped fresh cilantro
Salsa
Lime wedges
Diced green onions
Pickled jalapeño slices
Crushed tortilla chips
Sliced black olives
Diced red onions
Chopped fresh tomatoes
Crumbled queso fresco
Hot sauce or chili sauce
Diced bell peppers
Guacamole
Sliced radishes
Chopped fresh parsley
Sliced green chilies
Grated Parmesan cheese
Storing & Freezing
Storing: To store leftover white chicken chili, let it cool, then transfer it to an airtight container and refrigerate for up to 3-4 days. When reheating, add a splash of chicken broth if needed to maintain the creamy consistency.
Freezing: Allow it to cool completely, then place it in a freezer-safe container or resealable bag, removing as much air as possible. Label with the date and freeze for up to 2-3 months. To reheat, thaw in the fridge overnight and warm on the stovetop or in the microwave, stirring occasionally to restore the creamy texture.
FAQ
Can I use chicken thighs instead of chicken breasts?
Chicken thighs can be a great substitute, and they'll add a slightly richer flavor to the chili. Just be sure to remove any excess skin and bones before placing them in the slow cooker.
Can I make this chili in advance for a party?
White chicken chili is a fantastic make-ahead dish. Prepare it a day or two before your event, let it cool, then refrigerate. Reheat gently on the stovetop or in the slow cooker before serving, adding a bit of chicken broth if it thickens too much.
How can I make this chili spicier?
If you prefer a spicier chili, increase the amount of chili powder or add some diced fresh jalapeños when you're cooking. You can also top individual servings with hot sauce or extra chili flakes to amp up the heat.
What can I do if my chili turns out too thick?
If your chili becomes thicker than you'd like, simply stir in a bit of chicken broth until it reaches your desired consistency. Add it gradually to avoid making the chili too watery.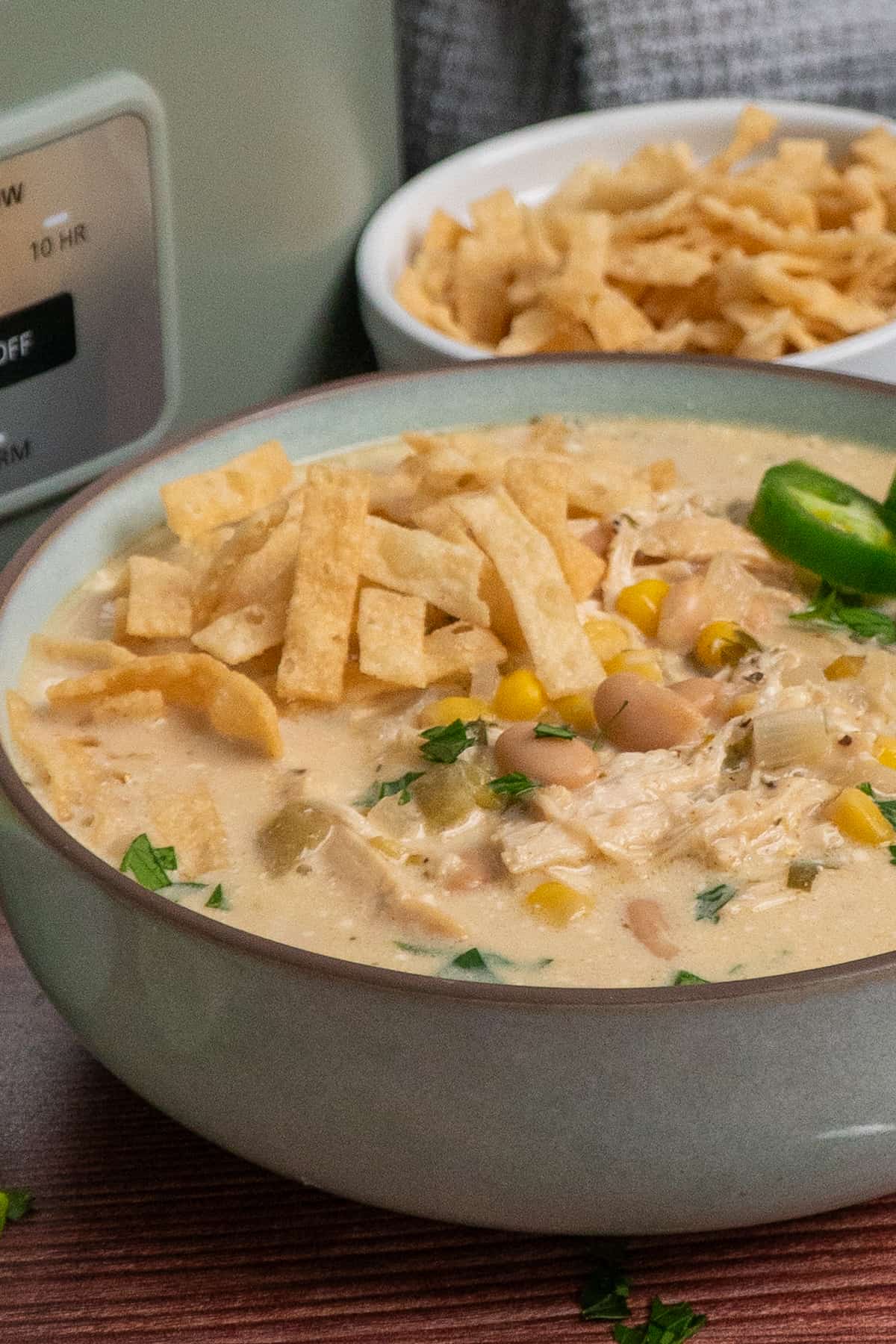 More Crock Pot Chili Recipes
Share It & Rate It
I would love it if you would leave a 5 Star ⭐️⭐️⭐️⭐️⭐️ rating below and follow me on Facebook, Instagram, and Pinterest!
Crock Pot White Chicken Chili
Warm up your taste buds with a hearty bowl of Crock Pot White Chicken Chili. This easy-to-follow recipe combines tender chicken, savory spices, and a medley of beans and corn, all simmered to perfection in a slow cooker!
Ingredients
1

med

yellow onion

(diced)

1

lb

boneless, skinless chicken breasts

1

tsp

black pepper

½

tsp

salt

½

tsp

paprika

1

tsp

Italian seasoning

½

tsp

chili powder

1

tsp

cumin

3

tsp

garlic

(minced)

3

cups

low sodium chicken broth

1

tsp

worchestershire sauce

2

(15 oz)

cans great Northern beans 

(drained and rinsed)

1

(7 oz)

can diced green chiles

(I used mild)

1

(15 oz)

can whole kernel corn

(drained)

¼

cup

fresh cilantro

(chopped)

1½

oz

Monterey Jack cheese

(shredded)

8

oz

cream chesse
Instructions
Place onion in the bottom of a 6-quart slow cooker. Place chicken on top and sprinkle black pepper, salt, paprika, oregano, chili powder, cumin, and garlic over the top.

Add chicken broth, Worchestershire sauce, Northern beans, green chilies, corn, and cilantro.

Cover and cook on high for 3-4 hours or low for 6-8 hours.

Remove chicken and shred with two forks. Add chicken, Monterey Jack cheese, and cream cheese into the crock pot. Mix until well combined.

Cover and continue to cook for 30 minutes.

Stir before serving, and add your favorite toppings!
Notes
For those who enjoy spicier chili, enhance the flavor by increasing the chili powder quantity or incorporating diced fresh jalapeños during the cooking process. Consider garnishing individual servings with hot sauce or chili flakes to add an extra kick.
If your chili's too thick for your liking, just pour in more broth or milk until it's just right. But if it's too runny, mix equal parts cold water and cornstarch to make a slurry. Slowly stir that into the simmering chili to thicken it up.
Nutrition
Calories:
171
kcal
Carbohydrates:
5
g
Protein:
21
g
Fat:
7
g
Saturated Fat:
3
g
Polyunsaturated Fat:
1
g
Monounsaturated Fat:
2
g
Trans Fat:
0.01
g
Cholesterol:
62
mg
Sodium:
377
mg
Potassium:
468
mg
Fiber:
1
g
Sugar:
2
g
Vitamin A:
265
IU
Vitamin C:
4
mg
Calcium:
99
mg
Iron:
1
mg
*All nutrition information provided is automatically calculated and is an estimate and will vary based on ingredients, brands, and changes in cooking methods listed in the recipe. If you need exact numbers on your ingredients, I would recommend calculating them with your prefered nutrition calculator.