Looking for a simple and delicious party appetizer? Make Slow Cooker Taco Dip with just six easy-to-find ingredients! Serve this creamy and flavorful dip with tortilla chips as a party appetizer or easy game-day snack.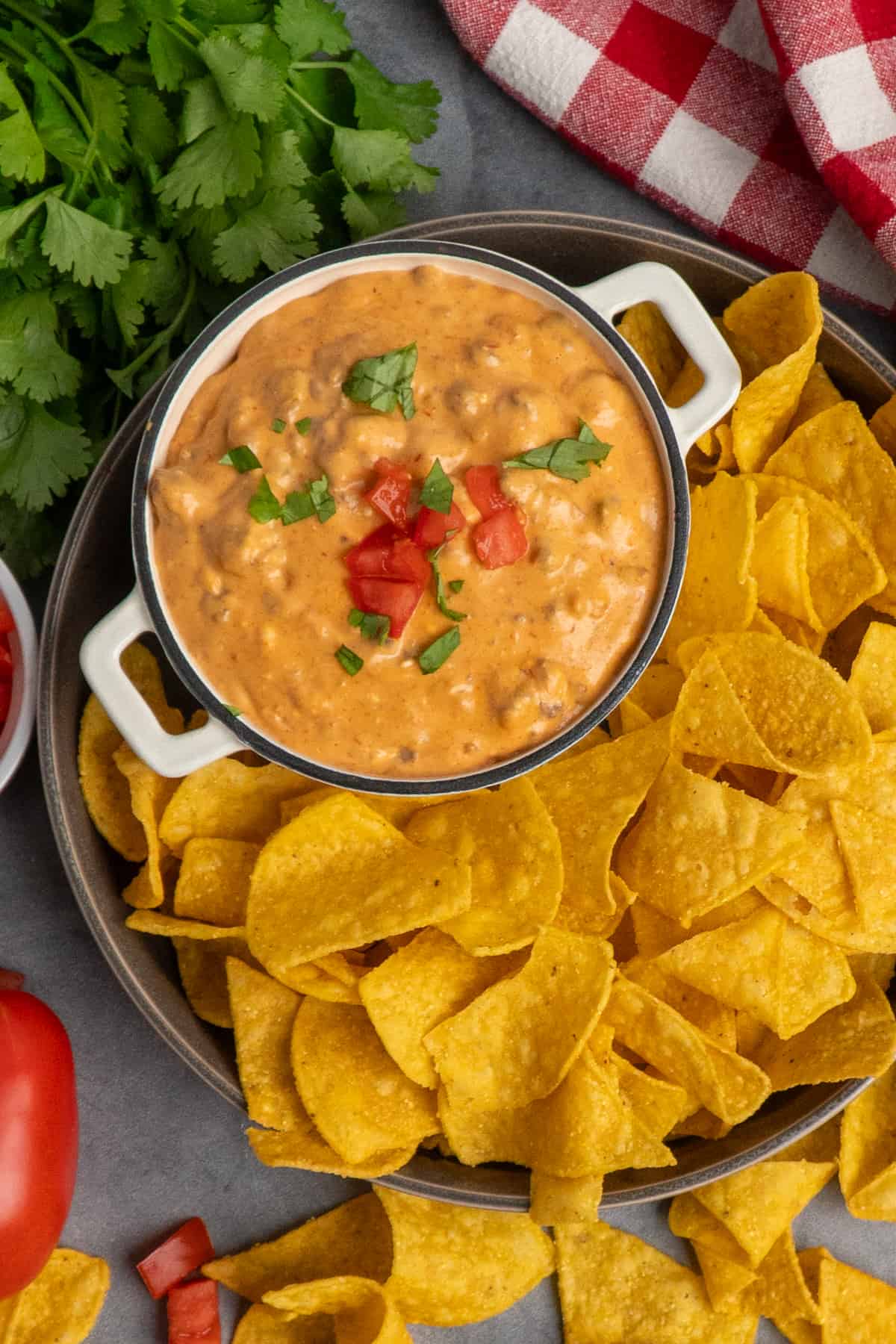 As the fall weather rolls in, there are more reasons to gather with friends and family for cozy get-togethers and to watch football on TV. Quick crock pot appetizers have become a popular choice for these occasions, and this crock pot taco dip is a perfect fit! With just six simple ingredients and minimal effort, you can whip up this creamy and flavorful dip in no time.
This easy appetizer is made from a combination of ground beef, Velveeta cheese, cream cheese, minced garlic, salsa, and taco seasoning. It creates a creamy texture and a burst of bold and savory taco flavors, and it couldn't be easier to make! After browning your ground beef, add it to the slow cooker along with the rest of the ingredients. Let everything simmer until all the cheese is melted and a cohesive mixture is warm and ready for your favorite dipping vehicles.
While tortilla chips are the most popular option for taco dip, get creative and use other options to make it different every time. Feel free to switch things up and serve your taco dip with crunchy celery sticks, crisp carrot chips, or even toasted baguette slices for a unique twist on this classic appetizer!
Why You'll Love This Recipe
This slow cooker recipe is a time-saver, requiring only six readily available ingredients and your trusty crock pot for a hassle-free appetizer that's ready in just a few hours.
The creamy, savory blend of Velveeta and cream cheese combined with the zesty taco seasoning creates a flavor-packed snack that will have your guests coming back for seconds.
Serve it with classic tortilla chips, or get creative with your dipper choices, making it perfect for any occasion or dietary preference.
It's the ideal addition to your menu for cozy gatherings, football game nights, or whenever you want to enjoy a delicious and easy-to-make appetizer.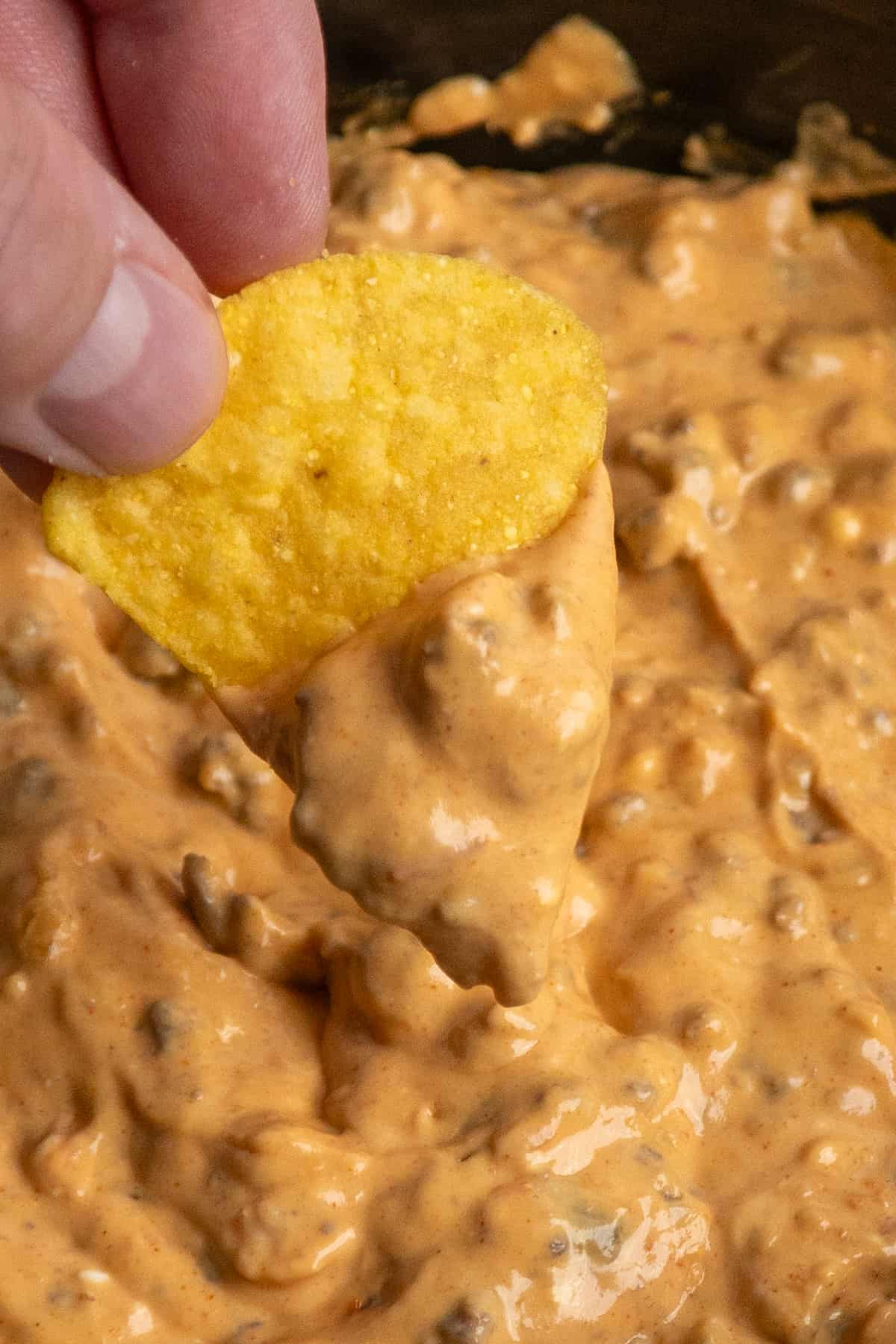 Ingredients You'll Need
Ground Beef - Serves as the main protein source in the recipe, adding a hearty and savory element to the taco dip.
Velveeta Cheese - When cubed and melted, contributes a creamy and smooth texture to the dip while delivering a mild cheese flavor.
Cream Cheese - Enhances the creaminess of the dip and provides a rich, luxurious texture.
Minced Garlic - Brings a pungent and aromatic element to the dip, infusing it with a balanced garlic flavor.
Salsa - Picante salsa, with its tangy and slightly spicy profile, adds a burst of zest and depth to the dip. Feel free to use a jar of your favorite salsa.
Taco Seasoning - The key to infusing the dip with the classic taco flavors combining a blend of spices and herbs that make the dip reminiscent of traditional tacos.
How To Make Taco Dip In The Slow Cooker
Cook the ground beef: Add the beef to a large skillet and turn the heat to medium-high. Brown the meat until it is fully cooked, breaking it up with a spatula. Drain off any excess fat, then add the meat to the slow cooker.
Add remaining ingredients: On top of the beef, add the cubed Velveeta cheese, cream cheese, minced garlic, salsa, and taco seasoning.
Cover and cook: Add the lid to the top and cook on LOW for 2-3 hours, stirring occasionally. The dip is done when the cheese is melted, and the mixture is cohesive.
Serve and enjoy: Serve warm with a bowl of tortilla chips, cut veggies, or crackers. Enjoy!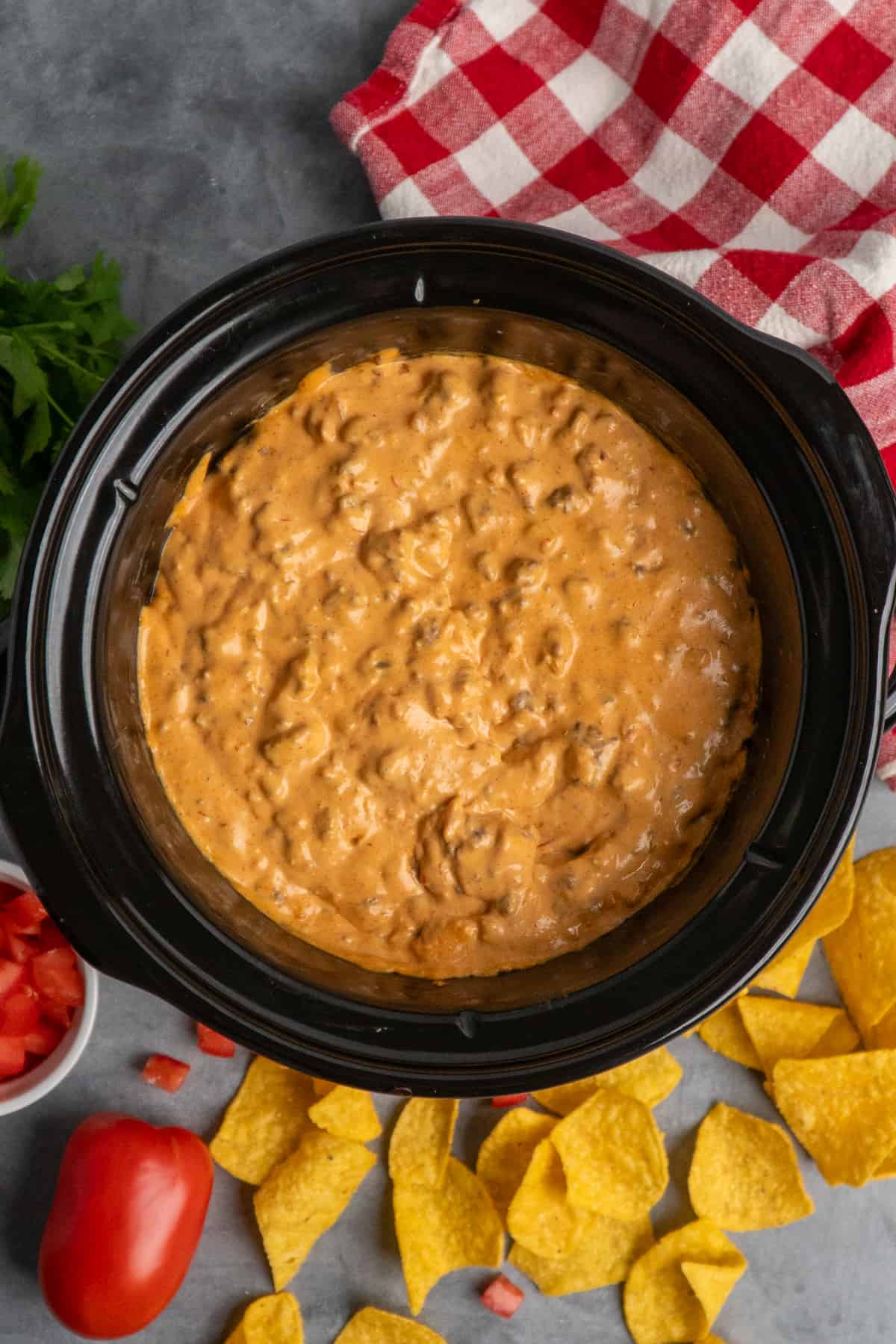 Recipe Tips
When browning the ground beef, make sure to break it into small, even crumbles for a uniform texture in your taco dip.
To prevent your dip from becoming too greasy, drain off any excess fat from the browned ground beef before adding it to the slow cooker.
While cubing the Velveeta cheese, try to cut it into smaller pieces to facilitate quicker melting in the slow cooker.
For smoother blending, allow the cream cheese to come to room temperature before adding it to the other ingredients in the slow cooker.
Stir the dip occasionally during the cooking process to help all the ingredients combine evenly and prevent any sticking or burning at the bottom.
Keep an eye on the slow cooker and avoid overcooking the dip, as it can become overly thick and less appetizing if left on the heat for too long.
If serving at a party, use a slow cooker with a "warm" setting to keep the dip at a consistent temperature.
Variations
For a spicier twist, add diced jalapeños or a dash of hot sauce to the dip to turn up the heat to your liking.
Go meatless by substituting the ground beef with plant-based alternatives like crumbled tofu or meatless crumbles.
Incorporate ingredients like black beans, corn kernels, and diced green chilies to give your taco dip a Tex-Mex flair, adding both texture and flavor.
Experiment with different cheese combinations by mixing in shredded cheddar, Monterey Jack, or pepper jack cheeses along with the Velveeta for a diverse cheese profile.
Swap out the ground beef for ground turkey, ground chicken, or even shredded rotisserie chicken for a lighter and leaner alternative.
Just before serving, sprinkle crushed tortilla chips, crushed Doritos, or even crispy bacon bits over the dip for an extra layer of texture and flavor.
Storing & Freezing
Storing: To store leftover taco dip, transfer it to an airtight container and refrigerate for up to 3-4 days. When reheating, you may need to add a splash of milk or water to restore the creamy consistency.
Freezing: While it's best enjoyed fresh, you can freeze taco dip for later use. First, allow it to cool completely, then transfer it to an airtight container or freezer-safe bag. Freeze for up to 2-3 months. To reheat, thaw it in the refrigerator overnight and warm it gently on the stovetop or in the microwave, stirring occasionally to restore its creamy texture.
FAQ
Can I make this dip ahead of time for a party?
Yes. Prepare it as instructed, let it cool, and store it in the refrigerator. When you're ready to serve, reheat it gently on the stove or in the microwave, adding a bit of milk if needed to achieve the desired consistency.
Can I use ground turkey instead of ground beef for taco dip?
Ground turkey is a great alternative, and it will work well in this recipe. Just be sure to brown it thoroughly before adding it to the slow cooker to ensure it's fully cooked.
Can I adjust the level of spiciness in this dip?
You can control the spice level by choosing a salsa with your preferred heat intensity. For extra heat, add diced jalapeños or a pinch of red pepper flakes. If you prefer a milder dip, opt for a mild salsa and reduce the amount of taco seasoning.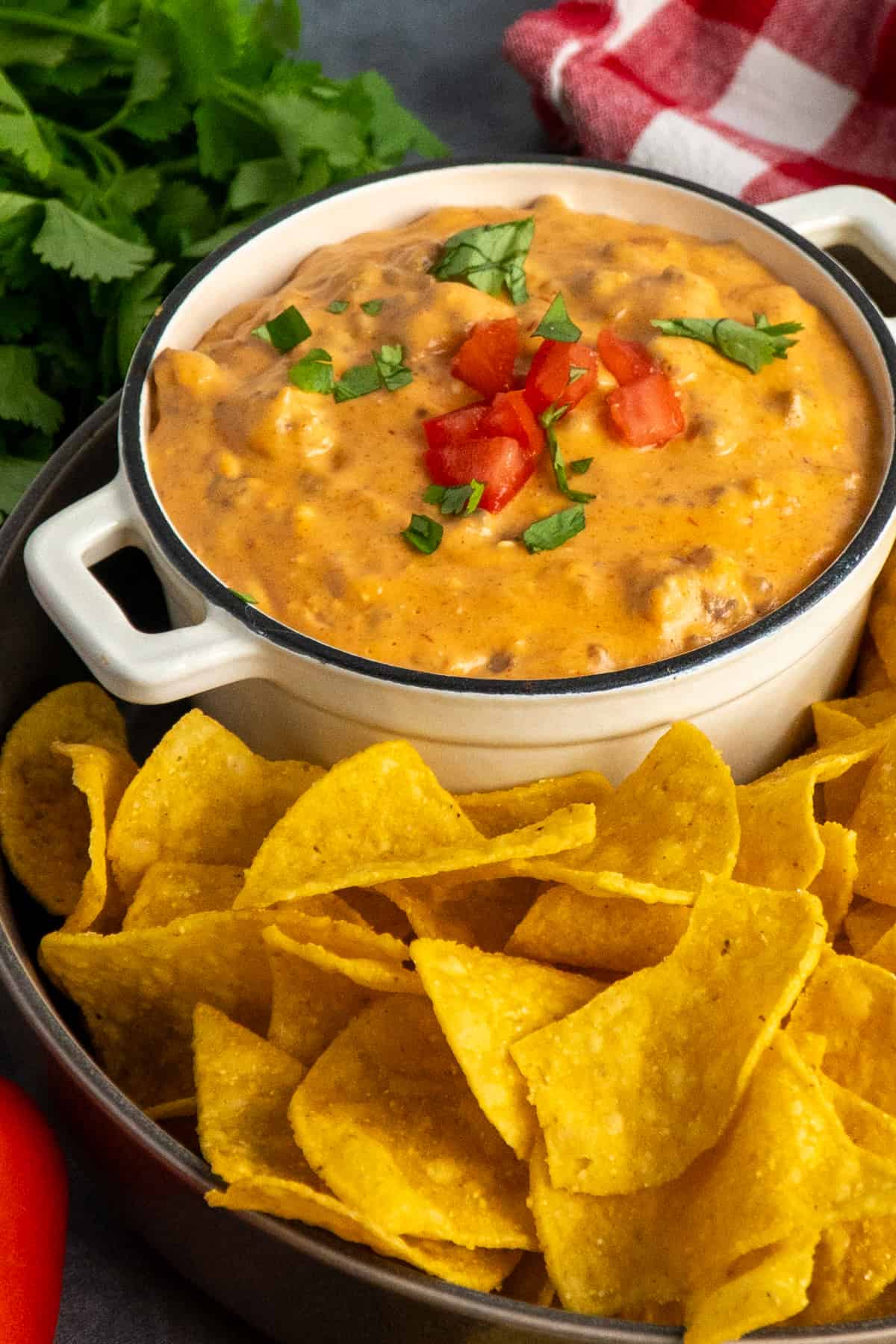 More Slow Cooker Dip Recipes
Share It & Rate It
I would love it if you would leave a 5 Star ⭐️⭐️⭐️⭐️⭐️ rating below and follow me on Facebook, Instagram, and Pinterest!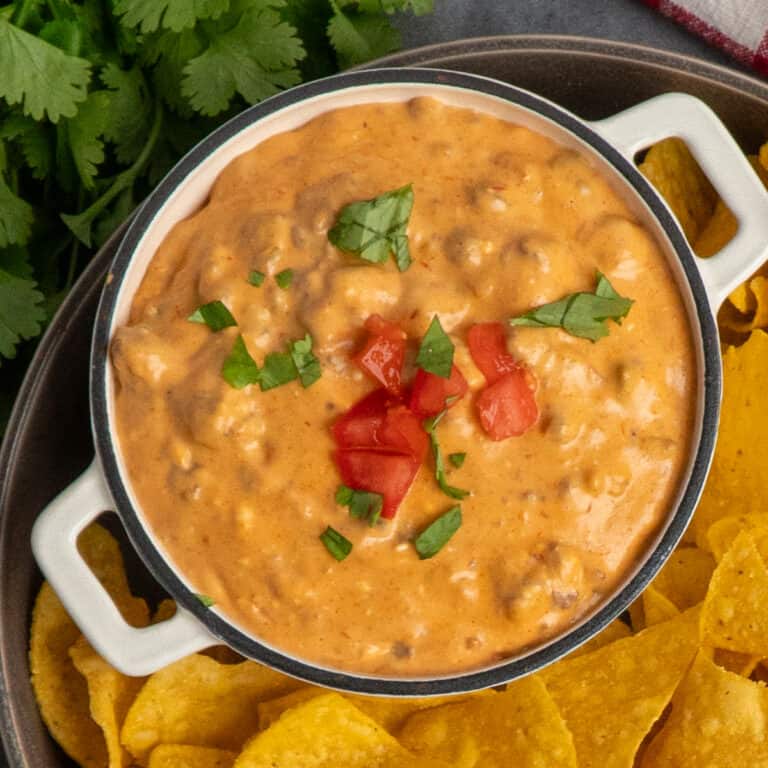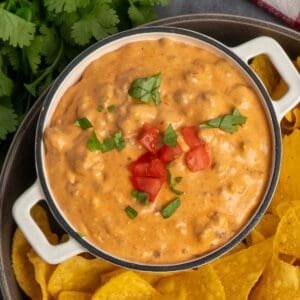 Slow Cooker Taco Dip
Looking for a simple and delicious party appetizer? Make Slow Cooker Taco Dip with just six easy-to-find ingredients! Serve this creamy and flavorful dip with tortilla chips as a party appetizer or easy game-day snack.
Ingredients
1

lb

ground beef

16

oz

Velveeta cheese

(cubed)

16

oz

cream cheese

2

tsp

garlic

(minced)

16

oz

salsa

(I used pace picante)

1

oz

taco seasoning
Instructions
In a large skillet, brown the hamburger until it is fully cooked. Drain off excess fat and add to the slow cooker.

Add the remaining ingredients to a 4-quart or larger crockpot.

Cover and cook on low for 2-3 hours. Stir occasionally until well combined and all the cheese is melted.

Serve with tortilla chips and enjoy!
Nutrition
Calories:
394
kcal
Carbohydrates:
13
g
Protein:
20
g
Fat:
30
g
Saturated Fat:
16
g
Polyunsaturated Fat:
1
g
Monounsaturated Fat:
8
g
Trans Fat:
1
g
Cholesterol:
97
mg
Sodium:
1419
mg
Potassium:
458
mg
Fiber:
1
g
Sugar:
8
g
Vitamin A:
1538
IU
Vitamin C:
2
mg
Calcium:
326
mg
Iron:
1
mg
*All nutrition information provided is automatically calculated and is an estimate and will vary based on ingredients, brands, and changes in cooking methods listed in the recipe. If you need exact numbers on your ingredients, I would recommend calculating them with your prefered nutrition calculator.