Learn how to make moist and tender Crock Pot Cornbread using basic pantry ingredients and a few simple steps! Enjoy with a bowl of chili or alongside your favorite comfort food dishes.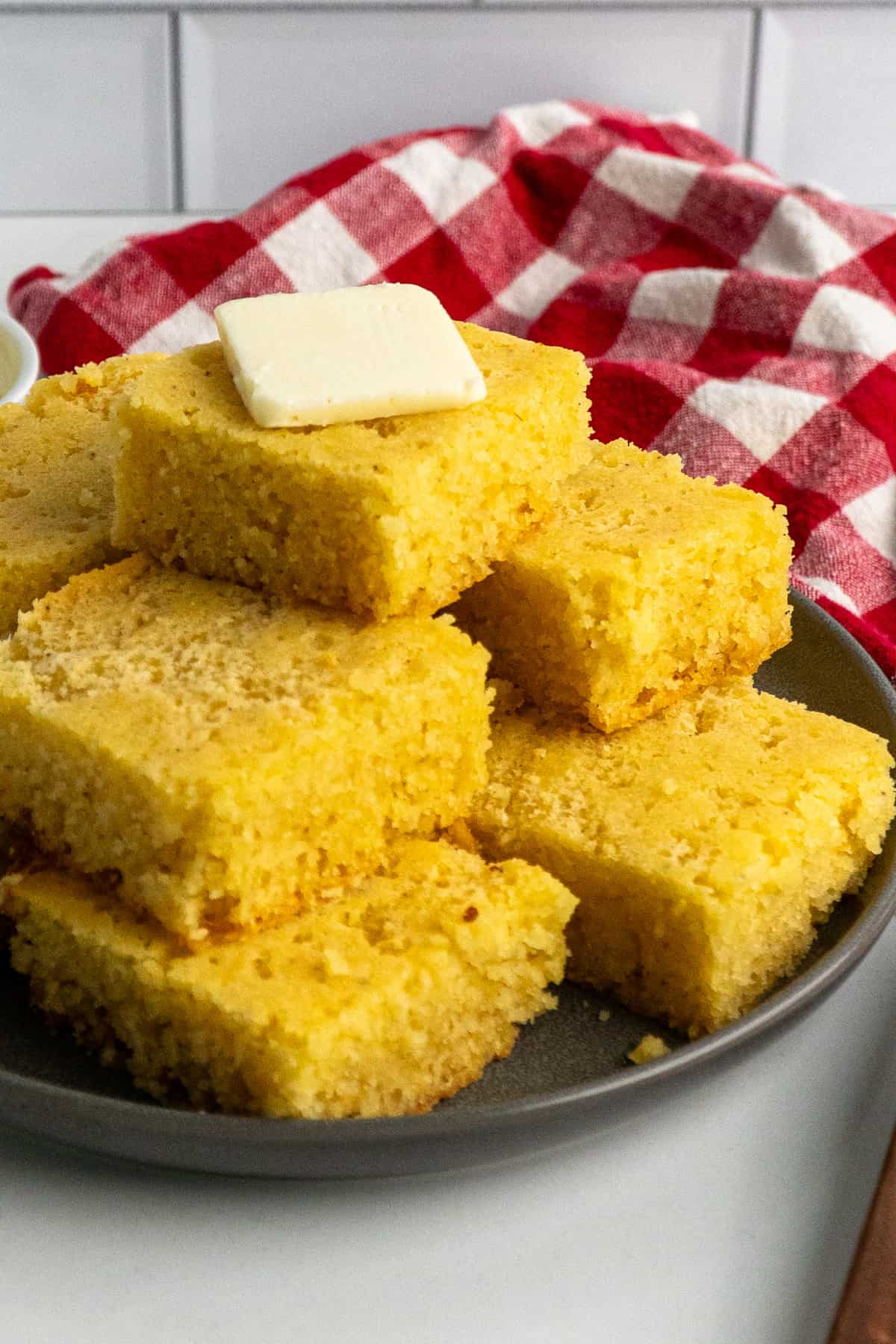 Homemade cornbread is classic in American cuisine, known for its combination of sweet and savory flavors. Made with a mix of cornmeal, flour, and pieces of whole canned corn kernels, it's crumbly texture and golden crust make it a perfect side dish to any meal that can easily be made in a slow cooker!
Making cornbread in the crock pot is a game-changer, and here's why it is one of my favorite easy recipes. The slow and gentle cooking of the crock pot ensures that your cornbread turns out incredibly moist and tender every time. No more worrying about dry or overcooked edges! Using the crock pot means you can set it and forget, making it a hassle-free approach that yields perfect results with little effort. The crock pot also creates even heat distribution, resulting in uniformly cooked cornbread every time you make it.
This delectable bread is an ideal pairing for a wide range of meals or even Thanksgiving dinner. Serve it warm with a hearty bowl of chili or a comforting barbecue plate for a satisfying meal. Crumble it up and use it as a base for stuffing during the holiday season, and let's not forget about breakfast! Top a slice with butter and honey or jam, or even use it as a base for eggs benedict. No matter the occasion or the food, cornbread is a reliable sidekick that adds a touch of homemade goodness to any classic dish!
I highly recommend pairing this tasty cornbread with my Copycat Wendy's Chili Recipe or my Crock Pot Beef Tips and Gravy.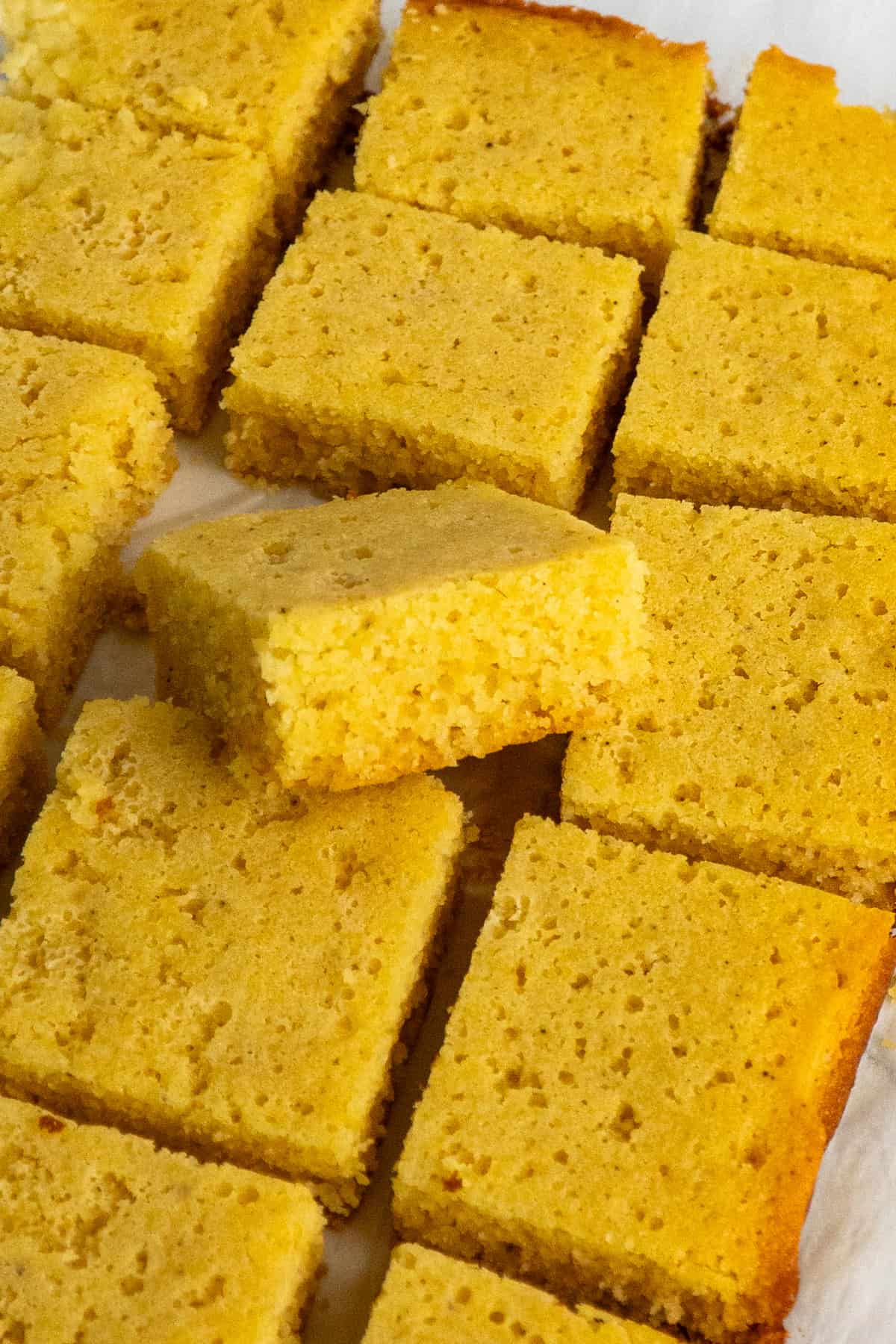 Why You'll Love This Recipe
Crock pot cornbread takes the hassle out of baking, allowing you to effortlessly whip up a moist and delicious cornbread without worrying about oven temperatures or dry edges. The best part is that it saves oven space to cook your other main dish recipes. This is a great way to free up space for a holiday meal that requires a lot of oven space.
The combination of yellow cornmeal, honey, and whole-kernel corn creates the perfect balance of textures and flavors, resulting in a cornbread that is both slightly sweet and savory.
The slow cooking process ensures that every bite of this cornbread is tender and evenly cooked.
Whether you're serving it alongside a piping hot bowl of chili or as a comforting side dish for your favorite comfort foods, making corn bread in the slow cooker is always a good idea.
Ingredients You'll Need
Cornmeal - The main ingredient in cornbread, cornmeal provides a distinct corn flavor and texture.
All-Purpose Flour - Adding all-purpose flour to the recipe helps give the cornbread structure and prevents it from being overly crumbly.
Granulated Sugar - Provides a touch of sweetness to balance out the savory flavors of the cornbread.
Baking Powder - Helps the cornbread rise and become light and fluffy.
Salt - Enhances the flavors, bringing out the natural sweetness of the cornmeal.
Butter - Adds richness and moisture, resulting in a tender and flavorful texture.
Eggs - Acts as a binding agent, helping to hold the ingredients together while contributing to the overall structure.
Milk - Adds moisture to the batter, ensuring a moist and tender crumb in the finished product.
Honey - Adds a subtle sweetness to the cornbread enhancing the layers of flavor.
Canned Corn - Whole-kernel corn adds texture and bursts of fresh corn flavor.
How To Make Cornbread In The Crock Pot
Prepare the crock pot: Line the crock pot with aluminum foil on the bottom and the sides. Spray the aluminum foil with nonstick cooking spray on all sides.
Assemble the dry ingredients: To a large mixing bowl, add cornmeal, flour, sugar, salt, and baking powder. Whisk until well combined.
Mix the wet ingredients: To a medium-sized mixing bowl, add the butter, eggs, milk, and honey. Whisk until fully combined.
Assemble the cornbread batter: Add the corn to the dry ingredients, followed by the wet ingredients. Stir until completely combined and no dry streaks of flour remain.
Cover and cook: Pour the batter into the prepared crock pot. Add the lid and cook on HIGH for 2-3 hours or until a toothpick comes out clean when inserted into the center. Let cool for 10 minutes before serving. Enjoy!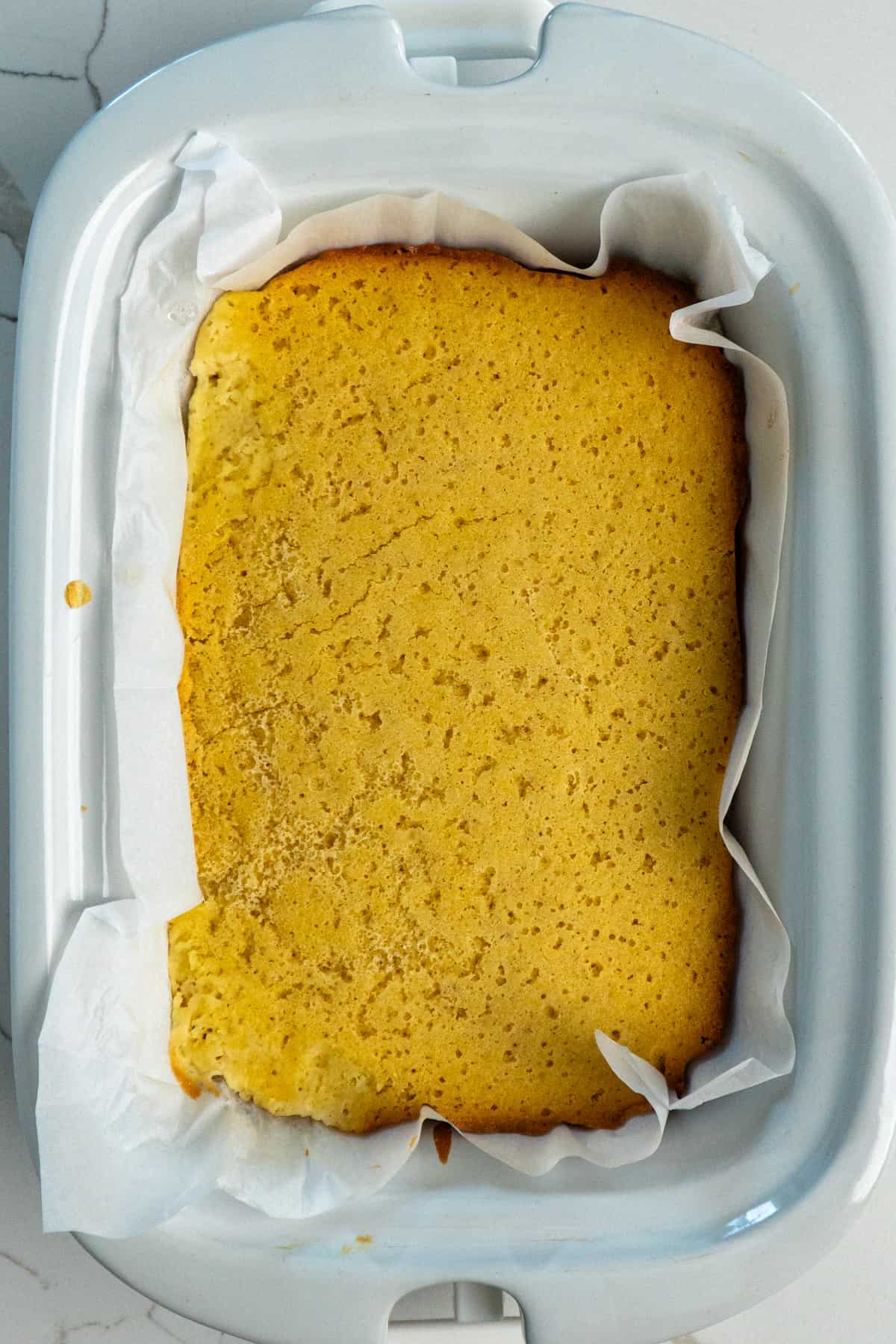 Recipe Tips
To ensure a perfectly cooked cornbread, line your crock pot with aluminum foil or parchment paper and spray it with nonstick cooking spray generously. This will prevent the cornbread from sticking to the slow cooker insert and make it easier to remove after cooking.
When measuring the cornmeal and flour, use the spoon-and-level method. Gently spoon the ingredients into the measuring cup and level off the excess with a straight edge to maintain the perfect texture.
While it's tempting to check on the cornbread as it cooks, resist the urge to remove the lid too frequently. Each time the lid is lifted, heat is released, which can significantly affect the cooking time and result in an unevenly cooked cornbread.
Variations
Cheesy Cornbread: Add 1 cup of shredded cheddar cheese to the batter for a deliciously cheesy twist.
Herb-infused Cornbread: For a burst of fresh flavors, mix in 2 tablespoons of finely chopped fresh herbs such as rosemary, thyme, or parsley into the batter.
Spicy Southwest Cornbread: Give your cornbread a Southwestern flair by adding one small can of diced green chilies and ½ cup of canned black beans, drained and rinsed.
Sweet Cornbread with Maple Syrup: Substitute the granulated sugar with an equal amount of pure maple syrup for a sweeter and slightly caramelized cornbread.
Cornbread Muffins: Instead of using the crock pot, divide the batter into a greased muffin tin and bake in a preheated oven at 375°F (190°C) for approximately 15-18 minutes.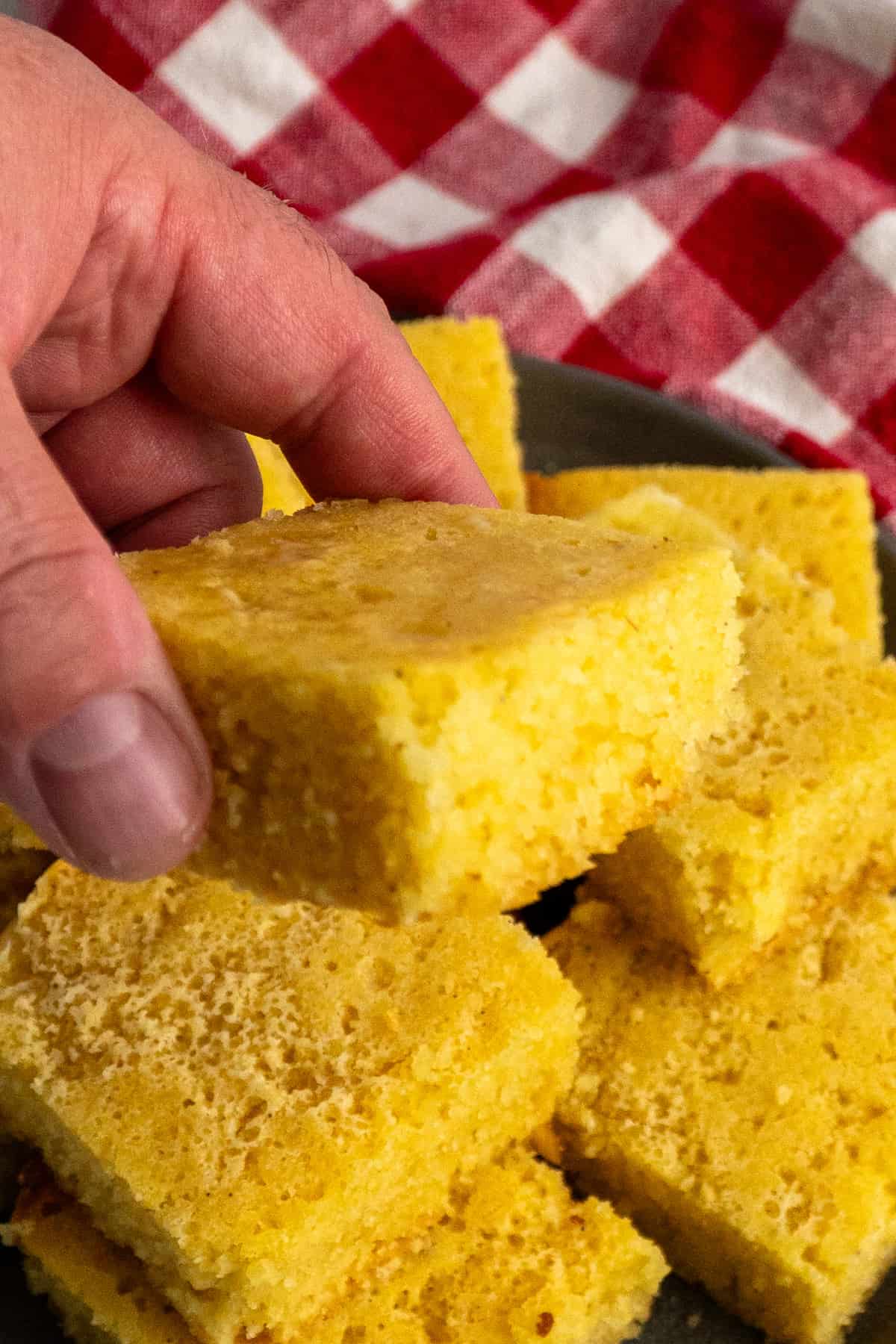 Storing & Freezing
Storing: Allow the cornbread to cool completely, then transfer it to an airtight container or wrap it tightly with plastic wrap. The cornbread can be stored at room temperature for up to 2 days. If you want to extend its shelf life, you can refrigerate it for up to 1 week.
Freezing: To freeze, wrap individual slices or the entire cornbread tightly in plastic wrap or place it in a freezer-safe container or zip-top bag. It can be stored in the freezer for up to 3 months. When ready to enjoy, thaw the cornbread in the refrigerator overnight or at room temperature for a few hours.
FAQ
Can I use cornbread mix instead of making the batter from scratch?
Yes, you can use a cornbread mix as a shortcut. Simply follow the package instructions for the mix and adjust any additional ingredients or measurements accordingly. However, making the batter from scratch allows you to control the flavors and customize the cornbread to your liking.
What's the secret to moist cornbread in the crock pot?
Using a balance of wet ingredients such as melted butter, eggs, milk, and honey, along with the right ratio of dry ingredients, creates a moist and tender texture. The slow cooking time allows the cornbread to evenly absorb the moisture, resulting in a perfectly moist and delicious final product. Make sure you don't take off the lid during cooking!
Can I make this recipe gluten-free?
Yes, you can make this recipe gluten-free by using gluten-free all-purpose flour and ensuring that all other ingredients, such as baking powder and canned corn, are also gluten-free.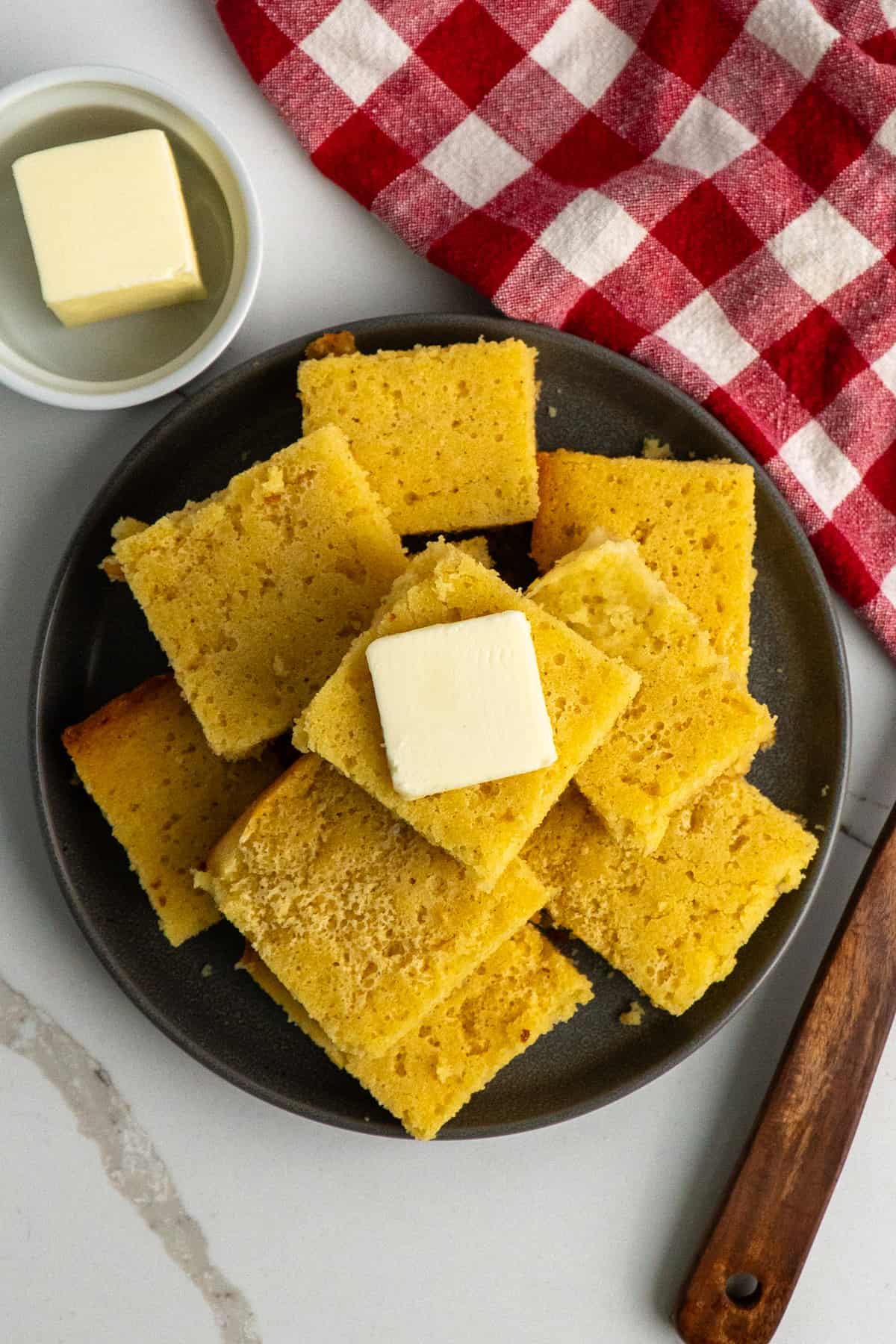 More Crock Pot Bread Recipes
SHARE IT & RATE IT
I would love it if you would leave a 5 Star ⭐️⭐️⭐️⭐️⭐️ rating below. Then follow me on Facebook, Instagram, and Pinterest! Share your favorite recipes or ask questions in my Facebook Group.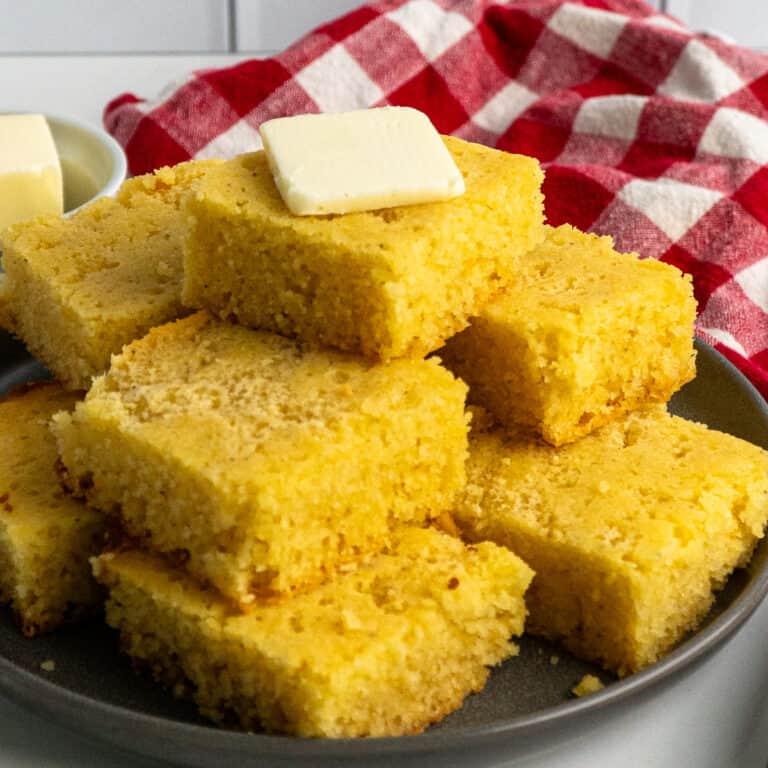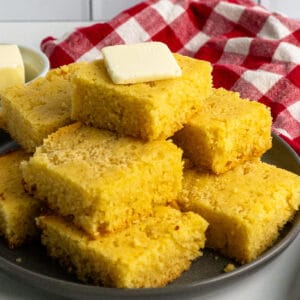 Crock Pot Cornbread Recipe
Learn how to make moist and tender Crock Pot Cornbread using basic pantry ingredients and a few simple steps! Enjoy with a bowl of chili or alongside your favorite comfort food dishes.
Ingredients
1

cup

yellow cornmeal

1

cup

all-purpose flour

½

cup

granulated sugar

3

tsp

baking powder

1

tsp

salt

⅓

cup

butter

(melted)

2

large

eggs

1

cup

milk

2

tbsp

honey

½

cup

canned whole-kernel corn

(drained)
Instructions
Line a 6-quart crock pot with aluminum foil and spray with a nonstick cooking spray.

Add cornmeal, flour, sugar, baking powder, and salt in a large bowl. Whisk until well combined.

Add, butter, eggs, milk, and honey in a medium bowl. Mix until well combined.

Add corn and wet mixture into the dry ingredients. Stir until well combined and pour into the crock pot.

Cover and cook on high for 2-3 hours or until a toothpick inserted in the center of the cornbread comes out clean.

Remove from the crock pot and cool for 10 minutes before serving.
Nutrition
Calories:
244
kcal
Carbohydrates:
48
g
Protein:
6
g
Fat:
4
g
Saturated Fat:
1
g
Polyunsaturated Fat:
1
g
Monounsaturated Fat:
1
g
Trans Fat:
0.004
g
Cholesterol:
5
mg
Sodium:
489
mg
Potassium:
166
mg
Fiber:
3
g
Sugar:
19
g
Vitamin A:
68
IU
Vitamin C:
0.2
mg
Calcium:
160
mg
Iron:
2
mg
*All nutrition information provided is automatically calculated and is an estimate and will vary based on ingredients, brands, and changes in cooking methods listed in the recipe. If you need exact numbers on your ingredients, I would recommend calculating them with your prefered nutrition calculator.