French Onion Pot Roast combines the rich depth of caramelized onions with the hearty satisfaction of a classic roast. This recipe effortlessly transforms simple ingredients into a mouthwatering protein using the help of your slow cooker!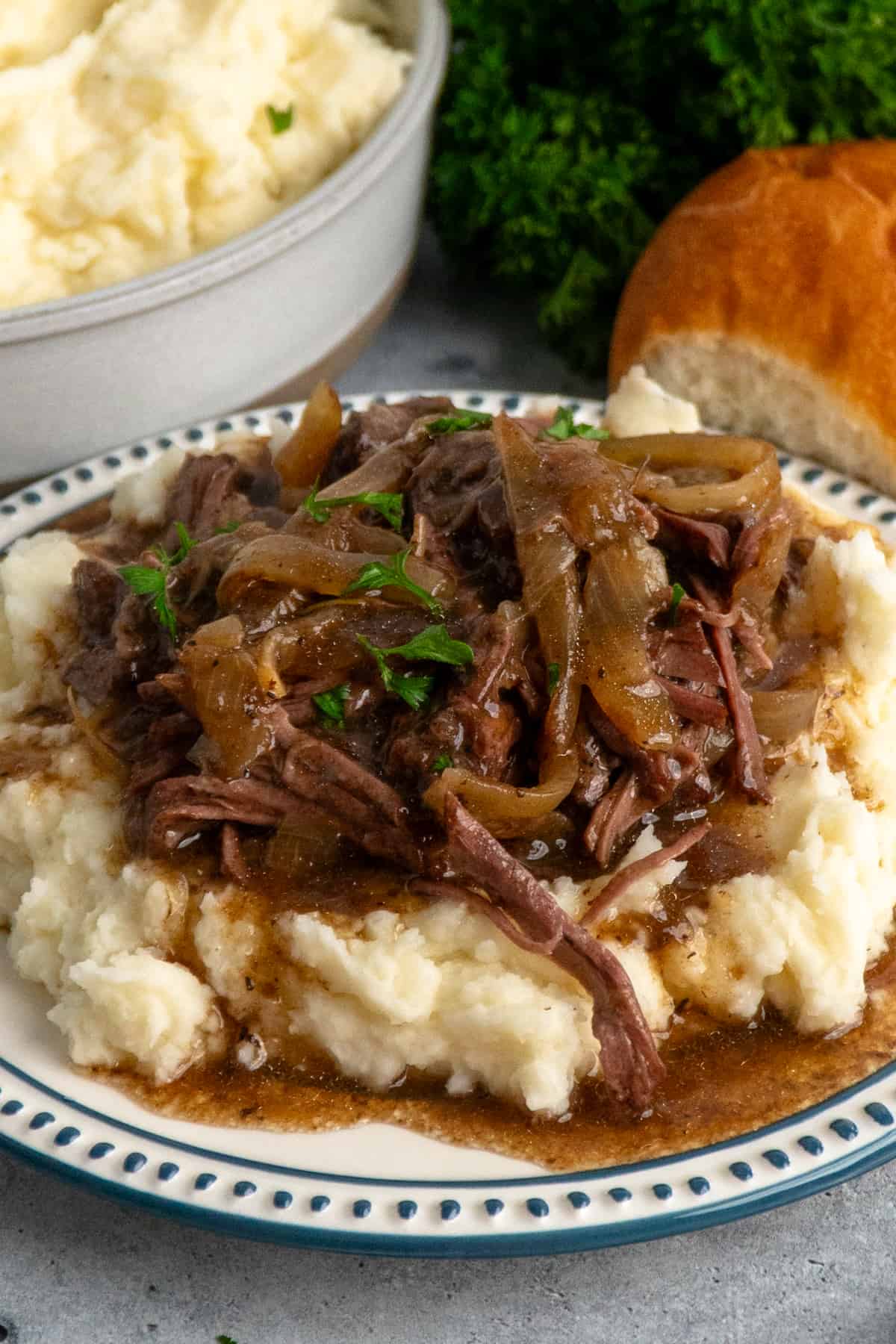 French onion flavor is characterized by the deep, rich taste that results from caramelized onions. The slow-cooking process breaks down the sugars in the onions, producing a natural sweetness complemented by savory undertones. This combination results in a distinct flavor profile that's both robust and slightly sweet, especially when enhanced by beef broth or wine.
While traditionally, French onion is made in soup form, it also makes an excellent flavor when infused into a delicious pot roast. This meal is essentially a chuck roast slow-cooked with caramelized onions and a mix of beef broth, seasonings, and a touch of apple cider vinegar and Worcestershire sauce. To make it, you simply layer sliced onions at the bottom of a slow cooker, place the roast on top, and pour in a mixture of the other ingredients. Let it cook until the meat is tender, and you've got a hearty, flavorful beef that's ready to serve with your favorite side dishes!
This easy crock pot chuck roast is great for both weeknights and weekends because it requires minimal hands-on time and is still packed with flavor. It pairs well with a variety of side dishes, including garlic mashed potatoes, green bean casserole, roasted vegetables, and crusty bread, making it easy to keep the meal fresh each time you serve it!
Why You'll Love This Recipe
The slow-cooked caramelized onions infuse the roast with an unbeatable depth of umami flavor.
The steps are simple: add everything to the crock pot, secure the lid, and slow cook to perfection.
It's a one-pot wonder, making cleanup a breeze, especially if you use a crock pot liner.
The versatile taste of beef infused with French onion flavor makes it easy to pair with a variety of side dishes, so you can enjoy it differently every time!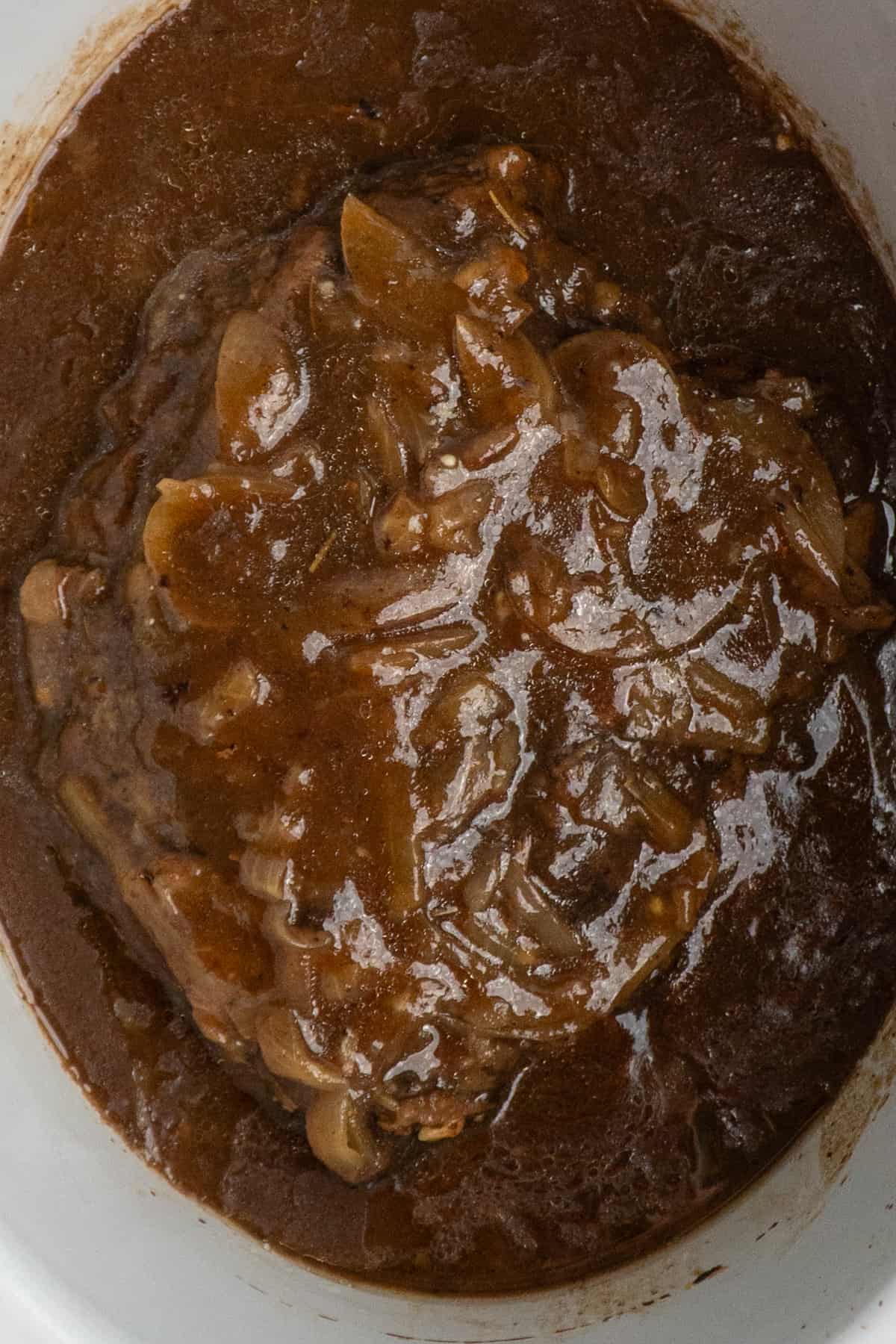 Ingredients You'll Need
Yellow Onion and Minced Garlic - Provide the foundational savory and sweet notes, with the onions caramelizing for depth and the garlic adding a punch of aromatic flavor.
Chuck Roast - A cut of tough beef that becomes exceptionally tender and flavorful when slow-cooked.
Beef Broth - Acts as a liquid base for the slow cooker, ensuring the roast remains juicy and takes on a rich, beefy profile.
Apple Cider Vinegar - Introduces a subtle tanginess, balancing out the richness of the other ingredients.
Worcestershire Sauce - Adds complexity with its unique blend of sweet, sour, and umami flavors.
Beefy Onion Soup Packet - Enhances the roast's depth of flavor with a concentrated blend of onion and beef notes.
Seasonings (black pepper, dried thyme, bay leaves, dried rosemary) - Adds an aromatic warmth and earthiness, complementing the beef and onion flavors.
Butter - Introduces a creamy richness, rounding out the dish's texture and taste.
Cornstarch - Helps thicken the sauce, giving it a thicker consistency that clings to the meat.
How To Make French Onion Pot Roast
Layer the ingredients: Add the onions to the bottom of the slow cooker as a base. Place the chuck roast on top.
Mix the seasonings: In a medium-sized bowl, add the garlic, beef broth, apple cider vinegar, Worcestershire sauce, beefy onion soup, black pepper, thyme, and rosemary. Mix until well combined and pour over the roast.
Add finishing touches: Place butter and bay leaves on the roast, then cover and cook on LOW for 8 hours.
Prepare the meat: After cooking, discard the bay leaves, transfer the roast to a plate, and shred it using two forks.
Make the gravy: From the slow cooker, take ¼ cup of the liquid and mix with cornstarch in a separate bowl. Simmer the remaining sauce in a saucepan, and once bubbling, whisk in the cornstarch mixture.
Combine and serve: Return the shredded roast to the slow cooker, cover with gravy, and serve over mashed potatoes. Enjoy!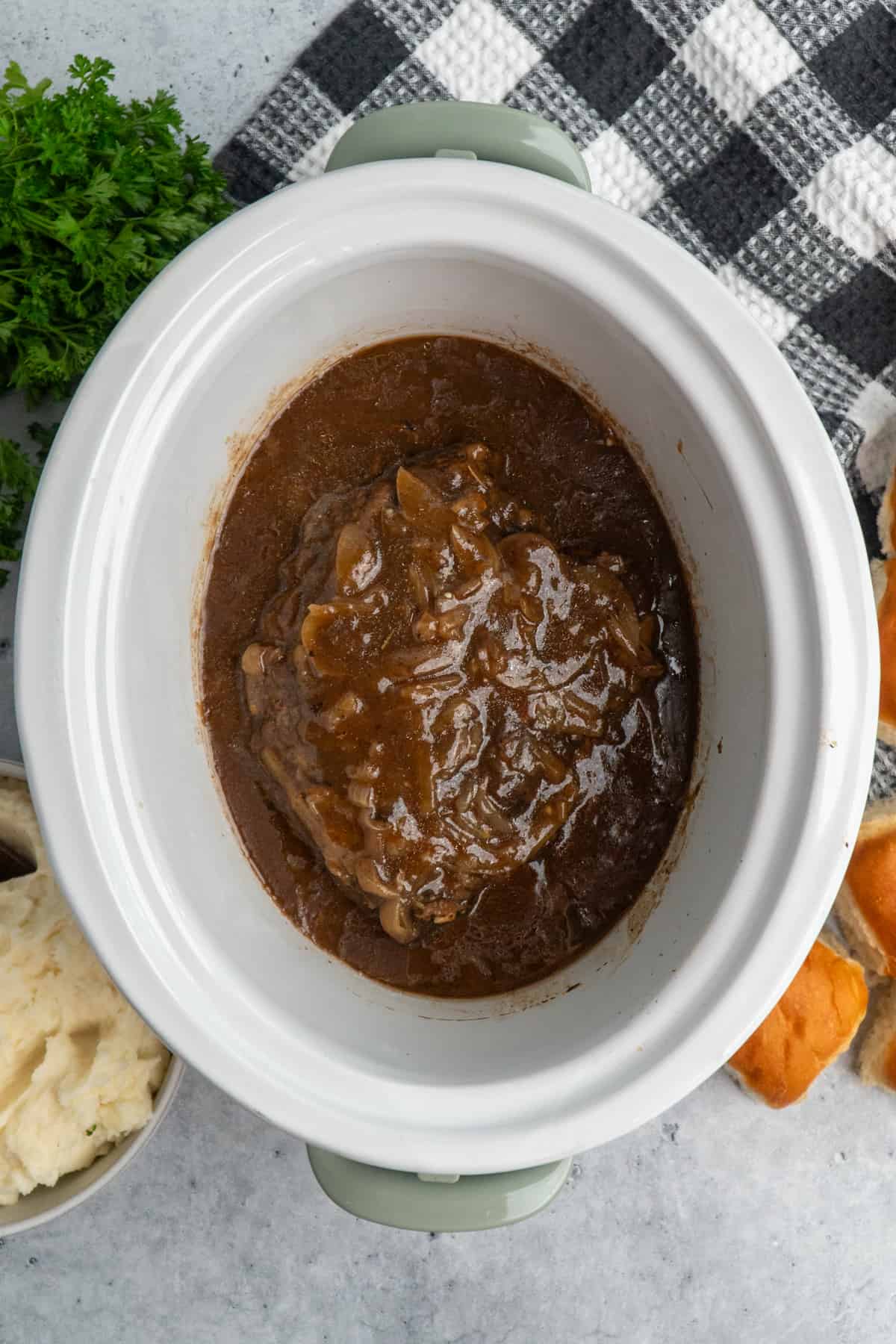 Recipe Tips
Opt for a chuck roast with good marbling; the fat will render during cooking, making the meat more tender and flavorful.
Yellow or sweet onions are ideal for this dish as they caramelize beautifully, offering a natural sweetness to the sauce.
Ensure your slow cooker is on the "low" setting; cooking at a gentle heat ensures the meat becomes tender without drying out.
Make sure the liquid covers at least half of the roast in the slow cooker to maintain moisture throughout the cooking process.
Whisking the cornstarch with a cold liquid before adding it to the hot sauce ensures a lump-free gravy.
Allow the roast to rest for a few minutes before shredding; this lets the juices redistribute, resulting in moister meat.
Fresh herbs can be substituted for dried ones; just remember to increase the quantity by about three times, as fresh herbs are less concentrated.
Variations
Replace half the beef broth with a good quality red wine for a richer, deeper flavor profile reminiscent of a classic French dish.
If chuck roast isn't available, you can use a rump roast or brisket as an alternative; just adjust the cooking time as needed.
Introduce hearty vegetables like carrots, celery, or potatoes for a one-pot meal; they'll absorb the savory flavors as they cook alongside the meat.
To give the gravy a velvety texture and rich taste, stir in a splash of heavy cream or a dollop of sour cream just before serving.
If gluten is a concern, ensure the beefy onion soup packet and Worcestershire sauce are gluten-free, or substitute them with gluten-free alternatives.
Experiment with different herbs, such as basil, parsley, or oregano, to introduce a fresh twist to the roast's flavor profile.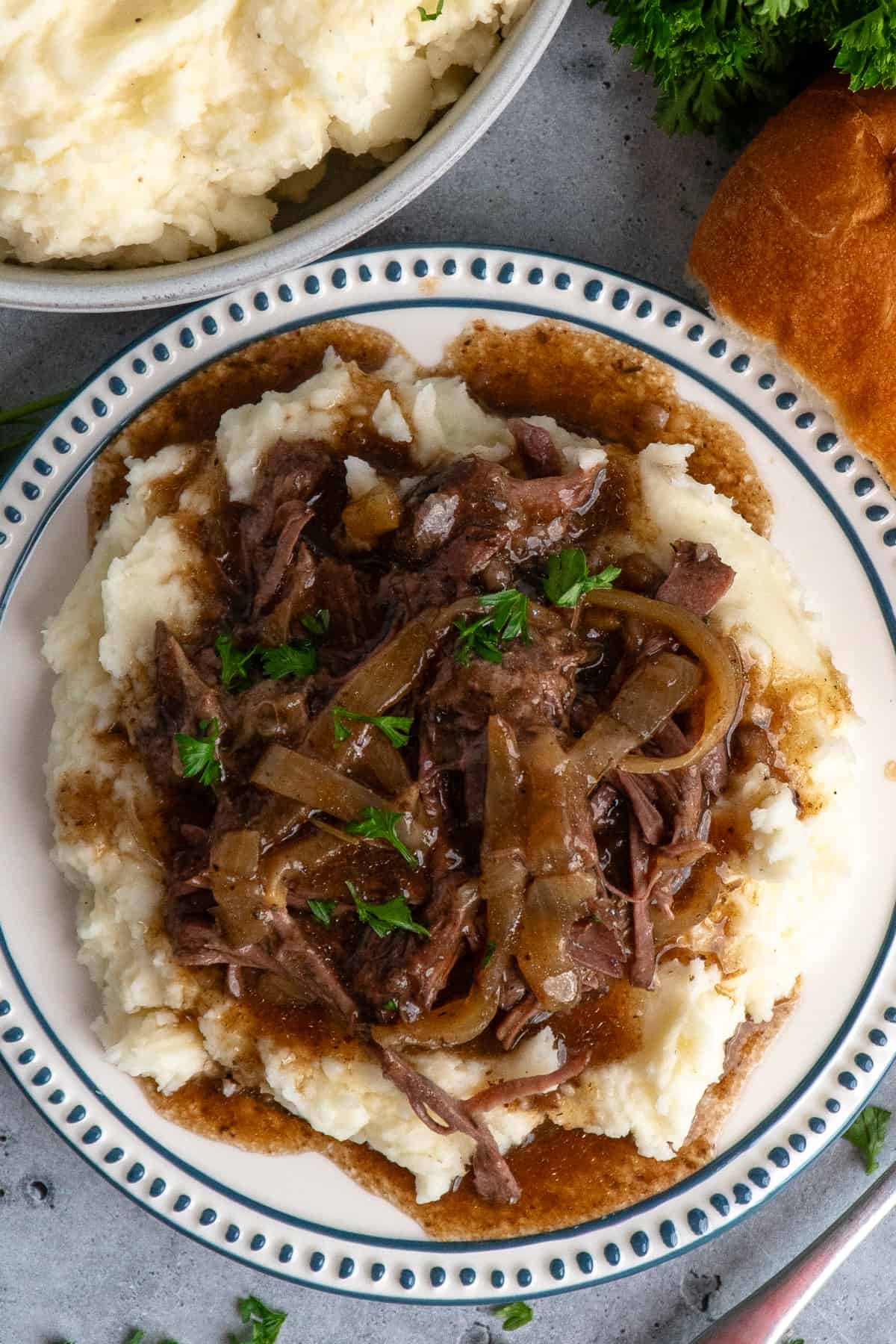 Storing & Freezing
Storing: Once the pot roast has cooled, transfer it to an airtight container. Store in the refrigerator for up to 4-5 days. To reheat, place it in a saucepan over medium heat, stirring occasionally until warmed through. If the gravy thickens too much upon refrigeration, you can add a splash of beef broth to thin it out during reheating.
Freezing: If you're planning to freeze the pot roast, it's best to do so without the gravy to maintain texture quality. Place the shredded meat in a freezer-safe container or zip-top bag, pressing out as much air as possible. In a separate container or bag, store the gravy. Both can be frozen for up to 3 months. When ready to use, defrost overnight in the refrigerator, and then heat on the stovetop, combining the meat and gravy when warm.
FAQ
My gravy is too thin. How can I thicken it?
If the gravy is too thin, you can create an additional cornstarch slurry by mixing a tablespoon of cornstarch with 2 tablespoons of cold water. Gradually whisk this into the simmering gravy until the desired consistency is achieved.
Can I make this in the oven?
Instead of a slow cooker, you can use a covered oven-safe pot or Dutch oven. Cook at a low temperature, around 275°F (135°C), for roughly the same amount of time, ensuring the meat is submerged in the liquid and checking periodically for tenderness.
What can I use besides apple cider vinegar?
While apple cider vinegar adds a tangy balance to the rich flavors, you can substitute it with a similar acidic ingredient like red wine vinegar or omit it without significantly affecting the overall taste.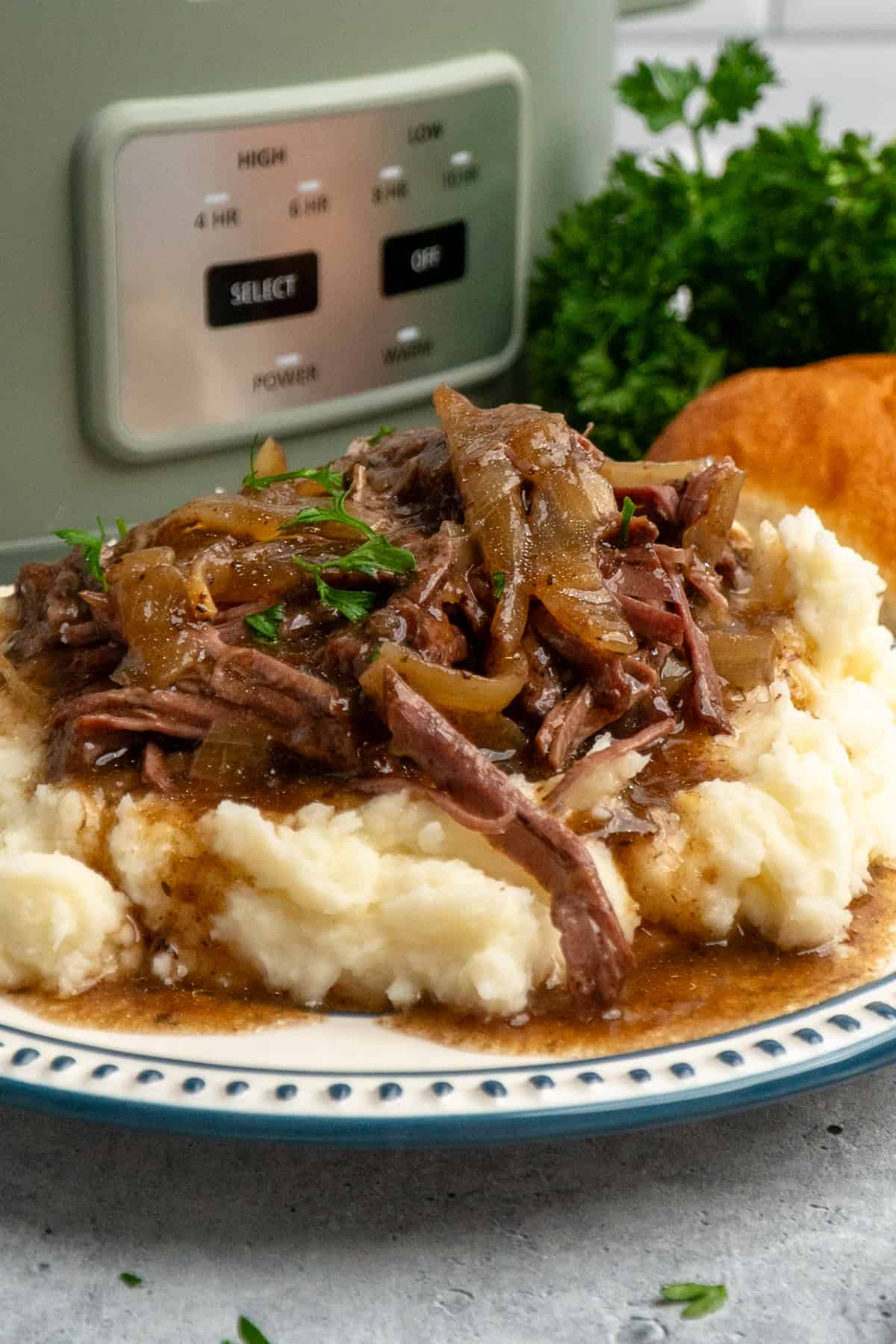 More Crock Pot Beef Recipes
SHARE IT & RATE IT
I would love it if you would leave a 5 Star ⭐️⭐️⭐️⭐️⭐️ rating below. Then follow me on Facebook, Instagram, and Pinterest! Share your favorite recipes or ask questions in my Facebook Group.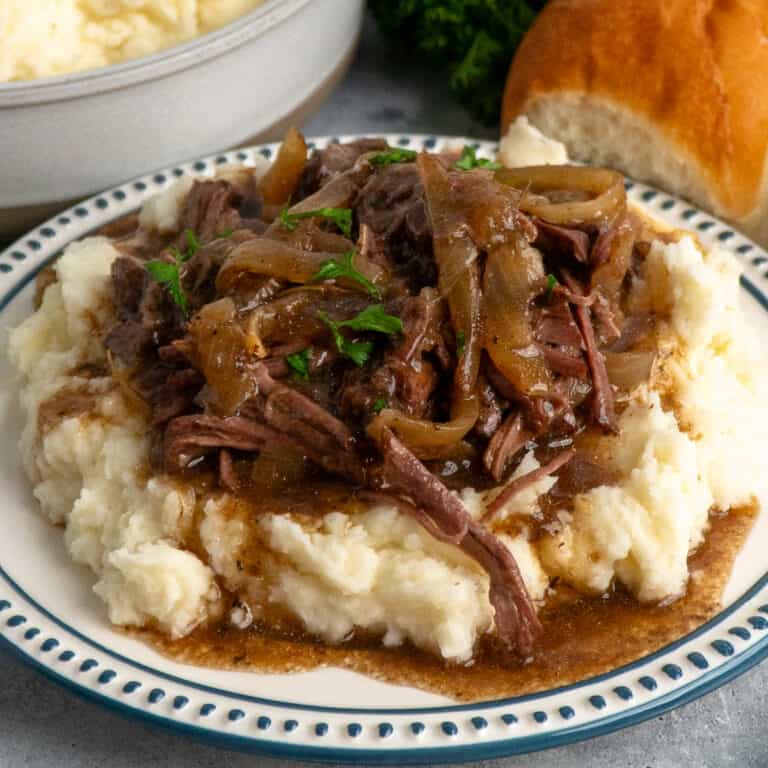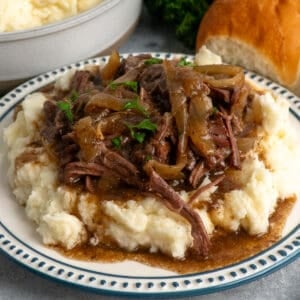 French Onion Pot Roast
French Onion Pot Roast combines the rich depth of caramelized onions with the hearty satisfaction of a classic roast. This recipe effortlessly transforms simple ingredients into a mouthwatering protein using the help of your slow cooker!
Instructions
Place onions in the bottom of a 6-quart slow cooker. Then place the chuck roast on top of the onions.

In a medium bowl, add garlic, beef broth, apple cider vinegar, Worcestershire sauce, beefy onion soup, black pepper, thyme, and rosemary. Mix until well combined and pour over the roast.

Place the butter and bay leaves on the roast.

Cover and cook on low for 8 hours.

Remove bay leaves and discard. Then, take the roast from the slow cooker and set it on a plate. Shred with two forks and set aside.

In a small bowl, add ¼ cup of liquid from the slow cooker. Whisk in the cornstarch and set aside. Add the remaining sauce to a saucepan and simmer over medium heat. When the sauce starts to bubble, whisk in the cornstarch mixture.

Add roast back into the slow cooker and pour gravy over the top.

Serve over mashed potatoes and enjoy!
Notes
If you can't locate beefy onion soup, feel free to substitute it with regular onion soup mix.
While it's not mandatory, browning (searing) the ingredients is an option, but I believe it adds amazing flavor.
Nutrition
Calories:
324
kcal
Carbohydrates:
10
g
Protein:
31
g
Fat:
18
g
Saturated Fat:
8
g
Polyunsaturated Fat:
1
g
Monounsaturated Fat:
9
g
Trans Fat:
1
g
Cholesterol:
105
mg
Sodium:
999
mg
Potassium:
663
mg
Fiber:
1
g
Sugar:
2
g
Vitamin A:
39
IU
Vitamin C:
2
mg
Calcium:
59
mg
Iron:
4
mg
*All nutrition information provided is automatically calculated and is an estimate and will vary based on ingredients, brands, and changes in cooking methods listed in the recipe. If you need exact numbers on your ingredients, I would recommend calculating them with your prefered nutrition calculator.