This easy recipe for Slow Cooker Focaccia Bread utilizes frozen yeast dinner rolls, transforming them into a rustic and irresistible delight, all with the help of your slow cooker. Enjoy this delicious bread alongside your favorite main meals for an elevated finishing touch!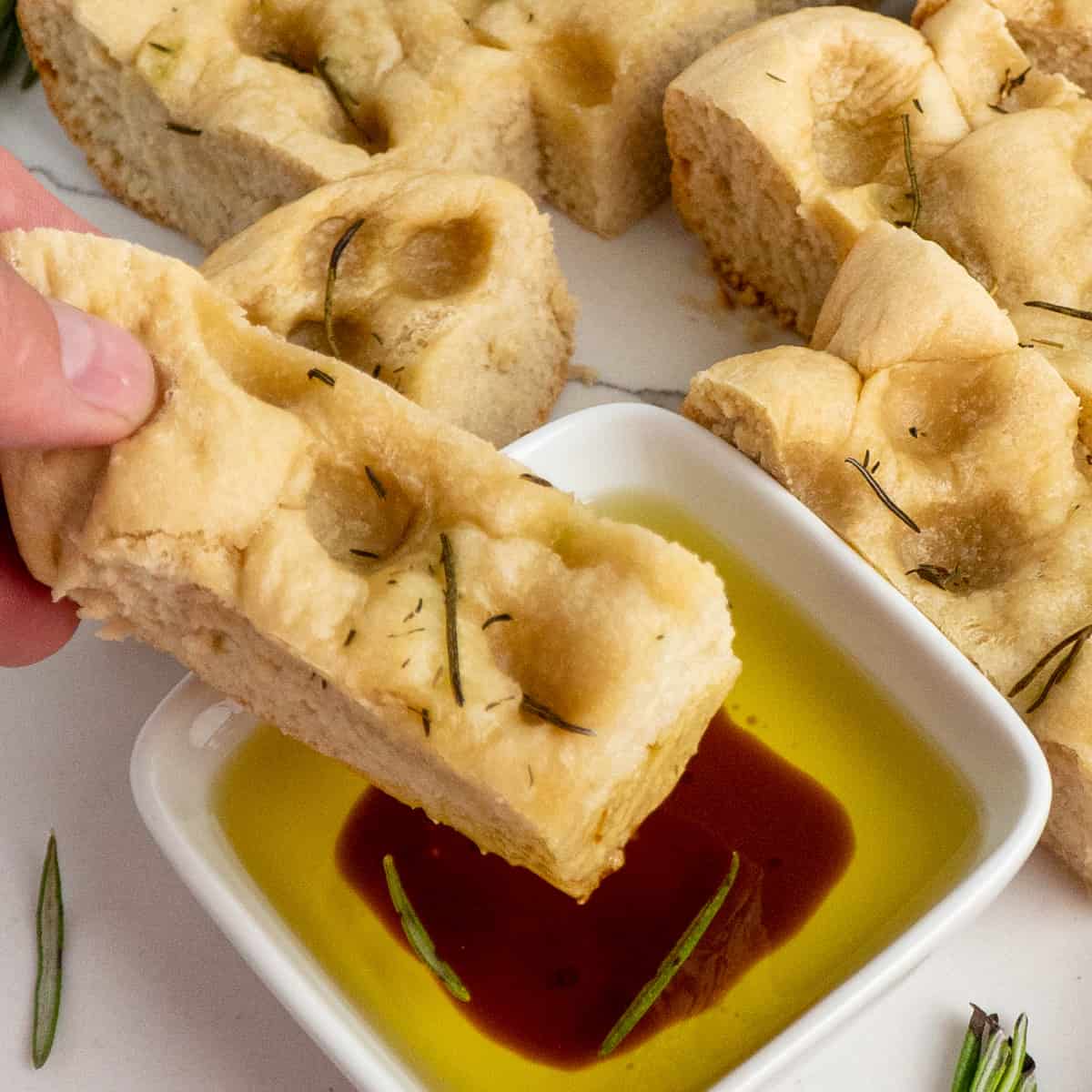 Originating from Italy, this beloved flatbread is popular around the globe. This bread was traditionally made over coals or in a hearth which lends to its flat shape. It has a pillowy texture and golden crust and can have flavorful toppings to suit any dish you make with it!
Thanks to a shortcut using frozen yeast dinner rolls, you can easily achieve the taste and texture of traditional Focaccia without starting from scratch. These frozen rolls save you time and effort, acting as the perfect base for homemade Focaccia.
The versatility of this bread is unmatched. Picture yourself tearing off a warm slice and savoring it alongside a steaming bowl of soup, or use it as a base for a gourmet sandwich filled with your favorite ingredients. Focacciia can also be cut into bite-sized pieces and served as an appetizer or used as an alternative to traditional breadsticks for dipping into sauces and spreads!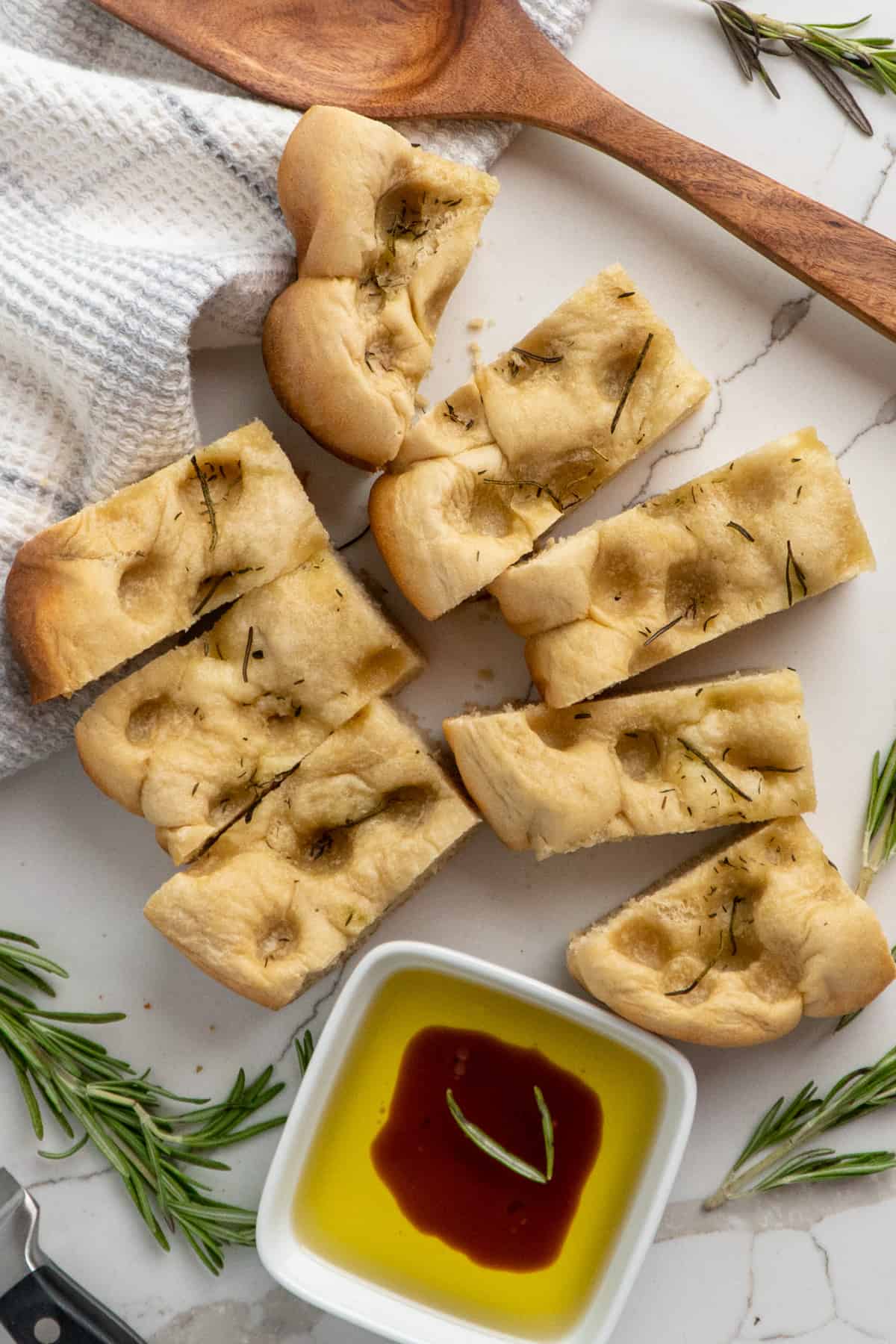 Why You'll Love This Recipe
This easy slow cooker bread recipe offers a convenient twist on classic bread, allowing you to enjoy the flavors and textures of homemade Focaccia without the need for extensive kneading or oven monitoring.
The gentle and even heat distribution of the slow cooker ensures that every bite is a perfect blend of flavors and textures, making it evenly cooked.
The combination of the herb-infused oil and the delicate dimples created by poking the dough ensures that every bite is packed with herbaceous flavor.
Whether you're serving it as a side with soups, stews, or pasta dishes, using it as a base for sandwiches or sliders, or even enjoying it as a standalone snack, this bread complements a wide range of flavors and meals.
Ingredients You'll Need
Frozen Yeast Dinner Rolls - These pre-made frozen rolls serve as the convenient and time-saving base for the Slow Cooker Focaccia. As they thaw and rise during the cooking process, they transform into fluffy and flavorful bread, eliminating the need for traditional dough preparation from scratch. You can find them in the frozen bread and pastry section in your local grocery store.
Olive Oil - This oil not only adds moisture to the Focaccia but also gives savory flavor to each bite while also helping to create a beautifully golden and crisp crust.
Fresh Rosemary - Brings an earthy and slightly piney flavor to the Focaccia that pairs well with the olive oil.
Fresh Thyme - Combined with the rosemary, it enhances the overall aroma and taste profile adding a hint of floral and citrus flavors.
How To Make Foccacia Bread In The Slow Cooker
Prepare the slow cooker: Trace the bottom of your slow cooker and cut out a piece of parchment that fits evenly inside.
Allow the rolls to rise: Once fitted with parchment, place the rolls in an evenly spaced matter at the bottom of the slow cooker. Set to WARM for 1½ hours.
Add seasonings: Once the rolls rise, poke holes in the dough with your fingers. Then, evenly distribute the oil on top, followed by a sprinkle of both the rosemary and thyme. Continue to cook for an additional hour on LOW.
Remove and serve: Once the bread is fully cooked through, remove it from the slow cooker carefully. Cut with a serrated knife to your desired slice size and shape. Enjoy!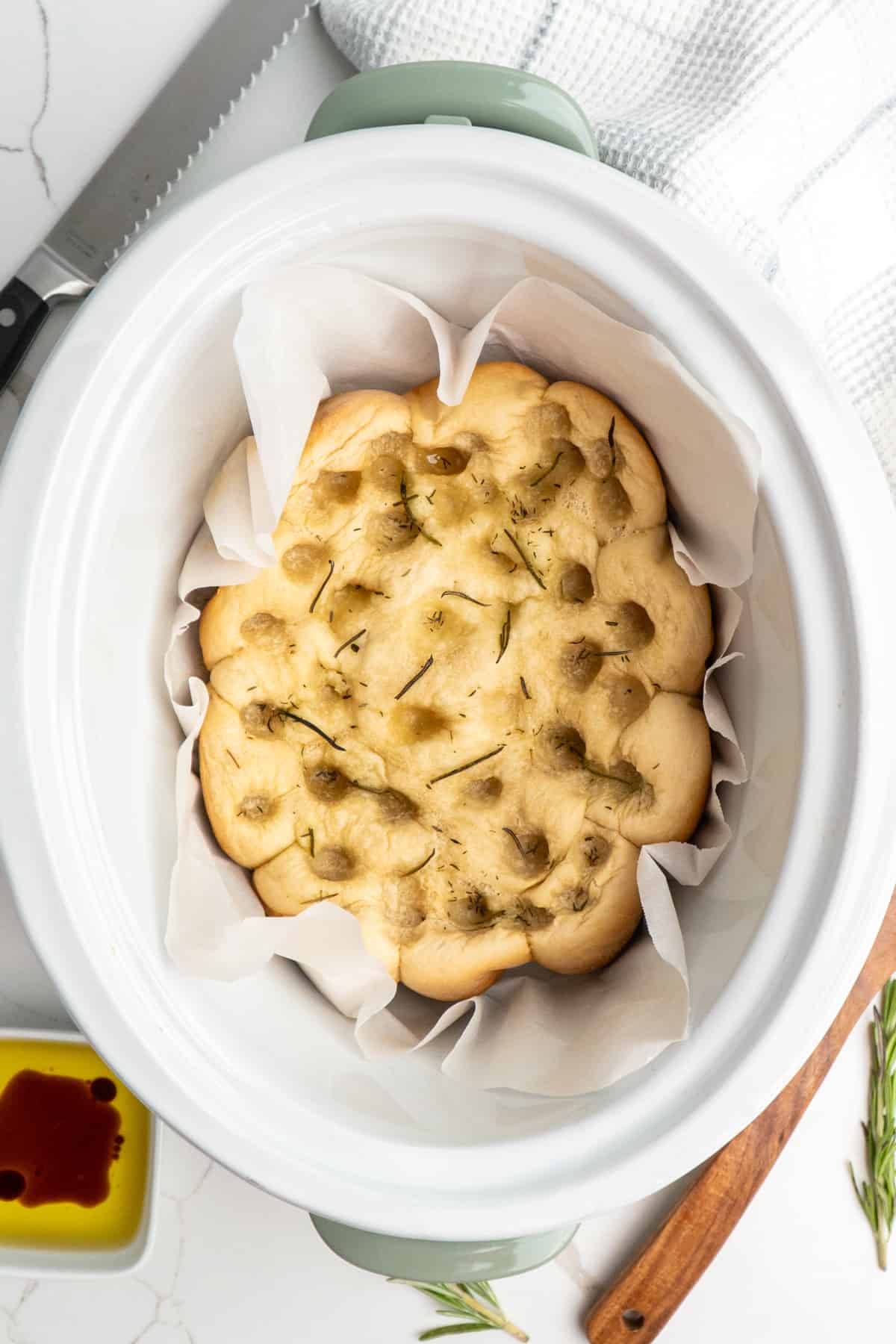 Recipe Tips
To ensure even cooking and prevent sticking, it is crucial to line the bottom of your slow cooker with parchment paper before placing the frozen yeast dinner rolls. This will make it easier to remove the finished Focaccia without any hassle or damage to the bread.
Make sure your slow cooker is set to the "warm" setting during the initial rise of the rolls. This gentle and steady heat will encourage the yeast to activate and the dough to rise gradually, resulting in a light and airy texture.
When pouring the olive oil over the risen rolls, be sure to distribute it evenly across the surface. This will not only enhance the flavor but also help to keep the Focaccia moist and prevent it from drying out during the cooking process.
When poking the dough with your fingers, be gentle to avoid deflating it completely. The purpose of this step is to create those classic Focaccia dimples, which will provide texture and allow the oil and herbs to seep into the bread, enhancing the overall taste and appearance.
Keep an eye on the cooking time during the low setting phase. Every slow cooker is different, and the bread may require slightly less or more time to cook fully. Check the Focaccia periodically and remove it from the slow cooker once it has a golden crust and a firm, cooked center. Adjust the cooking time as needed to achieve your desired level of doneness.
Variations
Cheese Lover's Twist: Before placing the rolls in the slow cooker, sprinkle a generous amount of shredded cheese, such as mozzarella or Parmesan, between the rolls. As the Focaccia bakes, the cheese will melt and create a gooey, flavorful layer.
Mediterranean Delight: Add toppings like sliced black olives, sun-dried tomatoes, and crumbled feta cheese after pouring the olive oil.
Garlic Infusion: Brush the risen rolls with melted garlic butter before drizzling the olive oil and sprinkling the herbs.
Sweet and Savory: Add a touch of sweetness to your Focaccia by incorporating caramelized onions into the mix. Sauté thinly sliced onions in a little olive oil until golden and sweet. Place them over the rolls before pouring the oil and herbs.
Spicy Kick: Add a sprinkle of red pepper flakes or a drizzle of hot sauce over the Focaccia before cooking. This will give your bread a fiery twist!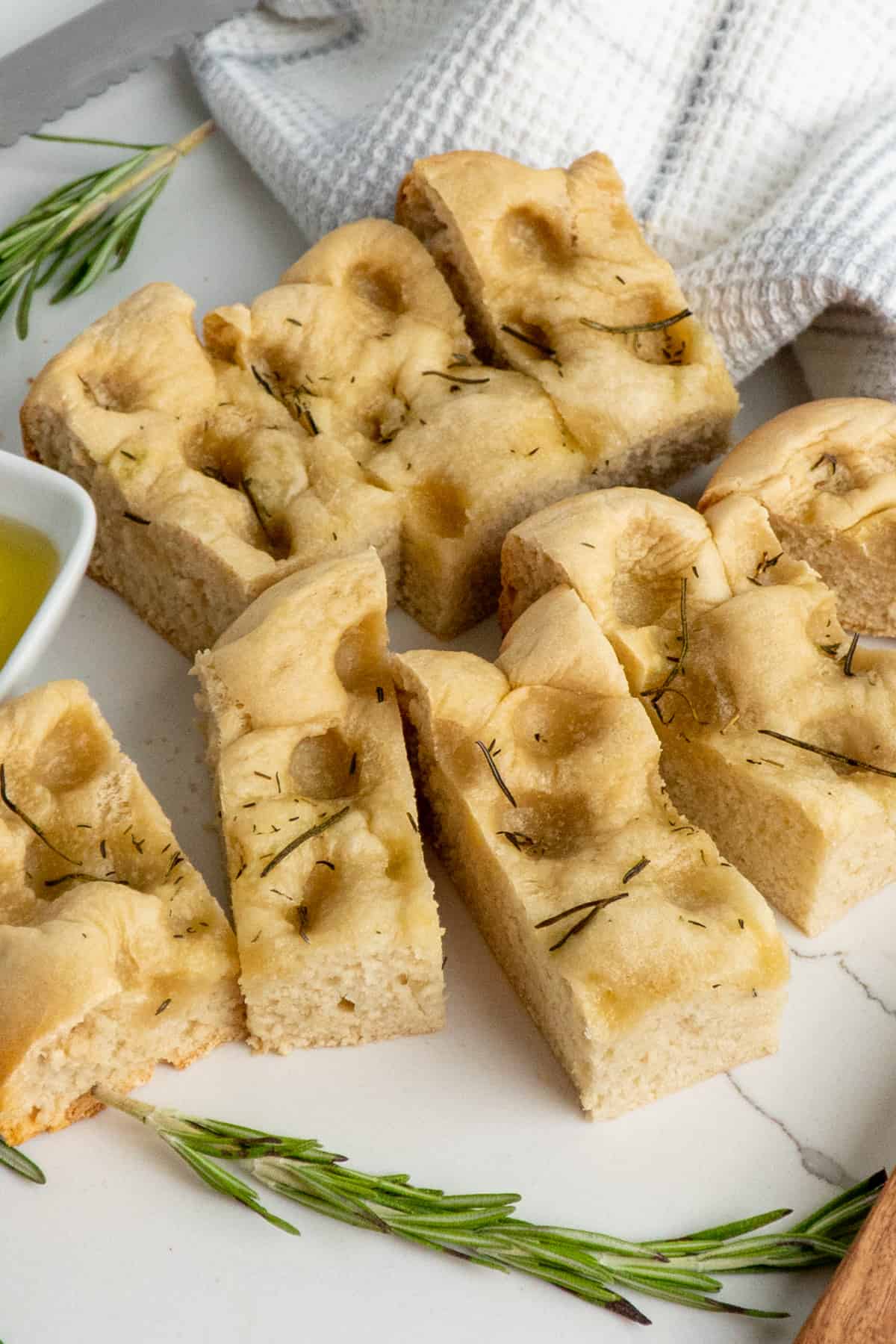 Storing & Freezing
Storing: Once the bread has cooled completely. Store it in an airtight container or resealable bag at room temperature for up to 2 days. To maintain its freshness and texture, you can also wrap individual slices in plastic wrap and refrigerate them for up to 5 days.
Freezing: Allow the bread to cool completely, then wrap it tightly in plastic wrap and place it in a freezer-safe bag or container. It can be frozen for up to 2 months. When ready to enjoy, thaw the Focaccia in the refrigerator overnight and reheat it in a preheated oven at 350°F (175°C) for a few minutes until warm and crisp.
FAQ
What makes focaccia bread different?
What sets Focaccia bread apart is its unique combination of a fluffy and airy interior with a crisp and golden crust that's made by using your fingers to dimple the bread. Focaccia is typically topped with olive oil, herbs, and other flavorful ingredients, enhancing its flavor and versatility.
Can I use dried rosemary and thyme instead of fresh herbs?
Certainly! If fresh herbs are not available, you can use dried rosemary and thyme as a substitute. Use ½ teaspoon of dried rosemary and ¼ teaspoon of dried thyme to achieve a similar flavor. Crush the dried herbs slightly between your fingers to release their aromatic oils before sprinkling them over the Focaccia.
Can I add additional toppings to the Focaccia?
Feel free to get creative with your toppings. You can add ingredients like sliced tomatoes, caramelized onions, sliced bell peppers, or even a sprinkle of grated cheese to customize your Focaccia. Just be mindful not to overcrowd the bread, as it may affect the overall texture and baking time.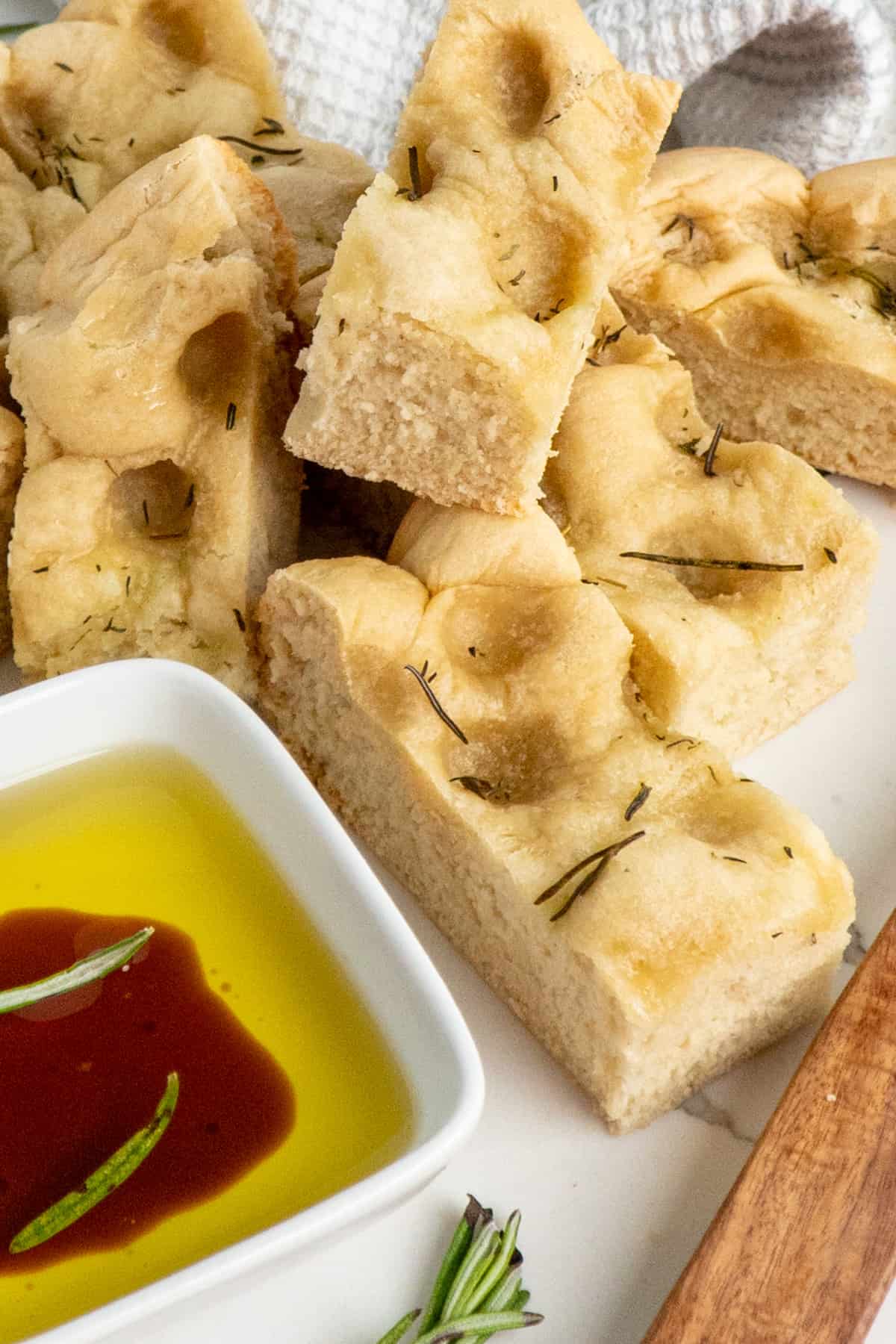 Ways To Enjoy Foccacia Bread
Enjoy this delicious bread alongside our favorite Italian dishes, also made right in the slow cooker!
SHARE IT & RATE IT
I would love it if you would leave a 5 Star ⭐️⭐️⭐️⭐️⭐️ rating below. Then follow me on Facebook, Instagram, and Pinterest! Share your favorite recipes or ask questions in my Facebook Group.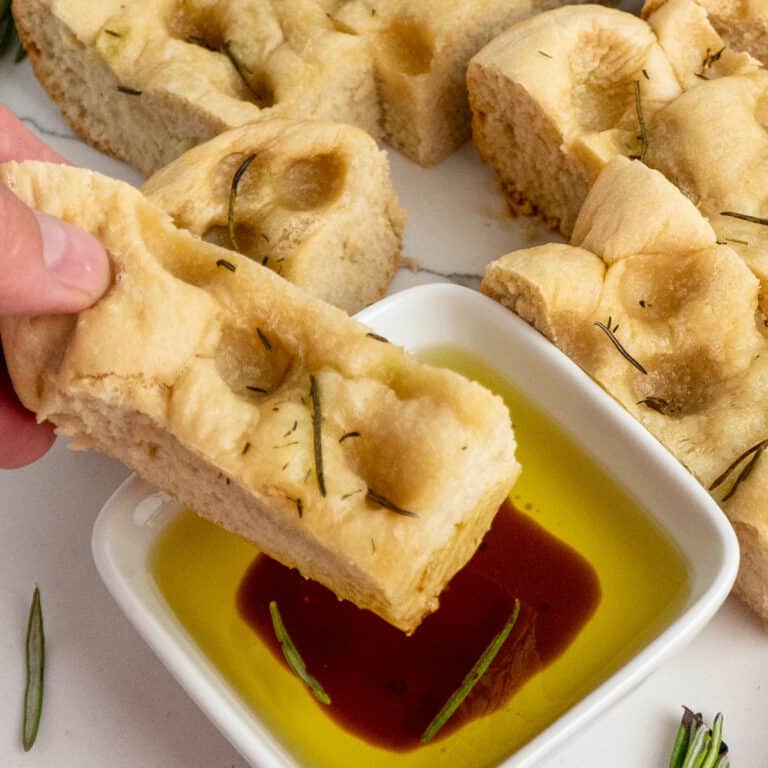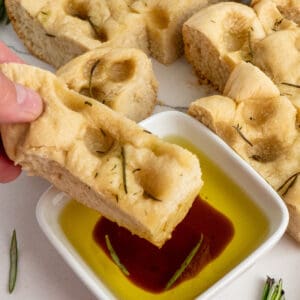 Slow Cooker Focaccia
This easy recipe for Slow Cooker Focaccia Bread utilizes frozen yeast dinner rolls, transforming them into a rustic and irresistible delight, all with the help of your slow cooker. Enjoy this delicious bread alongside your favorite main meals for an elevated finishing touch!
Ingredients
17-19

frozen yeast dinner rolls

2

tbsp

olive oil

1

tbsp

fresh rosemary

½

tsp

dried thyme
Instructions
Place parchment paper in the bottom of a 6-quart slow cooker. Place rolls around the bottom evenly spaced.

Cover and set the slow cooker to warm and cook for 1 ½ hours.

After the rolls rise, pour the oil all around and sprinkle the rosemary and thyme over the top. Then, gently poke the dough with your fingers.

Cover and continue to cook for 1 hour on low.

Remove the bread from the slow cooker with the parchment paper and enjoy!
Nutrition
Calories:
375
kcal
Carbohydrates:
56
g
Protein:
10
g
Fat:
12
g
Saturated Fat:
2
g
Polyunsaturated Fat:
2
g
Monounsaturated Fat:
7
g
Sodium:
639
mg
Potassium:
143
mg
Fiber:
5
g
Sugar:
2
g
Vitamin A:
13
IU
Vitamin C:
0.1
mg
Calcium:
217
mg
Iron:
4
mg
*All nutrition information provided is automatically calculated and is an estimate and will vary based on ingredients, brands, and changes in cooking methods listed in the recipe. If you need exact numbers on your ingredients, I would recommend calculating them with your prefered nutrition calculator.