If you're looking for a delicious and effortless meal, this Crock Pot Creamy Chicken Pasta is the perfect recipe! With tender chicken, creamy sauce, and perfectly cooked pasta, this dish makes an easy dinner that's both comforting and satisfying!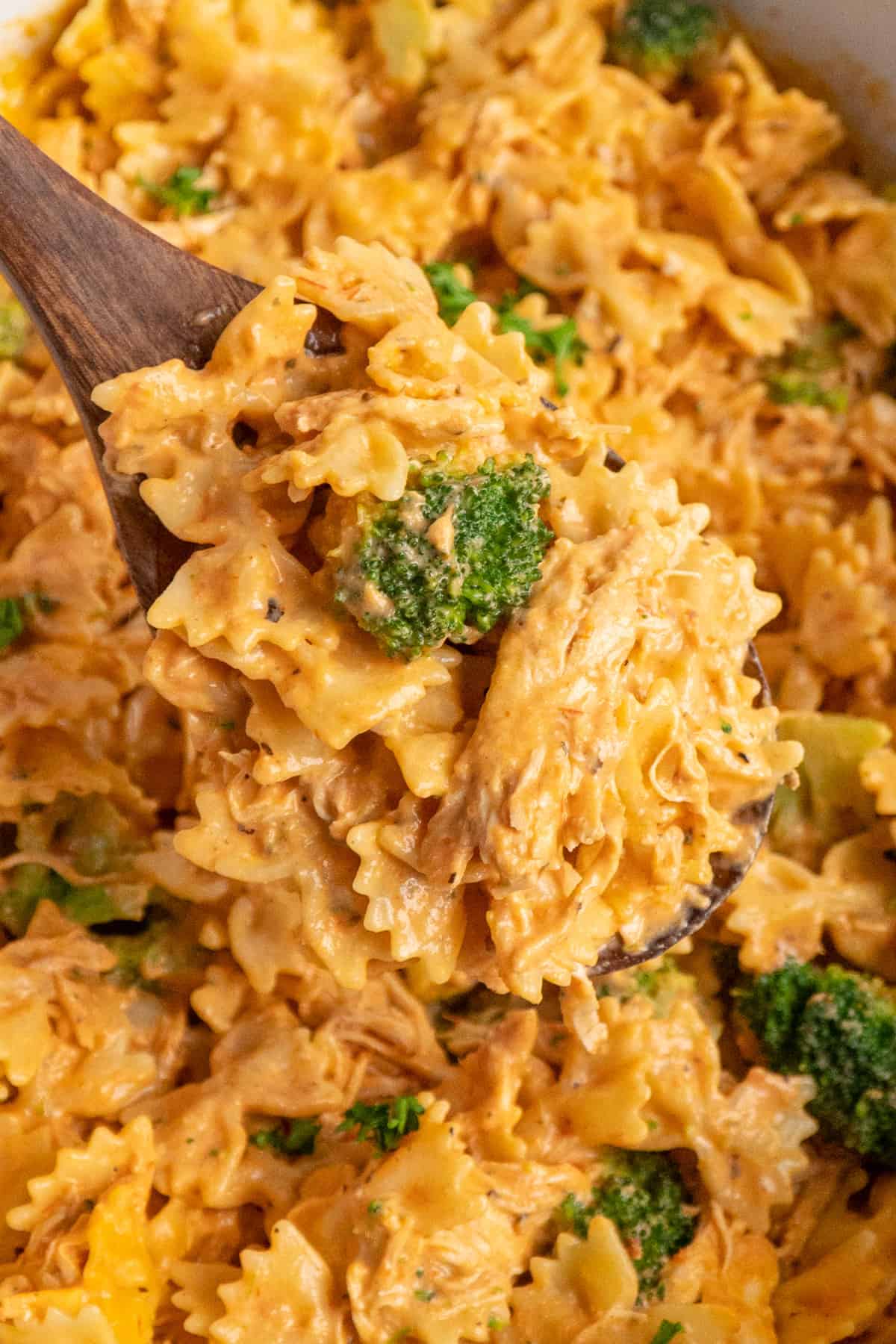 This combination of tender chicken, velvety sauce, and perfectly cooked pasta is the best way to enjoy an easy and satisfying dinner that the whole family will love!
This recipe features simple ingredients you can find anywhere. The marinara sauce adds a rich tomato base, while the cream cheese provides a luscious creaminess that perfectly complements the tender chicken. The addition of minced garlic infuses the dish with a delightful aroma and enhances the overall taste. This simple sauce coats the bowtie pasta, which absorbs all the flavors and creates a satisfying and comforting meal. And, to add a touch of freshness and nutrition, frozen broccoli is included, bringing a pop of vibrant green and a healthy twist.
Using a crock pot is the best cooking method when it comes to making creamy chicken pasta. Not only does it save you time and effort, but it also allows the flavors to develop and intensify as the ingredients slowly cook together. Plus, the convenience of the crock pot means you can set it and forget it, leaving you free to go about your day while dinner effortlessly cooks to perfection!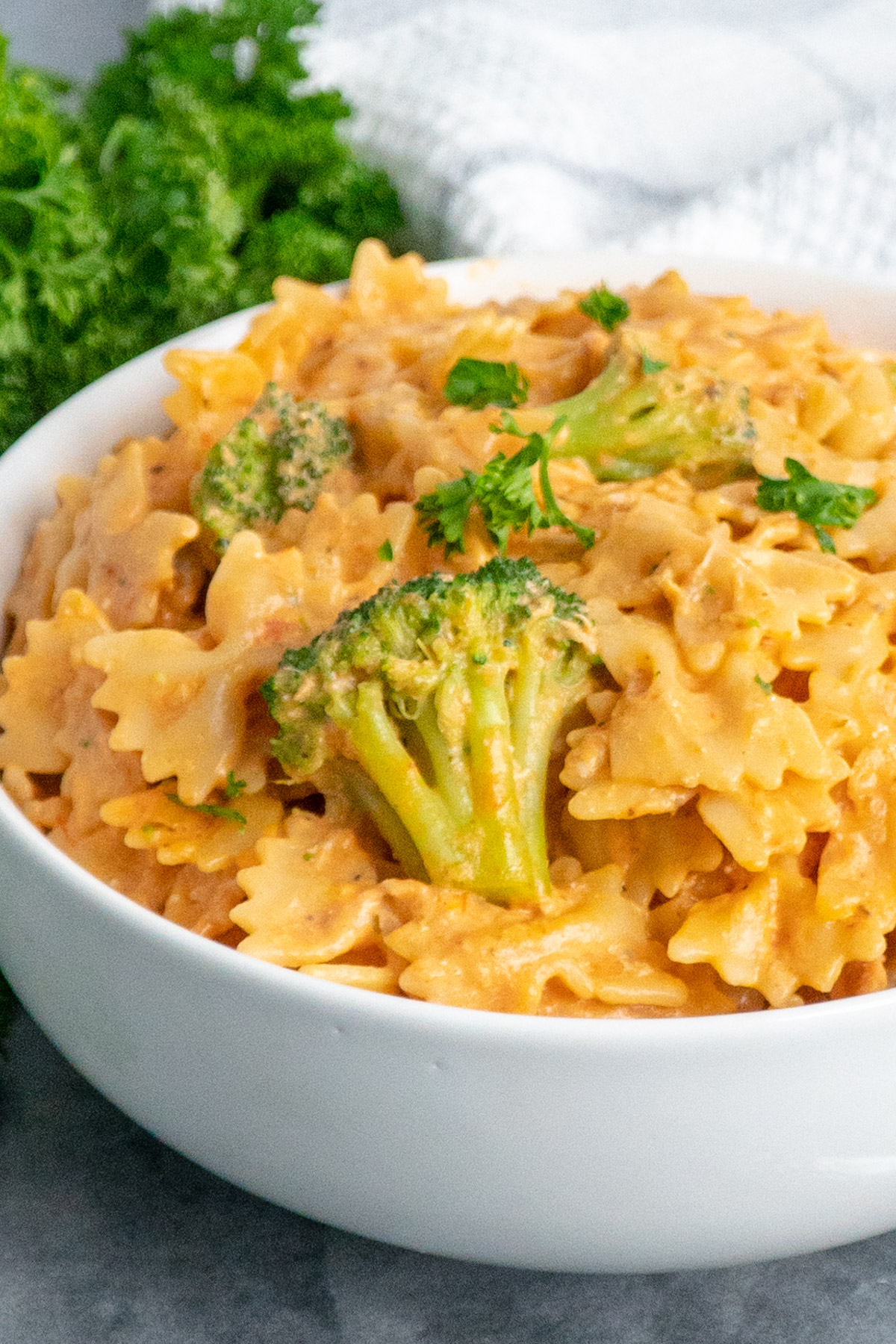 Why You'll Love This Recipe
This easy crock pot chicken dinner is a lifesaver for busy individuals or families who crave a comforting and flavorful meal without spending hours in the kitchen.
The combination of tender, juicy chicken, creamy sauce, and perfectly cooked pasta creates a blend of flavors and textures that will satisfy even the pickiest eaters.
You can set it in the morning and come home to a meal that's ready to be devoured, making it ideal for those busy weekdays or when you simply want to relax while your dinner practically cooks itself.
You can easily customize it to suit your preferences by adding vegetables like broccoli, mushrooms, or bell peppers for extra nutrition and color. You can also experiment with different pasta shapes or even substitute the chicken with other proteins like shrimp or sausage to keep things exciting.
Ingredients You'll Need
Chicken Breast - The star of the dish, providing a lean and tender protein base. It becomes incredibly flavorful and easily shreds as it slowly cooks in the crock pot, absorbing the seasonings and marinara sauce.
Seasonings - A combination of salt, pepper, and Italian seasoning enhances the overall taste of the dish.
Marinara Sauce - Serves as the foundation of the creamy sauce, providing a rich tomato flavor that coats the chicken and pasta.
Minced Garlic - A flavor powerhouse that adds an aromatic and savory element to the recipe that is popular in Italian cooking.
Cream Cheese - This creates a luxurious creaminess that defines this dish. As it melts and combines with the marinara sauce, it adds a velvety texture and richness that perfectly complements the tender chicken and pasta.
Bowtie Pasta - Also known as farfalle, is the pasta of choice for this recipe. Its unique shape and ridges capture the creamy sauce, ensuring each bite is filled with flavor.
Heavy Cream - Adds a silky smoothness to the sauce, enhancing its richness and providing a velvety mouthfeel. The heavy cream helps bind all the flavors together, creating a cohesive and indulgent sauce.
Parmesan Cheese - Adds a touch of sharpness, along with a nuttiness balancing out the creaminess of the sauce.
Frozen Broccoli - This vegetable not only brings vibrant color to the dish but also adds a nutritional boost.
How To Make Creamy Chicken Pasta In The Crock Pot
Prepare chicken breast: Trim any excess fat off of the chicken breast and pat dry on both sides with a paper towel. Season the chicken with salt, black pepper, Italian seasoning, and garlic. Place the chicken at the bottom of the crock pot.
Cook the chicken: Pour the jar of marinara sauce over the top of the chicken, followed by the four pieces of cream cheese evenly distributed.
Cover and cook: Add the lid to the top of the slow cooker and cook on LOW for 3-4 hours or HIGH for 5-6 hours.
Shred chicken: Remove the chicken breast and shred it with two forks; add the chicken back to the crock pot.
Finish the sauce: To the mixture, add the cooked pasta, heavy cream, parmesan cheese, and frozen broccoli. Mix until well combined, then cook for an additional 30 minutes with the lid on.
Serve and enjoy: Once the broccoli is warmed through, stir and serve while hot. Enjoy!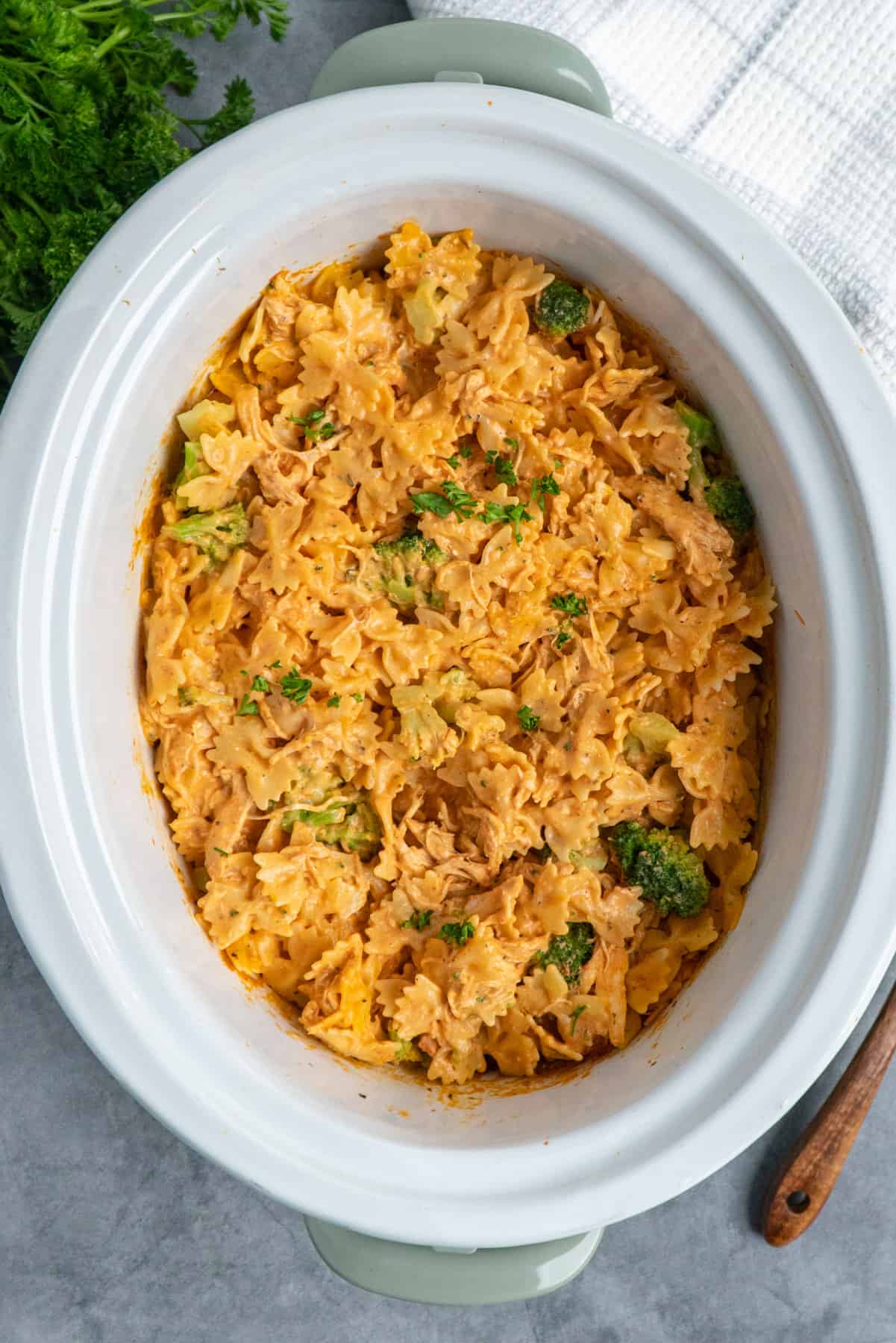 Recipe Tips
If you prefer a thicker sauce, you can mix a tablespoon or two of cornstarch with a small amount of cold water until smooth. Stir this mixture into the crock pot during the last 30 minutes of cooking to thicken the sauce to your desired consistency.
To add some additional richness and depth of flavor, consider using homemade marinara sauce instead of a jarred one. You can make a batch ahead of time or use your favorite homemade marinara recipe to elevate the overall taste of the dish.
While the recipe calls for frozen broccoli, you can use fresh broccoli if you prefer. Simply blanch the fresh broccoli florets in boiling water for a couple of minutes to soften them slightly before adding them to the crock pot. This ensures they retain vibrant color and a pleasant crunch in the final dish.
Shred the chicken using two forks or a stand mixer with the paddle attachment.
Variations
To add a kick of heat, spice up your creamy chicken pasta by incorporating crushed red pepper flakes or a dash of cayenne pepper. Adjust the amount to your preferred level of spiciness and enjoy a zesty twist on the classic dish.
Swap out the marinara sauce with a jar of sun-dried tomato pesto. This substitution will infuse the dish with the vibrant flavors of sun-dried tomatoes, basil, and garlic, giving it a unique and aromatic taste.
Mix different types of cheeses into the dish. Add a handful of shredded mozzarella or a blend of Italian cheeses along with the Parmesan cheese.
Experiment with different pasta shapes to change up the texture and presentation. Try using penne, rotini, or even spirals. Each pasta shape will create a different mouthfeel and absorb the sauce in its own way.
Swap out the frozen broccoli for other frozen vegetables such as peppers, mushrooms, or mixed vegetables. This allows you to create a colorful medley of vegetables in your dish while adding a variety of flavors and textures.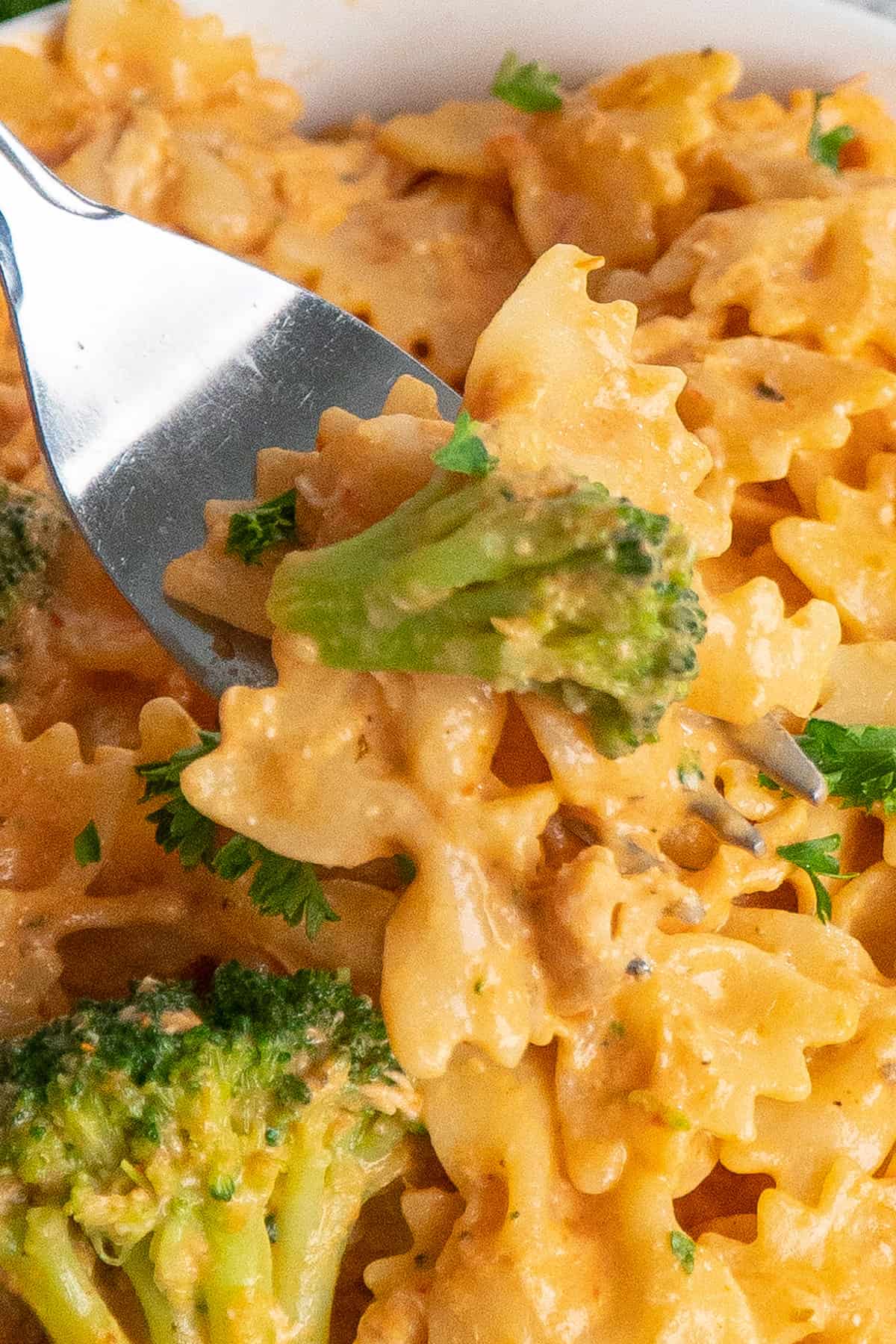 Storing & Freezing
Storing: To store any leftovers, transfer them to an airtight container and refrigerate. It can be stored in the refrigerator for up to 3-4 days. When reheating, add a splash of water or additional cream to prevent the pasta from drying out.
Freezing: Allow the dish to cool completely before transferring it to freezer-safe containers or freezer bags. For best results, divide the pasta into individual portions for easier thawing and serving. Freeze for up to 2-3 months.
Reheating: When ready to enjoy leftover creamy chicken pasta, thaw it overnight in the refrigerator if frozen. Reheat it in the microwave or on the stovetop, adding a splash of cream or marinara sauce if needed to restore the creamy texture. Note that the texture of the pasta may be slightly softer after freezing and reheating, but the flavors will remain delicious.
FAQ
Can I substitute the cream cheese with another type of cheese?
If you're not a fan of cream cheese or prefer a different flavor profile, you can substitute it with other soft cheeses such as mascarpone or ricotta. These cheeses will still provide a creamy texture and add a unique taste to the dish.
Can I make this recipe vegetarian?
Yes, you can easily make a vegetarian version of this creamy pasta dish. Simply omit the chicken and replace it with additional vegetables like mushrooms, bell peppers, or zucchini. Adjust the cooking time accordingly, and you'll have a delicious vegetarian creamy pasta packed with flavor.
Can the pasta be cooked in the crock pot?
No, this recipe requires the pasta to be cooked BEFORE adding it to the crock pot as it would get too soft and mushy while the chicken cooks.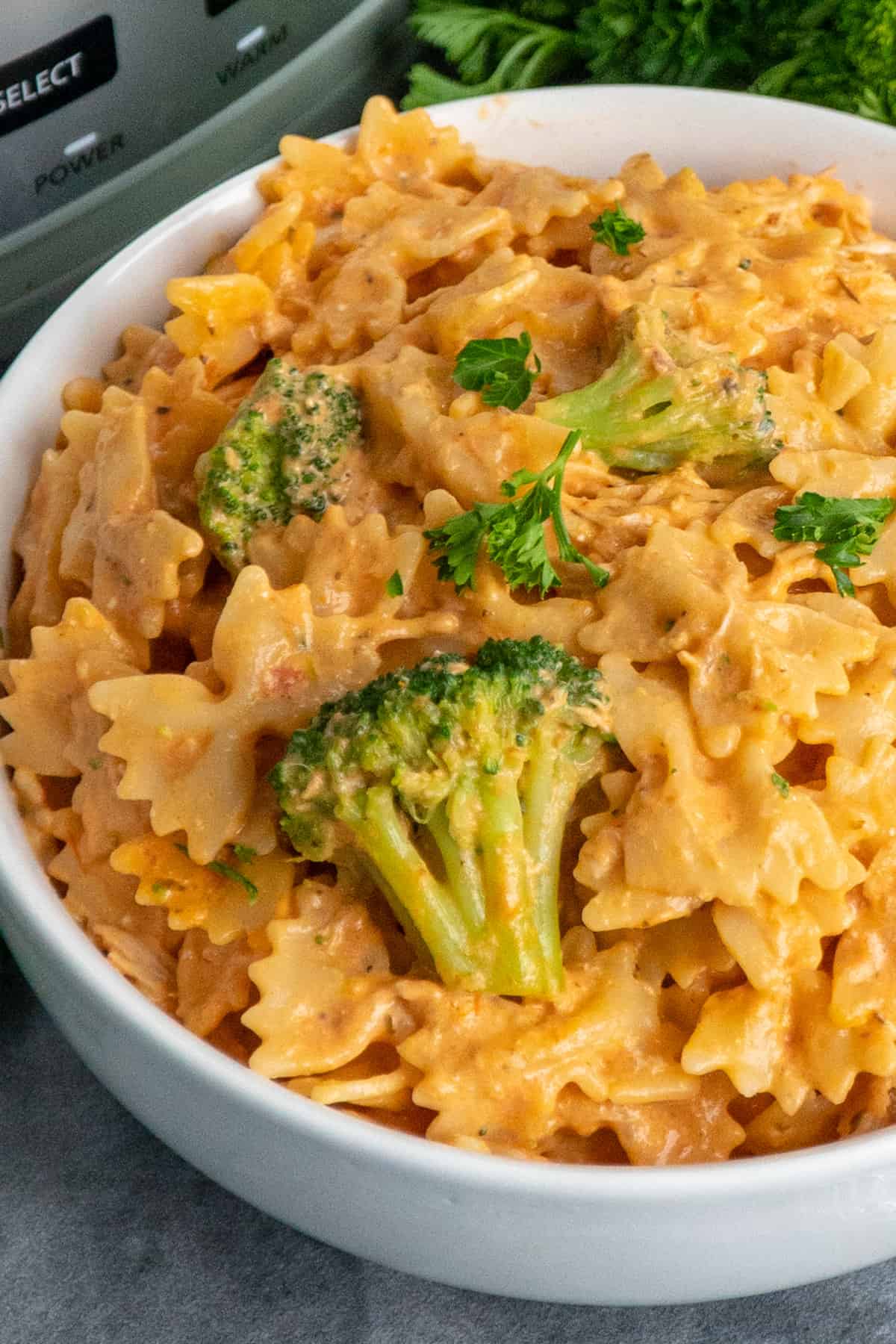 More Crock Pot Pasta Recipes
SHARE IT & RATE IT
I would love it if you would leave a 5 Star ⭐️⭐️⭐️⭐️⭐️ rating below. Then follow me on Facebook, Instagram, and Pinterest! Share your favorite recipes or ask questions in my Facebook Group.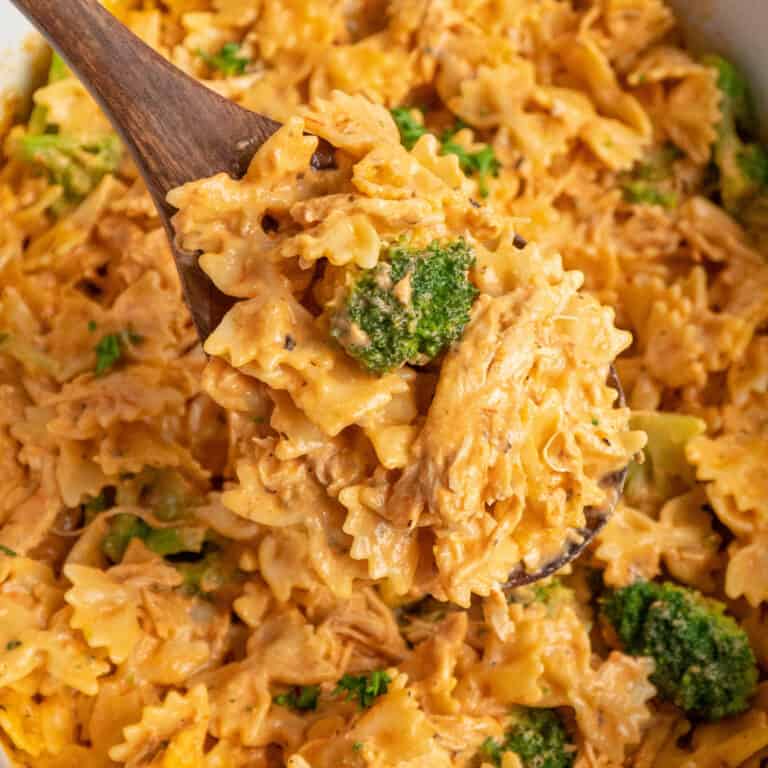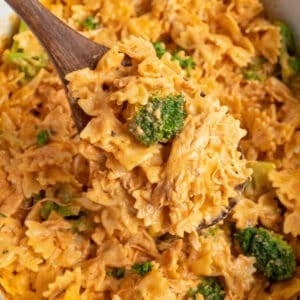 Crock Pot Creamy Chicken Pasta
If you're looking for a delicious and effortless meal, this Crock Pot Creamy Chicken Pasta is the perfect recipe! With tender chicken, creamy sauce, and perfectly cooked pasta, this dish makes an easy dinner that's both comforting and satisfying!
Ingredients
1½

lbs

boneless, skinless chicken breasts

½

tsp

salt

½

tsp

black pepper

½

tsp

Italian seasoning

1

(24 oz)

jar marinara sauce

2

tsp

garlic

(minced)

1

(8 oz)

cream cheese

(cut into fourths)

16

oz

bowtie pasta

(cooked)

½

cup

heavy cream

½

cup

Parmesan cheese

(shredded)

2

cups

frozen broccoli
Instructions
Add chicken breasts to the bottom of a 6-quart slow cooker—season with salt, black pepper, Italian seasoning, and garlic.

Pour marinara sauce over the top of the chicken. Place divided cream cheese over the chicken.

Cover and cook on low for 3-4 hours on high or low for 5-6 hours.

Shredded chicken and add cooked pasta, heavy cream, parmesan cheese, and frozen broccoli. Mix until well combined. Cover and continue to cook for an additional 30 minutes.

Serve while hot, and enjoy!
Nutrition
Calories:
523
kcal
Carbohydrates:
60
g
Protein:
38
g
Fat:
14
g
Saturated Fat:
7
g
Polyunsaturated Fat:
1
g
Monounsaturated Fat:
3
g
Trans Fat:
0.01
g
Cholesterol:
101
mg
Sodium:
480
mg
Potassium:
720
mg
Fiber:
3
g
Sugar:
3
g
Vitamin A:
586
IU
Vitamin C:
29
mg
Calcium:
153
mg
Iron:
2
mg
*All nutrition information provided is automatically calculated and is an estimate and will vary based on ingredients, brands, and changes in cooking methods listed in the recipe. If you need exact numbers on your ingredients, I would recommend calculating them with your prefered nutrition calculator.