In this easy recipe for Slow Cooker Honey Bourbon Chicken, chicken breast is cooked until tender and juicy in a thick, sweet, spicy homemade sauce spiked with bourbon flavor! Serve over rice or noodles for a complete meal your family will love!
Pin This Slow Cooker Honey Bourbon Chicken For Later!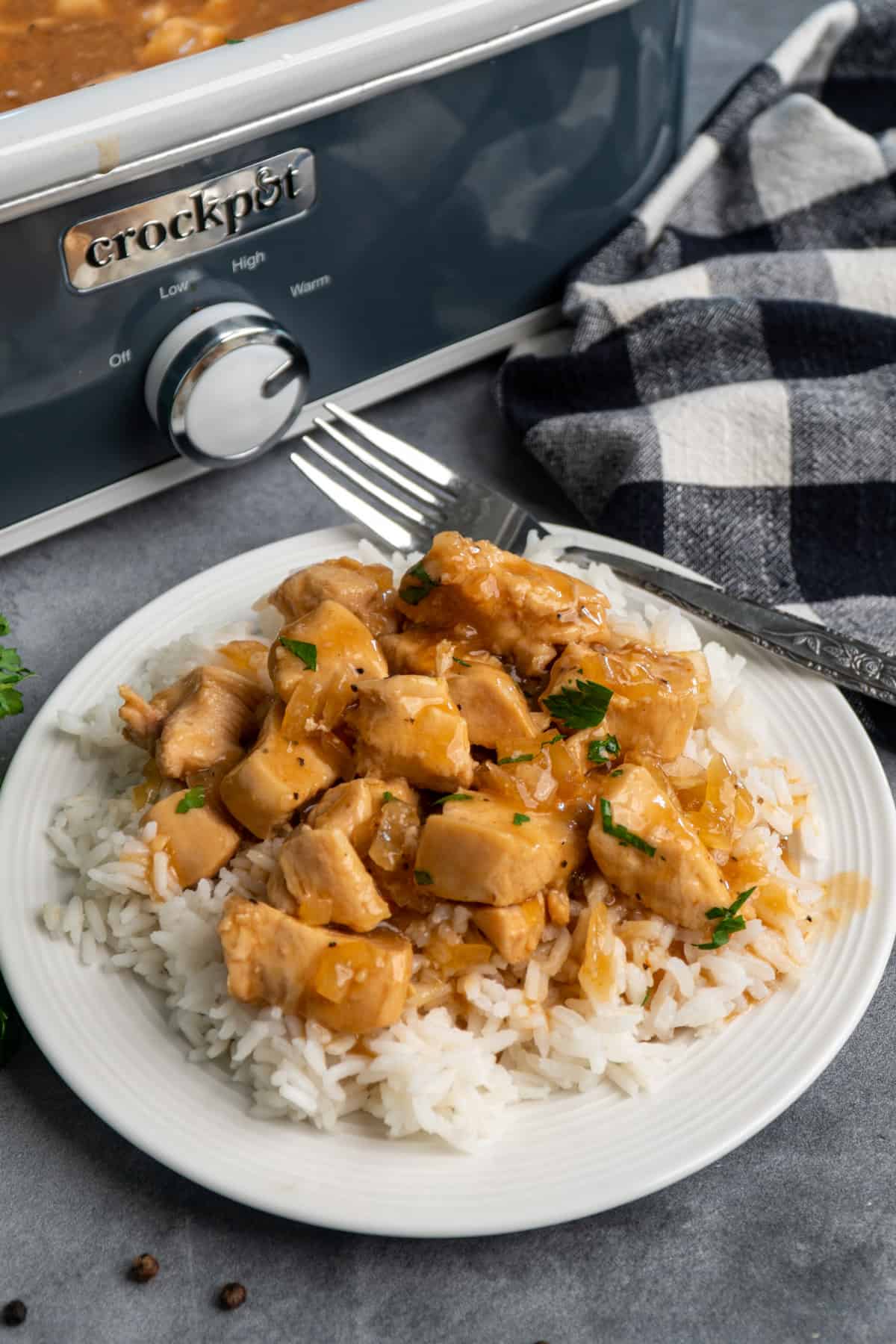 Honey bourbon chicken is a popular dish that you can find at many restaurants, whether it's a sit-down establishment or at the food court in the mall. No matter how you enjoy it, the flavor is delicious!
The sauce is what really makes this chicken shine. It's made with simple ingredients that you probably already have in your pantry! The sweet flavor from the ketchup and brown sugar mixed with the spicy red pepper flakes and ginger get mixed with a splash of bourbon that gives it a delicious depth of flavor!
Mix the chicken with the sauce and let it slow cook to perfection! You can serve this chicken over a batch of steamed rice, noodles, or a pile of healthy roasted vegetables.
This meal is sweet and spicy so kids will love it, and you can adjust the ingredients to your liking. In fact, even if you remove the bourbon, it will still be delicious!
Make this honey bourbon crock pot chicken for your next weeknight family dinner!
Why You'll Love This Recipe
The sauce is made with simple ingredients you may already have on hand. No need to make a special shopping trip!
Chicken breast gets juicy and tender when slow-cooked in the sauce, giving you a comforting protein to enjoy.
No need to spend money on takeout or a restaurant. Making this chicken from scratch is much more budget-friendly.
You can control what goes into the sauce and keep what you like, and omit what you don't so it's the perfect flavor for you!
Ingredients You'll Need
Chicken Breast - This high-protein meat soaks up the sweet, spicy, and smoky flavor of the sauce.
Cornstarch Slurry - A mix of water and cornstarch gets mixed into the sauce, so it thickens as it slowly cooks down.
Soy Sauce - Adds a salty umami flavor as the base of the sauce.
Bourbon - Gives the sauce its classic bourbon flavor but can be substituted with chicken broth if needed.
Ketchup - Adds an acidic tomato flavor along with texture and natural sweetness.
Honey & Brown Sugar - Used to both sweeten and thicken the sauce.
Garlic & Onion - Adds a garlic and onion flavor to the chicken that enhances the flavor.
Dried Spices - A mix of salt, pepper, ground ginger, and red pepper flakes further enhance the flavors of the sauce and helps balance them.
How To Make Bourbon Chicken In The Slow Cooker
Assemble the sauce: Add soy sauce, chicken broth, ketchup, honey, brown sugar, garlic, onion, black pepper, ginger, and red pepper flakes to the bottom of a 6-quart slow cooker. Mix until fully combined.
Stir in the chicken: Prepare the chicken by trimming the fat and cutting it into bite-sized pieces. Add the chicken to the slow cooker and stir until it's coated in the sauce.
Cover and slow cook: Add the lid on top and cook on HIGH for 2½-3 hours or on LOW for 4-5 hours.
Thicken the sauce: After the chicken is cooked, make a slurry by mixing water and cornstarch until no lumps remain. Stir it into the chicken and sauce until thickened.
Remove and serve: Ladle the chicken and extra sauce over noodles, rice, or veggies. Enjoy!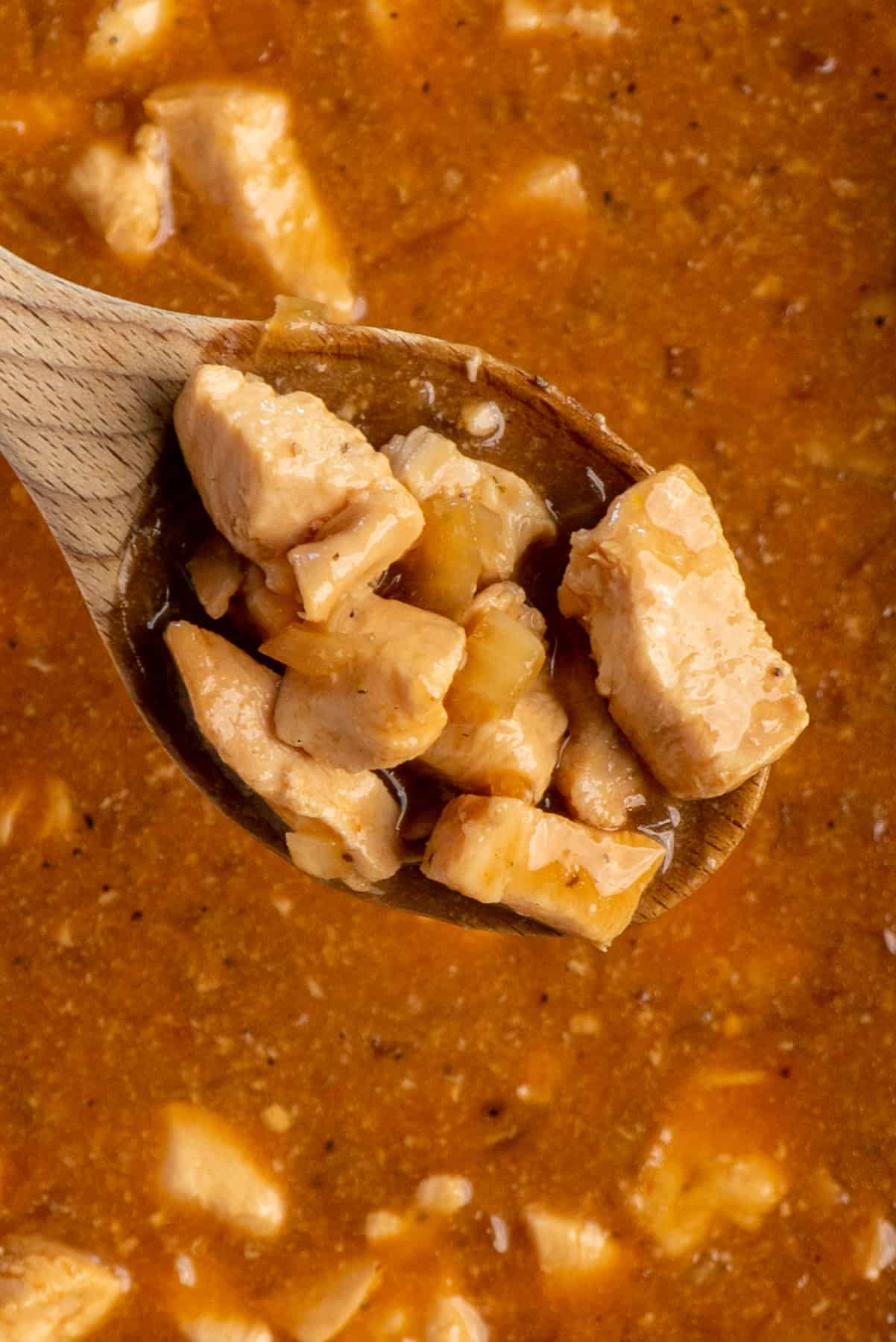 Recipe Tips
When cutting the chicken, ensure it's all roughly the same size. This will help keep the dish uniform and help the chicken cook evenly.
After adding the slurry, the sauce may take a few minutes to thicken. It will also thicken as it cools slightly.
If the sauce is too thick, add more chicken broth until it reaches your desired consistency.
If the sauce isn't sweet enough for your liking, add additional honey or brown sugar to taste.
The bourbon can be omitted if you don't want to use alcohol. Just substitute with an equal amount of chicken broth.
Variations
Instead of using chicken breast, you can also use boneless skinless chicken thighs to make this recipe.
For a vegan or vegetarian version of this dish, use tofu or tempeh in place of the chicken breast.
If you want a bit more heat, add ¼ teaspoon of cayenne pepper to the sauce.
Add some vegetables to the, mix for nutrients and fiber, including broccoli, carrots, or green beans.
This dish is usually served over rice or noodles as it soaks into the sauce well. I like to serve mine with brown rice for extra fiber. You can also use white rice, basmati rice, jasmine rice, or even quinoa.
For extra flavor and texture, you can garnish the chicken with chopped green onion, toasted sesame seeds, or roasted peanuts.
Storing & Freezing
Storing: Any cooled leftovers can be stored in an airtight container in the fridge for up to five days.
Freezing: To freeze this dish, allow it to cool completely before transferring it to an airtight freezer-safe container. It will keep in the freezer for up to six months. When you're ready to eat it, defrost it in the fridge overnight before reheating.
Reheating: The best way to reheat this dish is on the stovetop over low heat. You can also reheat it in the microwave in 30-second intervals until warmed through.
FAQ
Is Bourbon Chicken Chinese or Japanese?
Bourbon chicken is actually a dish that was created in the United States by Chinese-American immigrants. The dish gets its name from the bourbon whiskey that's used as one of the main ingredients in the sauce. It's known to be a fusion between Cajun and Asian cooking.
What does Bourbon Chicken taste like?
This chicken has a sweet, sticky, slightly spicy sauce with a light bourbon flavor. The bourbon in the dish is not very strong and can be omitted if necessary.
Does bourbon chicken have bourbon in it?
Most likely, yes! The bourbon is added for flavor. In most cases, the alcohol is evaporated in the cooking process.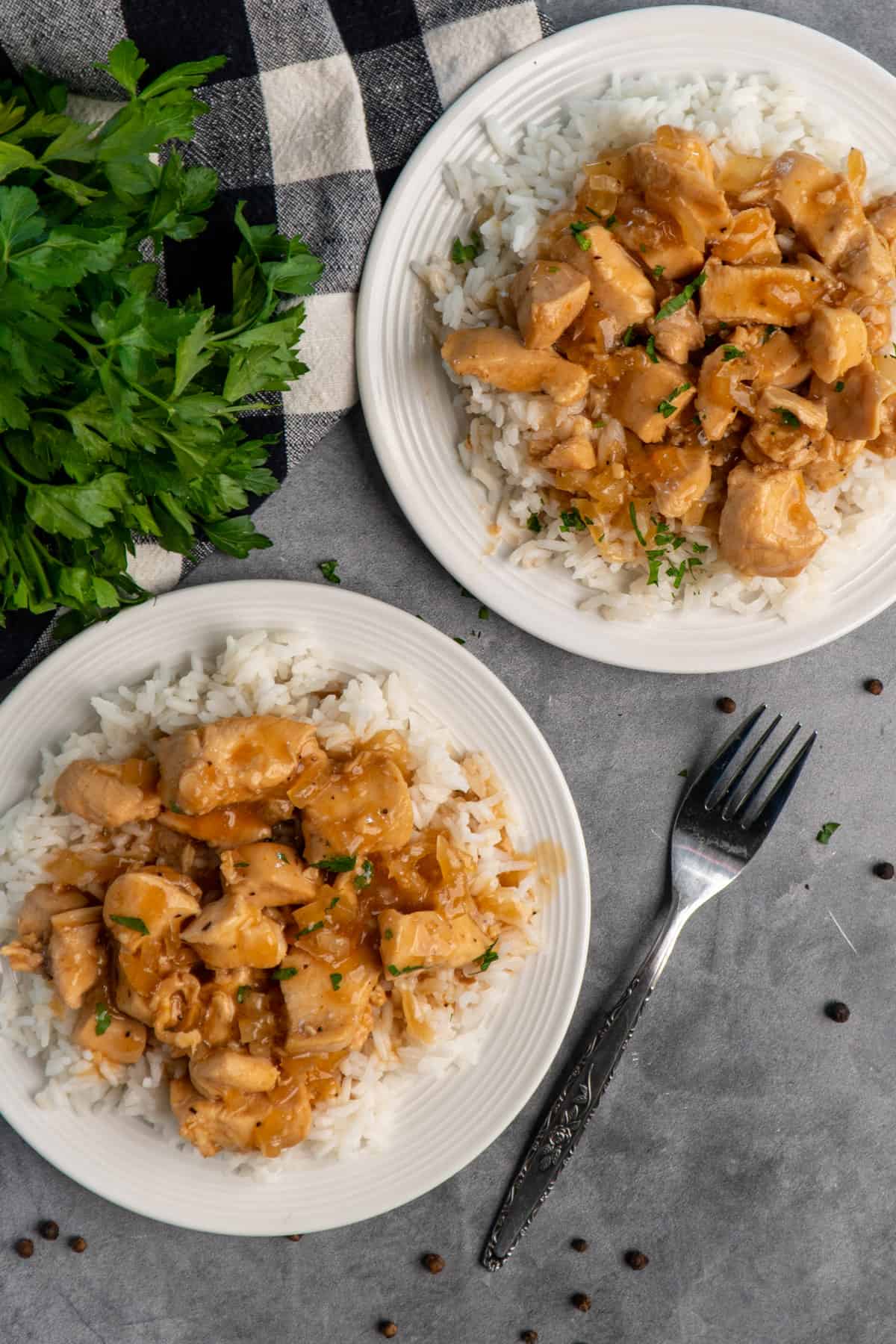 More Slow Cooker Chicken Recipes
Share It & Rate It
I would love it if you would leave a 5 Star ⭐️⭐️⭐️⭐️⭐️ rating below and follow me on Facebook, Instagram, and Pinterest!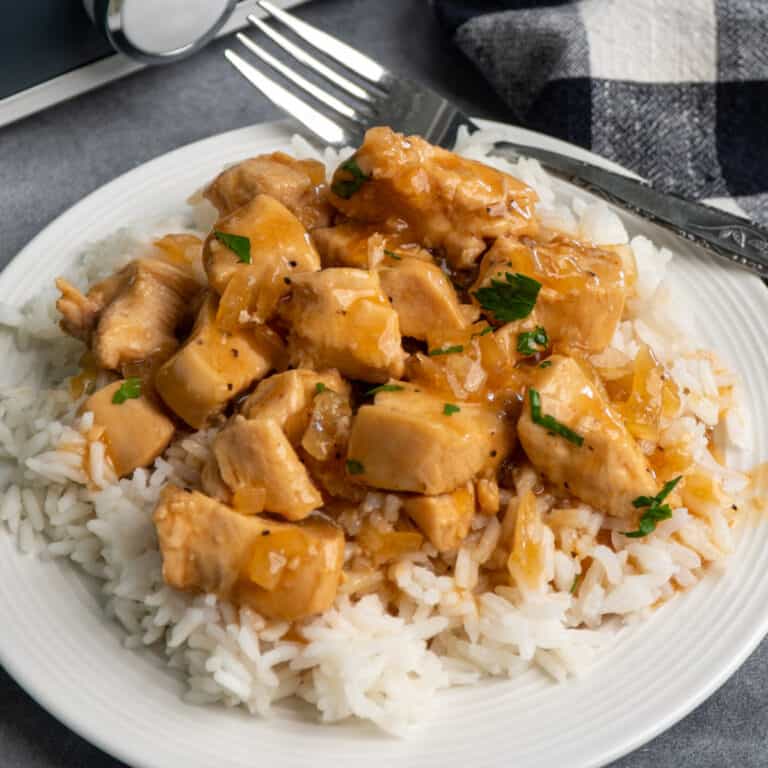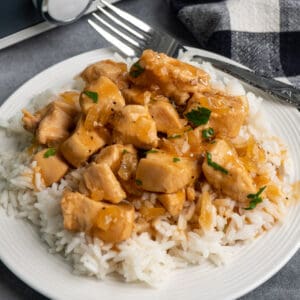 Slow Cooker Honey Bourbon Chicken
In this easy recipe for Slow Cooker Honey Bourbon Chicken, chicken breast is cooked until tender and juicy in a thick, sweet, spicy homemade sauce spiked with bourbon flavor! Serve over rice or noodles for a complete meal your family will love!
Instructions
In a 6-quart slow cooker, add soy sauce, chicken broth, ketchup, honey, brown sugar, garlic, onion, black pepper, ginger, and red pepper flakes. Mix until well combined.

Add chicken and stir until chicken is covered in sauce.

Cover and cook on high for 2½-3 hours or on low for 4-5 hours

In a small bowl, add water and cornstarch and mix until there are no lumps. Pour into the slow cooker and mix until well combined.

Serve over rice and drizzle extra sauce over the top.
Nutrition
Calories:
438
kcal
Carbohydrates:
43
g
Protein:
35
g
Fat:
14
g
Saturated Fat:
4
g
Polyunsaturated Fat:
3
g
Monounsaturated Fat:
6
g
Trans Fat:
0.2
g
Cholesterol:
97
mg
Sodium:
1484
mg
Potassium:
516
mg
Fiber:
1
g
Sugar:
35
g
Vitamin A:
192
IU
Vitamin C:
2
mg
Calcium:
45
mg
Iron:
2
mg
*All nutrition information provided is automatically calculated and is an estimate and will vary based on ingredients, brands, and changes in cooking methods listed in the recipe. If you need exact numbers on your ingredients, I would recommend calculating them with your prefered nutrition calculator.