Imagine juicy, thinly sliced chicken thighs mingling with savory mushrooms, colorful bell peppers, and fragrant spices, all simmered to perfection in a rich chicken broth. Topped off with gooey provolone cheese and served in a warm hoagie roll, this recipe for Chicken Philly Cheesesteak is an irresistible twist on a classic made right in your crock pot!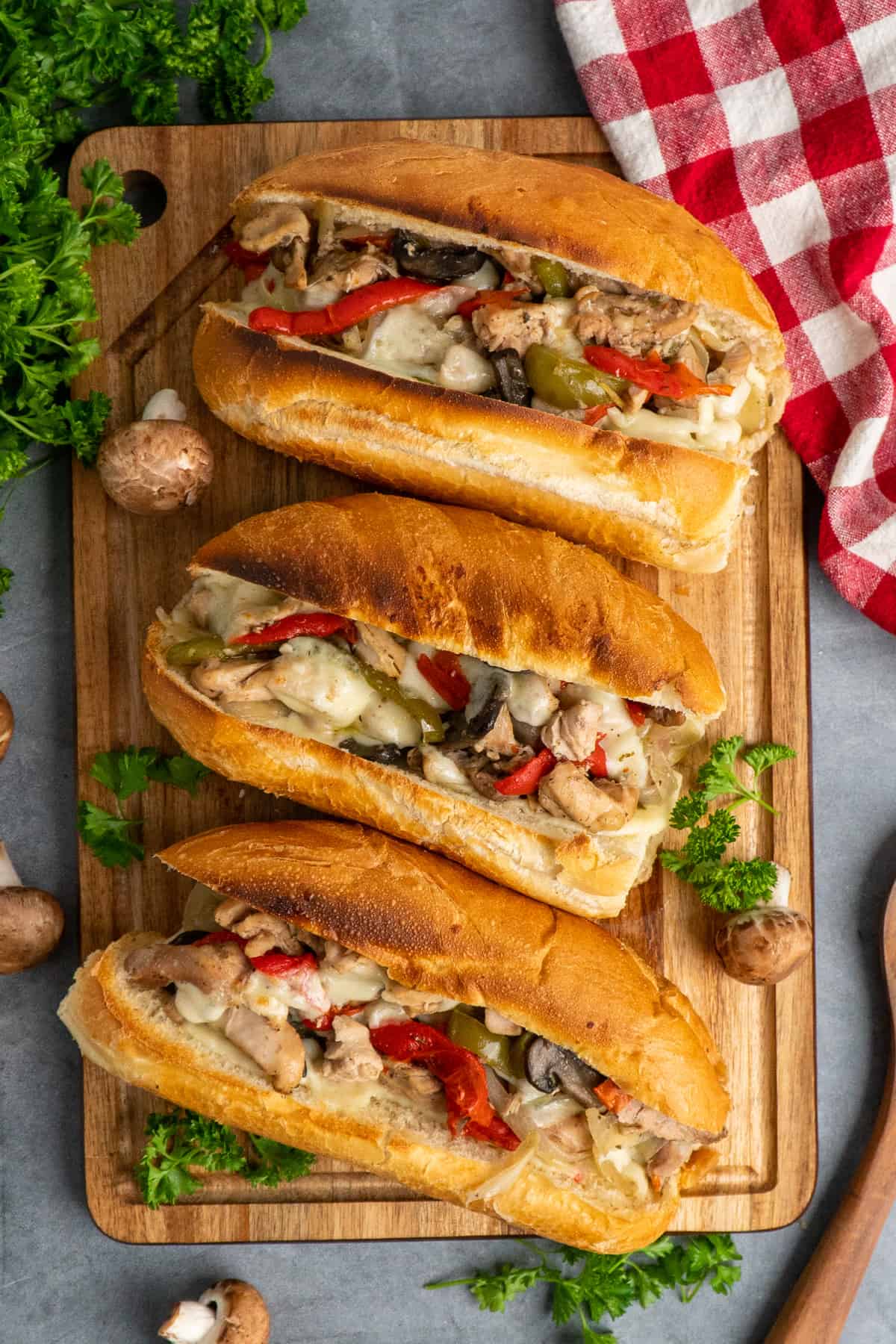 Philly Cheesesteak is a beloved sandwich that originated in Philadelphia, Pennsylvania, and has gained worldwide fame for its mouthwatering combination of thinly sliced beef, sautéed onions, and melted cheese, all served on a crusty roll. This iconic creation is often made with rib-eye steak, but variations using other cuts of beef or even chicken have become popular over time, and that's what you'll find in this easy crock pot chicken Philly cheesesteak recipe!
Aside from its versatility and ability to absorb flavors beautifully, chicken brings a leaner and milder taste to the table. It pairs perfectly with the other ingredients in the Philly cheesesteak, allowing their flavors to shine through. Plus, it's a fantastic alternative for those who prefer poultry over beef or are looking for a healthier option without sacrificing taste.
The slow cooking method in the crock pot allows the chicken thighs to become incredibly tender while the mushrooms, onions, and bell peppers release their flavors into the dish. The low and slow cooking process ensures that all the spices and seasonings seep into every piece of chicken, creating a moist and tender texture that is packed with flavor. The best part is that the crock pot does all the work for you! Just add everything together and let it slowly cook until it's ready to sandwich with a roll and cheese.
Once the chicken and vegetables are cooked, the mixture is added to a hoagie roll, where it gets topped with cheese. Place the sandwiches under the broiler until the cheese gets melty and bubbly while the roll toasts to perfection. Enjoy them with your favorite side dishes for a full and satisfying meal while enjoying this twist on an iconic classic sandwich!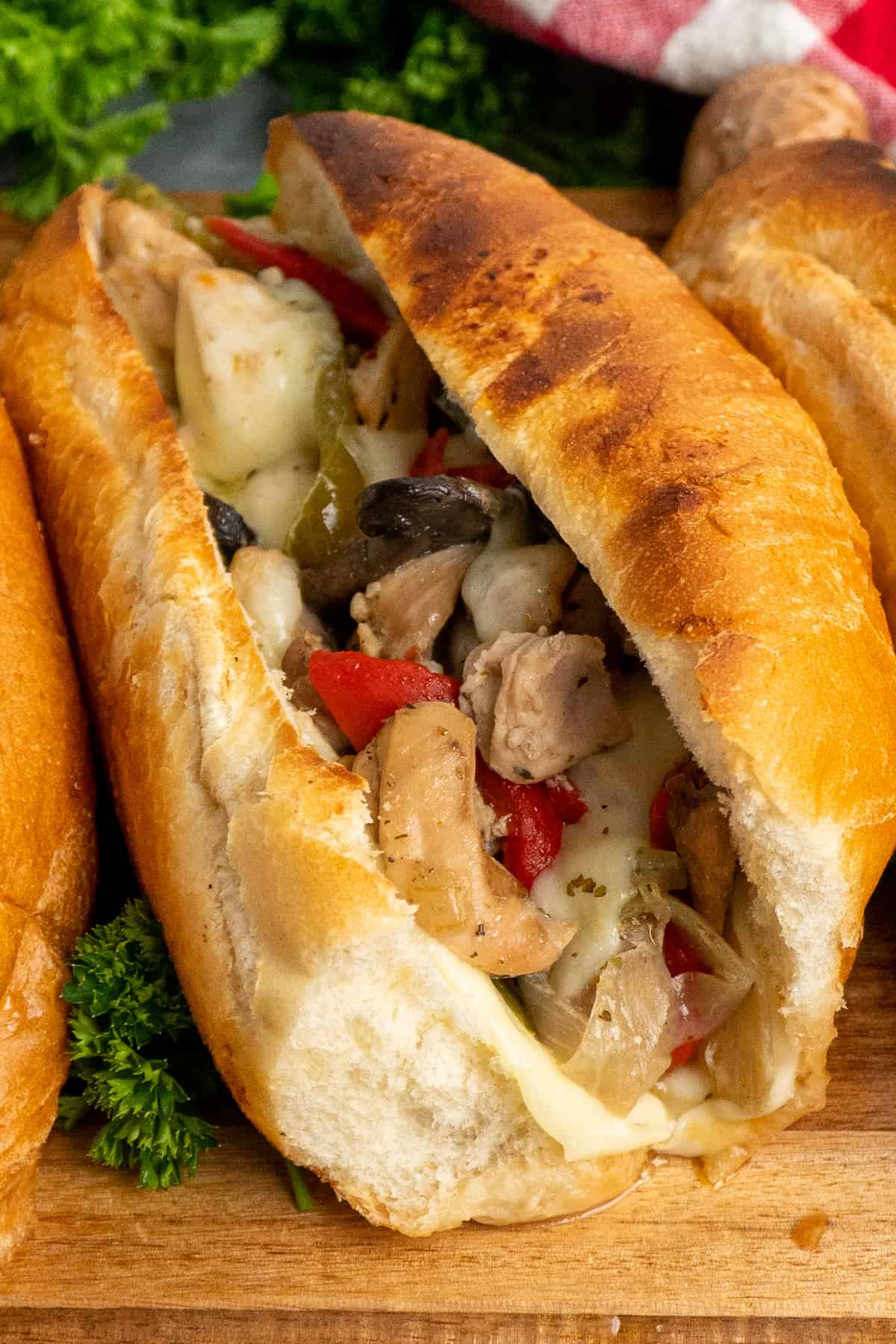 Why You'll Love This Recipe
Using chicken thighs to make this recipe results in a lighter option that is also more budget-friendly!
You can customize these sandwiches by using different types of peppers and other types of cheese or placing the chicken and veggies on a roll or on top of a salad. This recipe is easy to change up each time you make it.
The crock pot is the best way to make chicken for Philly cheesesteak because it slowly cooks all the flavors together while keeping the chicken tender and moist.
Serve it up at game nights, family dinners, or even as a delightful option for a party spread. These sandwiches fit the bill for any occasion!
Ingredients You'll Need
Chicken Thighs - Boneless, skinless chicken thighs are the star of this recipe, providing a tender and juicy texture that complements the other ingredients perfectly.
Vegetables - Brown mushrooms add an earthy and savory flavor to the dish, while the yellow onion and bell peppers contribute a sweet and slightly tangy taste, as well as a satisfying crunch.
Seasonings - The combination of salt, black pepper, and Italian seasoning enhances the overall flavor profile of the chicken and vegetables, adding a delicious blend of savory, spicy, and aromatic notes.
Minced Garlic - Brings a robust and pungent flavor to the recipe, infusing the chicken and vegetables with their distinct taste and aroma.
Chicken Broth - Serves as the cooking liquid, providing moisture and enhancing the savory flavors of the dish. It also helps to keep the chicken moist during the slow cooking process.
Sliced Provolone Cheese - Adds a creamy and melty element to the sandwich with a punchy note.
Hoagie Rolls - Serve as the vessel for the cheesesteak, providing a sturdy and slightly crusty exterior while remaining soft on the inside.
How To Make Chicken Philly Cheesesteak In The Crock Pot
Prepare the ingredients: Slice the mushrooms, peppers, and onions. Trim any excess fat off of the chicken thighs and slice against the grain.
Arrange and season: Arrange the mushrooms and onions on the bottom of the slow cooker. Place the sliced chicken thighs on top, followed by the sliced bell peppers. Season with dry seasonings, then pour the chicken broth on top.
Cover and cook: Add the lid to the top, then cook on LOW for 2½-3½ hours or low for 5-6 hours or until the chicken is cooked through and the vegetables are tender.
Assemble the sandwiches: Place the chicken and vegetable mixture on top of the hoagie rolls. Top with sliced cheese, then place under the broiler for 2-3 minutes until the cheese is melted and bubbly. Enjoy!
Recipe Tips
Slice the chicken thighs against the grain. This technique helps to break down the muscle fibers, resulting in tender chicken in your sandwich.
For added depth of flavor, sauté the mushrooms and onions before adding them to the slow cooker. This step helps to caramelize the vegetables, intensifying their natural sweetness.
When placing the chicken and vegetable mixture in the sandwich, shake off any excess cooking liquid into the crock pot to ensure the bread does not get soggy.
When melting the cheese under the broiler, be sure to keep an eye on it, as the cheese can burn very quickly.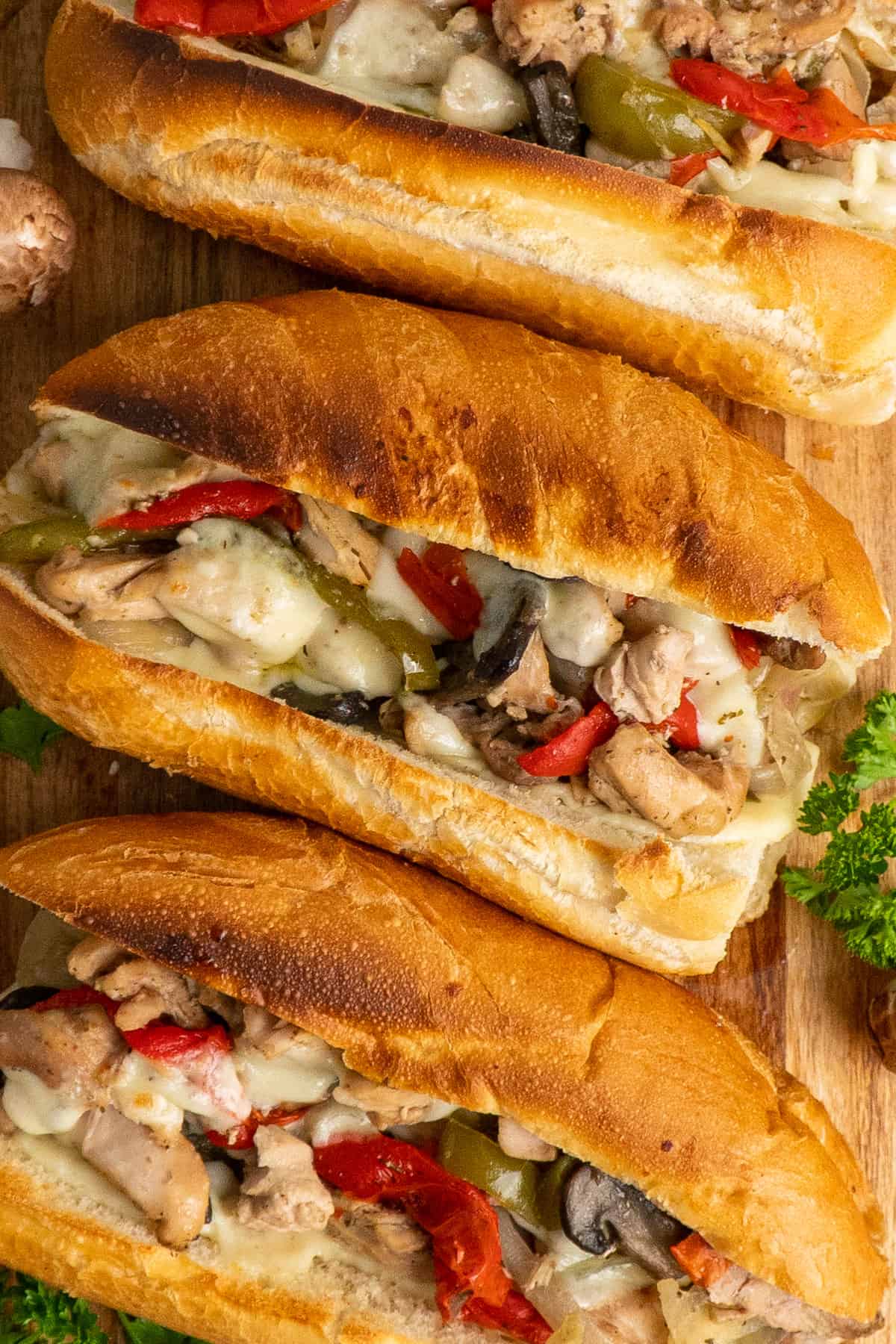 Variations
While provolone is traditional, you can try using Swiss, mozzarella, or even a combination of cheeses to personalize your sandwich.
For a spicy kick, add a touch of heat by incorporating sliced jalapeños or a sprinkle of red pepper flakes to the chicken and vegetable mixture.
Sprinkle some fresh basil, parsley, or cilantro over the cheesesteak just before serving. The vibrant green herbs will add a burst of freshness and elevate the overall taste experience.
For a low-carb or gluten-free option, skip the hoagie rolls and serve the flavorful chicken and vegetables over a bed of cauliflower rice or in lettuce wraps.
For a higher protein option, use thinly sliced chicken breast instead of chicken thighs.
Cheesesteak Topping Ideas
Caramelized Onions
Sauteed Mushrooms
Sun-dried Tomatoes
Pickled Peppers
Sliced Avocado
Hot Sauce
Banana Peppers
Sliced Jalapenos
Dill Pickles
BBQ Sauce
Horseradish Sauce
Relish
Guacamole
Chipotle Mayo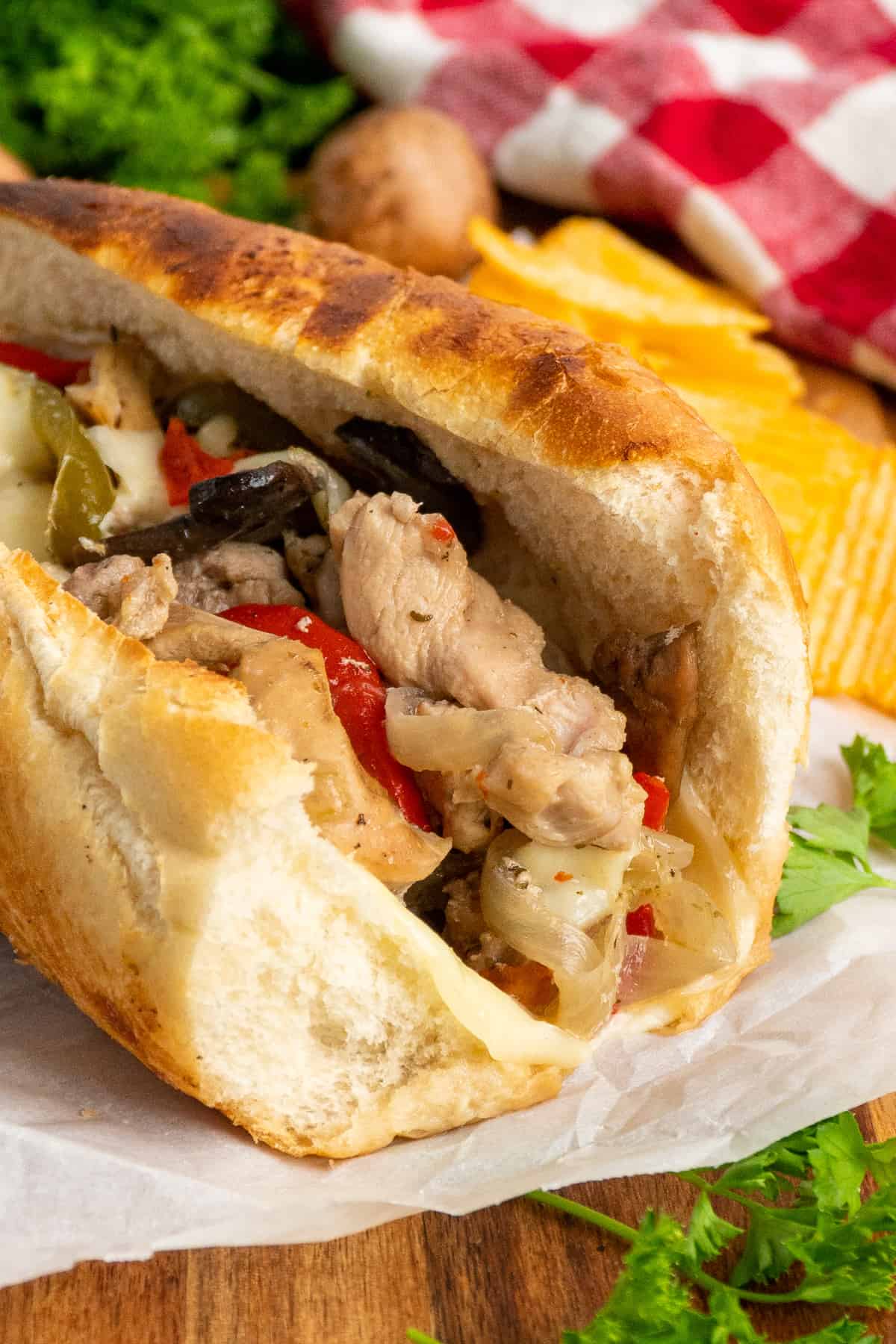 Storing & Freezing
Storing: Store cooled leftovers in an airtight container in the refrigerator for up to 3-4 days. Make sure to separate the hoagie rolls from the filling to maintain their texture and prevent them from becoming soggy.
Freezing: It's best to freeze the cooked chicken and vegetable filling separately from the hoagie rolls and cheese. Place the cooled filling in a freezer-safe container or freezer bag. The filling can be frozen for up to 2-3 months. When ready to use, thaw the filling in the refrigerator overnight, reheat, and assemble the sandwich with fresh hoagie rolls and cheese before serving. Keep in mind that the vegetables may be soggy.
FAQ
Can I use chicken breasts instead of chicken thighs?
Instead of using chicken thighs, swap them out with chicken breasts. Follow the original instructions for cooking. Once done, take out the chicken and use two forks to shred it. Put the shredded chicken back into the crock pot and gently mix everything together.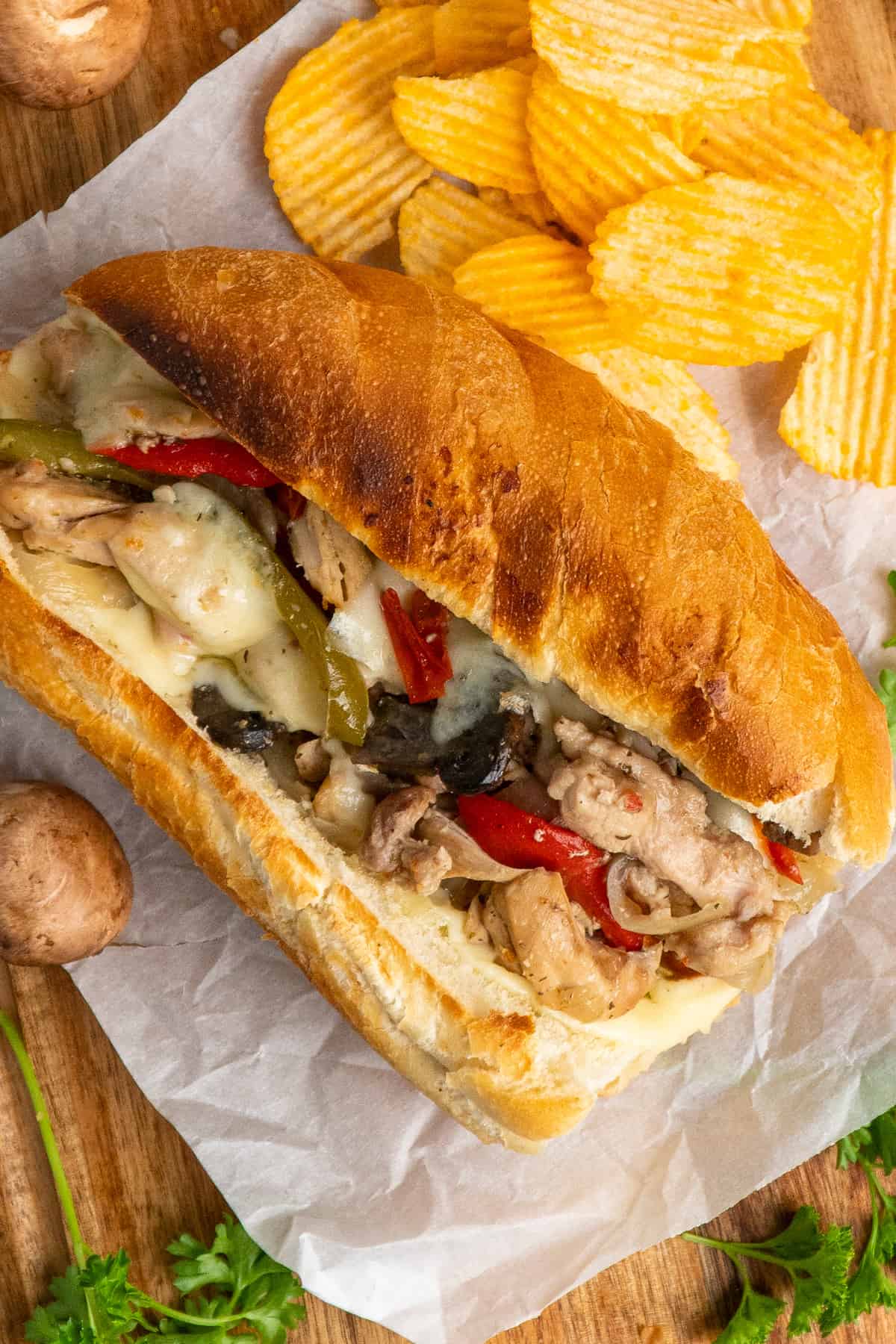 More Crock Pot Sandwich Recipes
SHARE IT & RATE IT
I would love it if you would leave a 5 Star ⭐️⭐️⭐️⭐️⭐️ rating below. Then follow me on Facebook, Instagram, and Pinterest! Share your favorite recipes or ask questions in my Facebook Group.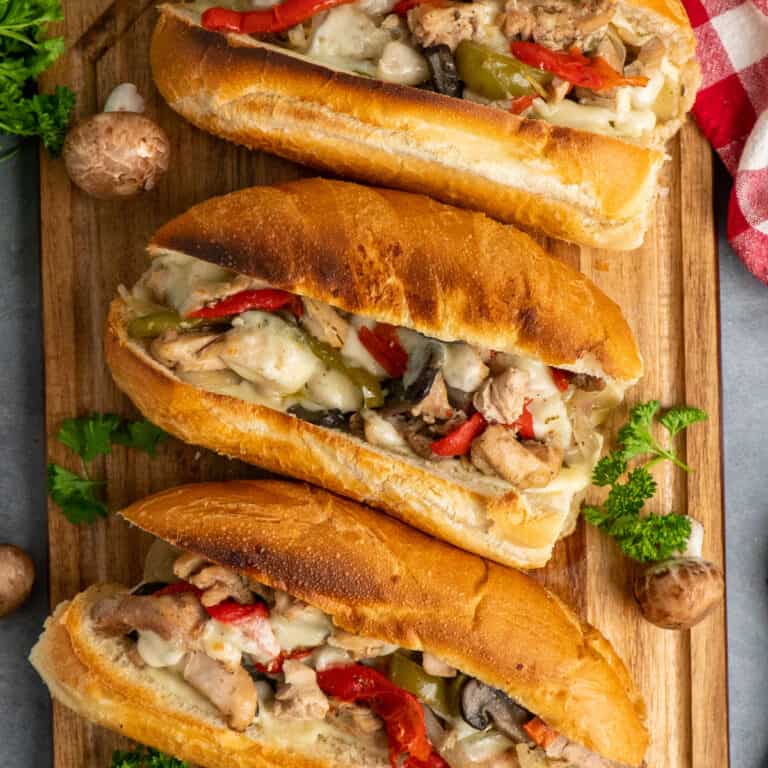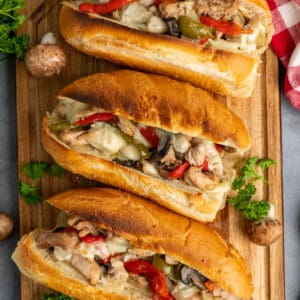 Chicken Philly Cheesesteak
Imagine juicy, thinly sliced chicken thighs mingling with savory mushrooms, colorful bell peppers, and fragrant spices, all simmered to perfection in a rich chicken broth. Topped off with gooey provolone cheese and served in a warm hoagie roll, this recipe for Chicken Philly Cheesesteak is an irresistible twist on a classic made right in your crock pot!
Ingredients
2

lbs

boneless, skinless chicken thighs

(sliced against the grain)

1

medium

yellow onion

(sliced)

4

oz

brown mushroom

(sliced)

1

medium

red bell pepper

(deseeded and sliced)

1

medium

green bell pepper

(deseeded and sliced)

½

tsp

salt

1

tsp

black pepper

3

tsp

garlic

(minced)

1

tsp

Italian seasoning

1

cup

chicken broth

12

slices provolone cheese

6

hoagie rolls
Instructions
Add mushrooms and onions to the bottom of a 6-quart slow cooker. Place the chicken thigh on top of the mushrooms and onions.

Place the bell peppers on top of the chicken and season everything with salt, black pepper, garlic, and Italian seasoning. Then pour the chicken broth over the top.

Cover and cook on low for 2½-3½ hours or low for 5-6 hours.

Mix and place cooked chicken and veggies in the hoagie rolls. Top each sandwich with two pieces of cheese.

Broil for 2-3 minutes or until the cheese is melted, and enjoy!
Nutrition
Calories:
513
kcal
Carbohydrates:
39
g
Protein:
46
g
Fat:
19
g
Saturated Fat:
8
g
Polyunsaturated Fat:
2
g
Monounsaturated Fat:
5
g
Trans Fat:
0.03
g
Cholesterol:
171
mg
Sodium:
1046
mg
Potassium:
633
mg
Fiber:
3
g
Sugar:
7
g
Vitamin A:
1074
IU
Vitamin C:
43
mg
Calcium:
329
mg
Iron:
13
mg
*All nutrition information provided is automatically calculated and is an estimate and will vary based on ingredients, brands, and changes in cooking methods listed in the recipe. If you need exact numbers on your ingredients, I would recommend calculating them with your prefered nutrition calculator.