Enjoy Crock Pot Swedish Meatballs for your next dinner! This dish is made with frozen meatballs and a simple, slow-cooked, creamy, savory sauce. Add egg noodles, and you've got a delicious family dinner that everyone will enjoy!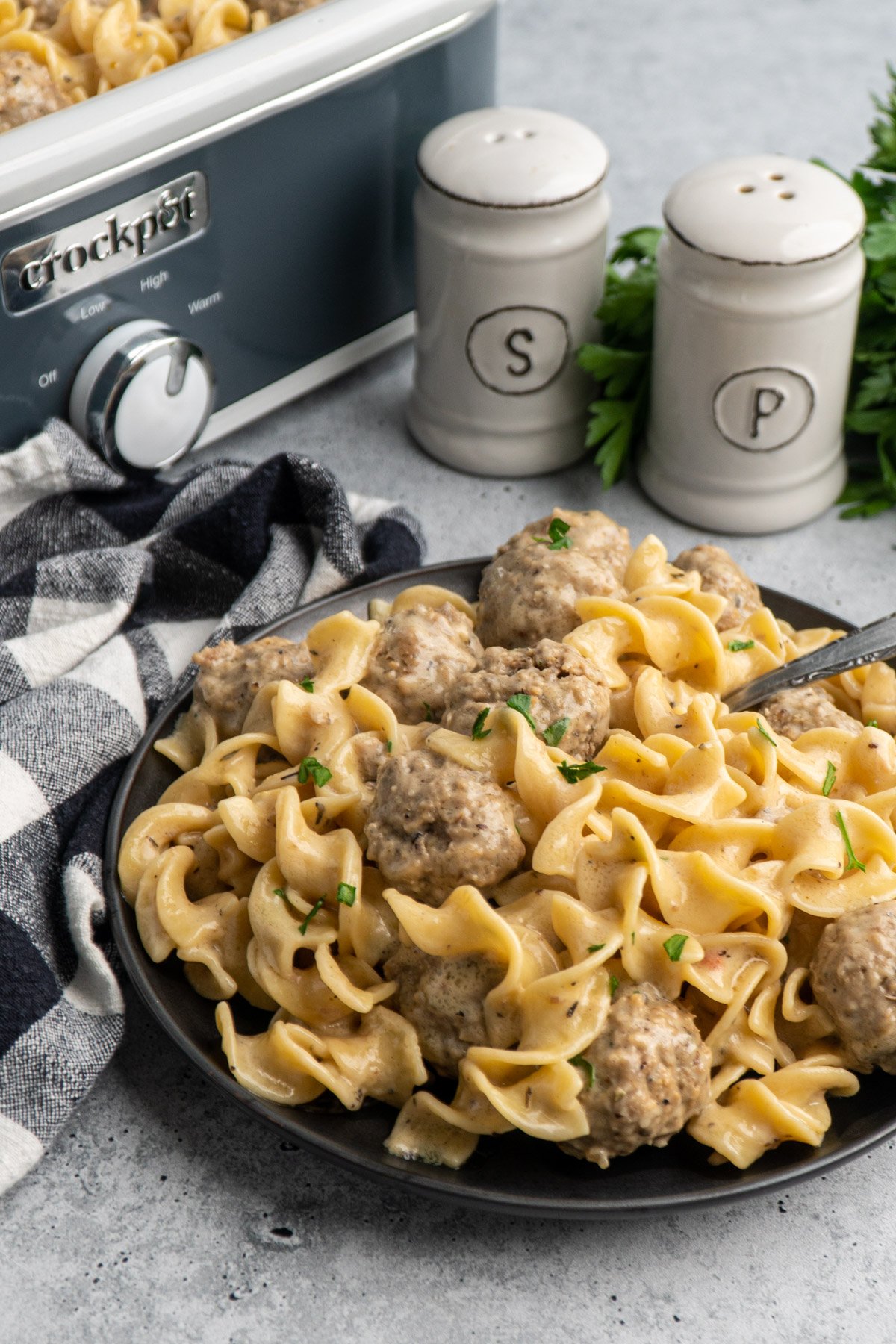 Swedish meatballs are a traditional Swedish dish that is usually served with pasta. They are made with ground beef, pork, or veal and are flavored with spices like nutmeg, allspice, and white pepper.
Swedish meatballs are usually cooked in a savory cream sauce, making them rich and flavorful. Adding egg noodles to this dish makes it a complete meal that will please everyone at the table!
The slow cooker makes it super easy to make this dinner with very little effort and time! Start by mixing the creamy sauce ingredients right in the crock pot. Add a package of frozen meatballs and let it cook until all of the flavors come together.
Stir in cooked egg noodles and serve! This is a hearty and comforting dish that everyone in the family will love. So next time you're looking for an easy slow cooker meal, try these delicious slow cooker meatballs!
Why You'll Love This Recipe
No need to make homemade meatballs! Simply buy a package of frozen meatballs at the grocery store.
The sauce is made with simple ingredients you may already have on hand.
Let the slow cooker develop the flavorful sauce while you work or relax.
Serve this meal with a side of steamed vegetables for a complete dinner!
Ingredients You'll Need
Frozen Meatballs - You can use any meatballs you enjoy for this recipe. We love grabbing a bag of frozen Swedish meatballs from IKEA if we can for authentic taste.
Butter - Mixes with the flour and beef broth to create a thick and buttery sauce.
Beef Broth - Helps thin out the sauce while adding beefy flavor.
All Purpose Flour - Helps thicken the ingredients in the sauce as it cooks.
Heavy Cream - Adds a creamy, rich texture to the sauce that coats the noodles and meatballs.
Worcestershire Sauce - Adds a salty and savory umami flavor to the sauce that pairs well with the beef flavor.
Dijon Mustard - Gives the sauce a tangy kick that compliments the flavors well.
Dried Seasonings - A mix of salt, pepper, and thyme are used to balance out and enhance the overall flavor.
Egg Noodles - This type of noodle pairs well with Swedish meatballs and get added to the crock pot already cooked.
If you don't want to serve these slow cooker Swedish meatballs over noodles. I recommend serving them over these Crock Pot Mashed Potatoes with Cream Cheese.
How To Make Swedish Meatballs In The Crock Pot
Make a roux: Add melted butter and beef broth to the bottom of a 6-quart slow cooker. Combine with a whisk, then slowly whisk in the flour until there are no lumps.
Assemble the sauce: To the flour and butter mixture, add the heavy cream, Worcestershire sauce, pepper, salt, and dried thyme. Whisk until well combined.
Add meatballs: Add the frozen meatballs to the sauce mixture and stir with a spoon until the meatballs are submerged and coated in the sauce.
Cook the sauce and meatballs: Cover with the lid and cook on HIGH for 3-5 hours or LOW for 6-8 hours. Add the pasta: cook and drain the egg noodles for 15 minutes before the sauce is finished. Add them to the cooked sauce and stir. Serve hot, and enjoy!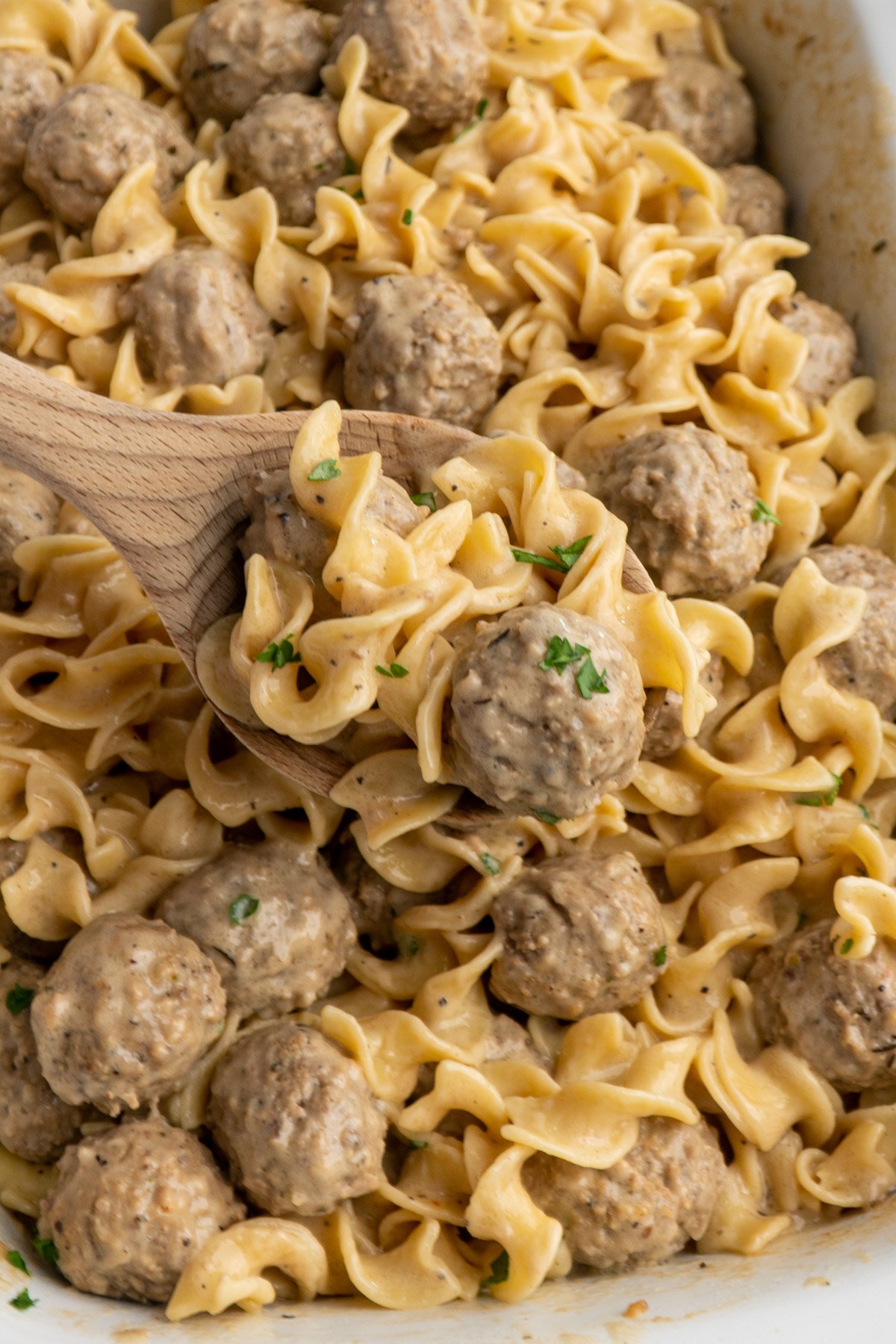 Recipe Tips
There are many types of frozen meatballs you can choose from in the store. Try using a meatball that doesn't have a strong herb flavor or spice for best results, as the sauce is plenty flavorful!
If you don't have heavy cream on hand, you can substitute it with milk or half and half. The sauce will be slightly thinner but still delicious!
The slow cooker will thicken the sauce as it cooks, so if you like a thinner sauce, add an extra ¼ cup of beef broth when adding the flour.
This recipe can easily be doubled if you feed a larger crowd or want leftovers! Simply use a larger slow cooker and double all of the ingredients.
For this recipe, the pasta needs to be cooked BEFORE adding it to the sauce, as these noodles cook quickly and can be mushy when slow-cooked.
Variations
Use different pasta: Other types of pasta can be used for this dish, including shells, elbows, or rotini.
Make it gluten-free: Use gluten-free flour such as brown rice flour in place of the all-purpose flour. Be sure to use gluten-free beef broth and pasta as well!
Use chicken: If you're not a fan of beef, try using chicken meatballs instead. The cooking time will remain the same.
Add a kick of heat: A tablespoon of sriracha sauce can be added to the sauce for a little bit of spice. You can also add a pinch of red pepper flakes or cayenne pepper.
Add vegetables: Cooked mushrooms, onions, or green peppers can be stirred into the sauce before serving for extra flavor and nutrition.
Serving suggestions: These Swedish meatballs are delicious when served over egg noodles, but there are many other options as well! Try serving them over mashed potatoes, rice, quinoa, or even polenta.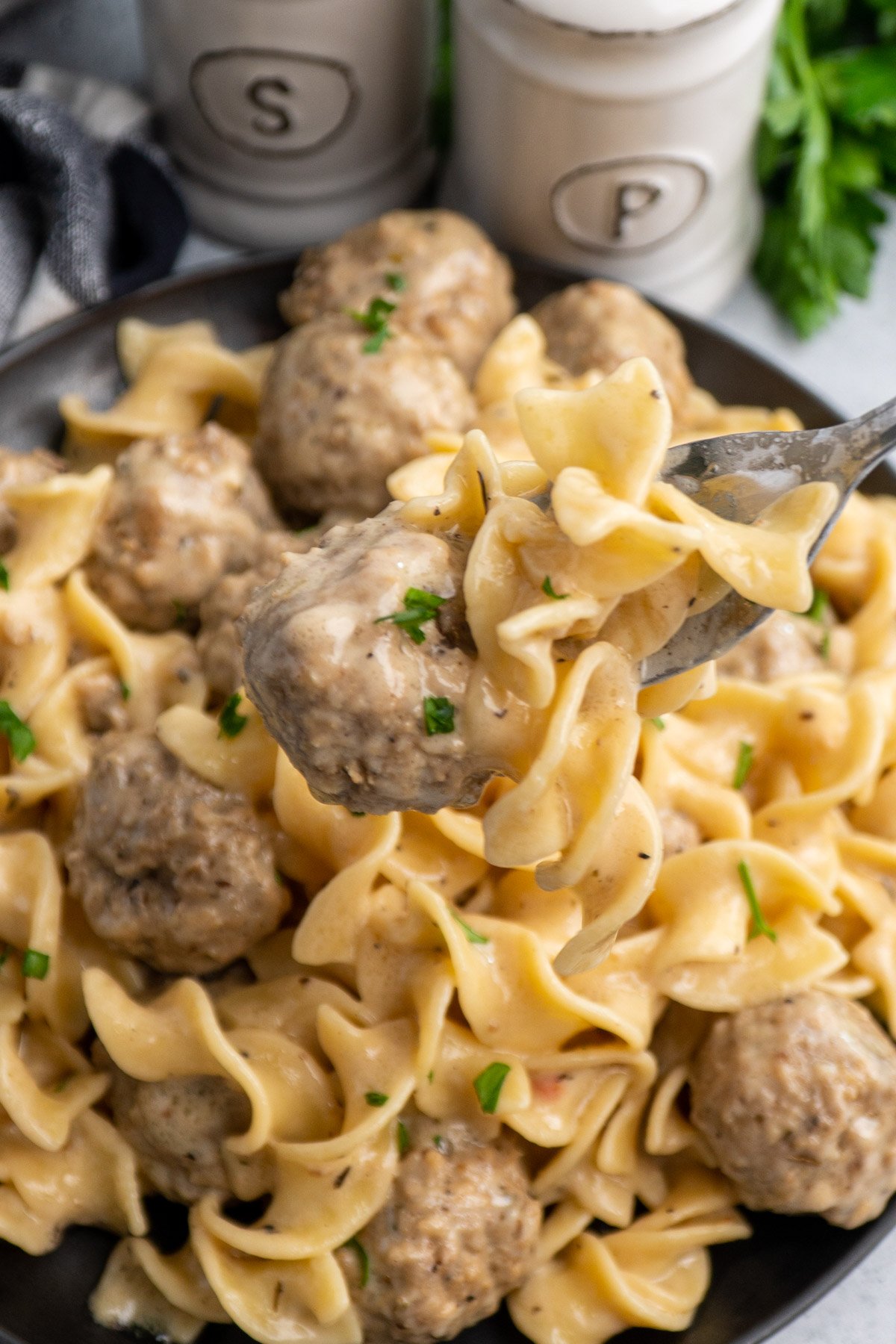 Storing & Freezing
Storing: Cooled leftover Swedish meatballs can be stored in the fridge in an airtight container for up to four days.
Freezing: These meatballs can be frozen, either cooked or uncooked. To freeze, place them in a freezer-safe bag or container and store them for up to three months. When ready to eat, thaw in the fridge overnight before reheating.
Reheating: Reheat cooked meatballs in the sauce on the stove over low heat until warmed. You may need to add a cream or beef broth to achieve the desired consistency.
FAQ
How are Swedish meatballs different from regular meatballs?
The biggest difference between Swedish meatballs and regular meatballs is the type of meat used. Swedish meatballs are traditionally made with a mixture of ground beef and pork, while regular meatballs can be made with any type of ground meat, including beef, pork, chicken, turkey, lamb, etc. Another difference is the addition of allspice to the Swedish meatball recipe, which gives them a unique flavor.
Do I have to use frozen meatballs for this recipe?
No, you can make your own meatballs from scratch if you prefer. However, frozen meatballs are an easy shortcut that will save you time in the kitchen.
Should I thaw meatballs before putting them in the crockpot?
No, there is no need to thaw meatballs before adding them to the slow cooker. They will cook just fine from frozen.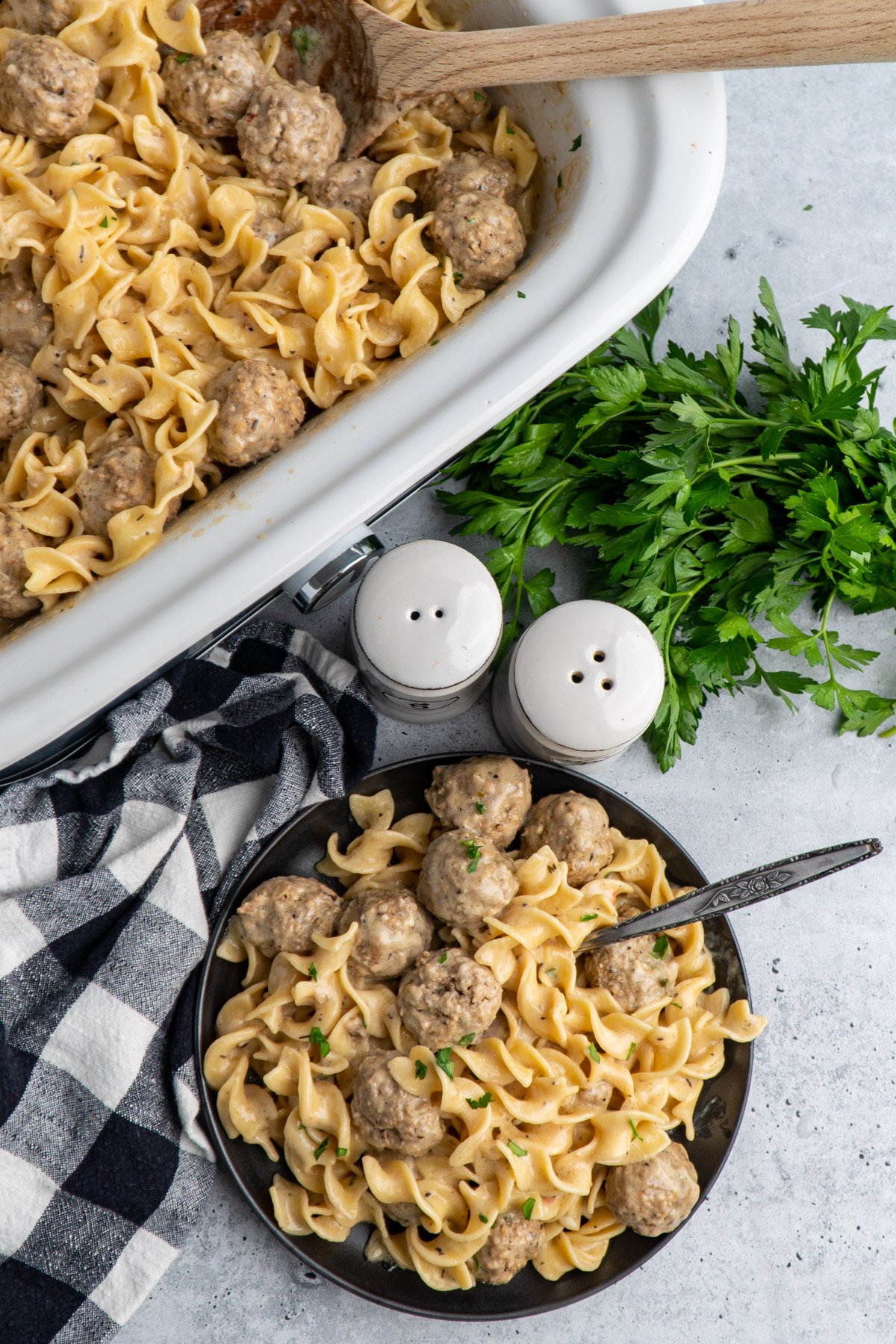 More Slow Cooker Dinner Recipes
Share It & Rate It
I would love it if you would leave a 5 Star ⭐️⭐️⭐️⭐️⭐️ rating below and follow me on Facebook, Instagram, and Pinterest!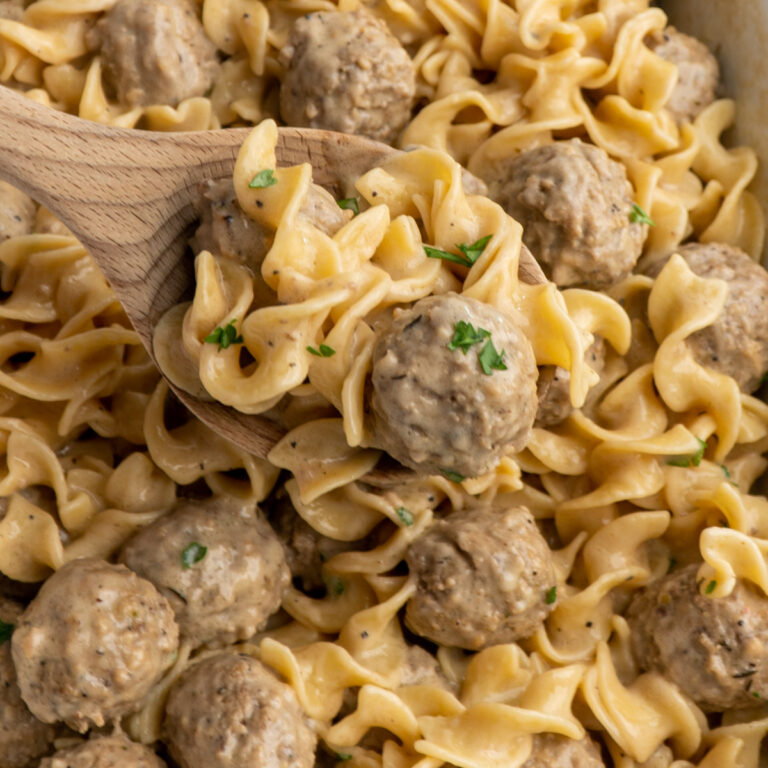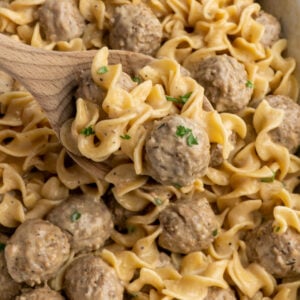 Crock Pot Swedish Meatballs
Enjoy Crock Pot Swedish Meatballs for your next dinner! This dish is made with frozen meatballs and a simple slow-cooked creamy, savory sauce. Add egg noodles, and you've got a delicious family dinner that everyone will enjoy!
Ingredients
1

(28 oz)

bag frozen meatballs

⅓

cup

butter

(melted)

2

cups

low sodium beef broth

¼

cup

all-purpose flour

1

cup

heavy cream

1

tbsp

Worcestershire sauce

1

tbsp

dijon mustard

1

tsp

ground black pepper

1

tsp

salt

½

tsp

thyme

1

(16 oz)

egg noodles

(cooked and drained)
Instructions
In a 6-quart slow cooker, add melted butter and beef broth. Slowly whisk in the flour until there are no lumps.

Add heavy cream, Worcestershire sauce, pepper, salt, and dried thyme. Whisk until well combined.

Pour in meatball and stir until well coated.

Cover and cook on low for 6-8 hours or on high for 3-5 hours.

Add in cooked egg noodles and mix.
Nutrition
Calories:
463
kcal
Carbohydrates:
14
g
Protein:
15
g
Fat:
31
g
Saturated Fat:
10
g
Polyunsaturated Fat:
1
g
Monounsaturated Fat:
4
g
Cholesterol:
79
mg
Sodium:
926
mg
Potassium:
265
mg
Fiber:
0.4
g
Sugar:
2
g
Vitamin A:
619
IU
Vitamin C:
1
mg
Calcium:
50
mg
Iron:
1
mg
*All nutrition information provided is automatically calculated and is an estimate and will vary based on ingredients, brands, and changes in cooking methods listed in the recipe. If you need exact numbers on your ingredients, I would recommend calculating them with your prefered nutrition calculator.