With lean ground beef, flavorful salsa, diced onions, and a blend of taco seasoning, this Crockpot Taco Meat Recipe is perfect for your next Taco Tuesday or family dinner! Plus, with the convenience of a slow cooker, you can set it and forget it, leaving you with tender and flavorful taco meat every time!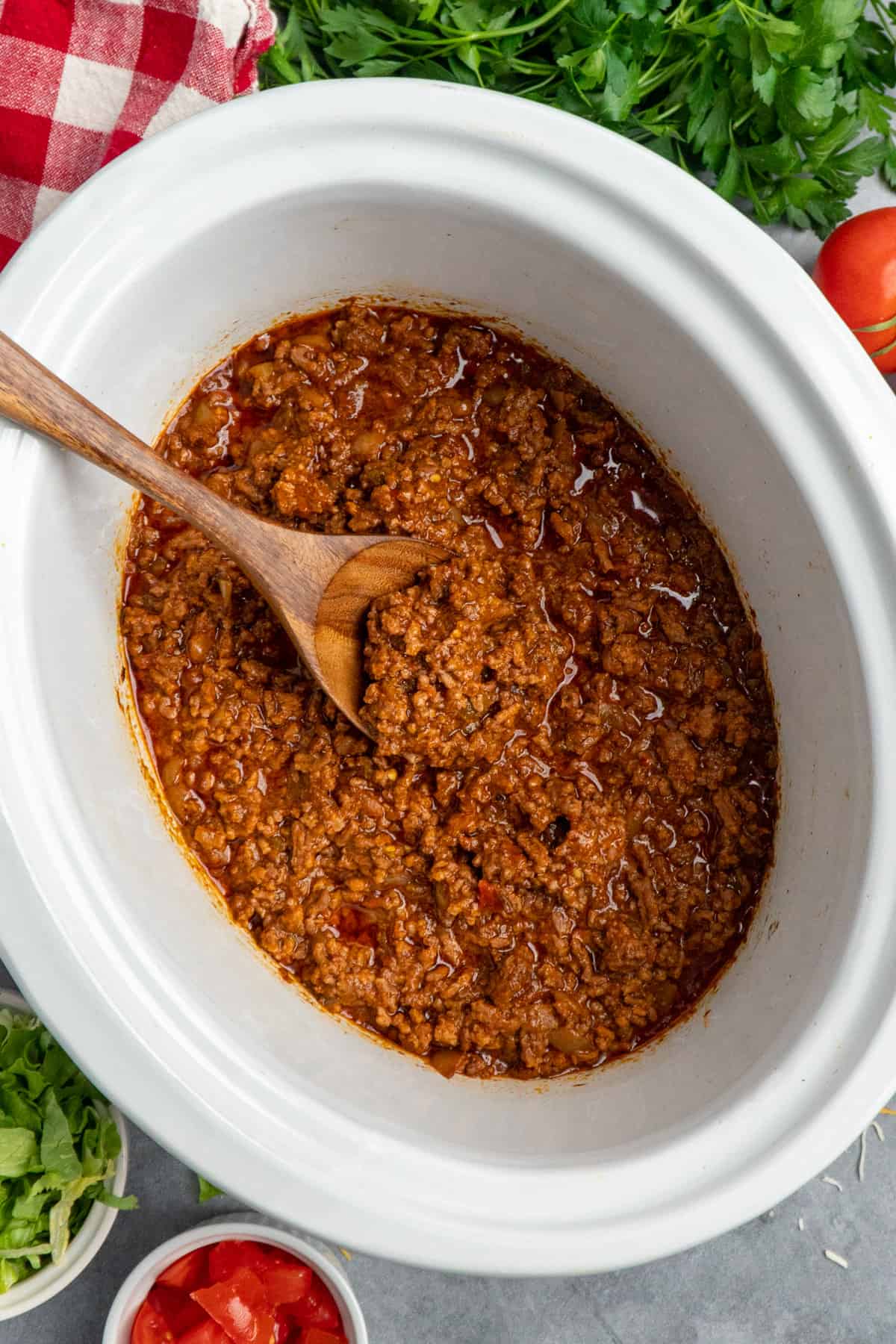 Taco meat is a deliciously seasoned blend of ground beef that can be used in a variety of ways to create mouth-watering Mexican dishes. One of the best things about taco meat is its versatility. You can use it to make classic tacos, burritos, nachos, and even loaded fries!
Can you make taco meat in the crock pot? Yes! When it comes to cooking the best taco meat, the crock pot is the perfect tool for the job. Using a slow cooker allows the flavors to simmer together over time, resulting in tender and juicy meat that's packed with flavor.
Plus, it's incredibly easy to make - simply add all the ingredients in, set it, and forget it. This makes it perfect for busy weeknights when you don't have a lot of time to spend in the kitchen.
Not only is crock pot taco meat delicious and easy to make, but it's also incredibly budget-friendly. You can use lean ground beef, which is less expensive than other cuts of meat, and the other ingredients are affordable and easy to find. And with leftovers, you can enjoy taco meat in different dishes throughout the week, making it a versatile and convenient option for meal prep!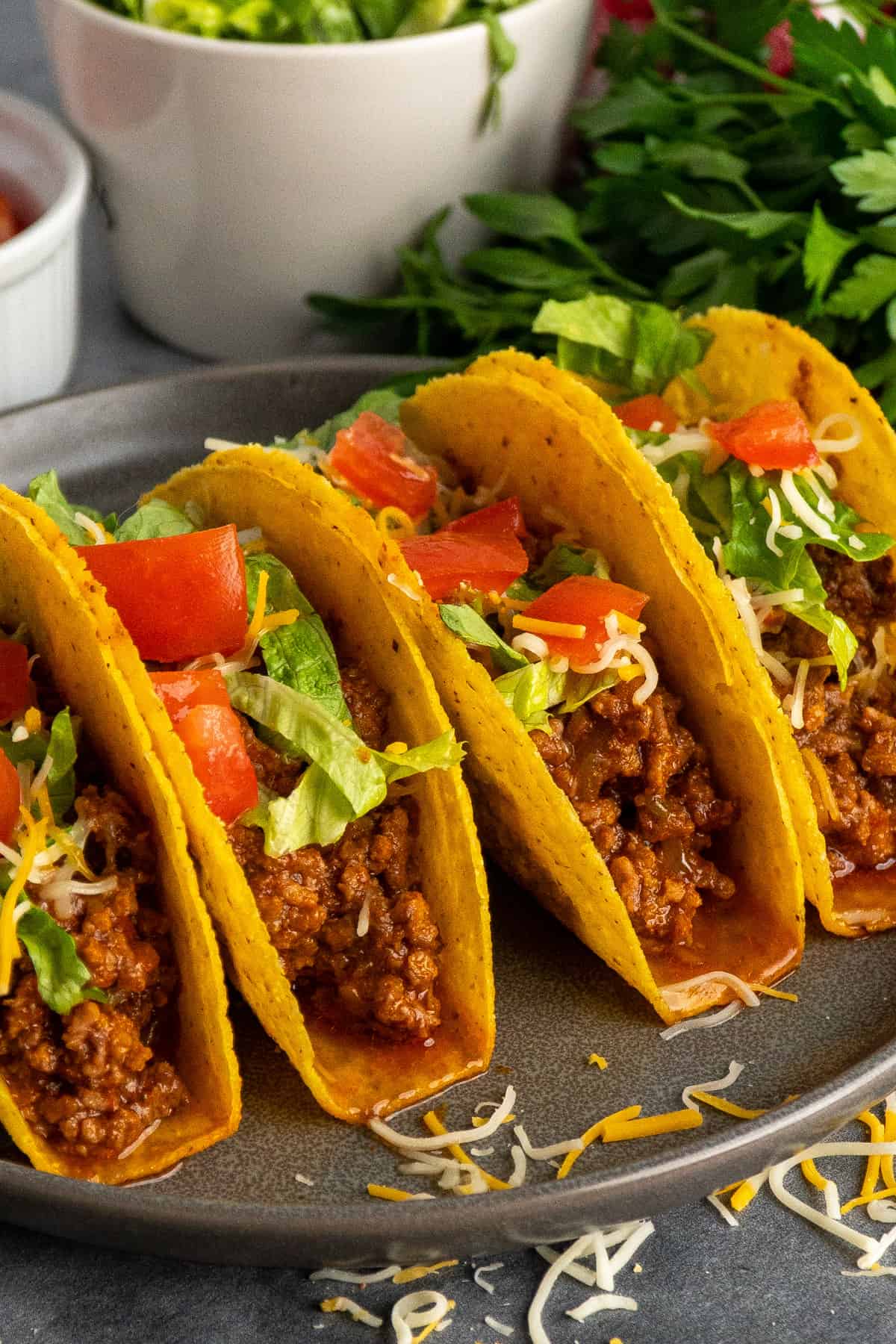 Why You'll Love This Recipe
This recipe is incredibly easy to make - simply add the ingredients in the crock pot and let it do the work for you.
Perfect for busy weeknights or when you're entertaining a crowd!
The slow cooking process allows the flavors to come together and the meat to become tender and juicy, resulting in deliciously flavorful and satisfying taco meat.
With only four simple ingredients, this recipe is budget-friendly and easy on the wallet without sacrificing any flavor or quality.
The versatility of taco meat means that you can use it in a variety of dishes, from classic tacos to loaded nachos, making it a convenient and delicious option for meal prep.
Ingredients You'll Need
Lean Ground Beef - This is the base of the recipe that provides the protein and bulk of the dish. It can be a lighter option than regular ground beef as it contains less fat.
Salsa - Adds flavor and moisture to the taco meat. The acidity in the salsa helps to tenderize the meat, while the combination of herbs, spices, and vegetables in the salsa adds depth of flavor.
Taco Seasoning - A classic blend of spices, including chili powder, cumin, garlic powder, and paprika, this ingredient adds a delicious and authentic Mexican flavor to the meat.
Yellow Onion - Gives a sweet and savory flavor to the dish and adds texture to the ground beef.
How To Make Taco Meat In The Crock Pot
Add ground beef: Remove the ground beef from the package and place it into the crock pot. No pre-cooking or browning is needed.
Assemble ingredients: On top of the ground beef, add the salsa, chopped onion, and taco seasoning.
Cover and cook: Add the lid to the top and cook on HIGH for 3-4 hours or LOW for 6-8 hours or until the ground beef is fully cooked through.
Break up and serve: Break up the beef with a spatula until it's crumbly. Serve over nachos, or quesadillas. Enjoy!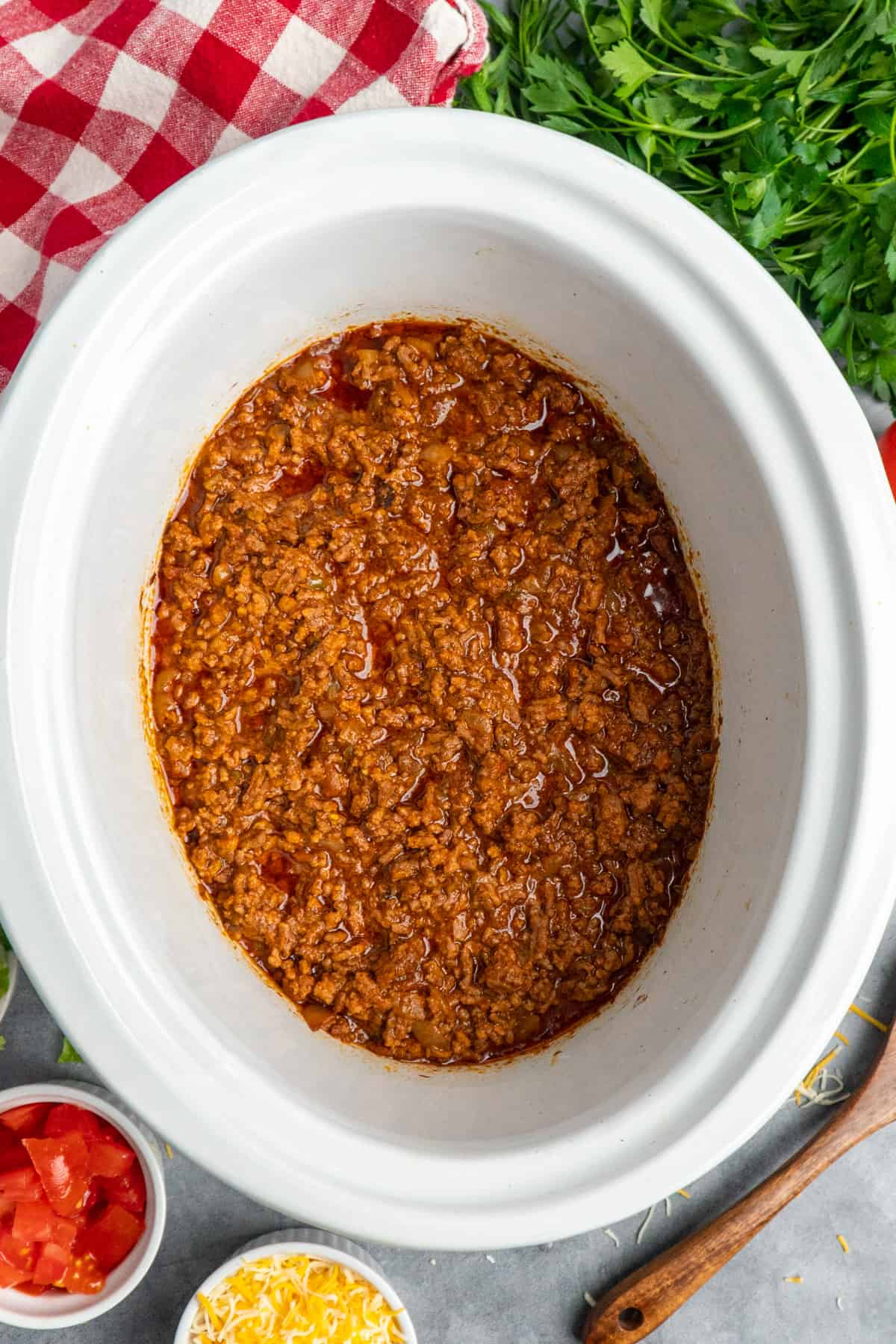 Variations
For an even lighter option, swap out the lean ground beef for ground turkey or chicken. You can also use a plant-based ground beef substitute to make this dish vegetarian or vegan-friendly.
To add more vegetables to your taco meat, add diced bell peppers, zucchini, or corn.
Adjust the spice level of the taco meat by adding more or less taco seasoning, depending on your personal preference. For a milder version, omit the chili powder and cayenne pepper from the taco seasoning blend.
For a smoky and slightly spicy flavor, substitute the salsa for a can of diced tomatoes with green chilies.
Add a chipotle pepper in adobo sauce for an extra kick of heat.
Add fresh herbs like cilantro or parsley to the taco meat before serving to add a pop of freshness and brighten up the dish.
Add a squeeze of lime juice for some acidity and tanginess.
More Ways To Use Taco Meat
Quesadillas: Spread taco meat on a flour tortilla with cheese, fold in half, and cook until golden brown and crispy.
Taco Salad: Use taco meat as a topping for a bed of lettuce, tomatoes, and other veggies, and top with dressing or sour cream.
Stuffed Peppers: Mix taco meat with rice, cheese, and veggies and stuff it into bell peppers. Bake in the oven until tender, and enjoy!
Breakfast Burritos: Use leftover taco meat to make a breakfast burrito with scrambled eggs, cheese, and avocado for a filling and flavorful breakfast.
Tostadas: Layer a crispy corn tortilla with refried beans, taco meat, lettuce, and tomatoes for a crunchy and flavorful snack or meal.
Enchiladas: Roll taco meat in corn tortillas, top with enchilada sauce and cheese, and bake until bubbly and delicious.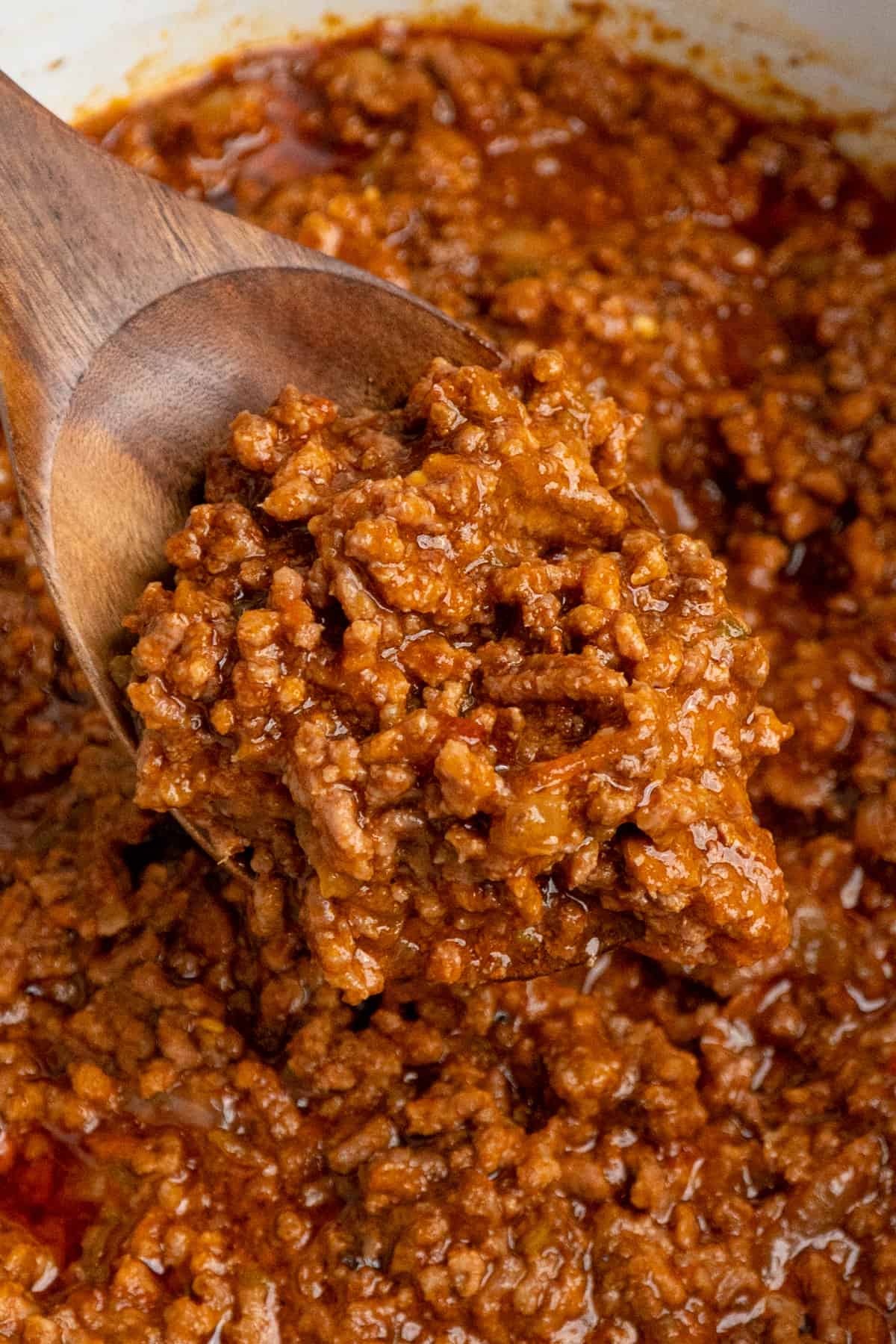 Storing & Freezing
Storing: Store leftover taco meat in an airtight container in the refrigerator for up to 5 days. To reheat, heat in the microwave or in a skillet until warmed through.
Freezing: Taco meat can be frozen for up to 3 months. Allow the meat to cool completely before transferring it to a freezer-safe container or zip-top bag. When ready to eat, thaw the taco meat in the refrigerator overnight and reheat it in the microwave or on the stovetop.
FAQ
Can you put raw ground beef in a slow cooker?
For this recipe, yes. The slow cooker will cook the ground beef slowly and evenly.
What is the best type of ground beef for tacos?
For this recipe, we recommend using lean ground beef (90% or higher). It has less fat than other types of ground beef, so it will still be juicy and flavorful without all the added fat.
Will taco meat dry out in the crockpot?
No, it shouldn't. The salsa and taco seasoning add moisture to the dish and help keep it from drying out. However, if you find that your taco meat is too dry, you can add a few tablespoons of water or broth to the crock pot before cooking. This will help retain moisture and prevent the beef from drying out.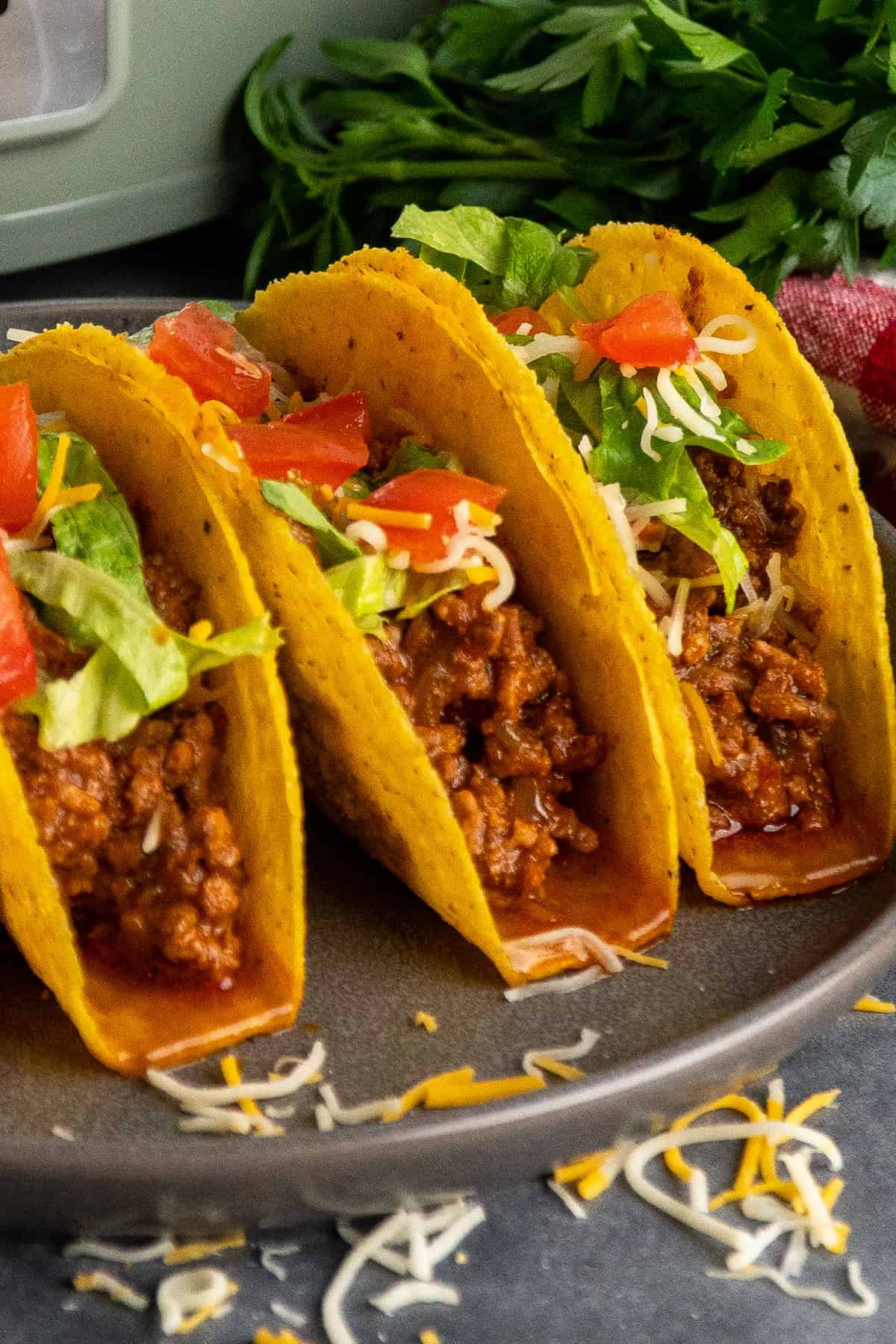 More Crock Pot Beef Dishes
SHARE IT & RATE IT
I would love it if you would leave a 5 Star ⭐️⭐️⭐️⭐️⭐️ rating below. Then follow me on Facebook, Instagram, and Pinterest! Share your favorite recipes or ask questions in my Facebook Group.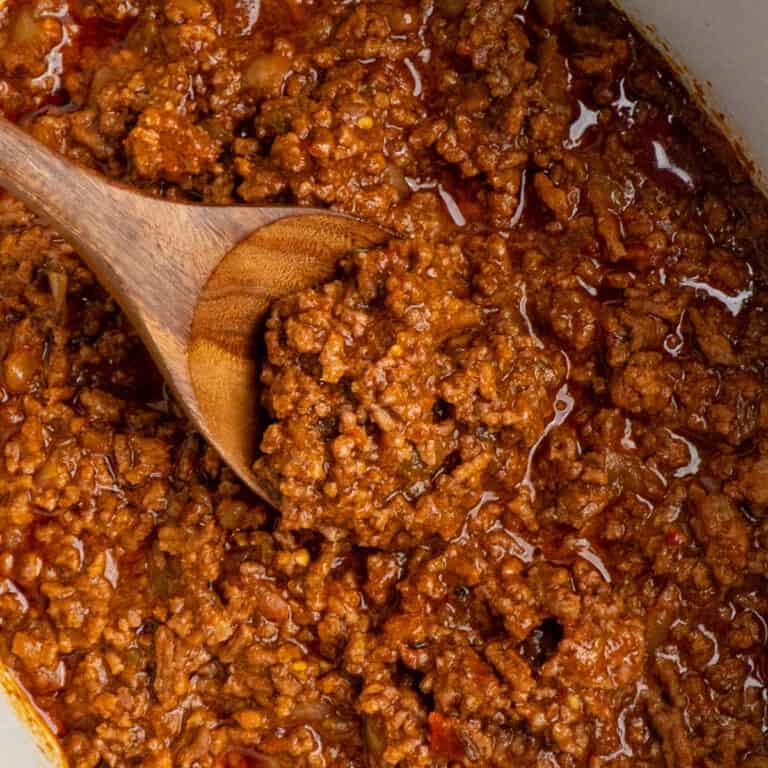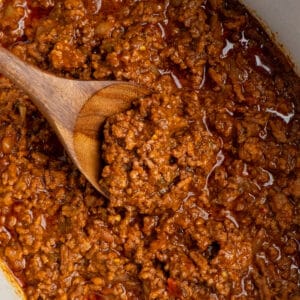 Crockpot Taco Meat Recipe
With lean ground beef, flavorful salsa, diced onions, and a blend of taco seasoning, this Crock Pot Taco Meat Recipe is perfect for your next Taco Tuesday or family dinner! Plus, with the convenience of a slow cooker, you can set it and forget it, leaving you with tender and flavorful taco meat every time!
Ingredients
2

lbs

lean ground beef

1½

cups

salsa

3

tbsp

taco seasoning

½

cup

yellow onion

(diced)
Instructions
Place the uncooked taco meat in a 6-quart slow cooker.

Pour the remaining ingredients on top of the ground beef.

Cover and cook on high for 3-4 hours or low for 6-8 hours.

When the beef is done cooking, break up the beef and serve it over tacos, nachos, or quesadillas.
Nutrition
Calories:
293
kcal
Carbohydrates:
6
g
Protein:
31
g
Fat:
15
g
Saturated Fat:
6
g
Polyunsaturated Fat:
1
g
Monounsaturated Fat:
7
g
Trans Fat:
1
g
Cholesterol:
98
mg
Sodium:
628
mg
Potassium:
673
mg
Fiber:
2
g
Sugar:
3
g
Vitamin A:
430
IU
Vitamin C:
3
mg
Calcium:
39
mg
Iron:
4
mg
*All nutrition information provided is automatically calculated and is an estimate and will vary based on ingredients, brands, and changes in cooking methods listed in the recipe. If you need exact numbers on your ingredients, I would recommend calculating them with your prefered nutrition calculator.