Kickstart dinner with a simple and savory slow cooker Cheesy Chicken Penne, perfect for any night of the week. This dish brings together tender chicken and creamy pasta in an easy casserole that uses simple ingredients to deliver a satisfying meal right in your crock pot!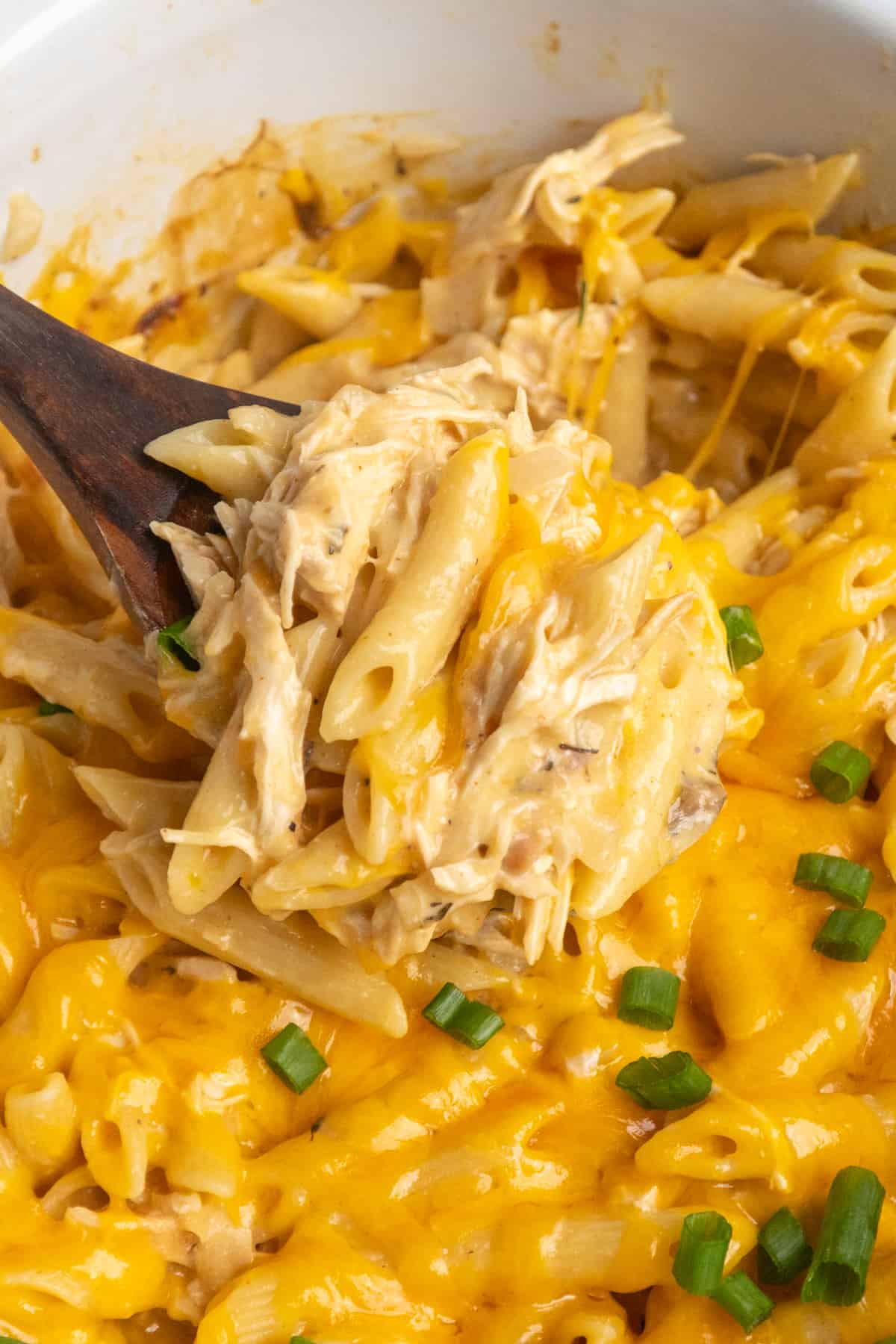 If you're looking for a dinner that's packed with protein but also has the comfort of mac and cheese, you'll love this simple slow cooker casserole. The ingredients in this cheesy chicken penne come together perfectly, with the savory spices enhancing the meat's juiciness, the cheese adding a velvety layer, and the pasta providing a satisfying chew. This dish is a go-to dinner choice because it's packed with protein and is easily made with the help of your slow cooker.
The slow cooker is the best method for making this casserole for many reasons. It cooks the chicken breast until juicy and tender. It also allows all of the flavors time to develop and come together, and it's easy to assemble! Just layer onions, seasoned chicken, and a mix of soups in the cooker, then set it and forget it until it's time to shred the chicken, stir in sour cream and cheese, and combine with cooked penne. You'll finish with a sprinkle of cheese for a golden top, and that's it!
Cheesy chicken penne pasta pairs well with a crisp green salad or steamed veggies for a touch of freshness and a slice of crusty bread to sop up the creamy sauce. It's easily adaptable and a great way to feed a family when you don't have a ton of time!
Why This Recipe Is Great For An Easy Dinner
With prep time that's less than 5 minutes, you can toss the ingredients into the slow cooker and let it do the work, freeing you up for other tasks.
This chicken penne casserole with cheese requires no constant attention—simply set the timer, and you're guaranteed a savory, cheesy dish with little effort.
It's a one-pot dinner, meaning you won't be left with a mountain of dishes, just one slow cooker to clean.
The recipe delivers a filling, protein-packed meal that satisfies hunger, perfect for those evenings when time is scarce but appetites are large.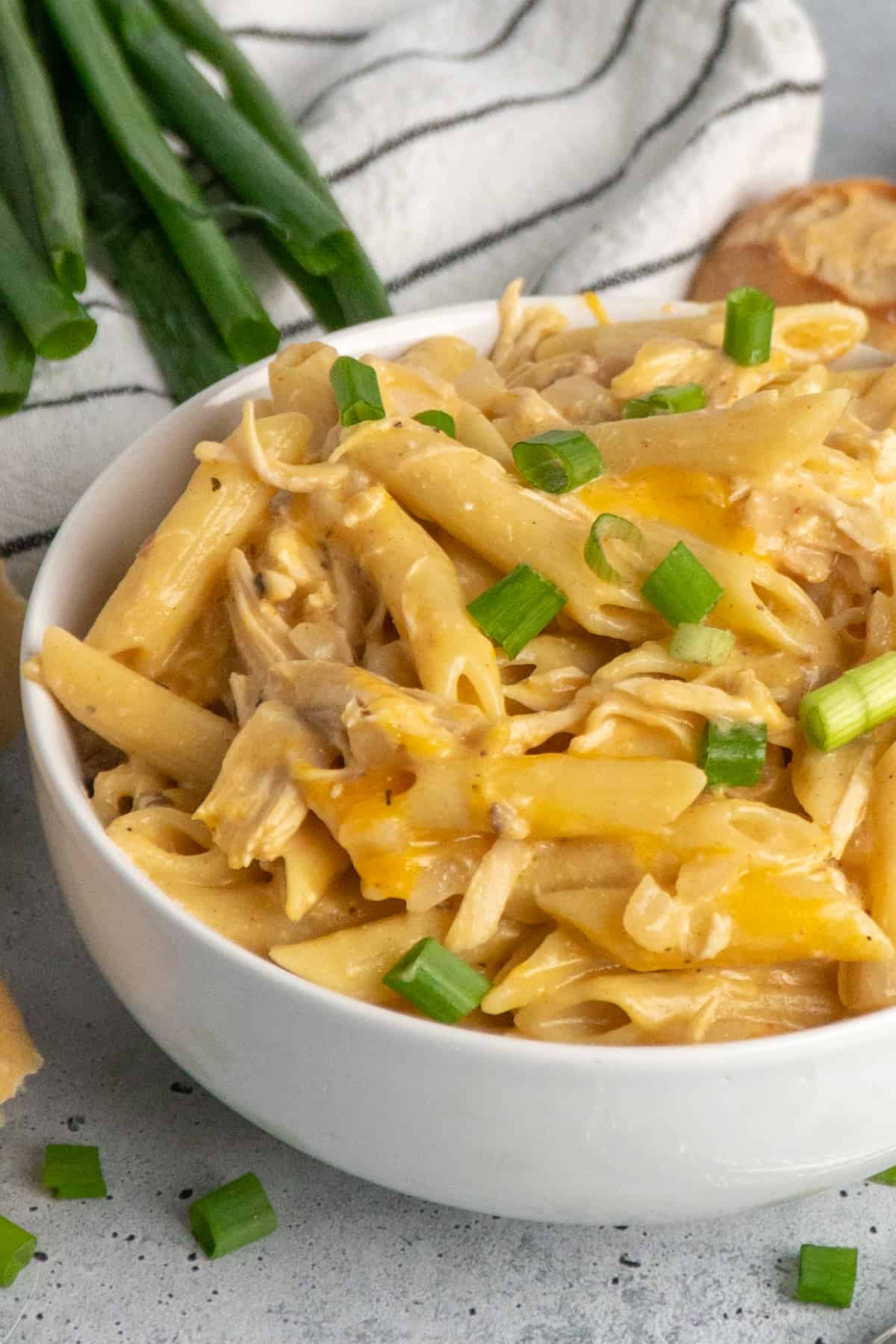 Ingredients You'll Need
Yellow Onion - Provides a flavor base that infuses the dish with a subtle sweetness when slow-cooked with the chicken.
Chicken Breast - Acts as the protein-rich centerpiece of the casserole, absorbing the flavors.
Seasonings (salt, pepper, paprika, dried thyme, Italian seasoning) - These seasonings work together to enhance the natural flavors of the chicken and create a warm, aromatic taste.
Low Sodium Chicken Broth - Adds moisture and a rich, savory chicken flavor that helps to tenderize the chicken during the slow cooking process.
Cream of Chicken & Mushroom Soup - Gives the dish a creamy texture and reinforces the poultry flavor, acting as a thickening agent for the casserole's sauce.
Sour Cream - Provides a tangy creaminess that balances the richness of the soups and cheese, contributing to a more velvety sauce.
Shredded Cheddar - Melts into the casserole, offering a gooey, cheesy consistency and a sharp, deep flavor.
Penne Pasta - Serves as the hearty starch that soaks up the creamy sauce, adding texture and substance to make the casserole a complete meal.
How To Make Cheesy Chicken Penne in a Slow Cooker
Add the onion layer: Dice the onion into medium squares. Layer at the bottom of a 6-quart slow cooker.
Prepare the chicken breast: Trim any excess fat from the chicken breast. Pat dry with paper towels. Season both sides of the chicken breast with salt, black pepper, paprika, Italian seasoning, and thyme. Place on top of the onions in the slow cooker.
Mix the canned soup: In a medium-sized mixing bowl, add the chicken broth and canned soup. Mix until both are combined with each other, then pour over the top of the chicken and onion mixture.
Cover and cook: Add the lid to the top of the crock pot. Cook on HIGH for 2½-3½ hours or LOW for 5-6 hours.
Cook pasta: 20 minutes before the cooking time is up, cook pasta to al dente per directions on the package. Drain and set aside.
Shred the chicken: Use tongs to remove the chicken breast from the crock pot. Shred on a cutting board with two forks, then add back into the crock pot.
Assemble the dish: To the crock pot, add the sour cream and 2 cups of the shredded cheddar, then mix until combined before stirring in the cooked pasta until each piece is well coated. Top with the remaining cheddar and place the lid back on top until the cheddar melts. Scoop into bowls and serve while hot. Enjoy!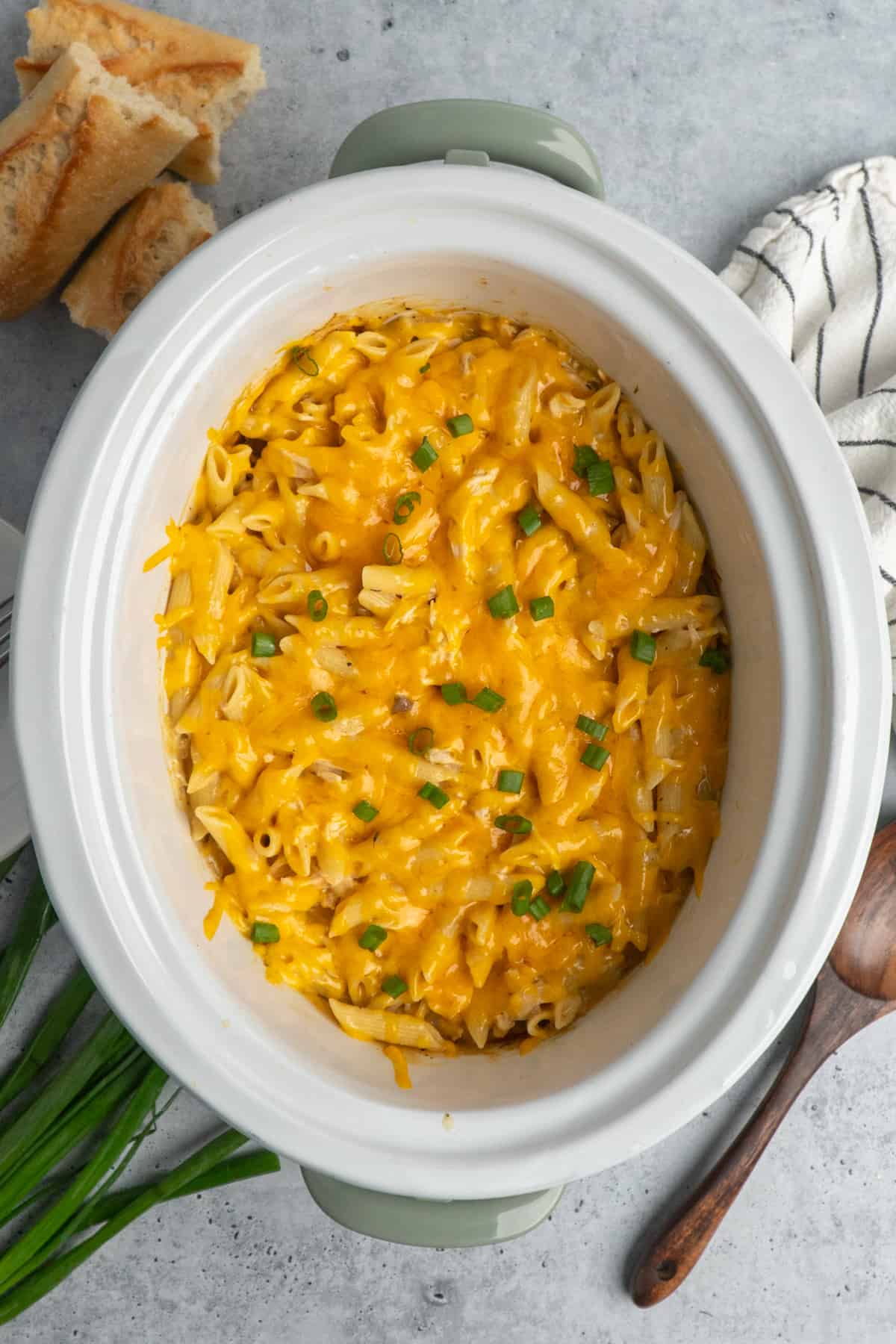 Recipe Tips
If you have time, sauté the diced onions before adding them to the slow cooker to enhance their sweetness and add a caramelized flavor.
For an even creamier texture, mix in a splash of milk or cream when adding the sour cream and cheese.
If you prefer a bit of crunch, top the finished casserole with breadcrumbs and broil in an oven-safe dish for a few minutes until golden.
You can use a meat shredder or a stand mixer with a paddle attachment to shred the meat instead of doing it with two forks.
Prevent overcooked pasta by boiling it until just al dente since it will continue to soften in the hot cheese sauce.
Reserve some shredded cheese to sprinkle on top just before serving for an extra gooey layer right on top that rounds out the dish.
Variations
Swap out the penne for whole wheat or gluten-free pasta to cater to dietary preferences or to add a bit more fiber to the dish.
Add a pop of color and nutrition by stirring in spinach or kale during the last 30 minutes of cooking.
For a smoky twist, use smoked paprika instead of regular paprika, or add a bit of liquid smoke to the recipe.
Replace the chicken breast with boneless, skinless chicken thighs if you prefer meat that's more tender and rich in flavor.
Stir in sautéed mushrooms or bell peppers for an extra layer of veggies and an enhanced savory profile.
Give the dish a Mexican flair by adding taco seasoning to the chicken and a blend of Monterey Jack and cheddar cheeses.
For a lighter version, use Greek yogurt in place of sour cream and low-fat cheese to cut down on calories without losing creaminess.
Create a crunchy topping by mixing panko breadcrumbs with grated Parmesan cheese and sprinkle over the casserole before the final cheese melt.
Storing & Freezing
Storing: Allow the casserole to cool to room temperature, then transfer it to an airtight container and refrigerate for up to 3-4 days. When reheating, add a splash of chicken broth or milk to loosen the sauce, as it may thicken in the fridge.
Freezing: To freeze, spoon the cooled casserole into freezer-safe containers or zip-top bags, leaving a small space at the top as the sauce will expand when frozen. It can be frozen for up to 2-3 months. Thaw overnight in the refrigerator before reheating, and then warm it in the oven or microwave until heated through.
FAQ
Can I cook the pasta directly in the slow cooker?
Cooking pasta directly in the slow cooker isn't recommended for this recipe, as it can become mushy. It's best to cook it separately to al dente and then add it to the mixture to avoid overcooking.
What can I use instead of canned soups if I want to make it from scratch?
For a homemade alternative, use a roux-based white sauce with added chicken and mushroom stocks. This will replicate the creamy texture and flavor of the canned soups while allowing you to control the ingredients.
Is it possible to make this dish vegetarian?
Absolutely, you can substitute the chicken for a plant-based protein like chickpeas or tofu, and use cream of celery soup in place of the chicken-based soups to keep it vegetarian.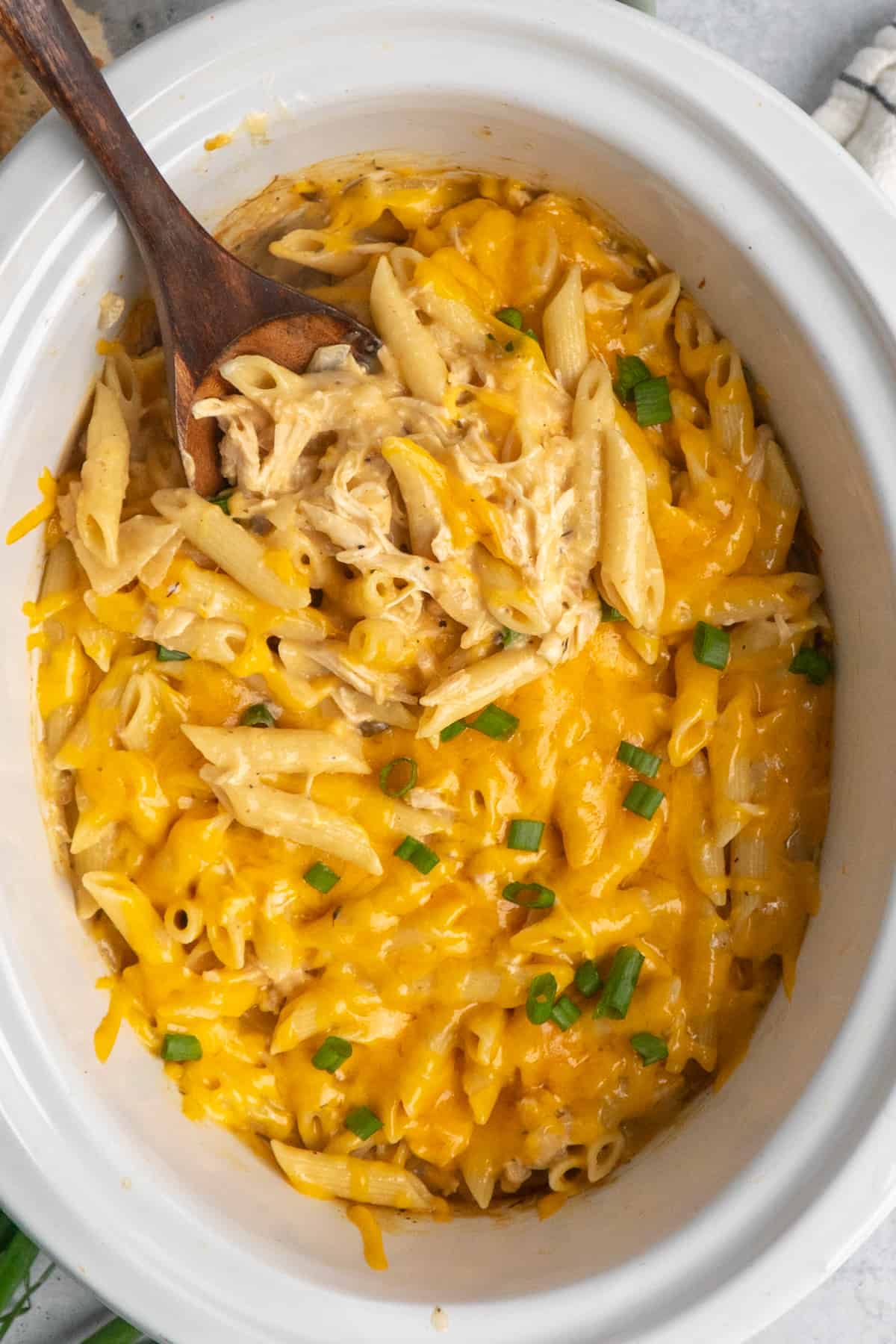 More Slow Cooker Casserole Dishes
Share It & Rate It
I would love it if you would leave a 5 Star ⭐️⭐️⭐️⭐️⭐️ rating below and follow me on Facebook, Instagram, and Pinterest!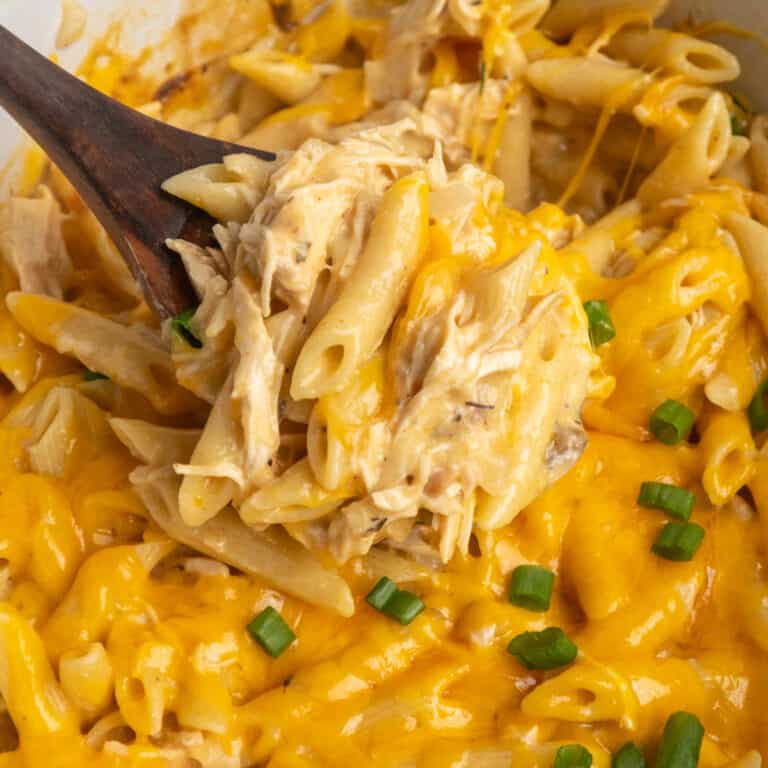 Slow Cooker Cheesy Chicken Penne
Kickstart dinner with a simple and savory slow cooker Cheesy Chicken Penne, perfect for any night of the week. This dish brings together tender chicken and creamy pasta in an easy casserole that uses simple ingredients to deliver a satisfying meal right in your crock pot! 
Ingredients
1

medium

yellow onion

(diced)

1½

lbs

boneless, skinless chicken breasts

½

tsp

salt

½

tsp

black pepper

½

tsp

paprika

½

tsp

dried thyme

½

cup

low-sodium chicken broth

1

(10.5 oz)

can cream of chicken soup

1

(10.5 oz)

can cream of mushroom soup

1¼

cups

sour cream

3

cups

cheddar cheese

(shredded and divided)

1

lb

penne pasta

(cooked and drained)
Instructions
Add diced onion to the bottom of a 6-quart slow cooker.

Season both sides of the chicken breast with salt, black pepper, paprika, thyme, and Italian seasoning. Place on top of onions.

In a medium bowl, add chicken broth, cream of chicken & mushroom soup. Mix until well combined and pour over the top of the chicken.

Cover and cook on high for 2½-3½ hours or low for 5-6 hours.

Cook pasta to al dente per directions on the package. Drain and set aside.

Remove chicken and shred with two forks.

Add shredded chicken, sour cream, and 2 cups of shredded cheddar cheese. Mix until well combined.

Add penne pasta and mix until coated in the sauce. Top with remaining cheese; place the lid back on the slow cooker just until the cheese melts.

Serve while hot, and enjoy!
Nutrition
Calories:
488
kcal
Carbohydrates:
46
g
Protein:
33
g
Fat:
18
g
Saturated Fat:
9
g
Polyunsaturated Fat:
1
g
Monounsaturated Fat:
4
g
Trans Fat:
0.01
g
Cholesterol:
100
mg
Sodium:
448
mg
Potassium:
535
mg
Fiber:
2
g
Sugar:
3
g
Vitamin A:
501
IU
Vitamin C:
3
mg
Calcium:
251
mg
Iron:
1
mg
*All nutrition information provided is automatically calculated and is an estimate and will vary based on ingredients, brands, and changes in cooking methods listed in the recipe. If you need exact numbers on your ingredients, I would recommend calculating them with your prefered nutrition calculator.