This Slow Cooker Chicken Stroganoff is the perfect dish to make on a busy weeknight. It is creamy, comforting, and full of flavor! It only takes a few minutes to prep and can be cooked in your crock pot or slow cooker.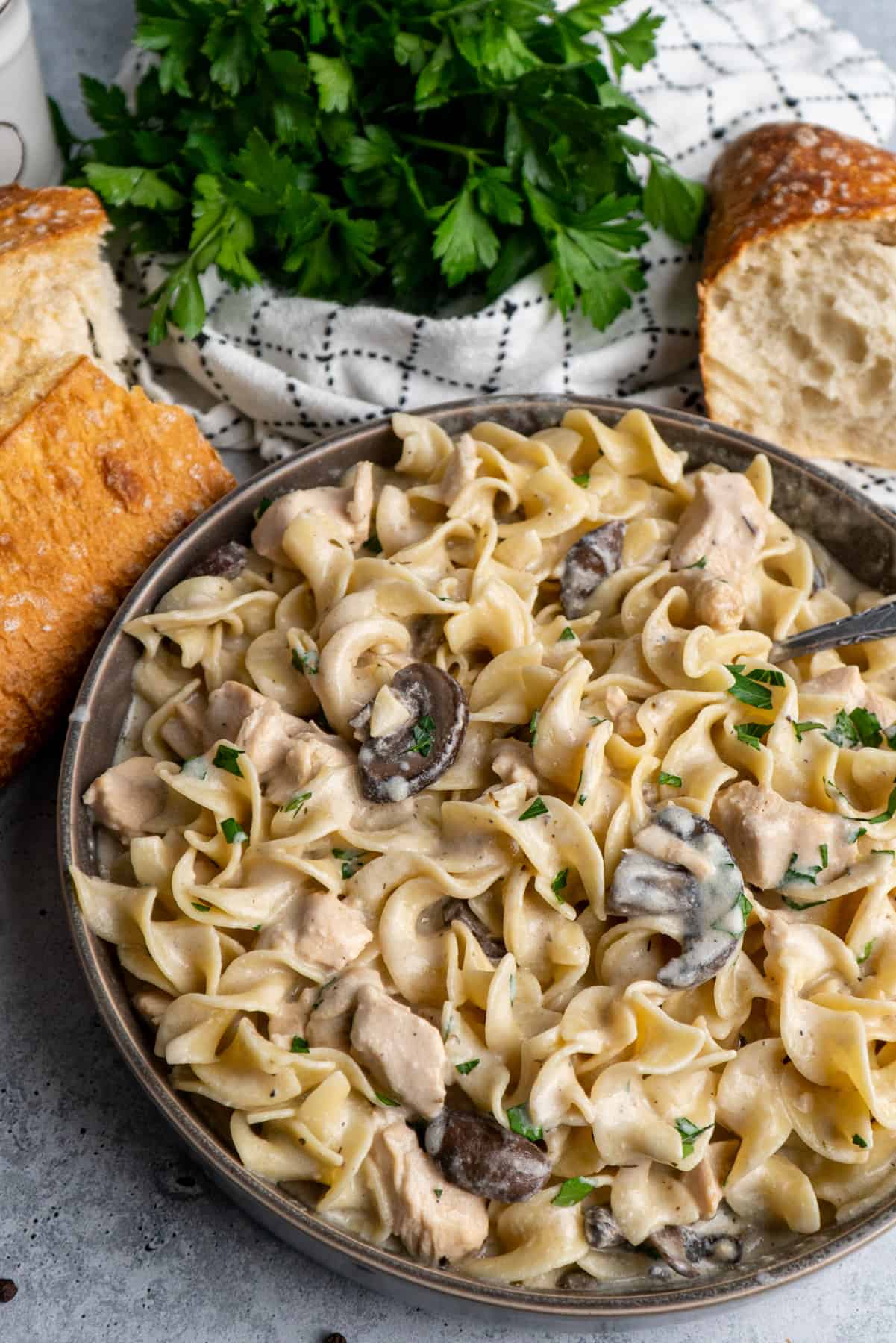 Stroganoff is a Russian dish that typically consists of beef, mushrooms, and a sour cream sauce. It is usually served with egg noodles or rice. This dish can be traced back to the 18th century and was named after a Russian count who loved it so much. The word "stroganoff" actually means "beef in a cream sauce".
For this recipe, we use chicken instead of beef and slow cook it in crock pot. This results in a tender and juicy chicken dish that is full of flavor!
This dish is the perfect comfort food. It is hearty, filling, and has a rich flavor. The slow cooker is the perfect cooking method for this dish because it allows the chicken to become tender and the flavors to meld together.
Serve it over a bed of cooked egg noodles for the ultimate comfort food meal!
Why You'll Love This Recipe
This creamy and comforting dish is lightened up with the help of boneless skinless chicken breast.
The base of the dish is easy to assemble with a simple roux and combining of ingredients.
This chicken stroganoff recipe is perfect for busy weeknights or anytime you're craving a hearty and comforting meal.
You can serve it with traditional egg noodles or opt for a lighter version and serve it over zucchini noodles or cauliflower rice.
Ingredients You'll Need
Boneless Skinless Chicken Breast - Cut into ¾" pieces, chicken adds texture and satisfying protein.
Butter - Melted butter is used as the oil to make the roux to give the cream sauce a rich buttery flavor.
Low Sodium Chicken Broth - Makes up the liquid base of the sauce adding rich chicken flavor and more nutrients.
All Purpose Flour - Used to make the roux that thickens the cream sauce.
Heavy Cream - Adds a thick creamy taste and texture to the sauce that coats the noodles and the chicken well.
Worcestershire Sauce - Gives the sauce a hint of salty umami flavor that pairs well with the chicken.
Dijon Mustard - Adds a layer of tangy mustard flavor into the sauce.
Seasonings - A mix of salt, ground black pepper, and dried thyme properly season the dish and enhance the flavors.
Brown Mushrooms - Adds a hearty umami flavor along with texture and nutrients.
Egg Noodles - Cooked separately, egg noodles are served at the base of the dish that works well with the creamy sauce.
How To Make Chicken Stroganoff In The Slow Cooker
Thicken the sauce: Add the melted butter and the chicken broth to the bottom of the slow cooker. Whisk until there are no lumps in the flour.
Add the liquid: Whisk in the heavy cream, Worcestershire sauce, dijon mustard, pepper, salt, and dried thyme until fully combined.
Prepare the chicken: Pat the chicken breast dry with a paper towel and trim off any excess fat. Dice into pieces, place them into the slow cooker and toss in the sauce. Then, add slice mushrooms over the chicken.
Cover and cook: Add the lid to the top of the crock pot and cook on HIGH for 2½-3½ hours or on LOW for 5-6 hours.
Add sour cream: Remove the lid and add sour cream. Stir until well combined.
Add pasta and serve: Cook and drain your egg noodles 15 minutes before the cooking time is up. Ladle the chicken stroganoff and sauce over top of the noodles and serve hot. Enjoy!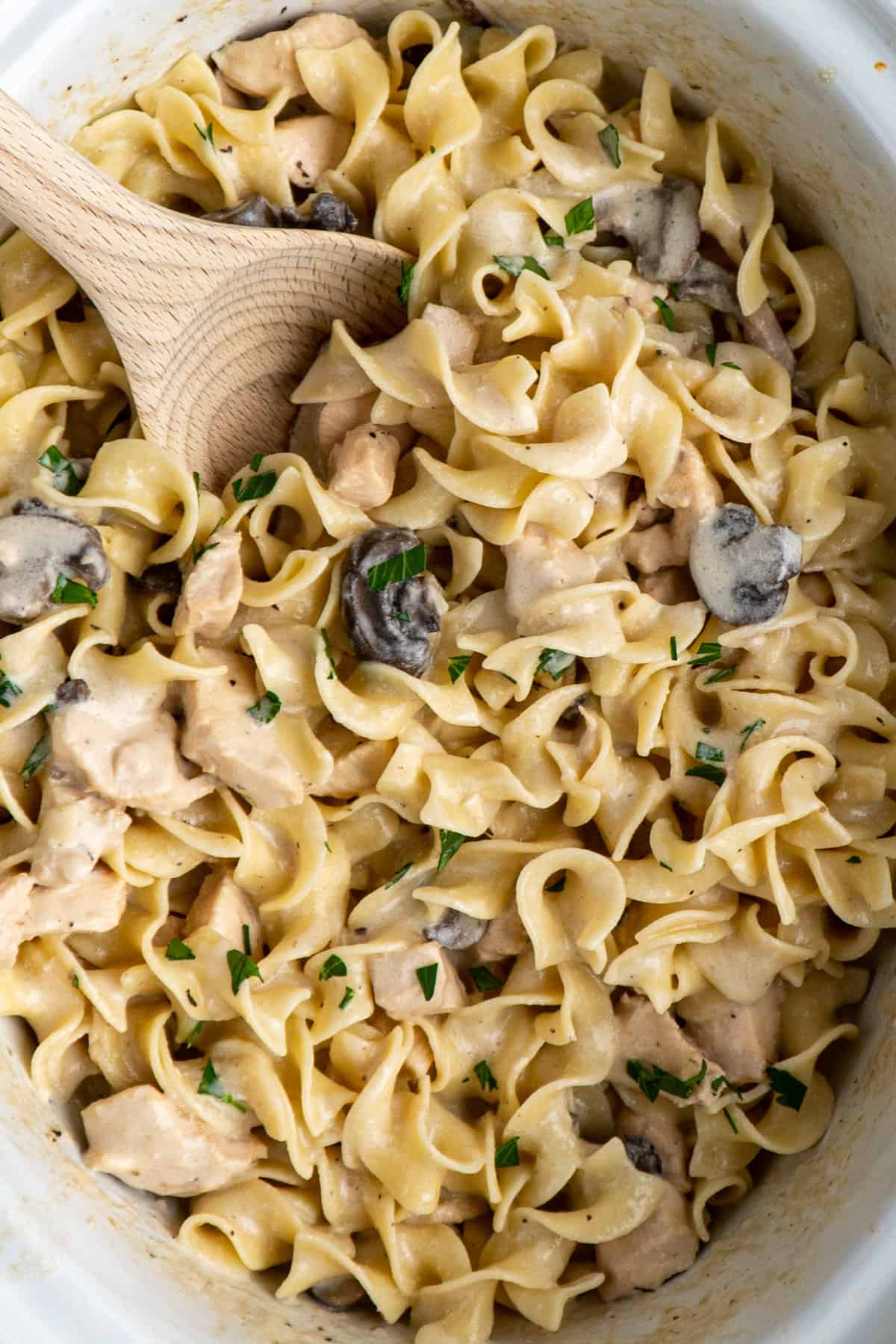 Recipe Tips
When preparing the chicken, ensure the pieces are all roughly the same size so they cook evenly.
Chicken is fully cooked when the internal temperature reaches 165 degrees Fahrenheit.
If the sauce looks too thick, add a little more chicken broth until it reaches your desired consistency. If the sauce is too thin, mix together a cornstarch slurry and whisk it into the sauce. This will help to thicken it up.
If you are using frozen chicken, be sure to thaw it before adding it to the slow cooker.
This dish can also be made in the Instant Pot. Simply follow the same instructions, but cook on high pressure for 15 minutes instead.
Flavor Variations and Substitutions
You can also add additional vegetables to this dish, such as peas, or carrots. Simply sauté them before adding them to the slow cooker.
Substitute chicken broth for beef or vegetable broth for a richer flavor.
If you don't have heavy cream on hand, you could also use half and half sour cream, or evaporated milk.
Use other types of dried herbs to flavor the sauce, including rosemary, oregano, or basil.
Instead of chicken breast, use boneless skinless chicken thighs.
Take a shortcut and use pre-cooked chicken. Simply shred it and add it to the slow cooker at the end of cooking.
For a lighter version of this dish, you can use low-fat or fat-free sour cream. You can also substitute Greek yogurt for sour cream.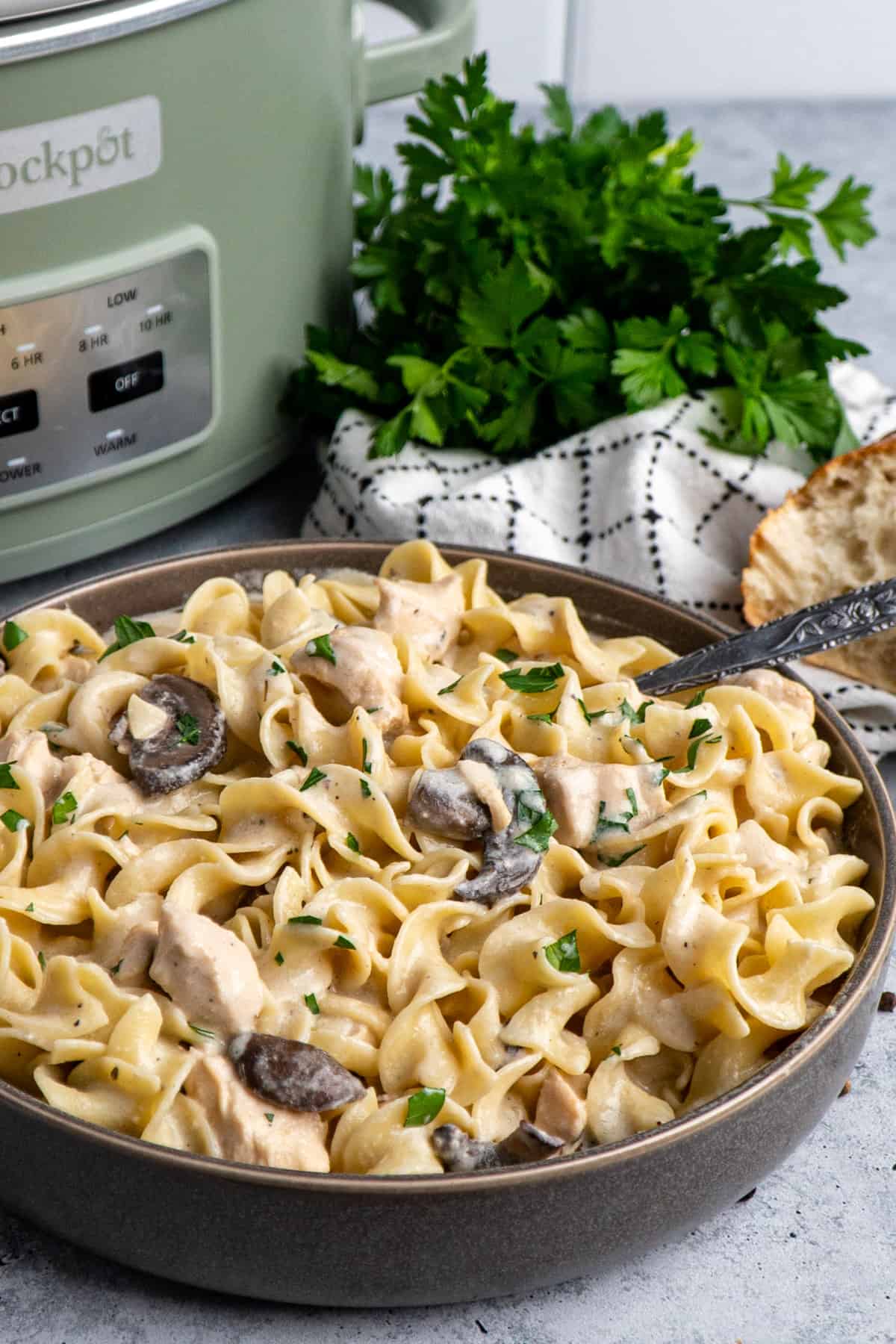 Storing & Freezing
Storing: Once cooled, leftovers without the pasta can be stored in an airtight container in the fridge for up to four days. If you have leftovers with the pasta, they can be stored in an airtight container in the fridge for up to three days as the sauce will change the texture of the pasta over time.
Freezing: This slow cooker chicken stroganoff freezes well without the noodles. Simply store it in a freezer-safe bag or container for up to four months. When you're ready to eat, thaw it in the fridge overnight and then reheat it on the stovetop or in the slow cooker with cooked egg noodles.
FAQ
What sides go well with chicken stroganoff?
Some popular side dishes include a simple green salad, roasted vegetables, steamed rice, mashed potatoes, or roasted vegetables.
Can I make this chicken stroganoff recipe gluten-free?
Yes! To make slow cooker chicken stroganoff gluten-free, simply use gluten-free flour to thicken the sauce. You can also use tapioca starch or arrowroot flour. Use gluten-free pasta to serve.
Can you put chicken in a slow cooker raw?
Yes, as long as the chicken is properly cooked before serving. This slow cooker chicken stroganoff recipe calls for diced chicken breast that is added to the slow cooker raw. The chicken will cook in the sauce as the crock pot meal cooks.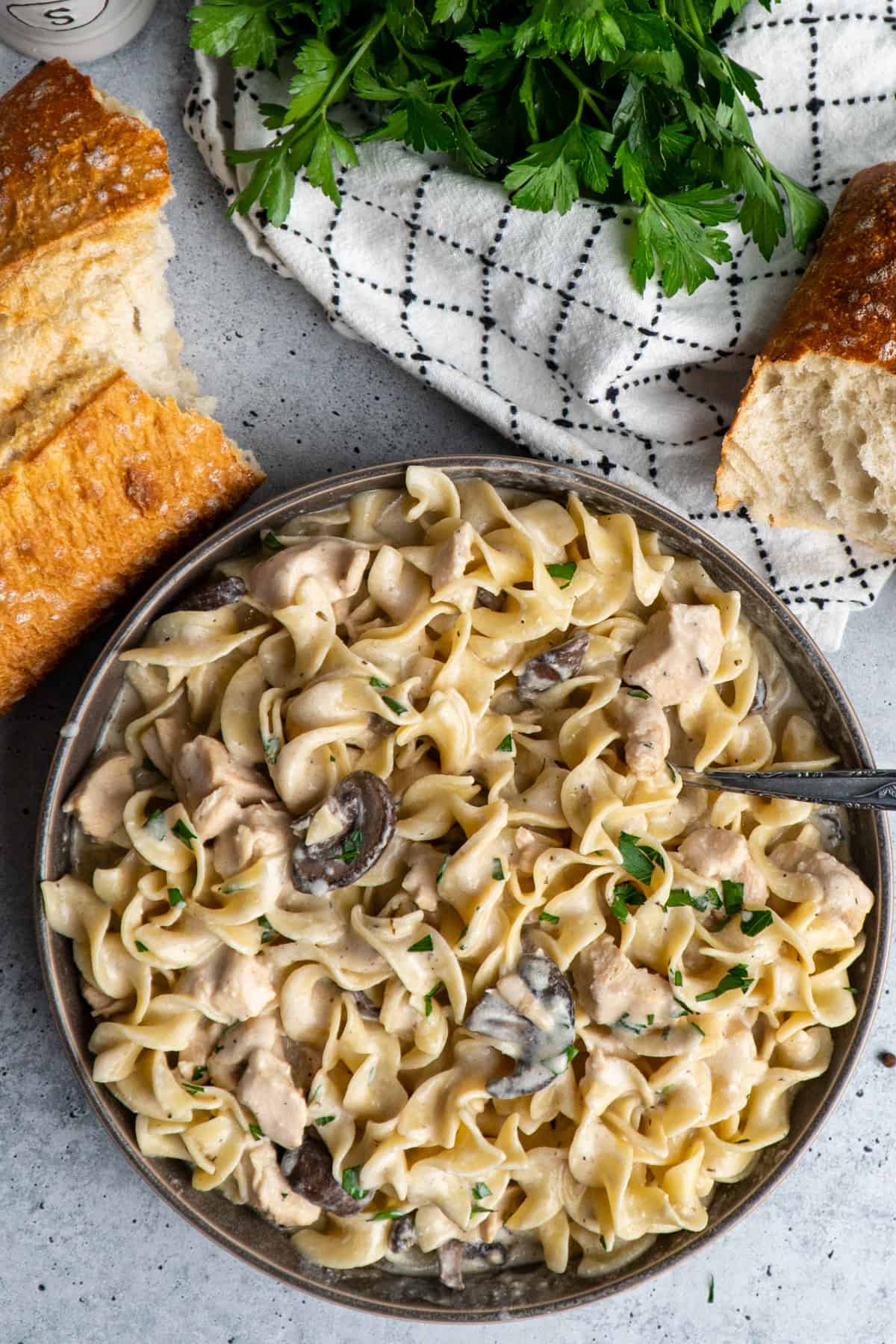 More Slow Cooker Chicken Dinner Recipes
Share It & Rate It
I would love it if you would leave a 5 Star ⭐️⭐️⭐️⭐️⭐️ rating below. Then follow me on Facebook, Instagram, and Pinterest!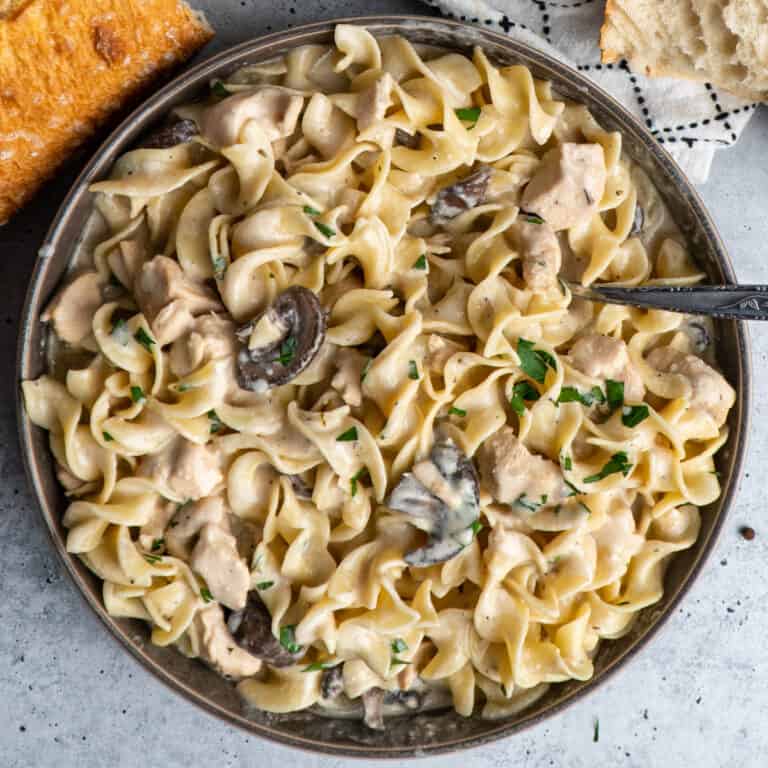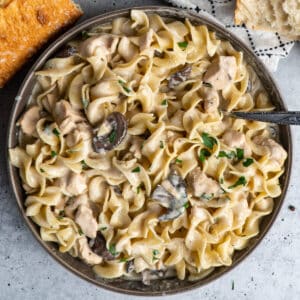 Slow Cooker Chicken Stroganoff
This Slow Cooker Chicken Stroganoff is the perfect dish to make on a busy weeknight. It is creamy, comforting, and full of flavor! It only takes a few minutes to prep and can be cooked in your crock pot or slow cooker.
Ingredients
2

lbs

boneless, skinless chicken breasts

(cut into ¾" chunks)

⅓

cup

butter

(melted)

2

cups

low sodium chicken broth

¼

cup

all-purpose flour

1

cup

heavy cream

1

tbsp

Worcestershire sauce

1

tbsp

Dijon mustard

1

tsp

ground black pepper

1

tsp

salt

½

tsp

dried thyme

8

oz

brown mushrooms

(washed and sliced)

¾

cup

sour cream

1

(16 oz)

bag of egg noodles

(cooked and drained)
Instructions
In a 6-quart slow cooker, add melted butter and chicken broth. Slowly whisk in the flour until there are no lumps.

Add heavy cream, Worcestershire sauce, dijon mustard, pepper, salt, and dried thyme. Whisk until well combined.

Place chicken in the sauce and stir until well coated. Then, place mushrooms over the chicken.

Cover and cook on high for 2½-3½ hours or on low for 5-6 hours.

When the chicken is done cooking, add sour cream and stir into the stroganoff. Then, add cooked egg noodles and mix.

Turn the slow cooker off and let stroganoff sit for 10 minutes to allow the sauce to set up. Then, stir to coat.
Nutrition
Calories:
352
kcal
Carbohydrates:
8
g
Protein:
36
g
Fat:
19
g
Saturated Fat:
10
g
Polyunsaturated Fat:
1
g
Monounsaturated Fat:
5
g
Trans Fat:
0.02
g
Cholesterol:
143
mg
Sodium:
676
mg
Potassium:
720
mg
Fiber:
0.4
g
Sugar:
2
g
Vitamin A:
660
IU
Vitamin C:
2
mg
Calcium:
61
mg
Iron:
1
mg
*All nutrition information provided is automatically calculated and is an estimate and will vary based on ingredients, brands, and changes in cooking methods listed in the recipe. If you need exact numbers on your ingredients, I would recommend calculating them with your prefered nutrition calculator.