Making French toast is easy with the help of your slow cooker! This Crock Pot French Toast casserole is easy to assemble and makes a delicious breakfast that can feed a crowd with little effort. Enjoy on a busy weekday or for a slow brunch!
Pin This Slow Cooker French Toast Recipe For Later!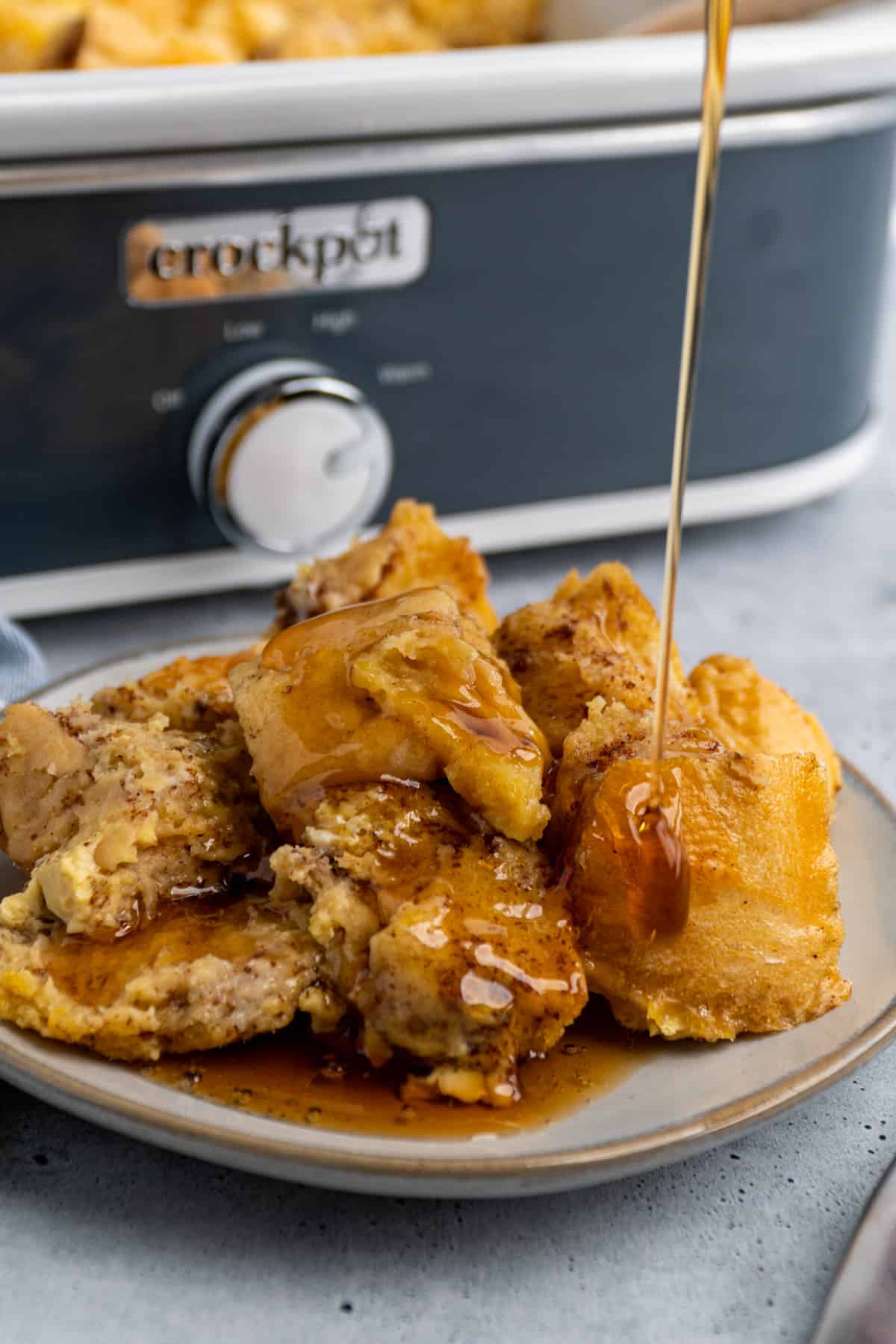 French toast is a classic sweet breakfast enjoyed in many parts of the world. Traditionally, this breakfast dish is made by dipping bread in a mixture of eggs and milk, then frying it until golden brown in a skillet or on a griddle.
This easy crock pot French toast takes that classic dish and makes it even easier by cooking it in the slow cooker. The result is a deliciously moist and custardy french toast that can feed a crowd with little effort.
Once it's cooked through, scoop it out and serve with your favorite toppings, including fresh fruit, syrup, or a dusting of powdered sugar.
This easy breakfast is versatile and can be served in the morning on a busy weekday, or you can have it slow-cooked and ready for a fancy brunch. No matter when you serve it, slow cooker French toast will be your new breakfast favorite!
Why You'll Love This Recipe
This breakfast dish is made with simple ingredients that are easy to find.
You can feed a small family or feed a crowd by doubling or tripling the recipe easily.
No need to spend time at the stovetop flipping pieces of bread; the slow cooker does all the work for you.
Customize by using your favorite type of bread or whatever you have on hand that you need to use up!
Ingredients You'll Need
French Bread - Day-old bread is best for this recipe as it helps soak up the liquid best. Cut it into 2-inch bite-sized cubes.
Milk - Makes up the creamy base of the liquid portion, giving it a soft texture as it soaks through the bread.
Eggs - Adds a rich texture to the casserole as it helps bind everything together.
Brown Sugar - Adds sweetness to the casserole along with a light comforting molasses flavor.
Vanilla Extract - Gives this breakfast a light vanilla flavor throughout the dish that pairs well with the rest of the ingredients.
Warming Spices - Cinnamon and nutmeg warm up the flavor of the French toast.
Butter - Cubed butter gets added on top to add a rich buttery flavor that soaks into the casserole as it slowly cooks.
How To Make French Toast Casserole In The Crock Pot
Prepare the bread: Cut the day-old French bread into two-inch cubes using a serrated knife. Add the bread pieces to the bottom of the slow cooker.
Assemble the liquid: To a medium-sized mixing bowl, add the milk, eggs, brown sugar, vanilla extract, and spices. Whisk together until fully combined. Pour the seasoned egg and milk mixture on top of the bread and top with cubed butter.
Slow cook the French toast: Cover the casserole with the lid and cook on HIGH for 2-2.5 hours or LOW for 4-4.5 hours.
Cool, top, and serve: Let the casserole cool for 10 minutes before serving. Scoop it out of the crock pot, then top with your favorite toppings. Enjoy!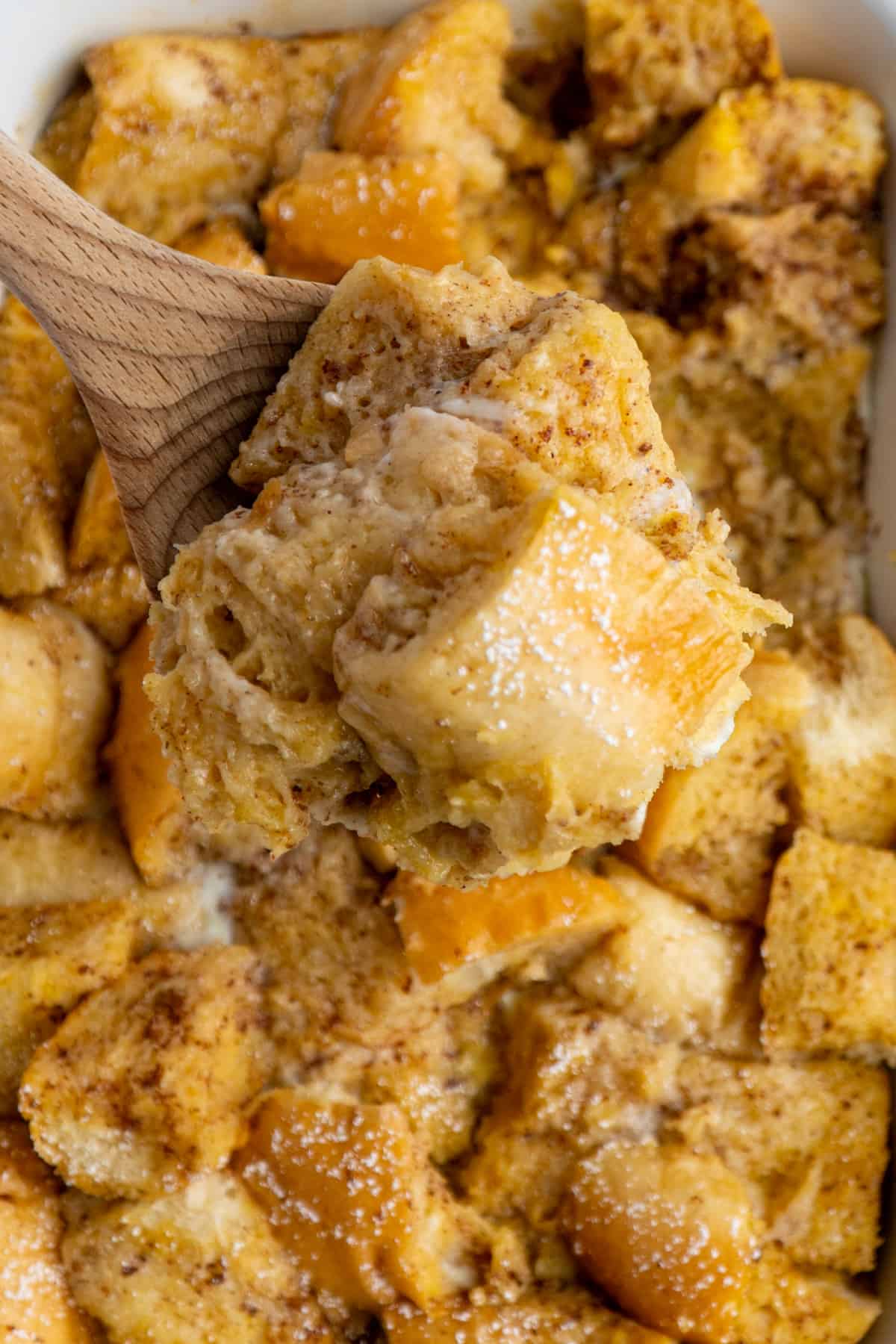 Recipe Tips
If your bread is not stale, you can use fresh bread, but it may need more cooking time to soak up the milk and egg mixture properly.
Chop the bread into even bite-sized pieces to ensure that each piece cooks through evenly.
To make ahead, assemble everything the night before and refrigerate overnight. In the morning, cook according to instructions.
This recipe can easily be doubled or tripled if you need to feed a large crowd. Use a larger slow cooker and adjust the cooking time as necessary.
Variations
You can use other types of bread to make this recipe, including brioche, challah, or even crock pot French toast sticks.
Use a different spice combination such as pumpkin pie spice or apple pie spice for a seasonal twist.
Add fresh fruit such as blueberries, raspberries, or diced apples for a pop of sweetness and color.
Top with bacon for a savory twist on this classic breakfast dish.
Use a mixture of half milk and half cream for an even richer casserole.
Try using flavored syrups such as maple syrup, strawberry syrup, or blueberry syrup to change up the flavor.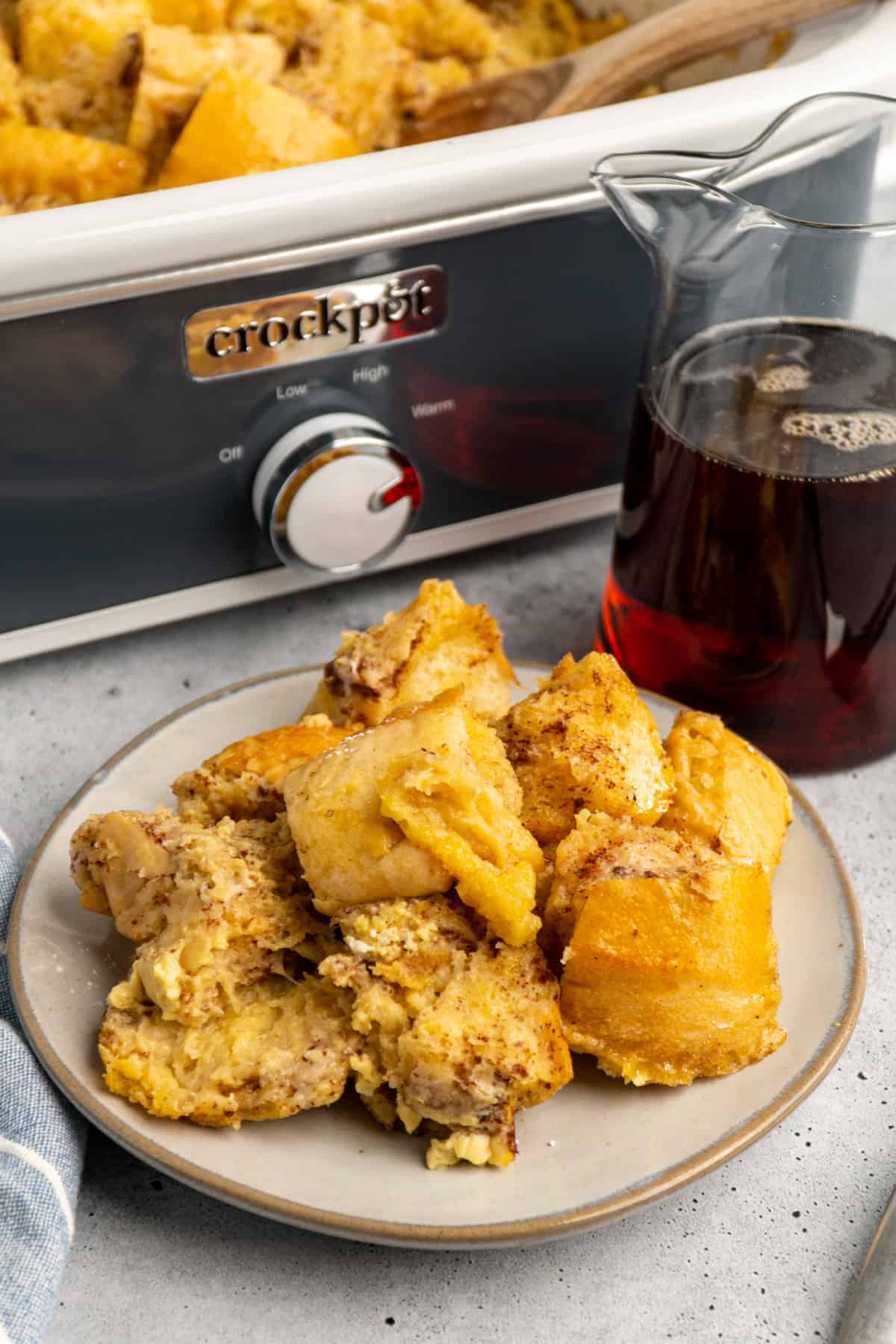 Storing & Freezing
Storing: Cooled leftovers can be stored in the fridge when added to an airtight container and will last up to four days.
Freezing: This crock pot French toast casserole can be frozen. By adding it to a freezer-safe dish wrapped tightly with foil and plastic wrap or in a sealed freezer-safe bag. Allow it to cool completely before freezing, then store it in the freezer for up to six months. When ready to eat, thaw overnight in the fridge before reheating.
Reheating: Place the crock pot French toast casserole in the oven or microwave to reheat. When using the oven, heat at 350 degrees until warmed through. If microwaving, heat in 30-second intervals until heated through.
FAQ
Can this dish be made ahead of time?
Yes, you can assemble the crock pot French toast casserole the night before and store it in the fridge until ready to cook. This is especially helpful if you have fresh bread as it will allow the liquid to absorb completely.
Why is my French toast casserole soggy?
If your crock pot French toast casserole is soggy, it may be because the bread was not stale enough or you didn't let it cook long enough. If using fresh bread, you may need to cook it for a bit longer to allow the liquid to absorb completely.
What is the best egg-to-milk ratio for French toast?
The best egg to milk ratio for French toast is two eggs to every one cup of milk. This will give you the perfect custardy texture that is not too eggy or too runny.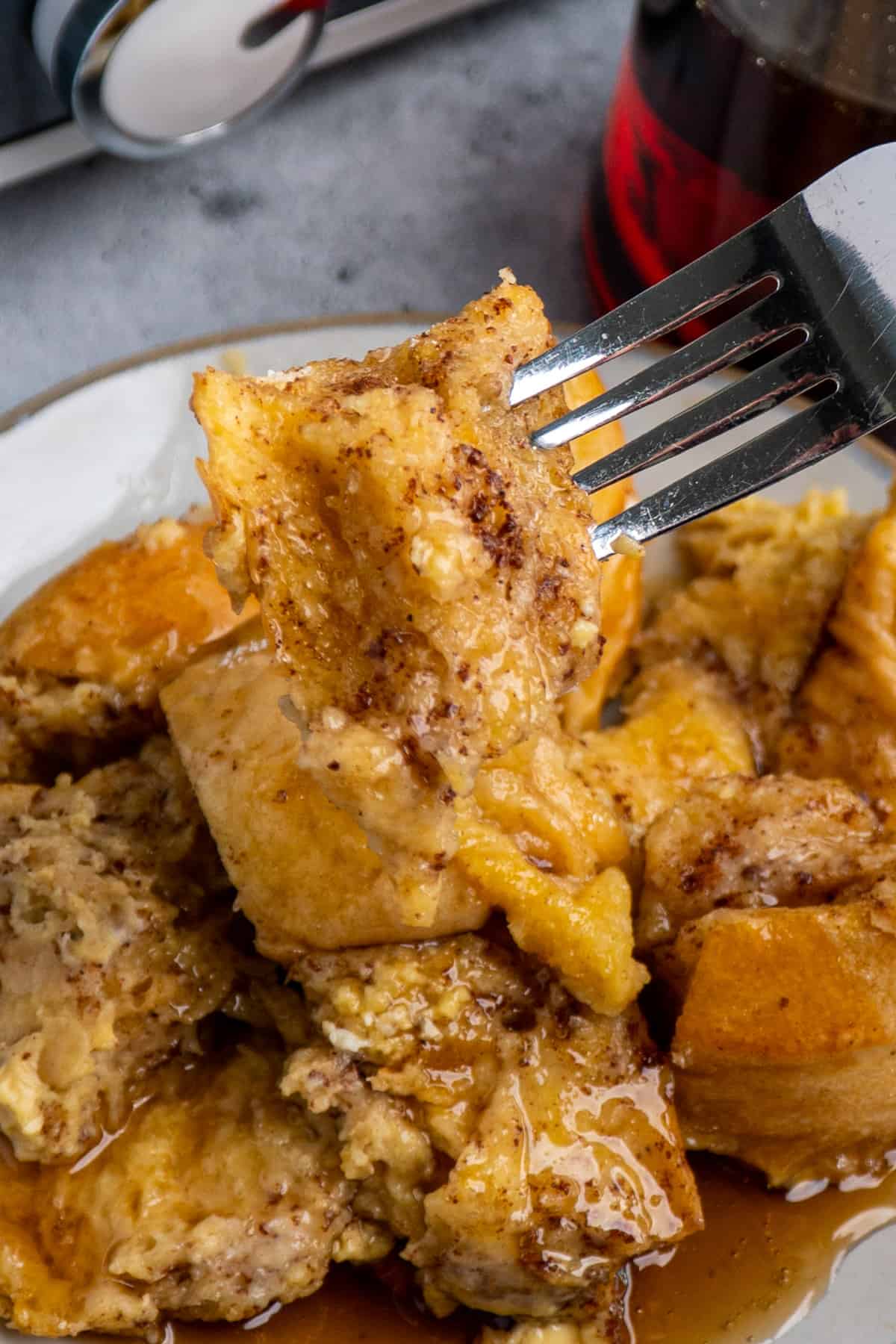 Looking for more sweet and delicious dishes to make in your slow cooker? Try out this easy recipe for Slow Cooker Apple Cinnamon Rolls. One of my other favorites is this Crock Pot Peach Cobbler with Cake Mix for dessert!
Share It & Rate It
I would love it if you would leave a 5 Star ⭐️⭐️⭐️⭐️⭐️ rating below and follow me on Facebook, Instagram, and Pinterest!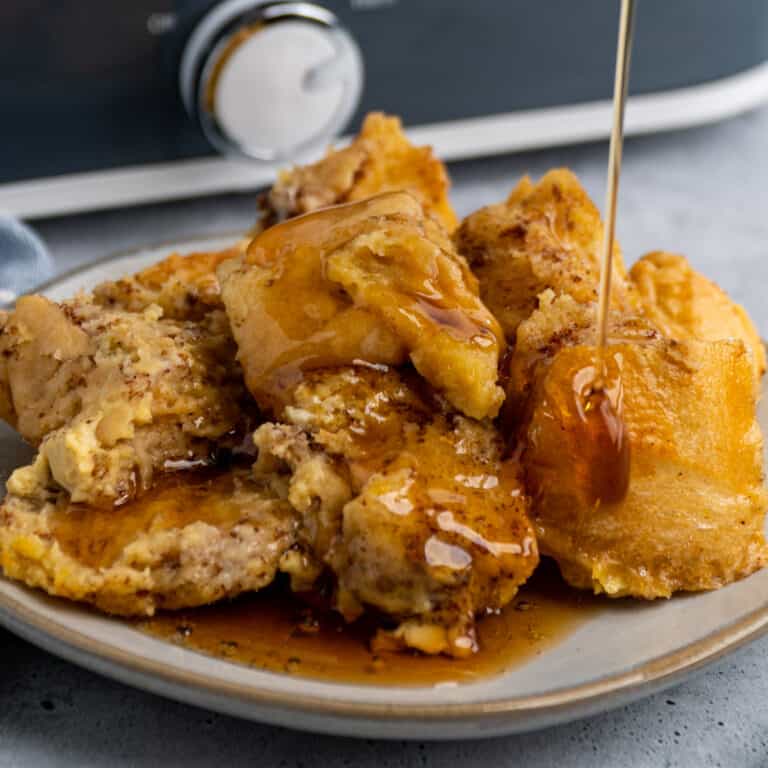 Crock Pot French Toast
Making French toast is easy with the help of your slow cooker! This Crock Pot French Toast casserole is easy to assemble and makes a delicious breakfast that can feed a crowd with little effort. Enjoy on a busy weekday or for a slow brunch!
Ingredients
1

loaf French bread

(day-old and cut into 2" cubes)

2

cups

milk

6

large

eggs

⅓

cup

brown sugar

2

tbsp

vanilla extract

1½

tsp

ground cinnamon

½

tsp

nutmeg

3

tbsp

butter

(cut into ½" cubes)
Instructions
Add cubed French bread to the bottom of the slow cooker.

Add milk, eggs, brown sugar, vanilla extract, cinnamon, and nutmeg to a medium bowl. Whisk until combined.

Evenly pour the egg mixture over the top of the bread. Then, place cubed butter on top.

Cover and cook on High for 2-2½ hours or Low for 4-4½ hours.

Let the French toast cool down for 15 minutes before serving, and top with powdered sugar and maple syrup.
Nutrition
Calories:
266
kcal
Carbohydrates:
43
g
Protein:
9
g
Fat:
6
g
Saturated Fat:
2
g
Polyunsaturated Fat:
3
g
Monounsaturated Fat:
1
g
Trans Fat:
0.01
g
Cholesterol:
8
mg
Sodium:
334
mg
Potassium:
213
mg
Fiber:
4
g
Sugar:
15
g
Vitamin A:
114
IU
Vitamin C:
0.2
mg
Calcium:
176
mg
Iron:
3
mg
*All nutrition information provided is automatically calculated and is an estimate and will vary based on ingredients, brands, and changes in cooking methods listed in the recipe. If you need exact numbers on your ingredients, I would recommend calculating them with your prefered nutrition calculator.