Comfort food is slow-cooked to perfection in this easy Crock Pot Goulash recipe! This classic American dish is perfect for a weeknight meal or a slow Sunday dinner. Made with beef, vegetables, and hearty pasta, this easy dinner recipe is sure to please the entire family. So gather your ingredients and get cooking!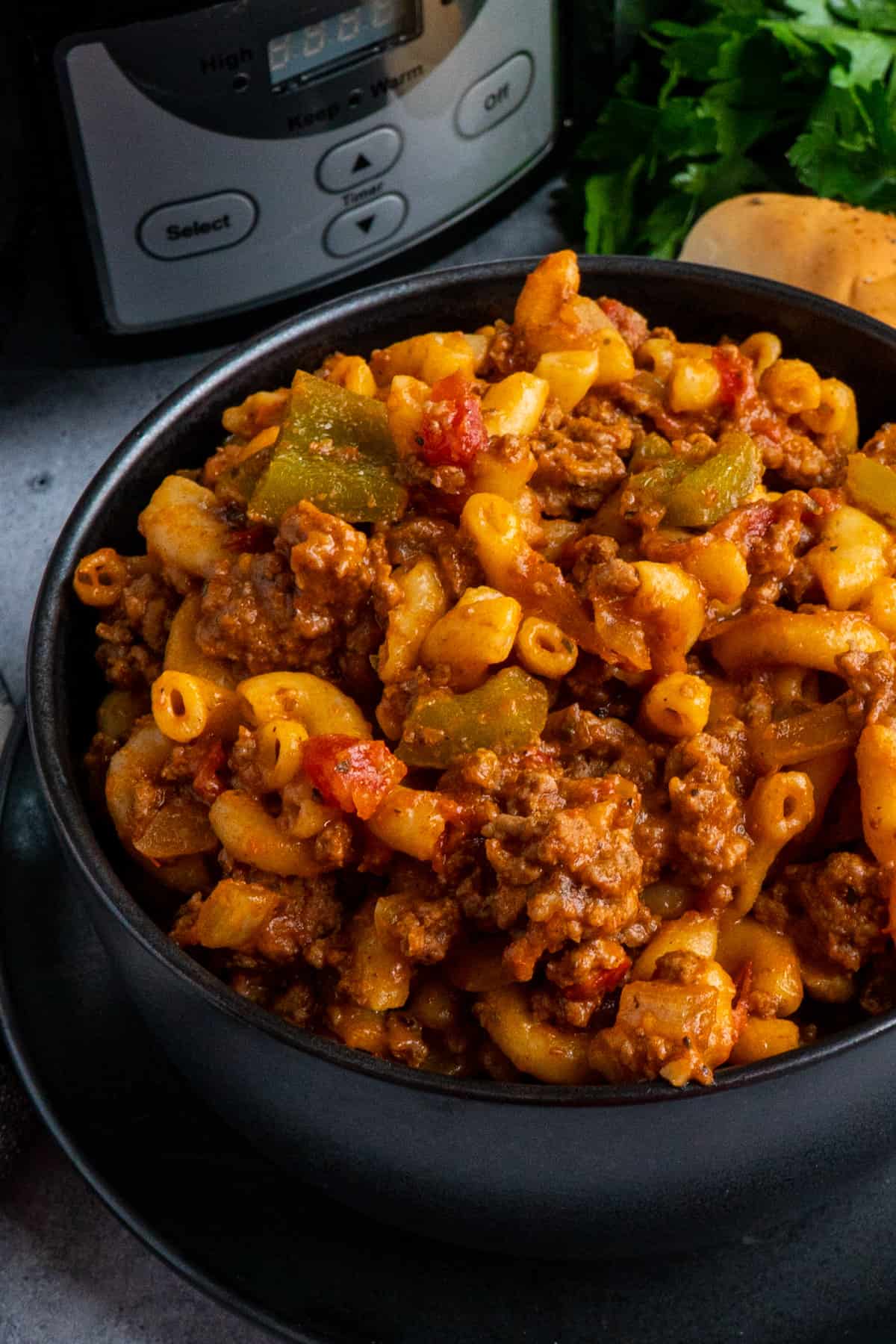 Crock Pot goulash is a soup or stew of Hungarian origin that is typically made with beef, vegetables, and paprika. The dish can be served as a main course or side dish and is often garnished with sour cream or cheese.
This dish is highly versatile and can be changed up in many different ways to suit your family. And, while there are many ways to cook it, we love using the Crock-Pot because it is easy and hands-off!
After slow-cooking the ground beef, vegetables, and seasonings together, simply add the pasta, cook some more and you've got a well-rounded meal on the other side.
It's no wonder this easy slow cooker pasta recipe is one of our favorites and will be for you, too!
Why You'll Love This Recipe
The ingredients are simple and can be found in any grocery store.
You can change up the elements like pasta, meat, vegetables, and seasonings.
There are many different flavors and textures, making it a healthy, well-rounded meal.
It's a fully hearty meal that gets cooked up slowly while you can go on with your busy life!
Ingredients You'll Need To Make Crock Pot Goulash
Ground Beef - This beef mixture gets browned in a pan before adding to the crock pot to add a rich beefy flavor and to give the dish protein.
Yellow Onion & Garlic - Adds a bold garlic and onion flavor to the dish.
Beef Broth - Helps thin out the sauce while adding even more beef flavor.
Green Pepper - Gives the dish a pop of green color and a fresh garden taste.
Pasta Sauce & Diced Tomatoes - Makes the red sauce, adding acidity from the tomatoes along with a natural sweetness that pairs well with the rest of the ingredients.
Worchestershire Sauce - Adds a salty umami flavor that pairs well with the notes of beef flavor.
Seasonings - A mix of dried paprika, Italian seasoning, salt, and pepper is used to season the mixture perfectly.
Macaroni -Gives this dish hearty starch along with texture and flavor.
Cheddar Cheese - Added at the end, cheddar cheese gives this easy pasta dish a creamy texture and cheesy taste that rounds it out perfectly.
How To Make Goulash In The Slow Cooker
Cook the hamburger meat: Add the ground beef to a large skillet. Cook over medium-high heat until the meat is fully cooked through. Drain off any excess oil, then add the cooked meat to the slow cooker base.
Add the seasonings and vegetables: Along with the beef, add the chopped onions, peppers, garlic, beef broth, pasta sauce, diced tomatoes, and Worcestershire. Sprinkle the dried seasonings on top and give it a good stir to combine.
Slow cook the sauce: Cover the crockpot, then set the timer for 7-8 hours on LOW or 2½ to 3½ hours on HIGH.
Add pasta: Before the final hour, pour in the macaroni and give it a stir. The pasta will cook right in the sauce.
Add cheese and serve: Once the pasta is finished cooking, add the shredded cheddar cheese and stir until fully combined. Add to serving bowls while hot and enjoy!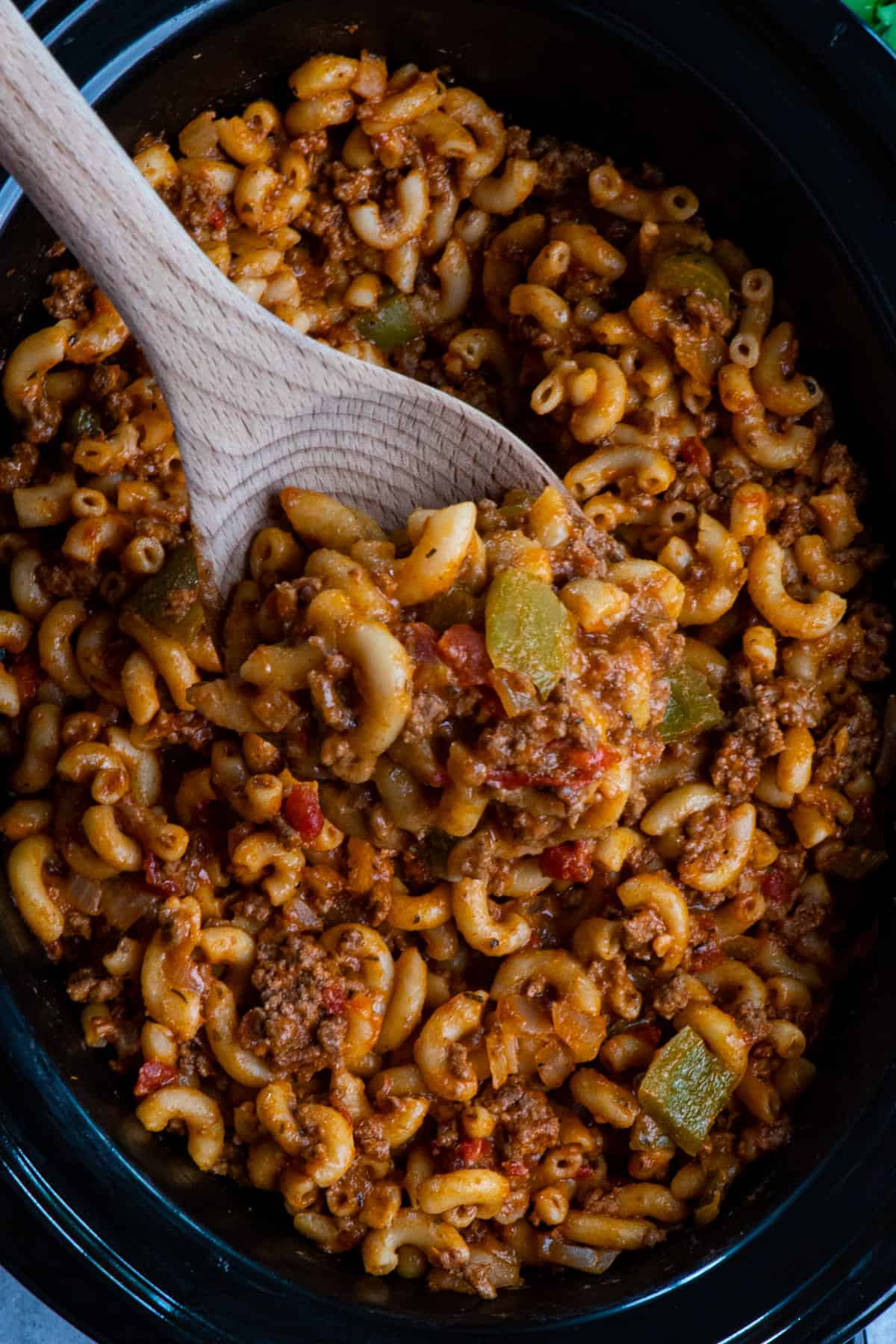 Recipe Tips
Browning the meat before adding it to the crock pot is important because it adds flavor and allows for any excess grease to be drained off.
If you want a more soup-like consistency, add an extra can or two of beef broth.
For a creamier goulash, add in a block of cream cheese when you add the shredded cheddar.
If you find that the sauce is too thick, add a little more beef broth until it reaches the desired consistency.
Once the goulash is finished cooking, test for seasonings and add more salt and pepper if needed.
All slow cookers are different! The time it takes to fully cook depends on the size of your ingredients and your individual slow cooker.
Variations & Substitutions
Use other ground meat: Instead of ground beef, try using ground turkey, chicken, pork, or lamb.
Make it vegetarian: Omit the ground beef and use an extra can of beans or lentils in its place.
Try a different pasta shape: Elbow macaroni is traditionally used in goulash, but other shapes like shells, rotini, or even penne would work well.
Add more vegetables: Stir in a can of corn or peas, diced carrots, or sliced mushrooms when you add the other vegetables.
Make it gluten-free: Use gluten-free pasta or another gluten-free starch like quinoa, rice, or potatoes.
Kick up the spice: Add a pinch of cayenne pepper, red pepper flakes, or diced jalapeños to the mixture.
Add extra flavor: Stir in a tablespoon of Dijon mustard, horseradish, or BBQ sauce.
Storage
Storing: Cooled leftovers can be stored in an airtight container in the fridge for up to four days.
Freezing: Freeze goulash in individual portions for easy thawing and reheating. Place leftovers in freezer-safe bags with as much air removed as possible or air-tight containers and store them in the freezer for up to three months.
Reheating: Thaw frozen goulash overnight in the fridge, then reheat on the stove over medium heat until warmed through. Alternatively, goulash can be reheated in the microwave. Place leftovers in a microwave-safe dish and heat for two to three minutes, stirring once or twice during cooking.
FAQ
What is the difference between American Goulash and Hungarian Goulash?
American goulash is more of a pasta dish than a soup, whereas Hungarian goulash is more of a stew. Both dishes are made with beef and paprika, but American goulash also includes tomato and macaroni noodles.
What cut of meat is used for goulash?
You can use any type of beef that you like, but ground beef is most commonly used. Other cuts like chuck roast or stew meat can also be used.
Can I make goulash without paprika?
Paprika is a key ingredient in goulash, so it's best not to omit it. If you don't have paprika, you can try substituting it with smoked paprika or another spice like cumin to add a layer of classic smoky flavor.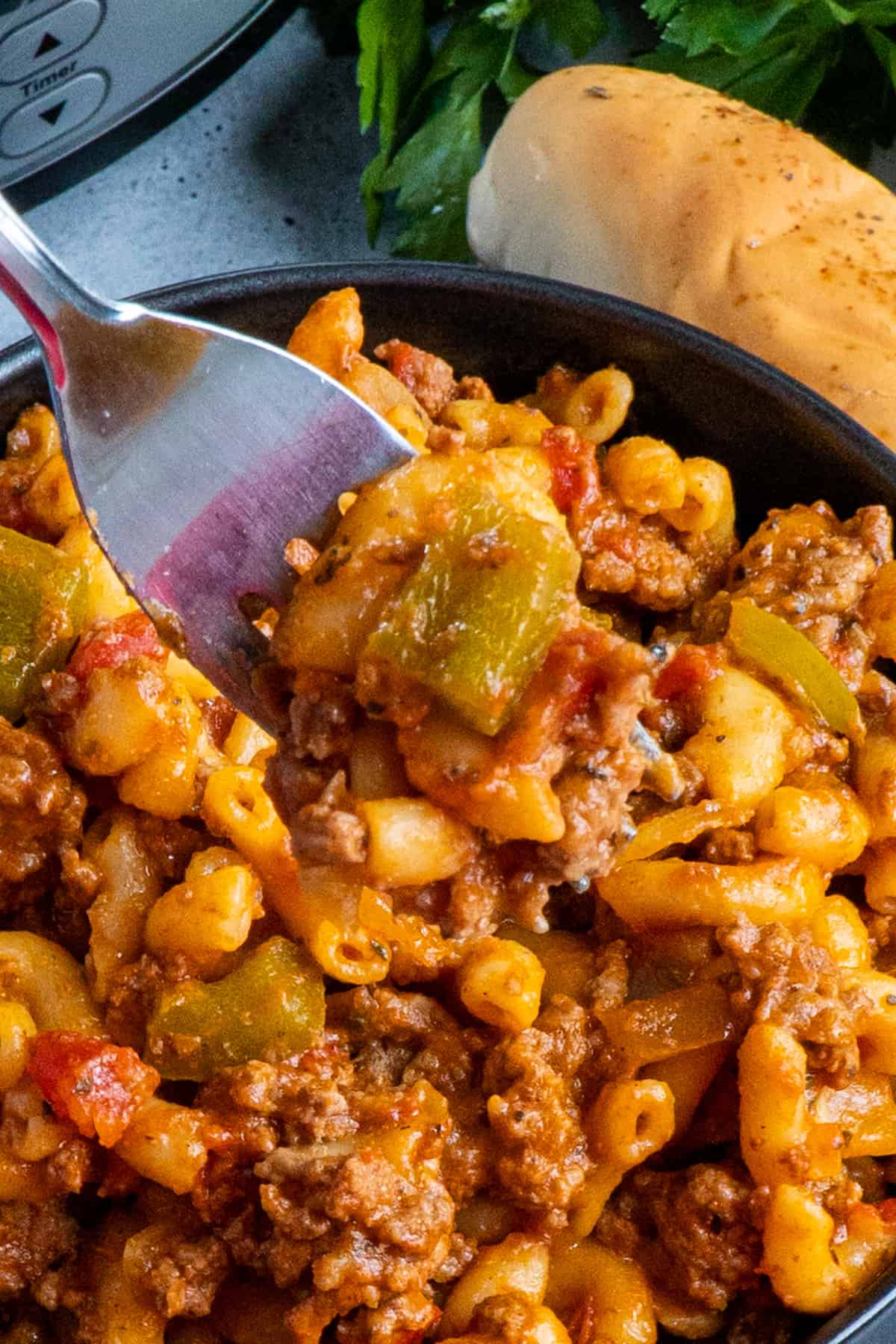 More Crock Pot Comfort Food Recipes
Share It & Rate It
I would love it if you would leave a 5 Star ⭐️⭐️⭐️⭐️⭐️ rating below and follow me on Facebook, Instagram, and Pinterest!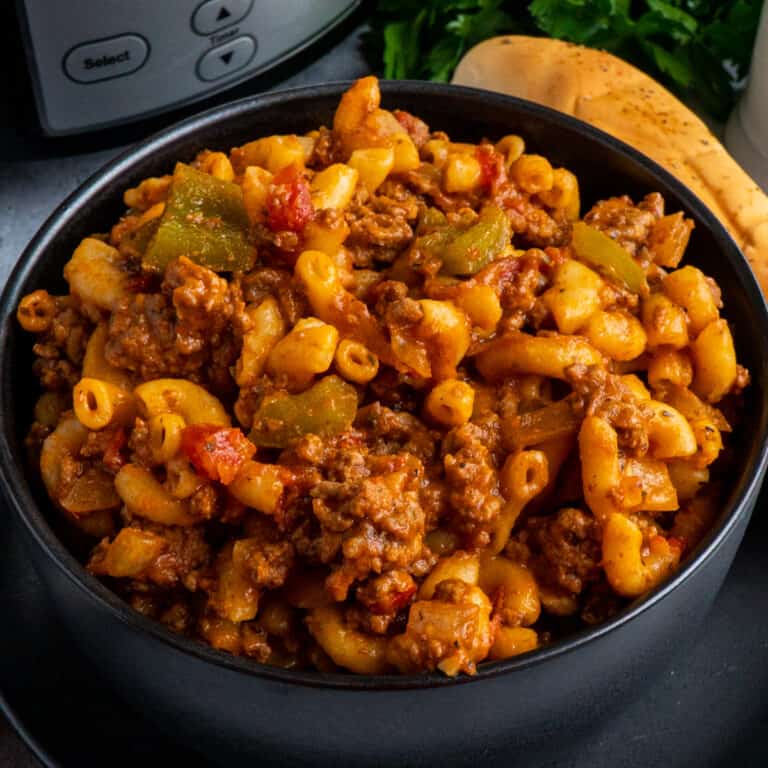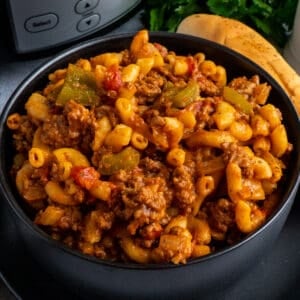 Crock Pot Goulash
Comfort food is slow-cooked to perfection in this easy Crock Pot Goulash recipe! This classic American dish is perfect for a weeknight meal or a slow Sunday dinner. Made with beef, vegetables, and hearty pasta, this easy dinner recipe is sure to please the entire family. So gather your ingredients and get
Instructions
In a large skillet, brown the hamburger until it is fully cooked. Drain off excess fat and add to the slow cooker.

Add onions, green peppers, garlic, beef broth, paprika, pasta sauce, diced tomatoes, Worcestershire sauce, Italian seasoning, salt, and black pepper. Stir to combine everything.

Cover and cook on low for 7-8 hours or on high for 2½ to 3½ hours.

One hour before cooking time is finished, add macaroni pasta and stir into the mixture. Cover and cook for the remaining hour.

When the pasta is done cooking, add in cheddar cheese and stir until well combined.
Nutrition
Calories:
665
kcal
Carbohydrates:
58
g
Protein:
33
g
Fat:
33
g
Saturated Fat:
14
g
Polyunsaturated Fat:
1
g
Monounsaturated Fat:
12
g
Trans Fat:
1
g
Cholesterol:
105
mg
Sodium:
802
mg
Potassium:
459
mg
Fiber:
2
g
Sugar:
1
g
Vitamin A:
324
IU
Vitamin C:
14
mg
Calcium:
218
mg
Iron:
4
mg
*All nutrition information provided is automatically calculated and is an estimate and will vary based on ingredients, brands, and changes in cooking methods listed in the recipe. If you need exact numbers on your ingredients, I would recommend calculating them with your prefered nutrition calculator.