Calling all queso lovers! If you're looking for an easy and creamy cheese dip that's simple but delicious, then this Crock Pot Velveeta Cheese Dip is a must-make! With just a few ingredients, you can make a creamy queso dip that's perfect for any gathering!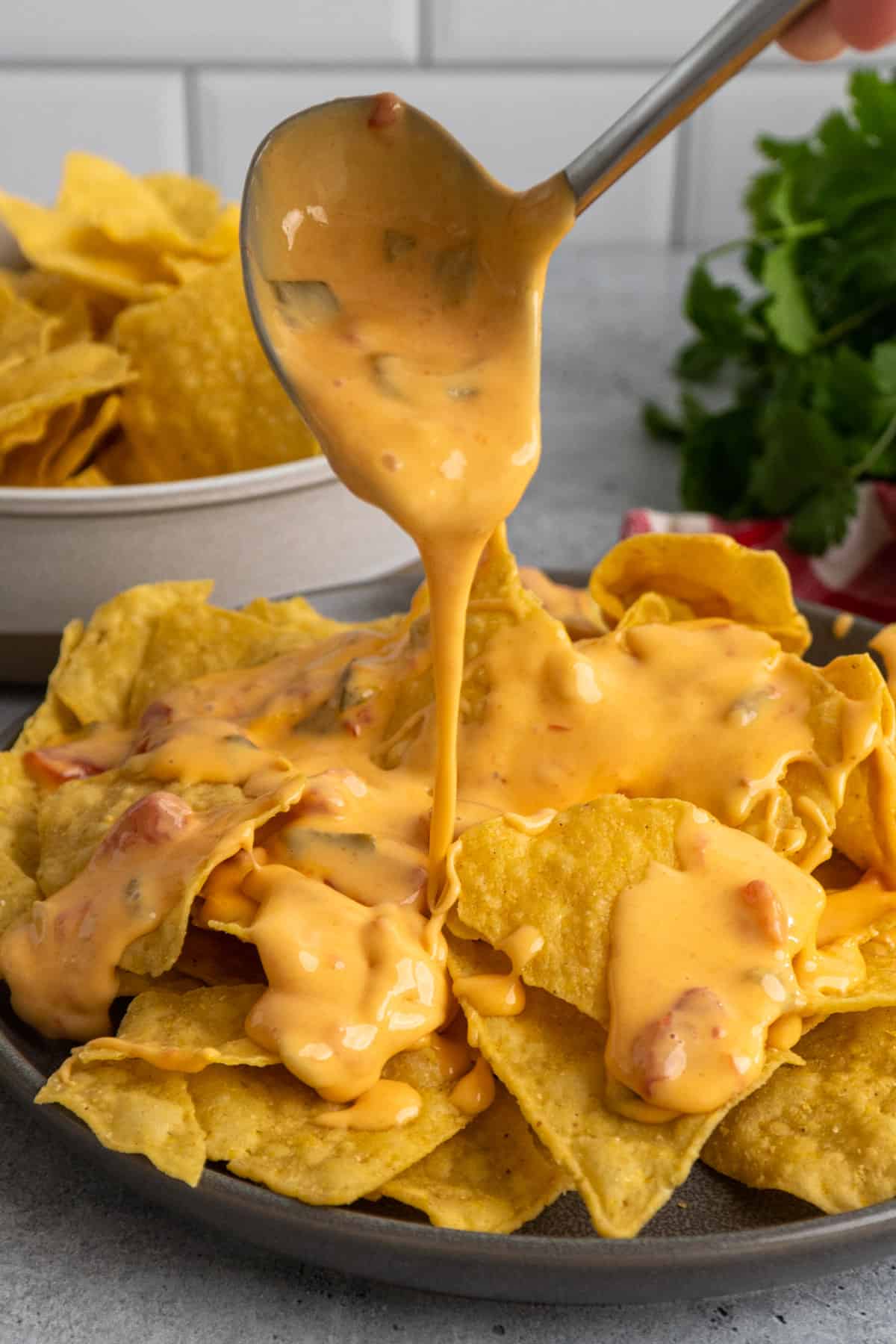 When entertaining, it's a good idea to have quick and easy appetizer recipes on hand. And nothing pleases everyone's tastes like a velvety, creamy cheese dip. This creamy queso is made with four simple ingredients and produces a delicious dip every time.
Velveeta is a creamy, pre-packaged cheese product that melts very easily. It's perfect for this dip because it melts quickly and creates the creamy texture you'll love. Plus, it has the familiar flavor of cheddar without needing to shred or buy extra cheese.
Along with the Velveeta, you will also need some canned diced tomatoes, cumin, and green chilies. The canned tomatoes give the dip a nice creamy texture, while the green chiles and cumin add a bit of smoky heat for a spicy kick.
The best part about this dip is that it's made right in the slow cooker! Making cheese dip in the crock pot is great because you can throw all the ingredients in, set it to low heat, and let it do its thing.
Serve for game day, at a birthday party, or just because with pretzels, chips, or anything else that needs a dose of creamy cheese. No matter the occasion, this creamy queso dip will be a hit!
Why You'll Love This Recipe
This queso dip requires very minimal prep work and uses just three basic ingredients.
The Velveeta cheese gives the dip a creamy texture and the familiar cheddar flavor without needing to shred extra cheese.
The slow cooker does all the work for you and turns this dip into creamy perfection.
It's perfect for any party or gathering and can be served with pretzels, chips, veggies, or crackers!
Ingredients You'll Need
Velveeta Cheese - This processed cheese product can usually be found in the dairy section of your grocery store or near where the items for mac and cheese are. It comes in a rectangle block and can easily be diced into cubes.
Canned Diced Tomatoes - This ingredient adds liquid that helps thin out the dip while adding an acidic tomato flavor that pairs well with the cheese.
Green Chilies - This green pepper gives the dip a bit of a spicy kick along with its texture.
Cumin - A hit of dried cumin adds a layer of smoky flavor throughout the dip.
How To Make Crock Pot Velveeta Cheese Dip
Prepare the Velveeta: Remove the cheese block from the package. With a sharp knife, cut the cheese into one-inch cubes.
Layer ingredients: Add the cheese cubes to the crock pot, pour in the tomatoes and chilies, and sprinkle the cumin on top.
Cover and cook: Add the lid to the top of the slow cooker and cook on HIGH for 2 hours while stirring occasionally.
Turn to warm: Once the queso is melted and everything is mixed together, turn the crock pot to warm and serve with your favorite chips, crackers, or cut vegetables.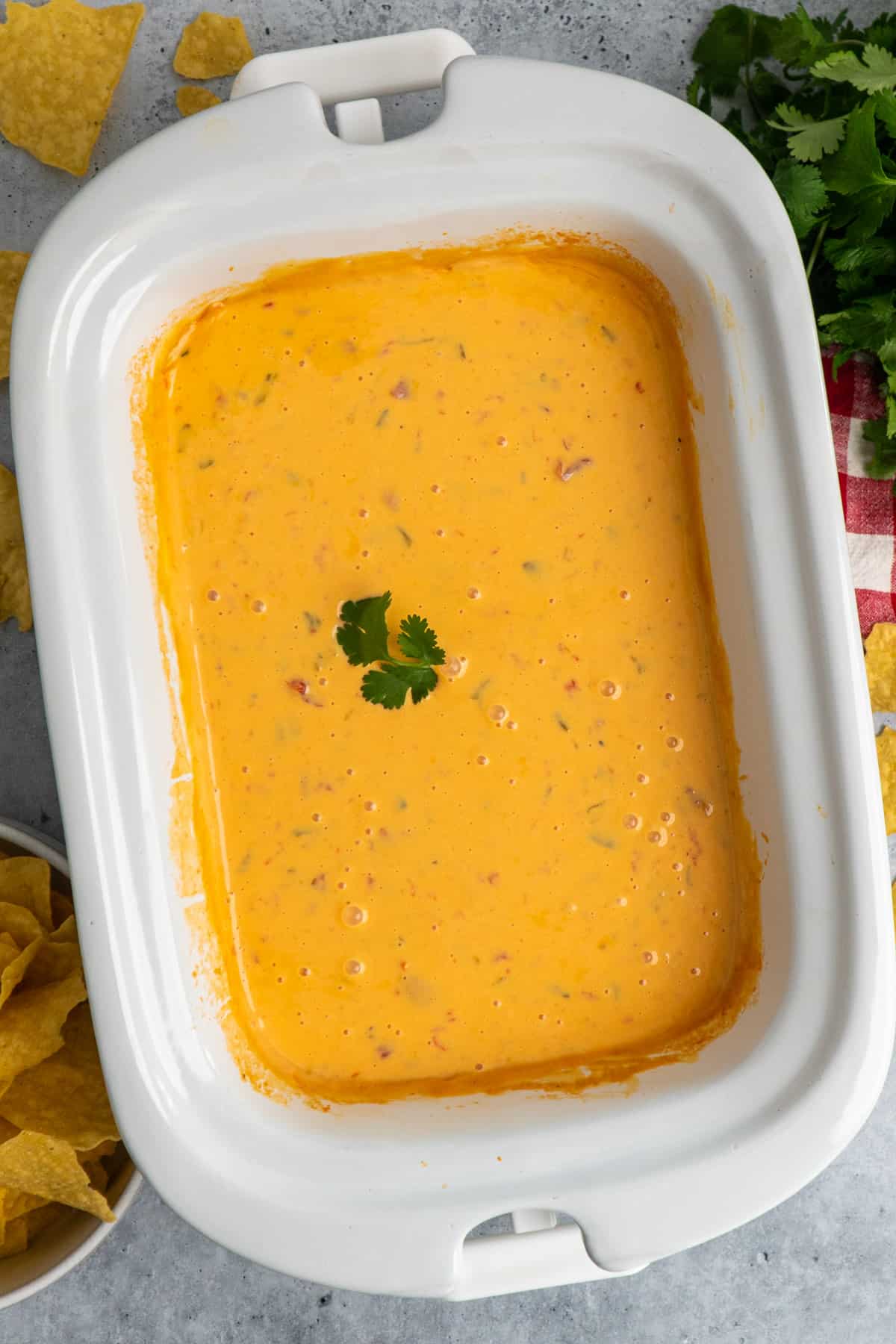 Recipe Tips
Cut the Velveeta into even cubes to ensure they all melt at the same time.
When pouring in the canned tomatoes, make sure to pour in the canning liquid as well. This liquid helps thin out the dip and gives it a creamy texture.
If you like your cheese dip extra creamy, feel free to add an additional 8oz of Velveeta.
The amount of time it takes to melt fully depends on your individual crock pot and its size. Be sure to stir occasionally and check to make sure the cheese is completely melted.
Variations
If you're looking for a creamy, cheesy dip with a bit less spice, leave out the green chilies.
For an extra creamy dip, add 8oz of cream cheese along with the Velveeta.
Use other flavors of Velveeta cheese, including Mild Cheddar, Sharp Cheddar, White, and Mexican Blend.
Instead of cumin, use a packet of taco seasoning mix for a more traditional taco dip.
Add cooked crumbled sausage to the crock pot to make it even more indulgent and hearty.
Instead of chilies, use chopped jalapenos for an even more spicy flavor.
Serving suggestions: Serve this dip with tortilla chips, chopped veggies, crackers, pretzels, or bagel chips.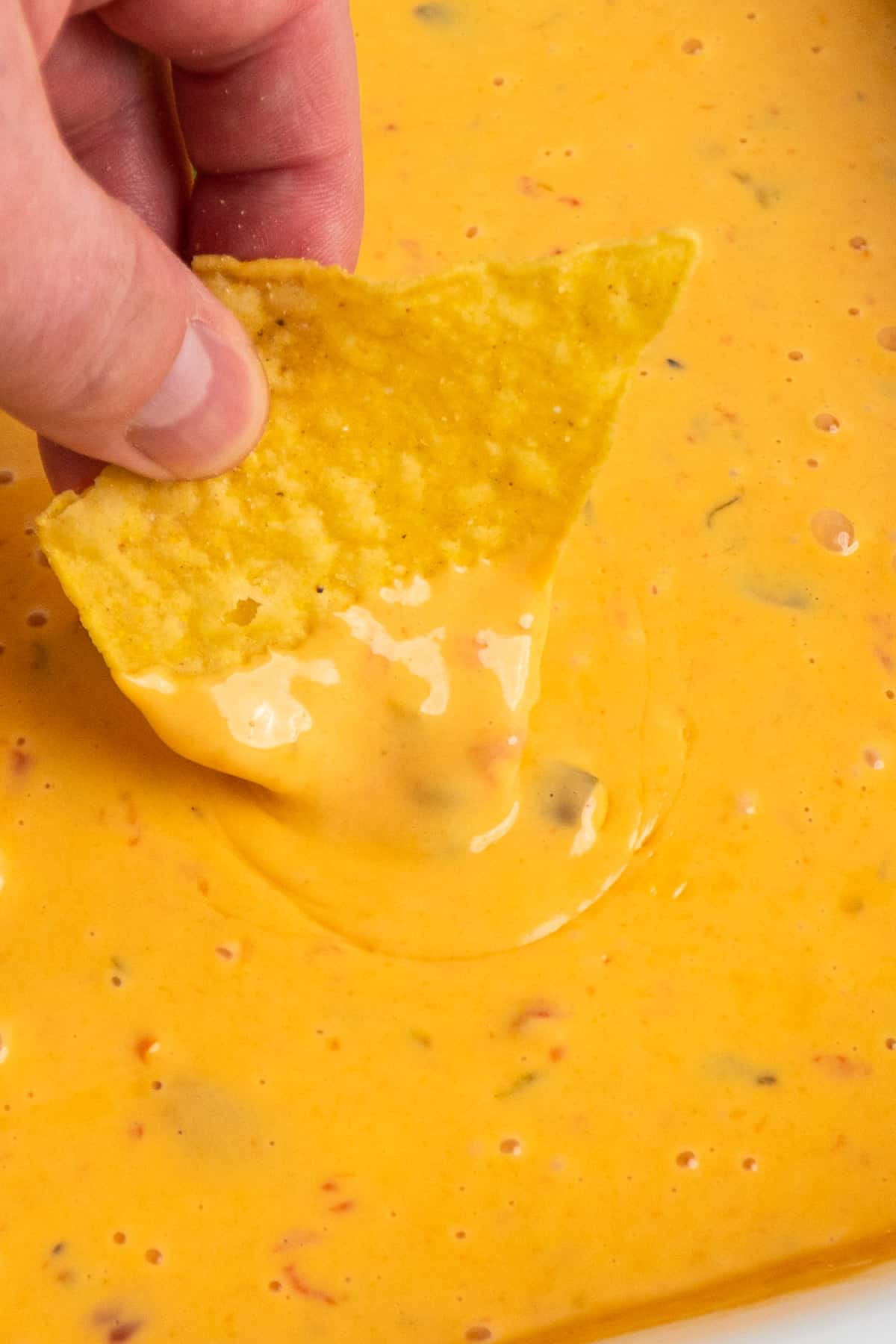 Storing & Freezing
Storing: Leftover crock pot queso dip can be stored in an airtight container in the refrigerator for up to 3 days.
Freezing: This creamy queso dip can be frozen for up to 1 month. To freeze, let it cool completely and place it in a freezer-safe container. When ready to eat, defrost overnight in the refrigerator and reheat in the microwave or over the stovetop.
FAQ
Can I use shredded cheese instead of Velveeta?
Shredded cheese can be used, but it will not give the same creamy texture as Velveeta. It may require more stirring and additional liquid to help thin it out.
How do you keep Velveeta queso creamy?
Make sure you turn the crock pot to warm as soon as the cheese is melted and creamy. This will help to keep it creamy and avoid burning or sticking. Additionally, occasionally stirring during cooking can help the cheese melt evenly without burning.
Can you make this dip without canned tomatoes?
Yes, but you will need a liquid to help thin out the dip. You can use milk, cream, or even a creamy salsa to achieve creamy queso without canned tomatoes.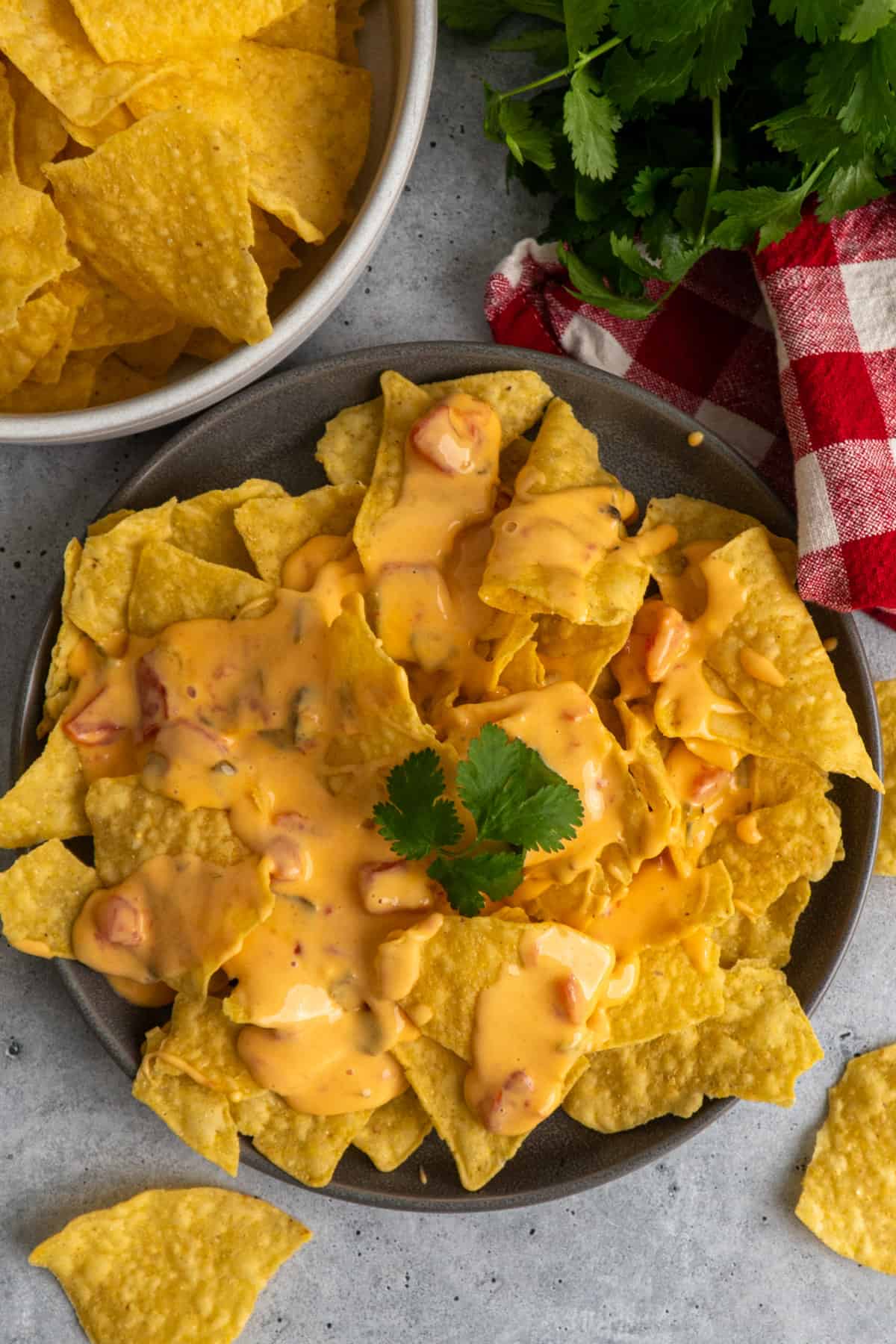 SHARE IT & RATE IT
I would love it if you would leave a 5 Star ⭐️⭐️⭐️⭐️⭐️ rating below. Then follow me on Facebook, Instagram, and Pinterest! Share your favorite recipes or ask questions in my Facebook Group.
More Crock Pot Appetizer Recipes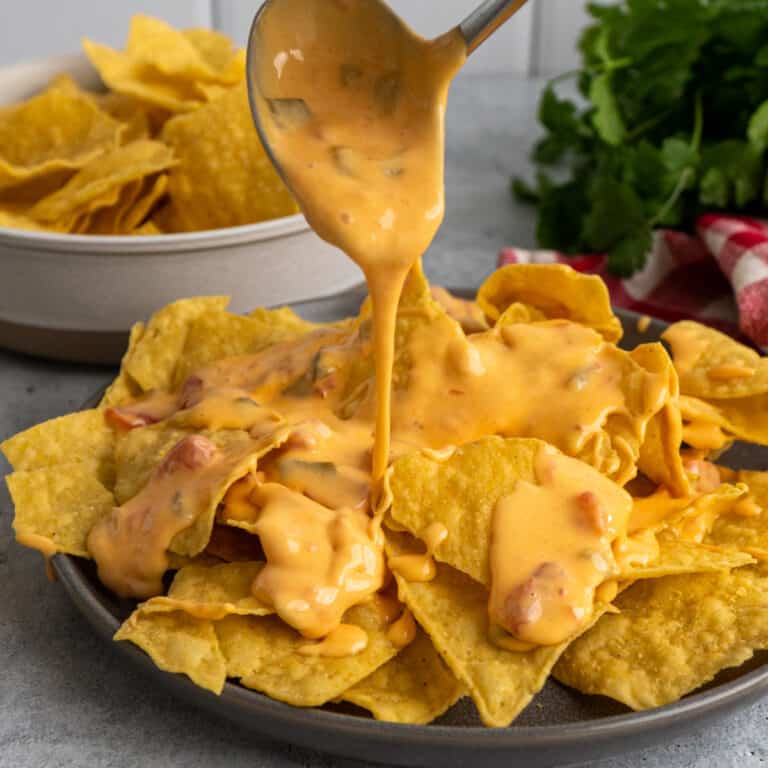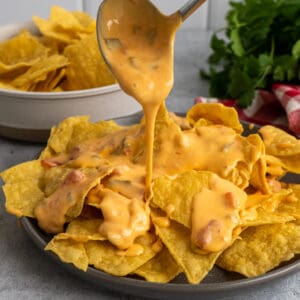 Crock Pot Velveeta Cheese Dip
Calling all queso lovers! If you're looking for an easy and creamy cheese dip that's simple but delicious, then this Crock Pot Velveeta Cheese Dip is a must-make! With just a few ingredients, you can make a creamy queso dip that's perfect for any gathering!
Ingredients
1

(32 oz)

package Velveeta cheese

(cut into 1-inch cubes)

1

(14.5 oz)

can of diced tomatoes

(drained)

1

(4 oz)

can diced green chilies

½

tsp

cumin
Instructions
Add Velveeta cheese, tomatoes, chilies, and cumin to a 4-quart crock pot.

Cover and cook on high for 2 hours, stirring occasionally.

Turn your crock pot to warm and serve with tortilla chips when ready.
Notes
If your dip starts to thicken from being warmed to long. Mix in ¼ of mix and stir until well combined.
To change the spiciness of the dip. You can add different levels of spice mild, medium, or hot diced chilies.
Nutrition
Calories:
84
kcal
Carbohydrates:
4
g
Protein:
7
g
Fat:
4
g
Saturated Fat:
3
g
Polyunsaturated Fat:
0.001
g
Monounsaturated Fat:
0.01
g
Cholesterol:
16
mg
Sodium:
600
mg
Potassium:
131
mg
Fiber:
0.01
g
Sugar:
3
g
Vitamin A:
372
IU
Vitamin C:
0.05
mg
Calcium:
217
mg
Iron:
0.1
mg
*All nutrition information provided is automatically calculated and is an estimate and will vary based on ingredients, brands, and changes in cooking methods listed in the recipe. If you need exact numbers on your ingredients, I would recommend calculating them with your prefered nutrition calculator.