Are you tired of the same old chicken recipes for your weeknight dinners or meal prep? Try making an easy recipe from this delicious collection of Crock Pot Chicken Breast Recipes that will make your dinner decisions a breeze! From mouthwatering flavors to effortless preparation, you'll love making chicken breast in the crock pot!
Jump to:
Chicken breast is a fantastic protein option to prep for dinner due to its lean nature and versatility. It's low in fat and high in protein, making it a healthy choice for fitness enthusiasts and those that are health conscious or want a hearty protein as the star of the show.
The challenge lies in keeping things interesting and avoiding recipe monotony. Finding new and exciting ways to season and prepare chicken breast can be a daunting task, but there are so many ways to enjoy chicken breast made right in your slow cooker!
Why The Crock Pot Is The Best Way To Make Chicken Breast
Tender Perfection: The slow and steady cooking process of the crock pot is a game-changer when it comes to chicken breast. It ensures that the meat becomes incredibly tender, allowing you to effortlessly shred it or cut it into slices.
Time-Saving Magic: The crock pot does all the work for you while you go about your day. Simply add the ingredients, set the timer, and let the magic happen. Whether you're a busy professional or a parent juggling multiple tasks, the crock pot is your ultimate time-saving kitchen companion.
Enhanced Flavors: As the chicken breast cooks slowly in the crock pot, the flavors have ample time to meld together and intensify. Whether you're using a marinade, spices, or a flavorful sauce, the crock pot infuses the chicken with incredible taste!
Stress-Free Cleanup: With only one pot to wash, you won't have a sink full of dirty dishes. Simply remove the ceramic insert and give it a quick wash. You can make this step even easier by using a crock pot liner!
Versatile Cooking Options: The crock pot opens up a world of cooking possibilities beyond the standard chicken breast. You can add vegetables, potatoes, or grains to create a complete meal in one pot. Experiment with different spices, herbs, and sauces to customize the flavors and take your taste buds on a thrilling journey.
Meal Prep With Ease: With the crock pot, you can easily prepare large batches of chicken breast for your meal prepping needs. Cook once, and enjoy the benefits throughout the week, whether you're planning lunches, dinners, or protein-packed snacks!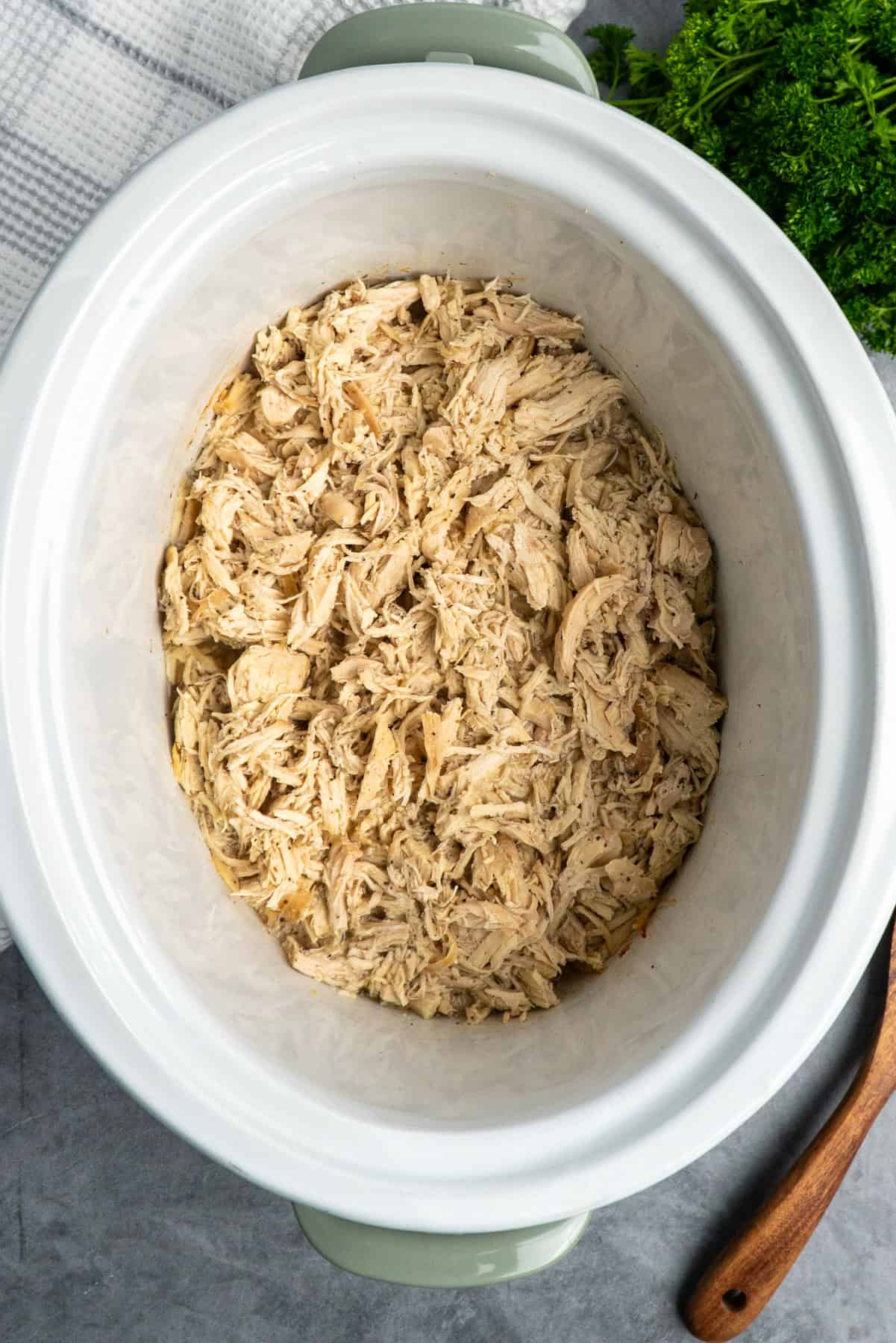 Crock Pot Chicken Breast FAQ's
How long should I cook chicken breast in the crock pot?
Cooking times may vary depending on the size and thickness of the chicken breast, but as a general guideline, boneless, skinless chicken breasts typically take about 4-6 hours on low heat or 2-3 hours on high heat. Use a meat thermometer to ensure the internal temperature reaches 165°F (75°C) for safe consumption.
Can I use frozen chicken breast in the crock pot?
It is generally not recommended to cook frozen chicken breast in the crock pot because the low cooking temperature may keep it in the bacteria danger zone longer. Frozen chicken also releases more water than thawed chicken which could change the texture of your dish. To be safe, it's always recommended to thaw the chicken before cooking to promote even cooking and avoid any food safety concerns.
Should I add liquid to the crock pot when cooking chicken breast?
Adding liquid to the crock pot is essential to prevent the chicken from drying out during the slow cooking process. You can use broth, water, marinades, or even sauces to add moisture and enhance the flavor. Aim for about ½ cup to 1 cup of liquid, depending on the recipe and the desired consistency of the final dish.
Can I season the chicken breast before cooking it in the crock pot?
Seasoning the chicken before cooking is a great way to infuse it with flavor. You can use a variety of spices, herbs, or even pre-made seasoning blends to add depth to your dish. Consider marinating the chicken beforehand or applying a dry rub to intensify the flavors further.
Can I cook vegetables with chicken breast in the crock pot?
Yes, the crock pot is perfect for cooking chicken and vegetables together. However, keep in mind that different vegetables have different cooking times. To ensure even cooking, place root vegetables like potatoes and carrots at the bottom, closer to the heat source, while placing more delicate vegetables like bell peppers or zucchini on top.
Can I make shredded chicken in the crock pot?
The slow cooking method of the crock pot is ideal for making tender, juicy shredded chicken. Simply cook the chicken breast with your preferred seasonings and liquid for the recommended time, then use two forks or a stand mixer to shred the meat. It's perfect for sandwiches, tacos, salads, and more!
Can I use bone-in chicken breast in the crock pot?
Yes, you can use bone-in chicken breast in the crock pot. However, keep in mind that bone-in chicken may require slightly longer cooking times to ensure the meat is fully cooked and tender. Use a meat thermometer to check for an internal temperature of 165°F (75°C) near the bone to ensure it's done.
Can I replace chicken breast with chicken thighs in my recipe?
Yes, you can cook chicken thighs instead of chicken breast. Chicken thighs have a higher fat content than chicken breasts and are generally smaller, so the cooking time may need to be adjusted. Keep in mind that using chicken thighs will also add a different flavor and more fat to the recipe.
Can I use different sauces or marinades with chicken breast in the crock pot?
The crock pot is an excellent way to infuse your chicken breast with various flavors using different sauces or marinades. Whether you prefer barbecue sauce, teriyaki marinade, or a creamy curry sauce, the crock pot will help the flavors marry together beautifully as the chicken cooks.
Is it better to cook chicken breast in the crock pot on HIGH or LOW?
When cooking chicken breast in the crock pot, it is generally recommended to cook it on low heat rather than high heat. Cooking on low allows for a slower, more gentle cooking process, resulting in tender, juicy chicken. The high heat setting may cause the chicken to cook too quickly, potentially leading to a drier texture. However, if you're short on time, cooking on high for a shorter duration can still yield satisfactory results as long as you monitor the internal temperature to prevent overcooking.
How do you keep the chicken breast from drying out in a Crock Pot?
You'll need to add enough liquid, such as broth, water, or sauces, to the crock pot to provide moisture during the slow cooking process. This will help keep the chicken moist and tender. Avoid overcooking the chicken by checking the internal temperature with a meat thermometer and removing it from the crock pot once it reaches 165°F (75°C).
How Long To Cook Chicken Breast In A Crock Pot
This is a general recommendation on how long it takes to cook chicken breast in a slow cooker. Please use a kitchen thermometer to ensure a safe internal temperature of 165°F (75°C) for best results.
Here Are Twenty-Five of My Crock Pot Chicken Breast Recipes
SHARE IT & RATE IT
I would love it if you would leave a 5 Star ⭐️⭐️⭐️⭐️⭐️ rating below. Then follow me on Facebook, Instagram, and Pinterest! Share your favorite recipes or ask questions in my Facebook Group.